Tapatalk picks up major update for Windows Phone, gains full mod support, new UI and more!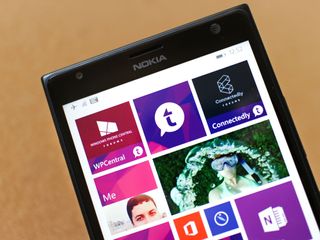 Tapatalk is one of the best services out there to access forums on your smartphone or tablet. Not many forums are mobile-optimized nor do they have a dedicated app, which is where Tapatalk comes in. With Tapatalk you can access all your favorite forums on your Windows Phone handset or Windows 8 device. The Windows Phone version of Tapatalk has just picked up a substantial update to version 2.0. Let's check out what's new and improved with Tapatalk.
Tapatalk (tapatalk.com) for Windows Phone first launched last summer in June, since then it has received a number of updates. The Windows 8.1 version of Tapatalk came out earlier this year in February, but had a slightly different look and aesthetic to it than the Windows Phone version.
Today's update to version 2.0 of Tapatalk on Windows Phone brings the app more up to par with the Windows 8.1 version. You'll notice that the look and feel of the Windows Phone version is more like it's counterpart on Windows 8.1.
The app has a completely rewritten UI, moderator support and a transparent Live tile for those on Windows Phone 8.1. Here's the complete changelog for version 2.0 of Tapatalk on Windows Phone:
Complete UI redesign
Onboarding/tutorial process for new users
Push notification support
Added new feed section to display quick updates from across all your forums
Tapatalk ID Single Sign On (SSO) support
Built-in image editor
Highly awaited WP8 Transparent tile support
Configurable font sizes in post view
Unlimited Tapatalk image hosting
Now includes all moderation features from our Win8 version
Ability to open topics/posts from web browser
Ability to share topics/posts
Lot of bug fixes and other changes
We've been playing with for the past day and really like it. The app is a great way for us to consolidate our forum-tivity into one location. Tapatalk has been an app we've liked for quite some time, but the new update to the Windows Phone version makes it top notch.
We're actually fans of the redesign. Those on Windows Phone 8.1 will appreciate the transparent Live tile for both the main app and any various forums you pin to your Start screen. Other highlights of the big update include a built-in image editor (awesome), push notification support (double awesome) and mod tools (triple awesome).
Update to version 2.0 of Tapatalk and let us know what you think!
Windows Central Newsletter
Get the best of Windows Central in your inbox, every day!
I urge Sam once again to give us that wallpaper xD

It's requested everytime and he has never replied or provided people with a link :/

I never signed into WPC before, but I had to this time just to support this wallpaper request. Please bro, give the people what they want! :D

Yeah! The walls used on the pics is amazing.
WPC, please, give us this pics...

Yeah!! I want it too!! :D

Obviously it's very hard for a editor on pretty big news & technology portal to upload a simple picture....

Here you go. 1: http://i.imgur.com/TdiBHSO.jpg 2: http://i.imgur.com/6edawXe.jpg 3: http://i.imgur.com/qYPmpyQ.jpg Enjoy! :)

This is not even near that wallpapar...

Oh that's the wrong one wait I'll find the link or upload that again.

Oh my god everything is wonderful. Welcome back to my home screen, Tapatalk.

now it looks like a decent app

It really does look great!

Agree. This app demonstrates the power of WP. Dev's take note.

It's Telerik-tastic! A lot of Telerik controls being used in this app. Good decision too as the thing looks very nice

Yepp and looks good! When ate the new Telerik controls coming to WPC app @Jay

This is great news. I'm a heavy user of Tapatalk on iOS. Certainly giving me more sway to switch.

Cool. What WP will you buy next.

Holding out for the 930 mate. Nokia allowed me to trial the 920 about a year ago. So I've spent a short while with WP.

I've been cheating on my Moto X with a 1520. I like the direction this is going in.

Looks really nice, and...

The UI looks weird it looks like something for the Nokia X it's not for windowsphone or Android.

One of my favorite apps.. I love the update. Thanks Tapatalk dev's.

Yeah no dark theme. I'd bet its coming soon. A few lines of code would fix this.

Minutes worth of code? Or hours?

In fact they are thinking to add it in one of the following updates

Connectedly App? Tapatalk tile

I think that the QR code is incorrect. Could someone check?

Great update! I'm using Tapatalk more and more!

Since last update I cant find this forums http://www.chw.net/ Please help!

One of my top5 apps for WP!

I have the new version but can't figure out how to get a transparent tile for the main app. I get the normal white background and there doesn't appear to be an option to choose. I don't use the app often enough to notice changes though.

Just unpin any Tapatalk tile you might have in the start screen right now. Now pin it again from your app list. That's all I did.

Will this affect how the WPCentral app works for the forums? Can we expect additional functionality?

can anybody give me a link to the start screen background on the windows phone in the header image looks really nice

I'm really glad this came out, the old one was really hard to navigate. This one seems much nicer!

The Surface rocks! Would go great with my Icon!

Thank you for running this contest!

Wrong thread dude, might want to resubmit your three comments over on the actual contest thread. If you win now instead of me, you owe me. ;)

Awesome update. I was getting pretty frustrated with the previous versions bugs...

When the app launches what are the threads that it's showing you? The forums timeline or unread threads? How can you tell and how do you enable disable notifications?

anybody know where to get the start screen backgroud on the windows phone in the header imagine?

One word on the update... Wow

Exactly. I always use a dark theme and it's missing in this version making it unusable. Not to mention wasted battery on AMOLED screens (makes no difference in LCD screens)

I'd like a gray theme instead of black!

No more late night browsig from my phone. My Icon lights up the room when i'm browsing now.

I just downloaded it and it looks great. Very nice layout,easy to use. Thanks for the heads-up Mac

That QR code takes me to a blank page that reads "http://IDC predicts Windows Phone will grow market share to 6.4 percent by 2018.

Great update! Way to go Tapatalk devs!

Mod support should be AWESOME. ...if it works. It's annoying having to open the browser to moderate. Does the Win8 version allow approving posts?

Thank goodness. The UI was atrocious before. Now it looks like the W8 version, which is a good thing. Posted via Windows Phone Central App

QRCode is not right, needs to be fixed ! >.<

Lame. I'll be at my PC in 15 and will fix then. Thanks for the heads up.

Why are some WP apps going with the 3 bars in the upper left hand corner? Is this an Android or IOS thing?

Have on both. But, have more on Android...
But is normal in any platform. Xbox Music on Windows 8.1 is this way. I like it.

Yes, think so too. Several mobile website themes use the same thing to access the menu.

I've noticed this as well but did iOS or Android start this in their apps?

What I am getting at is there seems to be less and less metro style apps and it bothers me. Is MS letting this happen to gain more users?

QR Code is not working, comes up with info about another news story instead

This update is amazing.. Easier to navigate, and uploading images into forums is effortless. This is now a killer app.

I think the whole wp system is getting that look someday.. A lot of of apps use the same UI. :)

the qr code image is wrong.

wow, everyone's too busy commenting for SP3's. This update also came out today for W8. Very cool :)

woah, the comment system must have just been broke yesterday.

How to post a comment? Can't see it anywhere?

Are you talking about new topics or replies within Tapatalk?
Replies are made with the quick reply field on the bottom or the + next to it.
New topics are made with the pencil in the upper right corner.

My bad, i wasn't logged in the tapatalk forum.

Does anyone know how to change theme to black like in the previous version?

I'm sorry, but it was eliminated. Developers are thinking to add it again anyway

A Brazilian forum that I use A LOT, I could not find. I'll test the application novamete, had even uninstalled because of it.

Wow.Tapatalk new UI is so amazing! Those CYAN in the screenshots is a standard color or will it change as per the phone accent?

Nice!!! finally, since i paid for it... :)

For some odd reason I miss the home screen with the tiles. Besides that, the new app looks and feels great. I still think it was right, to pay for it to support the developers.

I'm a cheapskate and never buy apps but when we finally got this app I actually paid for it. Support the dev people. :-)

I use tapatalk for Crackberry (no official wp app :( ) and this is an awesome change - like the layout and style. Hope there is a dark theme soon as all that white is rather jarring. Otherwise well done!!! Mobile nations, how about that awesome cb10 app for WP 8.1, eh?

Where has the "participated" thread gone? Can you configure the start page, for each forum you sign into - like Crackberry...

sam are you Iranian?! (persian) Sabri such Iranian family name!

Nope. My dad is from Lebanon.

Disappointed no support for stackoverflow. There is no decent stackoverflow app for windows phone. :(

I'm not liking how all the forums and subforums are just dumped into a giant list. Definitely a step back there. I hope it's fixed soon.

Windows Phone is beautiful!!! I know it's unrelated... but I guess it's why I find myself staring at the screen of my 1520 for no real reason.

Miss the dark theme, but double click to leave is nice!

It's not loading some of the forums I use correctly. Not updating on some, not loading others at all.