Tapatalk now available for Windows 8, but only on ARM devices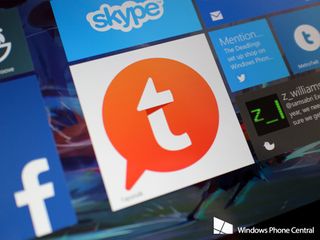 We know there are a handful of you out there who are big fans of Tapatalk. It's one of the most widely used apps on all mobile platforms for accessing Internet forums. It was early last summer that the official Tapatalk app for Windows Phone was launched. Fast forward to today and we finally have Tapatalk for Windows 8. Let's check it out.
There are many online communities that Tapatalk (www.tapatalk.com) supports. Is your forum running on phpBB3, vBulletin, xenForo, IPBoard, Simple Machine, MyBCC, bbPress, Kunena or Vanilla? Then you can download Tapatalk to access those very forums, including the recently added ProBoards support. Here's what you get with Tapatalk for Windows 8:
Optimized for Windows devices with ARM processors.
Optimized for high res displays in portrait or landscape layouts.
Browse over 50,000 forums with more being added every day.
Unlimited image hosting for photos you take on your mobile device.
Tapatalk ID enables you to save and sync your forums across devices.
The app is a great way for you to consolidate all the various forums you frequent into one app. To be honest I frequent about two forums on a consistent basis: the Windows Phone Central Forums and Bimmerforums, for all my BMW'y needs. Tapatalk is a great app to jump between the two forums frequently without needing to worry about a dedicated app for either.
Notice the bit bullet point above where it says this is optimized for Windows devices with ARM processors? It's true, Tapatalk is running great on my Surface 2 and Lumia 2520. However, I couldn't get it to install on my Surface Pro. We reached out to the guys at Tapatalk and they informed us that currently the app is only available to Windows 8 machines with ARM processors. Think Surface, Surface 2, Lumia 2520 and others. Which is a shame because it would be awesome to rock this app on something like the ThinkPad 8. That's just one minor quibble against the app.
Otherwise we're loving this and think you will too. The app itself is really good. It's been optimized for high res displays in either portrait or landscape layouts. We tried it in both orientations and agree it looks great in either one. Browsing and searching for forums is super easy. Once you find the one you like, just pull up the app bar and add it to your list of forums for frequent visitation.
Tapatalk is free and available in the Windows Store (opens in new tab). Don't forget that this is currently limited to Windows 8 devices with ARM processors.
Windows Central Newsletter
Get the best of Windows Central in in your inbox, every day!
This looks better than the WP8 counterpart. Gonna load it on my Surface 2 and give it a test drive :)

I haven't really used Tapatalk too much before, but this app is pretty nice. I just might need to start using it more! Let us know how you like it! :)

After playing with it for a few minutes on my Surface 2 I can already declare that it is waaaay better than its WP8 counterpart. I don't even use it on my phone because it's so ugly, inuntuitive and useless. Runs butter smooth and seems to do a good job with maintaining Microsoft's design language while maintaining full functionality. I'm sure that it'll only get better with future updates.

Wp8 app isn't impressive at all. Gets spasmodic attacks.

Sam can I make this off topic? Bing news updated. Gave me a toast in the app telling me to go update. How cool is that! Never knew apps could do that!
Edit: no change log but they fixed share function. All sub section now has proper options instead of just Emails.

Why ARM? Sounds backwards.

Not really, ARM processors are the most common mobile processors available, Phones, Tablets and even computers like the Raspberry Pi use them for their Low power consumption.

I hope they make it for windows 8...and update windows phone vr

Good looking. Wanna give it a try.
Oh wait, forget it's only for ARM. Duh, gonna wait for my L2520 D:

The 2520 is ARM based. I installed it on my 2520 a few minutes ago.

Yeah ik. Problem is still waiting for L2520 available worldwide so I can buy one :/

When I saw this post, I immediately installed Tapatalk! It is an amazing app! 10 times better then the Android version! I really recommend this app to forum users. But they should make it for x86 and x64 too!

I wanted this for my surface pro 2, as the wpcentral app doesn't have forums, and I want to follow with the other sites. :'(

Wow it looks much better than the windows phone version.

Tapatalk needs some more intelligent error handling.
It utilizes the WP tombstone/resume- great! But my session token expired days ago, and it just sits there trying to load a page that will never come until I manually back out of the forum and re enter it (which renews the login token).
Moreover, every time I open tapatalk fresh, my list of servers are gone, and I have to exit and open again. Every. Time. Board express has a lot of niceties that tapatalk lacks, pity it has fallen into disrepair. Open this page in IE, for example, and opening forum links within board express instead of opening in IE.

Well that's a change. Windows RT exclusive, lol!

Oh great, now I'll get those annoying Tapatalk notifications on RT too.

Interesting, I didn't know it was possible to create a Windows Store app that was processor specific. Not sure why you would do that though.

This! I mean, why would they do that? It isn't like ARM apps won't work on a "real" PC, like the SP2. More info from them would be great...

Agreed! This is such a dumb move and it's highlighting the incompetence of the folks there. But as you said, I thought WinRT apps ran on x86 and ARM and couldn't be proc specific. Learn something new everyday. Why did you allow this Microsoft???

WinRT is a C++ native API. If you know C++, you know it is not possible to target different processors with the same binary code. That will require something like .NET (or Java in case of Android) VM to accomplish. But the tools can easily let you compile the same C++ code to different processors. There is really no reason to only target one specific processor.

@Sam Sabri: So you mean Windows RT and not Windows 8.

i thought "metro" style apps were programmed with WinRT APIs that is the common denominator of Windows 8? would this be considered a form of fragmentation?

Nope. You got the wrong idea. While WinRT API is the same interface across the different flavors of Windows 8, the apps can be written in couple different ways. Only the ones written in .NET can be run on all platforms. Apps written in native C++ must be compiled to 3 different processors: x86, x64 and ARM in three different packages. It is first time to see an ARM only release which doesn't make any sense especially the Windows RT (ARM) devices are very small portions of the Windows 8 eco system. Probably just to test the water and let folks beta testing first.

We must hope that this is the case, becouse the alternative is that the developers don't know that an app can run on every Platform (I dont think that Tapatalk use some code taht can have some problem to run on x86). Keep in mind that Visual Studio does all the work for the developer, he should just choose which platforms wants to support (between x86, x64, ARM) and Visual Studio compiles and creates automatically the correct packages

Exactly. Apps like TapaTalk does not really require the performence/optimization of native C++. It probably can be written easily in C# and the one package can target all three platforms. My original Surface 1 is rarely used. My new 8" Dell Venue 8 Pro runs circles around any ARM tablet while sipping battery in an impressive 8.5 to 9 hour battery life, 1 hour longer than my Surface 1. However, due to its smaller screen size, it desperately needs apps like Tapatalk.

This app is only available in ARM because tapatalk probably don't want standard desktop and laptop pc users to use their app. Why? Because they want to protect all the supported forum's monetization. This will be probably the first tapatalk version to get ads.

Dude! What about us atom guys? I need this darn app on my DV8P!

Its not true that tapatalk only runs on ARM windows rt systems. Whoever started this myth doesn't understand that apps are not written at the machine level, they can be but its much more coding intensive for anyone to bother. I installed tapatalk on my desktop pc as well as, my surface pro. Go to the windows store on your rt tablet and look up tapatalk, select it and install. I see no reason why it on't work on your atom system.

I installed and have run on my Surface pro 64 bit computer. I'm not sure why anyone would think that any application designed for windows 8.1 RT would not run on windows 8.1 pro, unless the app was running at the machine level.
Windows Central Newsletter
Thank you for signing up to Windows Central. You will receive a verification email shortly.
There was a problem. Please refresh the page and try again.