Telegram Messenger Beta update allows you to set custom notification sounds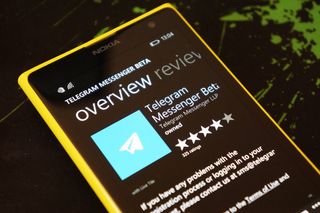 If you're a fan of Telegram Messenger, you'll be glad to know that the beta client just got an update that allows you to set custom notification sounds. Along with the ability to customize push notification sounds, version 1.1.4.0 is faster, features smoother animations and better optimized fonts for full-HD displays.
Here's a list of all that's new, according to the changelog:
Fully rewritten secret chats, with hold-to-view photos on short timers
Custom sounds for push-notifications
Maximized app opening speed
Optimized animations when viewing photos, added fullscreen mode
Optimized font size for FullHD screens
Fixed GIF playback bugs
Fixed issue with selecting and deleting multiple messages in secret chats
The messaging service is known for its secret chats feature, and with the latest update Telegram is adding more functionality to said feature. Let us know how you're liking the update in the comments.
Thanks Anshuman and Ismael!
Windows Central Newsletter
Get the best of Windows Central in in your inbox, every day!
Harish Jonnalagadda is a Senior Editor overseeing Asia for Android Central, Windows Central's sister site. When not reviewing phones, he's testing PC hardware, including video cards, motherboards, gaming accessories, and keyboards.
Much preffered over the horrible, lazily designed whatsapp. This app works like a charm and I find it much quicker. Oh, and it's not owned by Facebook.

Same thoughts..But not many use it so there's the drawback..!!

I really know nobody using it

I've gotten a few people using it. The secret chats are a great alternative to Snapchat.

Haha I like that part... Not owned by facebook. XD

+1020 I am Facebook and Whatsapp free for over 6 months now. Amen to that.

So which month will WhatsApp release their yearly update for WP?

They are gonna skip 2015..

They're probably implementing the new authentication protocol WAUTH-2 with end-end encryption, it will take a bit longer this time, I guess

In WhatsApp defense i will say that I've seen "hell is frozen" article titles when Whatsaap gets updated on iOS. So there...

That's a very good question. It's so good that not even WhatsApp knows the answer.

When did this app come to WP? --- BTW, where can i tell some apps to windows central? Is there a specific email address for app suggestions?

Yes, there is; tips@windowscentral.com

WhatsApp is so buggy on WP.

I used whatsapp for months on my Lumia 820 and absolutely 0 bugs so far. So what's up with yours xD

Yeah my whatsapp is working just fine. So whatsapp with yours? Hahaha

it used to be buggy for me..but after the big update they released in june/july (one with chat backgrounds) it has been smooth and a delight to use.

No bugs at all on my Lumia 820 So fast and no lag at all

No bugs per sé, but it is slow as a snail on my 520. Doesn't crash, at least there's that.

Telegram seems to be the competitor and successor of whatsapp. Since it is been updated constantly. And yeah not owned by facebook such a big company but cant provide a outstanding facebook app for us smh

Yeah... No users in my enviroment. Userbase is, as a whole, less then whatsapp

User base depends on how people like the service. WhatsApp didn't start with millions of users. But grew because they're was no comparable option. Viber maybe, which has found traction as well.

You are late! VERY LATE -_- We did it before you guys....
http://newmicrosoft.com/update-telegram-messenger-beta-for-windows-phone/

oh, no. the end of the world, guys... calm your tits, janet.

Go Fuck Off! Who Really Cares! He was so late that is why i said so!

Congratulations! You want a cookie?

Ow wow, you know quality before speed.

Desi will be Desi...
Your article may have come first but has absolutely no material to grab anyone's interest it attention. You have just copy pasted the change log. Terrible.

People prefer quality over quantitiy, thats why they like windowscentral.com and not http://newmicrosoft.com.

What is a http://newmicrosoft.com?

Sorry guys i should haven't done something like this! Really Sorry for my misbehaviour!!
Sorry Once again as i was wrong and i realized it :(

lol. what's the point of being fast. we need more elaborated content. smh. so 99ers.

It's better than What's app on Windows phone but nobody use Telegram in my Country ( Lebanon ) :3

Thanks I updated. ... Also I want to tell that my Lumia 1520 (denim) receive a Lumia camera update Rightnow ..... The new version is 5.0.2.37

Wen sekin ya Ahmad ? Ana kamen ma3e Lumia 1520 bas ma wosilo Update :3

I live in turkey . But it didn't depending where I live , my 1520 has a Finland Rom and only finlands devices received the updates.

Aha enta yali bi Group Widnows Phone Arabia 3al Facebook w elet enak 8ayaret rom :D

Wow an update. Hire these guys to update the fiasco known as Netflix app. Them wankers need all the bad publicity there is (and wcentral just refuse to make a story of it...)

VLC also got some update.

New name and startup photo + it is not working anymore

You need VLC for what? for that yellow icon on your screen? There is nothing else to it. there is nothing VLC does that WP can't do already

umm..play mkv files..for free?

And... Crash a lot for being free, too! ;)

No, Offtopicplayer is the best.

On wp8.1 we can set custom ringtone for every app from the notification center setting, isn't it? What difference does it make?

You can set different notification sounds for each individual contact ..

can anyone tell me how i can sync with people hub? i can add telegram as social app to a contact, but that option just shows a contact's combined contacts?

I would love to know as well.

BTW guys. When do we get a decent yahho messenger app? it's already absurd that yahoo refuses to release YM for WP after so long.

Maybe because yahoo messenger is dead?

Sweet, just sad that I don't use it

I prefer this over that horrible WhatsApp. Safe and secure.

What's secure about this? And safe? With the devs from a country thats being sactioned more and more, with a declining economy. I hate to think what the russian governement wants with user data

Just go to their website. Kinda lazy to explain. Seems that u hate Russian government so much..

Owned.. I think it has been uninstalled

Secret chat seems to be working OK now. I wonder how did they fix it?

And still no landscape support - That is really one feature why I dislike this app. I'm using it because I don't like WhatsApp and everything FB related, but the lack of Landscape support is bothering me (and forces me to use the slow "gesture keyboard".) The gesture keyboard is no match because several words like snow in my native language are interpreted by the software as other stuff - so I have to pick every single letter one by one on that tiny keyboard. Landscape can't be that hard to implement, really.

I like it but it drains the batterie faster then whatsapp

I use whatsapp and telegram equally and they both kill the battery of my Lumia 930 :´-D

I really appreciatee the hard work. Two things: -High resolution device: text still looks giant. (Outside of chats, inside chats it finally looks good but it is the only place). -Who decided that it was a good idea to overwrite the default WP emoticons. That set looks horrible and does not match Windows Phone. If I wanted an iPhone I would be using one. At least leave it as an option.

Why is this still in beta? Seems like all features are here

Try sending a sticker... Or receiving one for that matter...

WhatsApp means slow on 512mb ram. Mine Lumia 720 tears..., tears...,etc...

It already had "custom notification sounds" without this update... but speed improvements are really welcome
Windows Central Newsletter
Thank you for signing up to Windows Central. You will receive a verification email shortly.
There was a problem. Please refresh the page and try again.