Telegram Messenger Beta update lets you lock it up with an additional passcode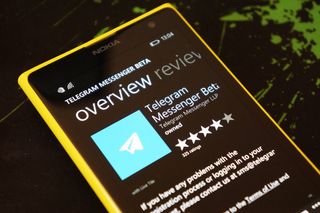 The popular security-focused Telegram Messenger Beta app for Windows Phone received an update today, continuing the developer's trend on offering new versions on a frequent basis. Today's update adds a way for users to lock the app with an additional passcode, among other things.
Here's what users can expect when they download the 1.6.0.0 update:
Lock your app with an additional passcode
Go to the first unread message when opening a chat with new messages (wp8, wp8.1)
Unread counters for chats in the list (wp8, wp8.1)
Bug fixes
Having a way to lock the app with another passcode should appeal to those folks who want to keep their messages private.
Thanks to Pacific16 for the tip!
Download Telegram Messenger Beta for Windows Phone (Free)
Really Impressive! Hats off to Telegram...

Well most of my friends are only on WhatsApp :(. Sync feature is must have for IMs.

Nobody I know uses Telegram so I can't use it. It's always Kik Whatsapp or Facebook only. Occasionally Skype.

Best update....! WhatsApp needs it . Bcoz 250+friends are using WhatsApp..... As Windowsphone has no dedicated app locker , WhatsApp needs this feature

This app is just getting awesome, i have few frens in it n the circle is getting bigger

Cool. Loving this app a lot. Use it for work chat on my laptop, tablet and phone. Very cross platform.

And are all messages synchronized?

From my experience, perfectly.

Agree. The sync and speed is super fast. Which is nice with the ability to drop files and images in chat. It's been great for working with others remotely, on desktop I can just drag/drop files. It's got good search, and a files/media view. And today I discovered by accident that hash tags work in desktop. Not in mobile, though....hopefully that will come soon. I use WP and my co-worker was using Android, I think, and she didn't have tags on mobile, either. Must just be something they haven't focused on yet for mobile.

Great, waiting for WhatsApp to learn something.

Whatsapp is so behind, the problem is that ppl still prefers..

Only thing WhatsApp doesn't have of TODAY'S update is password...

Many will say save/send mp3 files too. idc

WhatsApp just send 16mb video....

Download WhatsApp optimizer, to convert the video into 16mb.
Yeah, resolution matters but frnds prefer WhatsApp more. So this is the last option pupil like me end up with. :););P

Just switch to Telegram, then you don't have to worry about whatsapp catching up... I did and now half of my colleagues are using it and loving the cross platform, instant syncing, universal search, global usernames (no need for a phone number to be given to someone), sending of full size images and videos and many other features (I love being able to use my own stickers [downloaded png files and ran a python script to convert them to webp])

I'm sure this app should have dropped the beta tag a long time ago haha

Is 'cause the Android and iOS version is better (srly)

Use this app to talk to my boyfriend. Love it.

This has a cap of 200 participants for group chat, Whatsapp is capped at 100. That's besides the fact that Facebook has continued to violate the privacy of their whatsapp users by using their phonebook contacts to suggest to them friends on Facebook.

These guys are getting it right!

Can you put a background in the chat in this app?

Cool app. Though I wish the desktop client did not have ads and was better designed. I would not mind paying for this app to that. The phone version of the app is slick!

Which version has ads? I've been running the Windows version of Telegram Desktop for months, and have never seen an ad, and the UI design is great.

The version that I got from the Windows Store. I use it in my Surface Pro 3. I constantly see Blackberry ads.

There is no official Telegram app on the Windows Store, so that is made by someone else. That's why you are seeing ads. The only place to get the official app is https://desktop.telegram.org/

Ok...thanks. I did not know. I'll download the client and check it out.

Hey...thanks very much....yes I was using the wrong client. This is very good in my Surface Pro3!!!!! An excellent app now even better!!!!!

I've been running desktop version on Windows 8.1 foe a while now, and agree with death metal. No ads, beautiful and responsive design.

The only thing I think the WP app is missing is to be listed in the "share" menu. I contacted Telegram support, they said it uses the WP8 share menu, but not WP8.1. That was several months ago. Overall though, I'm impressed with the app and the pace of development, just annoying I have to share to messaging, copy the message, open telegram, open the chat, then paste.

It's getting better n better. Updates keep'em comin..

Honestly? You need to reappraise your definition of useless.

you need to reappraise about individual needs

No seriously. Useless is a massively overplayed word. It's hardly useless is it? A car with no wheels is useless. A phone with no battery is useless. Think.

and a messaging app without landscape mode is useless for me

Not going to argue. You're clearly one of these self-entitled prima donnas who want the moon on a stick, free apps and a gold plated blow job. The app has "reduced functionality for my needs" is what you're trying to say.

Useless? I think you're the one.. If you want that feature just tell them since they have a good support.. That's "very funny" of you judging the apps that way.

This and hike. Both rock!

Yup they both wholeheartedly support WP

Yes. This apps gets an often update and good support unlike the WhatsApp(for WP).

you can login at the same time on phone, desktop, etc. Very easy! watsapp can only login on one device. And the most amazing things on telegram, we can do file sharing. Files!

WhatsApp doesn't have passcode, self destruct, shares only 16 mb file, hike send 100mb but here u can send 1gb file at once... No only videos images etc any files... Even u can create of 200 people in a group... Whereas in WhatsApponly 100 people. Simply cool... Same like WhatsApp but with more advanced features... Try it out guys...

They doing a fantastic job !

If WhatsApp have to do a tough competition they to add these features in WhatsApp too...

Awesome app. Need ability to send and review multiple pics

This is what windows should do. This issue of having lock screen code ain't good we need other options someone should tweet MS. What's app and the rest should follow the trend. We need other options. Sandboxing apps doesn't make the thing hard to implement. MS should do it from a system level with their own app.

If Windows 10 stick with that picture password from Windows 8, we probably gonna see on phone too.

Anyone here use Threema? I use Telegram as my primary messaging application, but would like to try out Threema. Appears to be more secure than Telegram.

I uninstalled because it's really sucks for WP

Thanks for the notice. I want to try Threema but I know no one who uses the app. I just want to test it.

Telegram me : Delachowski (:

I want this for Whatsapp and Wechat...

Seriously, jumping to first unread message is what your headline should be about, rather than a passcode.

It's not robust as WhatsApp. Notifications doesn't sync instantly when you open the app. Sometimes when I open the app all I see is a blank chat list. Sometimes I get ghost notifications. Also it needs to optimize size of each chat lines.

Great app. Not many of my contact uses this. But those who do praise or highly. The options to send any type of files, to share (to other apps) beats whatsapp easily.
Hope this update fix the bug of sending pictures as attachment. It seems to hang halfway thru. But O dont have any problem sending the same pict from photo album. Strange.
BTW, what's with the "no landscape useless" complains. Don't see the fuss about lack of landscape orientation cos I use one thumb with my phone upright.

Alongside Hike, these are by far, the best messaging apps on Windows Phone

Blabel beta is another great messenger app
Windows Central Newsletter
Get the best of Windows Central in in your inbox, every day!
Thank you for signing up to Windows Central. You will receive a verification email shortly.
There was a problem. Please refresh the page and try again.