Telenav launches Scout GPS Maps system for Windows Phone 8 in the US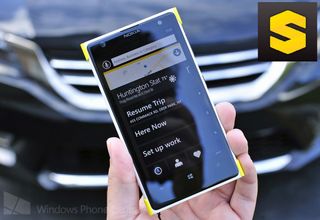 Road warriors, those that get lost easy or for those of you who just need an A-Class GPS navigation system for Windows Phone 8: you have a new option on the table with Scout GPS Maps by Telenav. The app and service is launching today and we have all the info on it.
First launched on select devices for T-Mobile, like the new Lumia 925, the service is now open to all Windows Phone 8 devices (currently US only). We've been using the app for a few weeks now and have come away impressed with the full-featured navigation system and it is now our go-to choice when taking a trip.
The app comes in two varieties: free and subscription based, with the latter offering the full experience with premium features while the former is still a great valued navigation system.So what does Scout GPS Maps offer? Besides its intuitive and finger-friendly UI, the system includes all the bells and whistles you would expect in a navigation app. In fact, we were impressed with how much is included with an initial release.
Let's look at the breakdown:
Scout for Free
My Dashboard — This handy home screen is always updated with the most relevant local info for your daily journey. With just a glance or one tap, see your traffic-based commute times, your favorites, local weather, nearby places, and more.
Multiple routes— Choose from up to three traffic-optimized routes that get you to your destination efficiently
Step-by-Step Turn list — Easily follow the directions for your selected route with the visual list of all turns.
Local search — With millions of listings, find what you need wherever you are with the convenient auto fill search box.
Nearby Places — With just one tap, find nearby gas, restaurants, ATMs, and more. See details about each place, like phone number, ratings, reviews (Yelp and TripAdvisor), and hours of operation.
My Places — Save your favorite and most frequented places so you can access them easily from My Dashboard.
Fresh Maps – Scout's maps are always updated and provide you with both 2-D and 3-D view options during navigation.
Scout Plus in-app upgrade - Navigate and beat traffic like a pro with the Scout Plus in-app purchase
Voice Turn-by-Turn Directions —Drive confidently with award-winning voice-guided, turn-by-turn directions on 2D and 3D moving maps.
Traffic Alerts —Know what to expect along your route with real-time traffic alerts, and avoid jams with one-tap rerouting. ETAs to your destination. See traffic flows on a map so you can take the guesswork out of knowing where you'll run into congestion.
Maps with red-light cameras and traffic flows — See nearby traffic flows and always have a heads up on red-light cameras in the area.
Voice Commands — Speak, don't type, to view a map or directions to a street address or saved place and navigate there hands free while keeping your eyes on the road to avoid accidents, hazards and being stopped by the police.
Scout GPS Maps is by far one of the easiest navigation systems we've come across for Windows Phone. The Dashboard shows your current location, weather and has a drop down map similar to how Foursquare works on Windows Phone. The Dashboard also displays your current trip, Home and Work buttons, Recents, Contacts and My Faves.
In our opinion, the layout was the most ideal we've come across—there was no swiping to find the main features. Even the Search window sits at the top of the display with the optional voice command option—very useful when in a rush or driving.
Swiping to the right brings up a Nearby screen with Tiles for popular destinations like ATM, Food, Parking, Shopping and even Wi-Fi stations.
Swiping to third and final pivot, users have access to their My Profile, which includes Account, Settings and the all-important Feedback
Under Settings, users can access things like Navigation options including
Speed Traps
Traffic Cameras
Lane assist
Speed limit
Map color
Likewise, you can enter in your addresses for Home and Work, which gives you one-click routing to those frequently traveled locations.
As you can see, having features like those traffic cameras, speed traps and configuration of all the key aspects of the app make Scout GPS Maps a robust and useful tool.
Using the app to find our destinations was a breeze and we really enjoy the three routing options (based on traffic) that it always presents. The Voice Navigation system is particularly useful as it will even alert you if the app is in the background and not running. In fact, if it is idle for too long the app will tell you that it is shutting down, which is very smart.
The paid version, which offers the premium features listed above, will set you back $24.99 a year or you can use it for $4.99 a month. Considering how will it works and what you get with that price-tag, including regularly updated maps powered by Telenav, we're more than happy to hand over $25 a year for the service.
Plenty of user settings and options
Conclusion
There are a lot of choices for navigation systems on Windows Phone 8 these days. Scout GPS Maps sits on top of our list as the most feature packed, easy to use and reliable. For casual drivers, Nokia Drive+ may be enough but we're sticking with Scout for now due to all of the advanced features and better traffic routing options.
Even if you don't want to pay for a navigation system, the app has lot to offer in the free, non-subscription version. So if you're in the US and are looking for something new, you should definitely download and give it a spin. Don't take our word, try it for yourself.
Scout GPS Maps is currently available for Windows Phone 8 devices in the US. Free (with optional in-app purchase for advanced features; $24.99/year or $4.99/month)
Update: Currently, Scout GPS Maps supports caching of map data for your route calculation like Google Maps. So long as you stick to the route, you won't need active data. A future update though will bring a downloadable, offline maps ability.
Grab Scout GPS Maps here in the Windows Phone Store.
Windows Central Newsletter
Get the best of Windows Central in in your inbox, every day!
Daniel Rubino is the Editor-in-chief of Windows Central, head reviewer, podcast co-host, and analyst. He has been covering Microsoft since 2007 when this site was called WMExperts (and later Windows Phone Central). His interests include Windows, laptops, next-gen computing, and for some reason, watches. Before all this tech stuff, he worked on a Ph.D. in linguistics, watched people sleep (for medical purposes!), and ran the projectors at movie theaters because it was fun.
Is there any other GPS app that is as good as it says that is worth buying?? Im pretty sure for most Nokia Drive does a good enough job.

Not for me. I stay away from Drive. That app pales in comparison to this in regards to features. Hey, if Drive works for you then great but I think for people who spend a lot of time in the car or are in heavily congested areas like NYC, then there are better options than Drive. For me, this app and Navigon are my favorites and I don't mind paying for what I value, namely my time.

Just out of curiosity @Daniel Are you using the advance feature for Scout GPS?? or just the free version?

Advanced because here in NY/Long Island, there is a ton of traffic and I need re-routing "smart" system. That and I like the red light camera/speed trap function.

I'm in Nassau long beach Li.

Drive works for me and im here in long island ny

Another Long Islander here, and yes, traffic is horrible here. How does the red light camera work? Is it up to date? It seems there are new red light cameras added daily around here.

So why should one get this instead of the one-time price of Navigon which seems to feature a bit more now?
Btw, Navigon also has that Freshmaps feature but is 30 euro's for 2 years. Which also seems a bit cheaper in the long run

I live in Los Angeles, which is no stranger to traffic. If I lived in NYC, I'd opt to use Here Transit more than Here Drive. I use mostly a combo of Here and another app in beta. Accuracy isn't what is keeping me from using Here, but there are three annoyances that "drive" me crazy: 1. Can't get the list of all turns, 2. Only does smart traffic rerouting of "My Commute" destinations, 3. During voice navigation, the music is abruptly muted whereas other solutions just lower the volume. That being said, maybe I'll give this new one a whirl.

Drive+ works great for me. +928 Nokia...

Drive is good enough for me. Does the job well, downloadable maps, and voice turn by turn are pretty great.

I guess this would be worth it for people that just need a GPS every day of their lives which is not my case.

There are a lot of good navigation apps, but for free, nothing is better than Drive+ (for Nokias) and new updates/features are expected.

Drive has led me astray badly a couple times recently... Tried to get to village hall and it took me to where they were at 5 years ago, right at closing time. Also couldn't get me to a major jewelry store chain correctly. Plus I hate the missing direction list, missing access to contacts, and the way it completely takes over the audio stream when a direction is given... Makes podcast listening torture. But I hate subscription... would much rather just buy.

I'm good with CoPilot Live. But this looks good to get also

I like CoPilot Live too. It does a very good job except for it refers to major streets by their highway names rather than its common name. That bugs me and its a bit of a distraction while driving. I sent them an update but who knows if they do anything with that.
Co-Pilot Live didn't have a few addresses of well established businesses here in Vegas either. Nokia Here had it but CoPilot Live and Scout did not. But Scout did use the common street names which is refreshing. Street map updates could fix that.
But the major bug-a-boo is Scout is in need for a major refresh. Scrolling down the page is choppy on my 920 and blows the WP experience. It doesn't seem to know when to quit either. I exited the app by left clicking out of it and a few minutes later, I could hear it tell me about traffic conditions. While I appreciate the traffic news, save it for when I'm in the car. There is a few other cosmetic things I won't bore you with here. But after an update or two, Scout (TomTom) could replace CoPilot Live on my 920. I like what it brings to the table...so far.

Navigon. So far after trying other/paid versions, I find Navigon to work the best, and that too with great features.

I was hoping to see a comparison to something like Navigon... Any high level differences or pros/cons on these two? I use Nokia Drive most of the time but every once in a while I'll use Navigon, but I hate that it doesn't run in the background like Drive+

I'll look into doing that but understand, it's easier said than done. For one, it's a ton of work and two, everyone values certain aspects more than others. Not saying I won't do it, I'll certainly look into this weekend as I do think there is value to it. For the record, my two favorite navigation apps are Scout and Navigon, followed by CoPilot.

Oh no worries Daniel, I completely understand :). The app does look good, and I would consider trying it if I didn't already have two great navigation apps - I think as the marketplace continues to grow (like we've all been hoping for for three years now), this will become an even bigger challenge for communities like this to both promote and review new apps :).

I'm interested in the CoPilot comparison myself.

Also, does Scout speak street names? How is the UK English (female) voice?

Thanks!

Uses onboard maps or requires a connection? Does look very well featured.

Looks like it requires a connection, but I'll touch base with them to see if that's coming. Good point that I overlooked. (The maps are TomTom). Update: Currently, it caches the route so if you drop your cell connection, you'll be okay. Offline, downloadable maps are coming in an update.

Tom Tom is terrible in my area, it didn't even recognize my street/neighborhood. Apparently my neighborhood of 200+ houses is just a pasture.
At the same time, it accurately (although not the route I would take) found an address in the middle of nowhere in Florida 300 miles away.

How old is your map? With any device, you need to keep maps up to date. Also, with TomTom you need to use MapShare to make sure you location get added.

My brother moved into a new area and TomTom did not have his streett or house. He sent in a map update and after about 1 month he recieved a map update which included his home

Wow, this has a really nice design. And $25 is really quite fair. It's always good to see more GPS competition on WP.

This has been on mobile phones for like 6 months still sucks just use here

Love my Nokia 920, but HERE Maps is a complete disaster. Drop kicked it right off the phone. In my experience for any of the major big cities, it definitely pays to go to a higher level than a free nav app. Time is money. A lot more than what any of the better nav apps will ever cost you.

I like the interface. I would buy if you could download the maps

Does anyone know if the app works with WP7.8

I remember the days of WP7 when we used to dream of a day when solid GPS apps were on our platform. Our baby is all grown up.

On AT&T is forcing me so sign up for AT&T navigator, no portion to by pass it.

You cannot be forced to pay for AT&T Navigator, I would just uninstall it if you don't want to use/pay for it. It is an optional service, if you've already signed up, just call 611 from your device or login to your account online to remove it.

I just stopped the process and uninstalled. I just think its kinda shady how AT&T tries to pigeon hole you into their higher priced app. Didn't have that problem with co-pilot. Would like to give this a try though.

Where do I subscribe? I'm not seeing it?

Nevermind. I see you have to actually start a nav to see the options. One would think that it would be available under Account > Subscriptions. Very intuitive.


I tried it. Very impressed by the features and layout. But the maps are weirdly out of date. I say weirdly because it has some roads that just opened a few months ago, but it also lacks some roads, like the one I live on (open since 2009) and the road I work on (open since 2004). Because of that, sadly, I won't be using this app at all.

Hmm, i'll stick with navigon for now. No offline maps means more battery usage.

Navigation is the weak spot of Windows Phone. Because of that I went back to my iPhone.

If you already left, then why are you still here! Goodbye!

Bitterness. Similar to leaving your girlfriend but you stalk her because she didn't beg you to stay and she's happier without you. lol

If you're not a fanboy, get out! Are you trying to shrink that 3% market share?

Money is really tight right now for me, but I do live in L.A. & commute, as well as have a GF that lives in O.C.
I see value in a good GPS system. Thats the one of the really big things I miss from Android. (Also, why donest HERE+ give you turn by turn in your Bluetooth while on a call like Google?)
Daniel, do you think this is worth the $25 bucks for my new 1020? I drive about 400 miles a week.
Thanks guys. - Mike

I grabbed this at work from the write up and decided to give it a shot getting me home. Sooooo much to like about this app and some mid sized doinks that bugged me. But on the positive side, I could drop some coin on this app and I may. But I'll wait to see if they can drop an update or two within my 30 day trial. Good job overall.

Man my 920 gets HOT quickly with this app. The overlays are a bit laggy when swiping through screens. No downloadable maps for offline use. Boooo!

Hello, I activated my 30 day trial, would att charge me during the trial? How do I cancel it before the trial expires? ATT 920
Thanks much

telenav uses NAVTEQ map data. Ie: Nokia once again. :)

@Daniel Rubino - Thank you SO MUCH for reviewing this app!
I now have a GPS that is reliable, very good, and does the job accurately.
Thanks once again!

Wonderful that Telenav is now available for Windows phone 8, HOWEVER service for my AT&T Windows Phone 7.5 Mango was LOST at the instant Telenav launched Windows 8 GPS. My Samsung Focus S has been a monthly subscriber to AT&T GPS powered by Telenav during the last nine months. AT&T has been of NO HELP with this issue and my email last week to Telenav support has not been answered! Great GPS, however lousy customer relations! All attempts to update this application have failed.

What is the difference in Scout which was preinstalled on 520 and Scout GPS which I downloaded?

What is the difference in Scout which was preinstalled on 521 and Scout GPS which I downloaded?
Windows Central Newsletter
Thank you for signing up to Windows Central. You will receive a verification email shortly.
There was a problem. Please refresh the page and try again.