Tencent acquires Back 4 Blood developer Turtle Rock Studios
Another major investment by Tencent.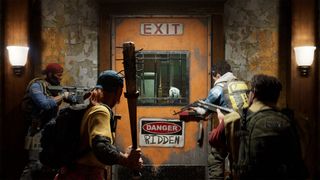 (Image credit: WB Games)
What you need to know
Tencent has acquired developer Turtle Rock Studios.
Turtle Rock Studios is known for working on the Left 4 Dead games and more recently, Back 4 Blood.
Tencent owns or has stakes in dozens of other game development studios.
Conglomerate Tencent acquired Slamfire, the parent company of developer Turtle Rock Studios, as announced on Friday. Turtle Rock Studios is known for its work on the Left 4 Dead games, Evolve and more recently, the co-op shooter Back 4 Blood. Turtle Rock notes that despite the acquisition, the studio will continue to be run by its co-founders, Phil Robb and Chris Ashton.
Turtle Rock Studios plans to use the resources from the acquisition to expand the team and develop "new exciting multiplayer experiences." The team is also promising to provide future updates on any plans decided upon for Back 4 Blood.
"Additionally, we get to do something we have never done before as a studio: turn a universe we created into a true long-standing AAA franchise. We can now ensure that the Back 4 Blood franchise is here to stay and we will be working on it well into the future," the team adds.
Tencent has rapidly grown in the gaming industry over the last few years, owning Riot Games and acquiring studios like Leyou, while also investing with minority stakes in numerous teams like Epic Games, Bloober Team, Dontnod and PlatinumGames.
A new era of zombie-slaying
(opens in new tab)
Have fun with friends

Back 4 Blood is a brand-new cooperative zombie-slaying first-person shooter title from Turtle Rock Studios. Squad up, or go it alone with the offline mode.
Samuel Tolbert is a freelance writer covering gaming news, previews, reviews, interviews and different aspects of the gaming industry, specifically focusing on Xbox and PC gaming on Windows Central. You can find him on Twitter @SamuelTolbert.
Oh my...Those were good kids. They got screwed by 2K with Evolve. And this is a bad move... Oh well.

Nooooo!! Missed Opportunity by Microsoft.

I don't think MSFT need to buy evert game studio.

I didn't say that they did.... . Just this particular one. Small studio with a proven track record/franchise that could benefit from more financial support. Right up their alley.

They said they want to keep on making BACK4BLOOD sequels for the forseable future.
MS has ARCANE Austin doing REDFALL for mid 2022. So what does Turtle rock bring that they don't already have? What MS needs to do is wait for the WARNER DISCOVER merger to complete and buy a controlling interest. Gets them the fighting games and single player third person action franchises they need. Plus music and a couple of video subscription services. And soon, before inflation devalues their cash stash.

Good. Tencent don't do anything to control what gaming developers do unlike other publishers.

Another Mega Corp buying something out again...
This **** needs to stop. It's killing everything....

I've never had an issue with Tencent buying up parent companies because the games under them have only improved since getting picked up.

What has it killed?
Not every big gaming conglomerate is run by a Kotick.
Even EA has moderated its meddling in their studios after ANDROMEDA.
(ANTHEM was a product of BIOWARE staff wanting to try something different from what they were known for.) Managing creatives is a tricky business, but it *is* a business. As the OBSIDIAN boss pointed out after the MS deal, it gets tiring to be constantly worrying about finding a publisher for a new work to make payroll, the equivalent of living paycheck to paycheck. Joining a big conglomerate may or not work out (and TENCENT itself is subject to pressures other megacorps aren't, which brings added risk) but the prospect of a good payday and steady support can be quite enticing. It is always hard to fault people for choosing stability over independencd but more so in today's times. The deal may or not turn out well but they choice should be respected; we just don't know how the studio's finances were trending.
Windows Central Newsletter
Thank you for signing up to Windows Central. You will receive a verification email shortly.
There was a problem. Please refresh the page and try again.