Upcoming Terraria update will fix nasty crash bug on Windows Phone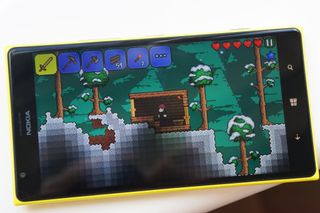 The Windows Phone version of the popular crafting RPG Terraria will soon be getting an update that will fix some crashing issues reported by some gamers.
In a post on the game's official forums, publisher 505 games outlined the patch plans:
IMPORTANT NOTES FOR WINDOWS PHONE USERS
The Lumia 640 LTE still has a 100% crash bug that we have been trying to crack for literally months now, with no success. Until such point as that is resolved (if ever), we would advise anyone with a Lumia 640 LTE to not purchase the game.
The update is working well on devices that have at least 1GB of RAM. The team is working to lower that threshold to 512MB currently, but we are definitely seeing performance issues below 1GB, so we cannot guarantee as to whether or not this will be possible on every 512MB device. Rest assured that we will try our best here – but we did want to share that note of caution.
All of that said, our current plan – barring any last minute critical issues – is to put this into final QA the rest of this week and then submit to Microsoft for approval next week. We know this has been a long and painful road for our WP players – one that has hopefully close to its conclusion.
Thanks to "Windows User" for the tip!
Download Terraria from the Windows Store (opens in new tab)
Windows Central Newsletter
Get the best of Windows Central in your inbox, every day!
Yooo they should have terraria be one of the free games this year, that'd be lit

Um, the update is not out yet

Does that mean they're working on getting on windows 10 , period ?

i bought this game and had a lot of fun with it, until the bugged updated that crash the game when launch, but i noticed that the game isn't even available in the store for who have windows 10 mobile, just in windows 8/8.1 store... Hope they add it to the store for Windows 10 devices as well...

Exactly the same happened with me :D Posted with the Windows Central app for Windows 10 on HP 250 G1 notebook. It is a scary old monster, I think :D

Great game! I used to play it alot on my Samsung ATIV S. Strange that the 640 would have a unique problem.

Is that why it is no longer available?

Why they haven't done a rollback is beyond me (and the common sense). Rollback, enjoy a fully working game and fix the update. As simple as that. We had a non-working app for six months. SIX MONTHS, Carl! But, if the company was in need of a Windows Phone developer (I'm pretty sure most of them are) why not hire someone from the community? For Christ's sake, I'd personally support most of the apps just for a 'thank you'.

As a 640 owner it disappoints me that these devs are somehow not capable of fixing this. I wanted to give this game a shot but I guess that's not happening until I get a new phone at some point. Seems rather odd honestly. Maybe they are just incompetent? Given the 640 is one of the most widely used windows phones as of late it's kind of ridiculous.

Oh I missed this game. I hope this works well on 830 and 535. Was so smooth on my 1520

not available on 950xl yet :/

Well, I'm SOL because I have a 640.