Nokia teases Tetris Blitz for Windows Phone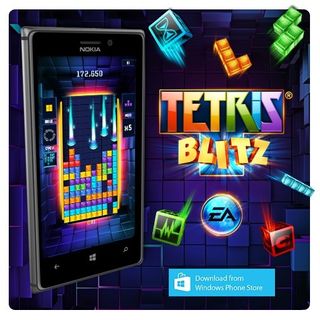 The original Tetris for Windows Phone is a fair port of the classic puzzle game, albeit overpriced at $4.99. But the world has moved on, and vanilla Tetris doesn't excite gamers any more. That's why Electronic Arts jazzed the old game up with the Bejeweled Blitz treatment and turned it into Tetris Blitz earlier this year. A faster paced Tetris designed for mobile play – what's not to love?
Windows Phone gamers certainly didn't love the lack of Tetris Blitz on their platform of choice; that's for sure. But Nokia has just announced that Tetris Blitz will finally be coming to Windows Phone next week. So soon!
A blitzkrieg of Tetrominos
Tetris Blitz games last for exactly two minutes. The goal is to score as much and earn as many coins as you can within those two minutes. Enter Frenzy mode and you'll score double for each line cleared, which can really add up. New control option such as "One-Touch" and "Drag-and-place" facilitate the high-speed gameplay and make it easy for casual gamers to join in the fun.
The coins earned in-game can be spent on 15 different power-ups. These provide beneficial effects like an extra burst of time, removing random lines, lowering the stack of blocks, and more. As you might expect, power-ups are key to achieving really high scores on the global leaderboard.
Tetris Blitz is a free to play game. On iOS it's supported by ads, which players can pay $4.99 to remove. We're not sure whether the same payment model will apply to Windows Phone as well. Similarly, impatient gamers can buy coin packs via In-App Purchase rather than grinding for coins. Previous Nokia-published EA games have removed the IAP option, but since IAPs feature so heavily in Tetris Blitz, it would be strange to see them taken out.
Windows Phone questions
Besides the issue of IAPs, we still have a lot more questions about Tetris Blitz for Windows Phone. Will it be an Xbox Live game? EA has yet to publish a non-Xbox game on Windows Phone. And the release date announced by Nokia – Wednesday, August 28 is also the traditional day for Xbox Live releases. So the prognosis looks very good for Xbox Windows Phone support.
Now look at who made this announcement: Nokia. The Finnish phone maker and Electronic Arts have worked together in the past to release a number of games as timed exclusives for Lumia phones. As far as we know, that agreement is nearing its end with only two games left to go: Madden NFL Football and Dead Space. But Nokia and EA could always extend that agreement and make Tetris Blitz a Nokia exclusive as well. It would disappoint non-Nokia owners, but Nokia exclusives do eventually become available on other manufacturers' devices.
Then again, Nokia has announced non-exclusives in the past. News of several big name titles like Angry Birds Rio came from Nokia's website as opposed to the actual game developers. Maybe Tetris Blitz will be one of those non-exclusive games.
Finally, will Tetris Blitz require Windows Phone 7 or 8? Given its online features and probable IAP component, I'm guessing Windows Phone 8. But Nokia and EA could have retooled the game to work on Windows Phone 7… I just wouldn't get your hopes up on that.
We've reached out to Electronic Arts with all these questions and will let you know if they respond. In any case, all should become clear on August 28.
Source: Nokia Facebook; via: WP Area; Thanks, Daniel, for the tip!
Windows Central Newsletter
Get the best of Windows Central in in your inbox, every day!
Paul Acevedo is the Games Editor at Windows Central. A lifelong gamer, he has written about videogames for over 15 years and reviewed over 350 games for our site. Follow him on Twitter @PaulRAcevedo. Don't hate. Appreciate!
Where would windows phone be without Nokia! Looks great and addicting, last thing I need.

EA Scrabble is also coming... Dear Microsoft hope u r learning from Nokia how to court ur major devs

What is your source for that information?

I had read it a while ago. they are bringing a bunch of games to WP.
they also confirmed, http://forum.ea.com/eaforum/posts/list/8026061.page
tho link is old,

I also knew about tetris and scrabble. Tetris is currently tested on EA in my country.

microsoft and gameloft just announced 15 games for windowsphone

I made a comment about this with about 6 hours ago. Pretty sure it will be a Nokia exclusive and Xbox enabled.
Great news day.

What I really want is BEJEWELED Blitz. This is close, though.

That's in my top 100,000,000,987 , most wanted too....

Great! Keep 'em coming, please.

be great if they tapped Capcom for Puzzle Fighter! Sometimes it seems more like Windows Phone was Nokia's more than Microsoft's :)

Puzzle Fighter! I have that game on PS One, Dreamcast, Saturn, PC, GBA, PS3 and would not be opposed to buying it for Windows Phone.

Speak for yourself. Real gamers love original Tetris.

Sure, in the eighties and ninteties. Everythang gets old eventually. But you're free to dig what you dig. You dig?

Would it be possible if you could start adding the prices in £ aswell as $ it's a bit annoying needing to keep currency converting to get a rough estimate how much these apps will cost in the U.K, lol

Sorry man. We like to let you guys do the conversion.

I love how at the end it lists every store known to man except for Windows. I'm tired of seeing that. Looks like a cool game. Definitely going to trh

I thought there's was already an official app of Tetris

Tetris is bad on touchscreens, period. If only all WPs had a physical QWERTY, I'd play.

But this one has two brand new control options. It will be fine.

I agree with Paul. The new control options makes Tetris gameplay alot faster and more precise with each move.

I had EA's Tetris on my old Android and I thought it was decent. They used gesture controls in an inventive way and it worked pretty well. Not perfect, but better than I expected. I recall playing Tetris Blitz on Facebook, if I'm not mistaken. I thought it was entertaining, but it wasn't the Tetris I wanted. I don't think EA has ever done a legitimately good version of Tetris, they all pale in comparison to the originals or any of the versions released on Nintendo consoles. I don't have a problem paying $5 for a good mobile game, but that price for this is egregious. There's not enough substance there to justify the pricetag.
Windows Central Newsletter
Thank you for signing up to Windows Central. You will receive a verification email shortly.
There was a problem. Please refresh the page and try again.