Science fans and solar buffs can now watch the Sun Live on Windows Phone 8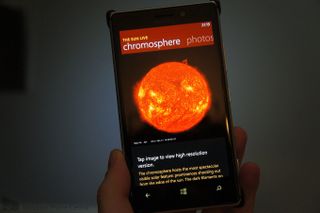 You're following the Solar Cycle and would like to do so in style on your Windows Phone, right? If the answer to that is yes then you're going to want to check out The Sun Live. So what does the app do? It essentially enables you to track the activity on the surface of the sun on your Windows Phone. Displaying updated images from the Solar Dynamics Observatory, you'll be able to hunt for prominences, flares and sun spots.
When you find an image you just can't ignore or wish to share it with others, be sure to hit up social media, email, MMS and other means of getting the sun activity on the web. If that wasn't enough, lockscreen support is included where The Sun Live will publish the latest images for you to glance at. Even if you're not really into the sun gazing business, it's worth checking out just to learn a thing or two about our local star.
The results are quite spectacular. You can download The Sun Live from the Windows Phone store for free.
Windows Central Newsletter
Get the best of Windows Central in in your inbox, every day!
Rich Edmonds was formerly a Senior Editor of PC hardware at Windows Central, covering everything related to PC components and NAS. He's been involved in technology for more than a decade and knows a thing or two about the magic inside a PC chassis. You can follow him on Twitter at @RichEdmonds.
Oh wow. This is neat as hell. Needs more apps that are astronomy related.

I don't need an app to watch the sun.....

Glad to see someone took that for the joke it is.

Wrong... That's the 2nd best way to burn your retina... 1st is to do without.
Nice addition to the Store

Burn your retinas? No problem! Just whip our your 925, and you'll get More Than Your Eyes Can See.

Well, perhaps it can tell you where the sun will be in the sky each day so you'll be able to easily find it.

There is an App for that - Sun Tracker
http://windowsphone.com/s?appid=a93003ca-fc23-45bc-92df-82adc23d1597

May be not for you but for me this is the best app.

Well, with this app you can watch the sun even at night or when it is cloudy ;)

This App has a shiny live tile.

Mama always told me never look into the eyes of the sun... but mama, that's where the fun is.

Ok, but don't cry if you get blinded by the light, revved up like a deuce, another runner in the night.

Wow im so excited about this... NOT

Bleh, no WP7 support. This is getting old...

Time to upgrade. WP7 is barely supported by anyone anymore.

Are you also upset that XP is no longer deved for?

No support for Symbian S60 8.1a too. That's sad.

Someone's got to be. I'm thinking about becoming that shortly...

Don't stare at it for to long, you'll go blind.

Ha! That's funny right there.

Awesome. This is nice. I like.

Downloading this app like it's hot!

Hmm, i hope it gets updated with nicer features. Too basic at the moment. Would be nice to choose the date, (not just NOW), choose time span and make animations. Stuff which i imagine could be easily done since the data is available.
good effort though.

Hi, I'm the developer of the app. I am preparing updates with features similar to those you mention, so stay tuned!
Regards, Jon

Thanks for replying. These are good news, I'm sure it will turn out great then. Please consider including a cool way to scrub through time (like dragging finger on screen and scrubbing time, which would make the sun rotate!).
Great work.
Cheers, Luis

Interesting... Installing it now.... I'm a sucker for this kind of stuff. I also have Star Chart.

Sun, I am not disappoint.

you haven't seen any mountains? :)

Wow really -_- if u like being anti religious go join the verge !!

I had sent NASA an email regarding app support. Out of the 40 apps they have only 3-4 apps are for our OS(both). I requested them to support the platform. Looks like it has started.

When you say "live", you mean with an 8 minute delay at least?

Hi, I'm the developer of the app. I chose to name it "The Sun Live" since it is live in the same sense as Windows Phone live tiles - that is, data updates at about every half hour.
Regards, Jon


Yeah Jon, it was just a silly comment regarding the time it takes for the light from the sun to reach us - which is 8 minutes. Even if you look at the sun with the naked eye, you're still not watching it live.

Oh stupid me! I often joke about those 8 minutes myself, so I should have realized that's what you meant :D

Where does the app save the images to when you choose the floppy icon?

It saves to the "Saved pictures" folder in the Photos hub.

Has anyone noticed any overheating/battery-drain issues with this app? Yesterday I installed the sun app and also the three vivmotion apps (it won't let me post a link to the article without flagging this comment as spam, but I'm talking about Breez, TinyDo, Flashlite) and the phone is now overheating and draining battery at an alarming rate (20% lost in an hour; unable to charge to 100% overnight). Just trying to figure out which app might be causing it.
Windows Central Newsletter
Thank you for signing up to Windows Central. You will receive a verification email shortly.
There was a problem. Please refresh the page and try again.