These SteamVR betas are all worth checking out on Oculus Rift
The best beta games the Oculus Rift has to offer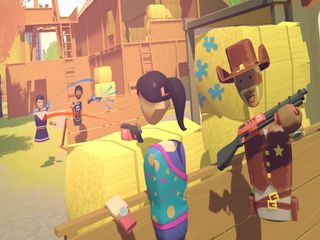 I've spent some time checking out the games below to bring you the best of the best unfinished and, well, beta games for your Oculus Rift. If you are just as into testing new products before the official release as I am, venture forth and broaden your horizon! Be sure to keep an eye on their official releases as well! This way, if you enjoy a game but find it might have too many technical issues you can at least play it when all of them are sorted out.
On that note, be sure to drop a feedback form to the developers of what you had issues with and what you loved. (Devs need love too!). Here are seven of the best Beta games you'll find on Steam for your Oculus Rift!
Rec Room
I will never stop praising Rec Room for everything that it is and how many hours I can spend lost in laser tag or the co-op adventure me and my friends affectionately refer to as "Virtual Reality Larping". There is a reason all of the reviews on Steam are "overwhelmingly positive". I would say one of the best parts is the cross comparability, meaning you can play with your friends on PlayStation VR, but the gameplay is just too baller. If you haven't played Rec Room before, do yourself the best of favors and download this game, it's free!
OrbusVR
Finally, a Massively Multiplayer Online (MMO) role-playing game makes its way to virtual reality. If you've previously been addicted to games like TERA or World of Warcraft this is the beginning of the MMOs we'll see in VR, and I hope it's not going to be the last. Embark on a fantasy adventure in OrbusVR with your friends, fight wizards, hone your magic skills and hang out in the world of virtual reality. For $39.99 you can experience the life of a wizard from a first hand perspective off of the Steam store.
Order Up
Who doesn't like a good cooking simulator? If games like Dead Hungry or Job Simulator have proven anything it's that we like to take everyday jobs and make them super silly. Well, in order up you can do just that by cooking miscellaneous fast foods to serve to your customers. Few things make me laugh harder than scrambling to feed clay like people in a VR game by trying to throw burgers from one side of the room to the other... and then hope they land on the grill. Order up runs for $11.99, making this a pretty good deal for a game you'll play for hours with your friends.
Highway Madness
Take "go play in traffic" seriously with this ridiculous game of racing to the other side of the highway. Collect your power-ups to challenge your friends and bots of a race to the finish, Frogger-style. Given the VR Perspective of this game, you will actually be able to see oncoming traffic and react in real-time as opposed to seeing a downward view and pressing buttons. So get all the adrenaline out of your system and figure out why the chicken really did cross the road with this free download!
VR0GU3™: Unapologetic Hardcore VR Edition
VROGU3 is a game with a pretty simple premise, but defiantly an entertaining one. The scenery of the space station you need to escape kind of game me some Fallout 4 Vault111 feels, while the basic enemies reminded me of the first Halo. Sometimes simple is pretty awesome, which is why VROGU3 has made it to the top Beta games. If your looking for a fun shooting game to play in VR, this is a good bet. Besides, you can't go wrong with only spending about $5.00!
Warpin: Creation (VR)
There are warp-streams that exist between our world and other worlds. There, you find a space that you control entirely. Put the power of creation in your own hands, and bend your reality the way you want. In Warpin Creation you are the God of this world, and you control all. For $10.99 you too can create artifacts, earn new powers, and then fight the monsters that are threatening your world!
Thoughts?
What do you think of the beta games listed above? Are there ones that weren't mentioned that you enjoy even more! Let us know in the comments below!
Get the Windows Central Newsletter
All the latest news, reviews, and guides for Windows and Xbox diehards.
Essa Kidwell is an expert in all things VR and mobile devices who can always be found with an Oculus Go, a Pixel 2, and an iPhone 7+. They've been taking things apart just to put them back together for quite some time. If you've got a troubleshooting issue with any of your tech, they're the one you want to go to! Find them on Twitter @OriginalSluggo or Instagram @CosmeticChronus.