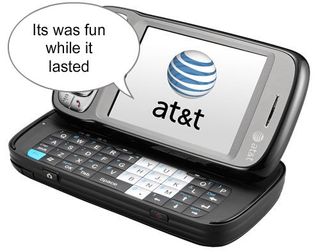 Smartphone and PocketPC Mag is reporting [via] that the Tilt will be EOL'd by the middle of December. Although we just got the 6.1 update for it, we're also expecting that the HTC Touch Pro should be coming out on AT&T to replace it -- we're looking at mid-December for that.
As the Tilt begins saying its Minnesota Goodbye (you know, the kind that means you're not actually leaving for a long time), we have to ask: was the "tilt" in the Tilt worth it? Do you use it much now? Will you miss it if you upgrade?
Windows Central Newsletter
Get the best of Windows Central in your inbox, every day!
Tilting screen wasn't the reason I bought it, the keyboard was. However, I use it probably 99% of the time I slide open my keyboard. It makes for a more comfortable position for typing and seeing the screen. I've also used it while sitting on my desk to watch movies.

I agree. The tilting screen had no impact on my buying decision, but since it's there, I leave it propped up on my desk pretty often, and tilt it up just about every time I type.
That said, I'm super excited about the pro. (excuse me... the "fuze")

I'll be upgrading to the Pro from the 8525, so I never got the luxury of tilting :-( That being said, I didn't think the tilt was a necessary upgrade for me, and I am glad I waited for the Pro.

I am with AT&T because they had the only 3G GSM service in the US. Seeing that there's not many Windows Mobile Professional offerings from AT&T (only 2) the Tilt did not have much to compete with when I made my purchasing decision.

As has been said, I thought the Tilting was a novelty, but I would sorely miss it now. Not a day goes by that I don't use the feature to watch a movie or read an ebook.

I am trailing a Touch Pro now. The Tilt is sorely missed. The Touch Pro for example has a very good slide show feature, but without Tilt its useless for running on your desk. I really dont understand why HTC did away with it, but it will join a pile of HTC innovations that fell by the wayside, like for example the twist and fold screen of the HTC Universal. The strange thing is that these devices were all very successful, but like on a TV show, they never seem to remember what worked before from one episode to the next.
Surur

There were two primary reasons I bought the Tilt. 1. The Tilting. I read email, ebooks, surf the web, or watch movies on it on my desk. I think it's terrible that the tilting form factor is going away. 2. The GPS. At the time not many WinMo phones had built in GPS yet, so I was really excited. I'm gonna wait and see what the Xperia X1 is like before I eventually "upgrade".

I owned a sprint 6700 before the tilt. I really enjoy the tilting screen. When I used the sprint 6700 I was always futzing around with the screen so I could read it. I would try to pile books up on my desk, I'd pile up papers to try to prop the device up. Never worked of course. The device would silde off and make a big BUMPING noise, disturbing all my workmates.
The tilting screen is so obvious with the slideout keyboard. I can't imagine why someone wouldn't like it. And can't imagine why they will drop the feature.

,但60年前看到的其他照片和底片已经没有了。吉本映三说,他亲具体是何时去北京展览公司,上司是谁,照片是怎么照的。他家在阪神大地北京展览公司,其他资料也都没有了