Time of My Life, keeping tabs on where you spend your time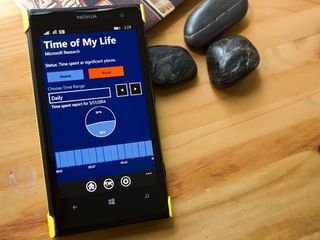 Time of My Life is a relatively new Windows Phone 8 app from Microsoft Studios that is designed to help you track where you spend your time.
The app uses your Windows Phone location services to log the time you spend in one location or the other and will chart your activity with daily, weekly and monthly graphs.
Time of My Life is an interesting app with potential but could use a little fine-tuning.
App Layout
Time of My Life's layout consists of three pages, your home page, map page and settings page. They offer the following features.
Home Page: Time of My Life's Home Page will display your saved locations, options to choose the time range you want graphed (daily, weekly or monthly), directional arrows to scroll through the dates, and then the graphs are displayed on the bottom half of the Home Page.
Map Page: Here is where you set the locations you want to track. You will need to scroll around the map manually to find the location you want to monitor and then double tap the spot on the map. Once the location is created, Time of My Life will monitor the time spent at that location.
Settings: Time of My Life only has one setting. Turning on and off Location Sensing.
As you move about during the day between locations, Time of My Life will monitor the time you spend at any one location. The charting is somewhat vague as to how much time you are spending at a location but close enough to give you a feel for where you are spending your time.
Overall Impression
The interface is simple but could be better. For example, the default map view is set to Redmond, Washington (should be of surprise) and lacks any tools to center the map on your current location. The map also lacks any search features so to set a location (unless you happen to be in Redmond) you will need to manually scroll around the map.
I think Time of My Life has potential but there needs to be an easier way to create locations. In the least there needs to be a "My Location" control button on the map view to center the map on that location. I also wouldn't mind seeing map layers added so you can toggle between the street map and a satellite view.
The concept behind Time of My Life has strong potential and the app in current form is nice. I just couldn't help but feel it could be better.
If you are interested in seeing how much time during the day you spend at home, work or any other location you may visit, Time of My Life is a good option to consider. The Windows Phone 8 app is free and you can find Time of My Life here in the Windows Phone Store.
Windows Central Newsletter
Get the best of Windows Central in your inbox, every day!
George is the Reviews Editor at Windows Central, concentrating on Windows 10 PC and Mobile apps. He's been a supporter of the platform since the days of Windows CE and uses his current Windows 10 Mobile phone daily to keep up with life and enjoy a game during down time.
Something new. Good, thanks..

The app strongly needs Foursquare integration to make addition of places easier. The interface should also be redesigned to make it more Metro like.


I've been using it since last week and haven't had to map locations. Its averaging how much time I spend at work and home, but that's it

No thanks. I don't need Microsoft tracking my every move. I wonder how much they'll charge the NSA to start selling this.

I think you can trust Microsoft with your data :)
Unlike google :P
But if you are a frequent reader of articles here, you must have read Microsoft was given high rating when it comes to securing customer's data.
And if NSA is interested in tracking you they would've done it easily without Microsoft's help. :P

You cant trust either company with your data. You clearly dont follow news dont you? I wouldnt trust any company with sensitive data that keeps this data from beeing accessisible by anyone else that I allow?

Okay I might be wrong but would love it if you could paste a link of the news, from a reliable source. Which tells about Microsoft selling user's data to the Nsa or any other government agencies for profit. :)

http://techcrunch.com/2014/05/13/nsa-docs-detail-efforts-to-collect-data... Just google Microsoft NSA. I mean its so much easier than asking an internet stranger to do it for you.

Sorry for my ignorance. Thanks for the info, still learning..

Here we go again. This privacy paranoia is just ridiculous. What? You a spy or something? Lol.

I would suggest you to read " The Republic" by Plato.
It might help you to understand how governments work...

Am, not able to update maps it keeps showing checking for update but don't even same problem when i have to download....Here apps are also not responding

Would also be nice to be able to adjust the radial of the location or create more custom shapes for larger areas that may be the same location, e.g., dog park, golf course)

How is this better than Track My Life?

Track My Life requires lots of in-app purchases to make it really usable. This one is free as is from Microsoft.

This. Why is it reposted? No further news from Surface event to keep the clicks coming?!

This app is amazing I know some might want more from it (like a nice design) but This app is great for keeping track of your location not necessarily exact point on map at speciffic moment. For example... I work part time in multiple locations and I need to know my hours and how long im on the road during the day so I can do my timesheet precisely. This app tells me exactly the time I came to work and left for a meeting (shown by empty time frame) and I can set it up to multiple jobs that we work on at Arhitecture firm. This is simply amazing app to have... PLEASE make it look georgous I really hate Microsoft for being so sloppy, they have amazing Metro style which is unique to show off but 90% of the time when I open an app it looks like shit (many of the made by microsoft) Does anyone have a sense of design there. Apples priority is looks, Googles is function, why cant microsoft be inbetween. Sorry I got carried away. I feel like there is lack of organization somewhere there. (STILL LOVE EVERYTHING ABOUT IT :) wish many could feel the same

The app needs to be updated. When I press the map icon, it shows me the map of Seattle and that too the Microsoft office location. That's ridiculous, I am currently located in India New Delhi..

Same with me. Seattle is nowhere near Norway :P
Have to manually search the map.
Still not getting the point of this app. Deleting...

BTW it could be great if Time of My Life utilized Nokia SensorCore.

you are not allowed to make such engineering suggestions here on wpcentral. http://forums.wpcentral.com/cortana/275819-cortana-icon-1520-why-not-use...

This app lacks to recognise the location. Showingme Seattle even though I stay in mumbai, India.

Doesn't show where I spend chunks of time. Only shows home and one time when I went to a restaurant. The 8+hrs a day @ 5 days a week isn't showing up. This app seems rather useless with its current setup and needs a significant update or will be deleted soon.

Incredibly inaccurate though, your locations need to be about a km apart or it things you're in the same place! Also would be nice if it guessed places a bit

Opppps sorry I was talking about track my life!

I would find this app depressing.

It's hardly accurate due to GPS limitations, my friends live near me so it says I spend most of the time on my friends house, and more than 50% is in black, needs a lot of fine tuning

The app needs work. I live in Switzerland but when I open the map now I get Seattle. There is no way to go to my location without physically scrolling there. The app should pull from my favourites places. More polish.

This will help me get out more. All I do is spend time in school, home and work.

I've actually been using this app for the past few days. Unfortunately, I had to uninstall it as my battery was taking a big hit. My 1520 usually lasts me a day to a day and a half but by the afternoon, my battery would be down into the 40's. I uninstalled it and the battery is much better.