Ting getting the HTC Tiara and mysterious Samsung device "mid to late" July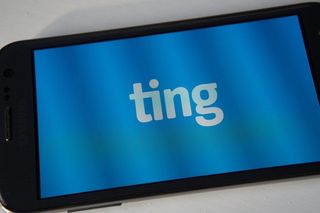 Ting is a wireless service provider here in the United States. Ting doesn't subsidize the cost of smartphones and does that in order to avoid contracts for consumers. They operate their services via Sprint's CDMA 3G, 4G, WiMAX and 4G LTE network. It looks like Ting is getting ready to jump on the Windows phone bandwagon according to a recent blog post and in doing so outs the HTC "Tiara" and another Samsung device. We last heard from Ting about a month ago where they reassured their support of Windows Phone.
Last December they started a campaign called "Bring a Sprint device to Ting" that allowed potential customers to bring a list of select devices from Sprint right onto Ting. This was the only way to previously get a Sprint Windows Phone device on Ting, but the company is now looking forward to bringing their own official selection.
Somewhere in mid to late July the company will get two phones. One from Samsung and the other from HTC. They aren't sure which Samsung device they'll be getting, but do know for sure the name of their future HTC offering – the Tiara.
HTC Tiara
As you know the Tiara is supposed to be mid-range smartphone from HTC. Run-of-the-mill specs include a 1.2GHz dual-core Snapdragon processor, 8GB of internal storage, 4.3 inch WVGA Super LCD2 display, 1GB of RAM, 8MP camera in the back and 1.6MP up front. This device will be juiced by an 1800 mAh battery.
What's interesting is that the Ting blog post isn't sure if Tiara is the official name or codename. But they do mention that this device will be LTE ready. Even more, this device is not expected to be a "CDMA 8X" but rather based off of the Android HTC One SV (opens in new tab) design. Curious!
Samsung
The Samsung device Ting is getting isn't even known to the company just yet. It will supposedly be LTE ready and include an unlocked GSM SIM card slot. An option that many international users would be happy about. The device will apparently come around the same time as the Tiara.
There's a poll on the Ting blog post asking customers their opinion on Windows Phone. Whether they want the Tiara or Samsung handset…or something different. If you're a Ting customer be sure to make your voice heard at the source below.
So what's this mean for Sprint customers? Basically these sound like the two devices you'll be getting sometime in the coming weeks for yourself on Sprint. We did see the Tiara recently swing by the FCC with some indications it will be ready for Sprint.
Source: Ting Blog (opens in new tab); Thanks, iknowsingh, for the tip!
I'm on Ting. Did the BYOD from Sprint program to continue using my HTC Arrive without overpaying Sprint once my contract expired.
I like them but I'm not sure I'll stay if they don't get a high end Nokia Lumia device.

Sweet. Glad to hear HTC is still in the WP game. But here we go, Nokia fanboys will bash HTC in 3... 2... 1...

Not at all! Love both manufacturers. Quality devices

Agreed. Before I got my 810, I had an HTC Radar and it was awesome. Then I gave it to my little bro and he loves it. Very sleek and cool little phone.

Won't get bashed, as long as they keep showing support for the platform :)

I'll bash in. I have the 8x and there's crap support. Could also be because of tmobile though....still haven't gotten WiFi calling...

I know how you feel. I have the Nokia 810 with no WiFi calling and it got OELed. :/ But still, both great devices in their own way...

I had an HTC Trophy for a year. It was a decent device but HTC's lack of support for 7.8 was annoying. Nokia's app support makes everyone look bad anyway :P if HTC put as much effort into a high-end WinPho device as they did with the One, they'd definitely be up there with Nokia.

That is true. Nokia's support is bar none one of the best in the industry. I sure hope more companies can follow their examples.

If HTC made an Arrive 2, a WP8 version with slide out keyboard, I would've been all over that.

Yes - been waiting for this one since my TP2 was getting old. Didnt get the arrive because it was an overprized low end phone(just like the desire Z) at the time of release and i think it wasn even available in EU.
I just hope someone will come up with a high end device with landscape keyboard. But first the system has to be able to landscape

My son is still using his LG slide WP7 variant. I'll give it to them, "IT WAS BUILT TO LAST" even though they abandoned WP.

I have htc windows phone and i FUCKING hate it, no support, no proper exclusive apps..
Next phone will be nokia for sure.

Can you define support for me? As I once said the same thing about HTC, but after having run-ins with a few loyal HTC fans here on WPCentral, I decided to purchase a couple of the HTC 8X WP8 phones and have no real complaints outside of their lack of advertisement of the 8X, because as I mentioned above, its design is actually better the the 822/900/920.
Cons:
Battery life, had a green screen on camera (reboot after an update took care of that), Camera isn't better than the 900/920 but decent, buttons take some getting use too, they're recessed too much.
Pros:
Design, indicator lamp (although I wish it would flash for more than low battery), screen is decent as well, beats audio is good as well.

Conclusion:
The only thing HTC is failing at is advertising WP8, bringing big name app makers to WP8 platform. They also need to improve battery life of the 8X and use the built in indicator lamp for messages, email, alerts.


No need for bashing, just market realities. In the US, HTC and Samsung brands sell, Nokia does not. So Ting goes for those for their WP thing, to play it safe. The devices will be boring as hell, of course, and will do nothing for WP, but that is hardly Ting's problem.

I wouldn't worry about it, they bash Samsung regularly anyway. At least HTC and Samsung don't release a new Windows Phone every day, unlike Nokia.

No we won't as I am a big fan of Nokia for both the support they give to WP8 getting apps, adding new technology and design, but I recently purchased two HTC 8X devices after being bashed by HTC fans here on WPcentral. The design of the HTC 8X is better to me than the 920 due to the thinness, but battery life and the camera on the 822/920/900 are much better on the Nokia. I just wish HTC could do more to get some of the big app makers on board like Nokia does. I also don't like the fact that HTC doesn't have more advertisement show casing the HTC 8X or request the cellular carriers do more for their WP8 offerings. I've seen/used the HTC One and the 8X is much better in my opinion, yet it's the "One" they choose to highlight in commercials....It Just Sickens Me!

So this means Sprint is on its way to finally offering the phones soon? My Arrive is getting small issues so I'm hoping I can upgrade (been eligible for a couple months now) soon. Come on Sprint! Hopefully in a week or so.

Love my Arrive but Sprint did a terrible job supporting the phone. They never pushed through a single update. I have my doubts that Sprint will be any better with WP8.

True. They only gave us mango and I had to force update for 7.8.

to be fair - that is more like microsofts fault since they know how service providers handle upgrades

How is 7.8 working on your Arrive? Did they eventually get the new build with live tile bug fixes, etc. up for it?

I used seveneighter (look it up). Its a neat little tool that force updates any wp7 to 7.8. Definitely worth making my Arrive more modern.

7.8 on my Arrive works flawlessly! Resizing the live tiles make a world of a difference and you can also turn off the haptic feedback which was my biggest gripe with the phone.

My second son has a Samsung focus S and I too had to force the 7.8 update. People may hate me for saying this, but Samsung should just FOCUS on their Droid devices because they completely ignore WP8 after they release the devices.

Considering Every Carrier in except has a WP8 device it would be nice if Sprint released these devices reasonably priced. But I am 100% sure that is just wishful thinking cause I doubt that would happen.

Since Sprint is getting the ATIV S, then it's possible that Ting will get it, too.

Its not all certain that the Samsung WP8 device to be will be the ATIV S. We will probably know much more about Samsung's WP8 effort during their June 20th press conference. Unfortunately Samsung naming has sabotaged much of their Windows offerings. They give Android a consumer friendly "Galaxy" name but call the Windows platform devices "ATIV". WTF Samsung.

If you say so. I have an ATIV and love it.

Really, I thought it made it easier to identify which phones and tablets ran what OS. Galaxy for Android phones and tablets, ATIV for Windows phones and tablets. Could just be me though!!!!

Stuck with Sprint for two years with my Arrive. Switched to T-Mobile for the Lumia 925.

I'm surprised HTC didn't just make a CDMA variant of the HTC 8X. But power to them as long as HTC will be agressive with the price and offer some color options.

they did the Verizon 8X is a CDMA phone. isn't? I dunno haven't lived in USA for the last 4 years. :-)

The Tiara has already leaked. I'm not impressed....

http://www.mobilenapps.com/articles/8862/20130613/sprint-htc-tiara-windows-phone-8-smartphone-leaks-pr-image.htm

Looks like a replica of the Nokia 822 i user for work

No mention of sd card slot ??

http://newsroom.sprint.com/news-releases/sprint-selects-samsung-and-htc-for-windows-phone-8-launch-with-truly-unlimited-sprint-4g-lte.htm Acoording to the newsroom they both will have "support for expandable external memory", so they should both have expendable memory. Especially the Ativ since it already does. Don't know if I wanna hold out on the Ativ S or get the Tiara, though the Ativ S is pretty nice.

There's something on a wing.... some... TING

I see what you did there!!!!

So they ditched their unique 8x/8s design and naming scheme and reverted back to windows phone 7 era style "give them last years android model"
Oh HTC, you almost were on the right track

The HTC "Tiara" will look like the HTC 8S but basically has the guts of the HTC One X. I've seen the HTC "Tiara" test phone in person. For those who live in the Dallas area. There is an HTC One pop up store at Stonebriar Mall in Frisco, Texas. A person that works at the HTC pop up store has a Sprint test model of the HTC "Tiara". I got the chance to check out the HTC spokesperson "Tiara". It was the dark blue model with the light blue bottom (
I got to hold it and tinker around with the phone. It's light weight. The unlike the current 8S that's being sold overseas with a 4 inch screen. The "Tiara" has an 4.3 inch screen. Also different from the from the overseas model. This one has a speaker slit on the bottom underneath the standard Windows phone control buttons to be similar to the dual stereo speakers that are featured on the HTC One.
I asked the person at the HTC one display how long has she's been testing it and if she knew when it would be available. She had been testing it since May but wasn't sure when it would hit the market. My guess is maybe we'll hear something at BUILD next week about a release on Sprint.
So rest assured it will be an attractive phone with the HTC 8S design and not the model in the "leaked" shots that's been appearing on the internet recently. If anyone want to check it out and you're in the Dallas area; head up to Stonebriar Mall in Frisco and look for the HTC One pop up store.

As much as I want to believe you, the HTC OneX has specs that the windows phone OS can't even support yet. I hope you're right though

CDMA is dominant in the US market.
Windows Central Newsletter
Get the best of Windows Central in in your inbox, every day!
Thank you for signing up to Windows Central. You will receive a verification email shortly.
There was a problem. Please refresh the page and try again.