The Tiny Bang Story, a steampunk inspired Windows Phone game is this week's myAppFree Deal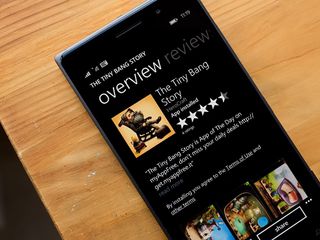 The Tiny Bang Story is a Windows Phone game that takes you on a steampunk inspired puzzle adventure on Tiny Planet. Tiny Planet was recently devastated by a recent asteroid strike and it is your mission to help rebuild things to their former glory. The game spans five chapter of game play, which includes over thirty challenging brain teasers, and is filled with creative hand-drawn locations. The game lacks text to guide you through the game so your intuition and imagination will be tested.
The game normally is listed in the Windows Phone Store for $1.99 but through the myAppFree promotion, you can pick The Tiny Bang Story up for free.
As mentioned, The Tiny Bang Story lacks any text guidance. It does give the game an odd feel at first but there is a brief tutorial on game play when you start the game. In many respects, this is a hidden object game at its core.
The game presents you with a scene and you have to find the hidden objects that are pinned as thumbnail images on the side of the screen. You do have hints that become available to guide you in the right direction and plenty of doors, paths, brain teasers and windows to search deeper into the scene.
In briefly playing The Tiny Bang Story, it comes across as a challenging and entertaining gaming title for our Windows Phone. The graphics are nicely drawn up and the game will test your skills as scavenging, intuition and imagination.
The Tiny Bang Story normally runs $1.99 but for the next twenty-four hours you can pick the game up for free through the myAppFree Deal. The game currently has a 4.5 Star rating after only a handful of reviews and we see the rating as being not far from where it should be.
myAppFree
Windows Central is proud to be partnering up with myAppFree, a free app and service that highlights special deals for software on the Windows Phone Store. Make sure you download their app to keep track of all the specials they run weekly, as you'll never know what you may find.
Windows Central will continue to highlight select apps and games from myAppFree on a weekly basis as a benefit to the community.
George is the Reviews Editor at Windows Central, concentrating on Windows 10 PC and Mobile apps. He's been a supporter of the platform since the days of Windows CE and uses his current Windows 10 Mobile phone daily to keep up with life and enjoy a game during down time.
Already have this one.... If you don't great time to get it

No 512 Mb? Time for a Lumia 525.

Who would imagine someone would find light in 512 devices?

. "start with a budget" they said. "you'll upgrade later", they said.

... Only in developing countries and on 3G. Could be my international phone, unless that 1030 finally has LTE dual SIM.

The subtitle in the 512mb ram graphic is grammatically incorrect. It should read, "this title does not SUPPORT 512mb devices". Just saying.

It says "512mb NOT SUPPORTED", its good enough the way it is tbh.

There's a second line "This title does not supports 512 mb devices" which is only fine if you talk like Popeye

ROTFLMAO!!!!!!!!!!!!!!!!!!!!!!!!!!! OMG, that was great. And you're right. The graphic is grammatically incorrect. Man, that was the best line of the day.

It's a spelling error, not a grammatical error.

Upside is the colour they chose is so bad it makes the small print practically impossible to read..

He spelled supports right, didn't use it in the right context. Grammatical error

But support is the correct word. The only thing wrong is an extra "s", most likely a typo making it a spelling issue.

I'll just leave this right here... http://m.youtube.com/watch?v=JA9MdVb6WqQ

Umm anyone else catch the innuendo here?

Sorry, we all did, but only you.

Kinda reminds me of Machinarium... which is a good thing!

Somehow reminds me of Samorost (look it up). In fact, it REALLY reminds me of Samorost.

Oh my god! Thank you! I've thought about that game for ages but couldn't remember the name!

You're welcomed. Samorost was an awards winning flash based adventures game, and I liked it alot.
In fact, IIRC, there was even Samorost 2.
If you'll search carefully, you could even find and download the game (not for WP though, AFAIK).

Anyone knows why does it need location services (GPS)?

Why is that a big deal? Just curious.

Not sure, but a guess says it's either privacy concerns or battery concerns, or both.

Because as a developer, you shouldn't be using things the app doesn't absolutely require. If the game doesn't need it to function, then they are either gathering location data or for regionally targeted ads. Location data would probably be anonymous, but still.

It means the application will know your location when you play it. Developers should be respectful of privacy. If you don't need it, don't request it. If you do need it, explain why you need it. Data can be misused easily. For example, an app can request your contacts and get access to everybody's email in your contact list. Here is a real example: the facebook app on Android have access to your SMS messages (http://www.pcmag.com/article2/0,2817,2400758,00.asp). Another example to be careful about: if an app wants access to onedrive or dropbox for integration. If you don't trust the app, don't do it. Finally, third party email clients have access to your emails. It would be easy to copy your information from there to their server if they want to. Even if the developer just did it by mistake or just doesn't care about it, it could be bad. Apps are generally less secure than the OS, so somebody might target the app and gets your information through it (e.g. snapchat third party app incident). I contacted developers who requested access that they didn't need in the past and they fixed their apps. One of the reasons I like WP over Android is with this issue. It is more secure from this regard. Of course, you lose some customization but I think making it work in a secure fashion is more important.

Thank you! That really answered my question.

Played it on my PC a while ago, good stuff.

I'd purchased this already.Great game.

Thank god I didn't get it. No 512mb support.

You can't buy it if your device doesn't support it.

There use to be a time when I had to pray while scrolling down an article 'please let it support 512mb' but now (since I got my 730) I can scroll down without any fear :)

Got to play one level, now it crashes everytime I try to open the game
Windows Central Newsletter
Thank you for signing up to Windows Central. You will receive a verification email shortly.
There was a problem. Please refresh the page and try again.