Tiny Empire - a blast of a Windows Phone game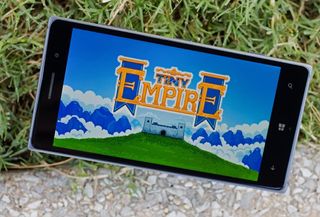 Tiny Empire is a relatively new Windows Phone game that has you defending a kingdom by blasting orcs, goblins and other monsters with your trusty cannon.
The fantasy arcade game has over 80 monster filled levels to conquer, abandoned mines to reclaim and an assortment of cannon and gear upgrades to purchase. The 16-bit graphics give the game a bit of a retro feel and game play will test your skills at cannon marksmanship. Tiny Empire isn't an overly complicated game and a fun way to pass the time.
Tiny Empire forgoes a traditional main menu and opens up to a map view of your gaming levels. Across the top of the map view, you will find a gear button to access the game's settings and your star, gem and diamond counts (all three earned during game play). In the bottom right corner is a shopping cart button to visit the game's store.
Settings for Tiny Empire are minimal with muting the sound being the only option. The gaming store has in-app purchase opportunities to build up your diamond count and additional gaming levels, as well as options to spend diamonds on helmet upgrades for your troops or cannon upgrades. Helmet upgrades help protect your troops better from friendly fire and cannon upgrades give you adds more punch to your attacks.
Game play is level based and starts off a little on the easy side to get you acclimated to the gaming controls. The King will appear throughout the game to offer a little guidance as new gaming features or enemies are introduced.
The game screen with Tiny Empire will have your ammunition count displayed in the upper left corner of the screen and your diamond count in the upper right. Your cannon will be positioned somewhere along the bottom of the screen with a collection of enemy and friendly troops scattered about the screen. As you might guess, the goal is to wipe out the enemy without causing harm to your troops.
Each level has an allotment of cannon balls, which will come in a variety of styles such as a basic round ball that simply smashes your enemy, flaming balls that burns them to a crisp and an exploding ball that blasts them into tiny little pieces.
To fire your cannon, tap and hold the screen to pull up a red trajectory line. Move your finger around the screen to set your aim just right and release your hold to fire the cannon. You also will need to plan your shots carefully, to make the most of your ammunition.
Again, the goal is to wipe out your enemy without harming your troops. Should you wipe out all of your troops or run out of cannon balls, you fail the level. At the completion of every fifth level or so, you'll gain bonuses such as finding diamond mines and often will see a change in the type of enemies you will face (or new enemies are added to the mix). This helps give the game a little variety and from growing stale too quick.
Overall Impressions
Tiny Empire is a fun Windows Phone game that is slightly addictive. It does start out slow but around the tenth level, game play becomes increasingly challenging - especially when you face moving targets.
The graphics are nicely drawn up and the pixelated graphics work. The mechanics are simple but do require some skill at aiming your cannon just right. The game does lack marking the trajectory of your last cannon shot, which isn't a bad thing and adds to the game's challenge. You essentially have to take every shot from scratch.
Overall, if you like blasting orcs, goblins and other monsters with a cannon or simply in search of a fun game to pass a little time with, Tiny Empire is a Windows Phone game worth checking out. At last check, Tiny Empire is rated at 4.5 Stars in the Windows Phone, which is about right for this Windows Phone game. We liked the game and if you try Tiny Empire, let us know what you think of the game in the comments below.
Download Tiny Empire for Windows Phone (Free)
George is the Reviews Editor at Windows Central, concentrating on Windows 10 PC and Mobile apps. He's been a supporter of the platform since the days of Windows CE and uses his current Windows 10 Mobile phone daily to keep up with life and enjoy a game during down time.
Man I would love to see Mortal Kombat X. That would be a dream come true!

Mortal kombat x , injustice gods among us , tekken cards tournament , marvel future wars , batman arkham city , they are all dreams man :)

Plants v zombies2( hv bn waiting for 2 yrs), wwe immortals looks good !

Wow, looks really awesome, thanks George! :)

We hope you enjoy playing Tiny Empire! :D

It looks gud...and I could try this on my Lumia 520

We hope everything runs smooth on your Lumia 520! If there is any problem feel free to send us an e-mail. Happy gaming!

i ment the app icon is not 16-bit, which doesnt match the game style.

The icon was conceived with a little trailer we released (https://www.youtube.com/watch?v=HpcvDAHNNs4 if you're curious) and the trailer itself wasn't pixel art so we kept it like this for integrity! Hope this doesn't detract you from playing the game (:

I've been playing this game since last week till yesterday! But it sent me reminders! So, I deleted it!

Your feedback will be taken into account for future updates, thanks! Back then we didn't have notifications and playtesters asked us for the option since they didn't wanted to lose any diamonds from the mines. Did the game ask for your permission to send notifications?

Can't say no to a free game :P.

Nah Im already bored with angry birds like games...

You should check it out anyway! We've put a lot of love in the making of the game, I'm sure it will be fun :D

I think those amazing games will be ported to WP as Microsoft released interesting tools for developers on Android and iPhone platforms, that should help them easily compile their apps into WP apps, remember candy crush saga did. Lets pray it happens, I really love my WP, I think Android sucks, ISomething is expensive for nothing crap... But this app gap sucks too.

We're happy that you like the game! If there is anything wrong feel free to contact us (:
Windows Central Newsletter
Thank you for signing up to Windows Central. You will receive a verification email shortly.
There was a problem. Please refresh the page and try again.