Toib brings a beautiful YouTube experience to Windows Phone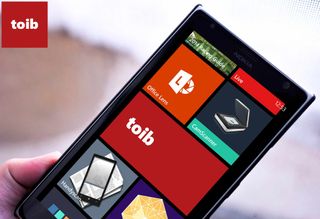 We'll probably see official Google apps like YouTube, Hangouts and others once hell freezes over. Until then we have some solid third-party apps in the Windows Phone Store. For YouTube we've been rocking myTube and Metrotube for quite some time. Toib is a brand new YouTube app in the Windows Phone Store. You probably joined the beta earlier this month when developer Daniel Berg (@bergdaniel) opened it up to the public. Today that app is now available to download. Let's check out toib for Windows Phone.
Right off the bat you'll notice one thing about toib. It's a simple YouTube app that isn't cluttered or messy. The design is really elegant and we like that a lot. Daniel is also the developer behind Phonly, our favorite third-party app for Feedly. Which is also a beautiful app, so it's no surprise to see toib look so elegant. But don't be fooled by how simple toib looks, it's also feature packed and gives you all the YouTube functionality you'd want.
Here's what you get with toib on Windows Phone.
Login to your YouTube account
Live Tile support app tile and channels
Browse YouTube videos
Search YouTube videos
HD-playback
Buffer support
We like toib a lot. It offers a no nonsense YouTube experience on Windows Phone. Log in with your YouTube account to get access to your playlists, favorites and liked videos. You can subscribe to channels, leave comments, share videos, or add them to your playlists/watch later queue. Another handy feature is the ability to open YouTube links into toib from Internet Explorer.
Video playback is great with toib. One you start playing a video in toib you can rotate your phone to make it go full screen. Once there you can toggle between HD or change your location in video playback.
In the settings of toib you can also change your region to another one. A handy feature to watch content that might be blocked for your particular country. Within the settings you can also switch up between a light, dark and black theme or set the default video playback quality to 720p. The app also features Live tile and Buffer support, which can be enabled in the settings of the app. Videos can even play under the Lock screen, again you can toggle that mode on or off in the settings. Like we said, don't let the simplicity of toib fool you, it has some pretty cool features.
We love that with toib we now have three awesome YouTube apps on Windows Phone to recommend to friends and family. This initial release of toib is a strong one and we can't wait to see the app grow and gain features in future updates.
There's a free trial available of toib. With the trial you'll only see your first 10 subscriptions, you only get the light theme, you can't change the color of the Live tile and you don't get Buffer support. We recommend giving toib spin. If you like it, you can unlock the future feature set for just $0.99.
Download toib from the Windows Phone Store.
Windows Central Newsletter
Get the best of Windows Central in in your inbox, every day!
By far the best Youtube client I have ever used!

Thanks, glad you like it!

Are we able to pin all subscriptions to the start screen on the paid version? For now, with the trial version, I'm only able to pin individual subs.

Hey Daniel.... Only 10 days left! Are you excited???

NNNNIIIISSSSTTTT❕❕❕❕❕❕❕❕❕❕❕❕❕❕❕❕❕

Thanks, was just wondering lol. 8.1 is going to be a life changing event.

Yes. For all of mankind. Life on Earth as we know it will change. WP8.1 is what the scriptures in the world's sacred texts have been prophesizing for many centuries. And the increased UFO citings from around the world are also part of this revelation. Make yourself ready for the kingdom on WP8.1 is nigh!

Well, yes sir❕❕❕❕❕❕❕❕❕❕❕❕

For Windows Phone 8.1? Yep! Don't have the SDK yet. Dying to get my hands on it. :-)

I love that the developer is here looking for feedback! Hope we gave all give some nice feedback to improve the App! Thanks for your support Daniel! Do open a forum topic later on we can all give dedicated feedback

This app is awesome it has alot of potential. It is now my goto YouTube app. Thanks

Daniel, if I'm testing Beta version, Will I have the restriction?

Daniel ,what happens to the beta version??will it continue to work like before or something's gonna change!!

Lol I have no problems with the internet explorer one but I miss the official one made by Microsoft. Darn google!

You can sideload the Microsoft Youtube app, all you need is the xap file from xda and a developer unlocked phone.

It sucks compared to this and mytube

I agree Dennis. This app is a must try. It is polished and feature rich. Take it for a spin and call me liar.

Absolutely gorgeous app. This may just replace mytube!

myTube has audio streaming for videos, and it automatically switches between video and audio when you leave the app with the home button and you return there via the multitasking view.
THAT is just a killer feature, and there is not another single app that supports that :)
Also, with myTube you can browse other videos while another video is playing in the background :)

Gonna be tough to beat mytube but I must say, the UI on toib is remarkable.

I just downloaded the trial version. It's definetely unique and different but I still have to stick with myTube and MetroTube. myTube's feature that you listed is straight AMAZING. MetroTube I use when I want to watch the official version. This app is nice but it needs to take some of the killer features of the others apps.

I find it a bit ridiculous that when I look at this app in the store and then scroll over to related, not a single YouTube app is shown. Sorry for the tangent. The app looks nice, maybe I'll give it a spin if I have time.

That's because the store is just sh*t ...

Yeah they need to do something about the store because it's pretty bad.

It's because of the category chosen by the toib developer when he submitted the app. Store works remarkably well on those ends.

I'd like to see a comparison of the top youtube apps. I already have myTube and Metrotube. Don't need three youtube apps so at least one has to go.

Same "1st world problem" here. Bought metrotube, then the app went through a few weeks of problems so I bought mytube. Since then both have seen very cool updates and I can't decide on one. Now this one looks very cool and also has the dark theme which I love, but 3 YT apps are too much. Anyway, great work from the dev. The phonly app is also very very good.

Not that bad and with further updates it should be awesome. I still prefer MyTube because of background playback and browsing other videos while the video is playing is just too good to give up.

Love it, just a couple features short of replacing mytube!

the UI looks similar to the official YouTube app google pulled, dear Daniel Berg, what's the idea behind the name: toib?

Truthfully? It's kindof slang for YouTube here in Sweden. We (me, mostly) call it OyToib sometimes, so for a name I just went with 'toib'. I was planning on naming it 'OneTube' but it got taken.

OneTube seems perfect! I'm a beta tester, and WP doesn't recognize toib as an YouTube app, eg when I try to watch an YouTube video right here on WPCentral I have to choose between "browser" or "YouTube App", so if I choose "YouTube App" toib doesn't show up on the list. This is the only issue I had. Toib is fast and smooth, have a great Metro UI, best Youtube third-part app.

What do you mean OneTube is taken? Taken or not, you can name your app anything you want. AFAIK, the WP OS takes your app name directly from the app manifest file, and it's not the same name you give to it in the store.

How about wetube, wiitube, wintube, wptube. Or, I have an idea..why don't you call it OyToib?!! I've read somehwere that it's kind of a slang in Sweden! Aren't you from Sweden Daniel? :P

I am! OyToib sounds a bit Finnish ;-)

This app is wonderful and could make me switch from MetroTube if it wasn't for the name Toib. I know you said it's Swedish slang for YouTube, but renaming the app with the 'tube' moniker would probably get more of a following. If i was just scrolling through the store i would pass right over it because i dont know what 'Toib' is. OneTube is the perfect name I think. Even if there is a OneTube you can still name your app that, and because it is a quality YouTube app with beautiful design it will probably come up at the top of the list when searching for YouTube. Anyways great app and love to see devs here on the forums.

The only thing it doesn't have that metro tube does is....the ability to resume where you left off in your video if you multi-task. In this app it just restarts your video

Yep, there's a bug in the player that I'm using that causes this. It's on my to-fix list.

Ok didn't know that, that is pretty important, glad to hear it's coming. What about downloading on the app like mytube?

Downloading videos won't be supported unless officially sanctioned by YouTube.

I'm sticking with Metrotube.

I won't even try it as long as the name Toib remains.

Then you're missing out on a really nice app.

Aw, come on, you'll learn to love it. :-)

I definitely support the app and the name, but there is a drawback. If any newcomer to windowsphone searches for youtube on the store, toib may appear on the list, but the person will most probably judge this app by its name since its not having a TUBE in its name.

I agree. But I couldn't for the world of me come up with something that had 'Tube' in the name. Expect for OneTube, but that got taken. I hope it works out anyways.

TotallyTubular! LoL. That's like the 70's-80's surfer version.

Honestly, Tubular is a good name...or 2Tube (rhymes with youtube), etc... Purchased Daniel!!!

I have to say Tubular is a very good name. Daniel, why dont you and wpcentral host a poll for the renaming of your app. You will be surprised to see how amazing some names are gonna come up.

Why? You want another variation of "X"Tube? TubeYou? SuperTube? BigTube? VidTube? Tube HD? Tube+? FaceTube? MegaTube? LOLTube? At least this app has a name that sets it apart. Its exactly what drew me to the article when I saw it.

Same here Milkytee. I like the name it is unique.

Someone should name a YT app: LubeTube. We all know why.

That is genius. You are a genius.

Yeah I think this is judging a book by it's cover?

I was one of the beta testers for this app. and I still think that it needs a lot of improvements because it's slower on loading videos and lags a bit on settings but the app. itself has a lot of potential. no feelings but metrotube still remains the fastest youtube app.

Its hella fast loading on my 920. It does everything fast.

Excellent app! I wish you all the success, Daniel!

How do you setup it up to have Toib automatically open when YouTube videos are opened in Internet Explorer?

Looks like the Microsoft app that Google pulled. I don't use YouTube very often, but I like the way this app looks enough that I just uninstalled MetroTube and MyTube. If I end up actually using the app at all I'll definitely upgrade to the paid version. I do wish the name and live tile were a bit more memorable though. Anyone know the reasoning behind the name?

It's sortof Swedish for YouTube. Slang.

How about ToibTube? Judging from he positive feedbacks here and your accessibility, I'm going to try it out.

Actually, I believe the town of Hell in Michigan did unusually freeze over this winter, but no sign of official apps coming out of Google. I believe you are incorrect in your theories in this article. Please revise.

Fuck google apps. After few days im deleting my gmail account too. What a mean company google is

I was beta tester.It's a pretty nice youtube client.

I will give it a try.it looks nice. I use mytube for background audio but I like the design of this app.

Looks like a really well designed app. Have you any background in design, @bergdaniel ? For a first effort, this is surprising pleasant to look at.

Thanks! No, no background in design. Started developing apps about 18 months ago and I've just learned along the way.

Got to hand it to you, you've got natural talent then. Everything flows and meshes nicely. I look forward to more work from you

Thanks buddy, glad you like it. I just have to bribe the fiancé for more app-cave time. :-)

the live tile seems to only show one featured video though, any chance of it showing latest subscriptions videos? also... beautiful app all around, dont car eif its not quite as feature filled as mytube/metro tube, i unisntalled both and sticking to yours, do hope to get a more customizable live tile though

Yeah, I guess I could implement something like that. If you've logged int it'll pull your latest subscriptions, if not it'll pull the latest featured. You can also pin the 'all subscriptions' to the start, just like any other channel. That will show the latest activity.

Tell her its for the vacation fund.

Live tile not showing anything, installed about an hour or two ago.

App-cave time.. Brilliant!! lol.

@Sam - Nope. Even Hell freezing over hasn't brought us official google apps. http://1funny.com/wp-content/uploads/2010/02/Hell_Frozen_Over.jpg

An advice for your application, it should be better if you can make the pause and other two buttons be positioned more at the bottom not centered and have some shadows because if I'm trying to load a video with white background I wont be able to see the pause button.

Ah, gotcha. I might style them to look more like the play button. Thanks!

Exactly this app. will be famous soon if you keep updating it. Good luck Daniel.

After reading the review I've bought it and now I'm gonna try it.

Thanks for the support, hope you'll like it!

Still alots a improvement is needed in this app.... many missing features thats makes it useless.. :p

Sorry to hear that. What are you missing?

You should list those missing features and send it to Daniel, otherwise your comment won't help a lot.

I like it but I'll use the YouTube app I made myself.

Can't its not on the store because its 99% the same as the IOS app and google will pull it.

If you're looking for a publisher, I'm always here :D

Seems like another great alternative!! Thank you!! Gotta appreciate the hard work people put into third party apps! I am for sure trying this as we speak like the lay out! Nice and clean!

Sam's busy scanning stuff via his phone :P
Either that or we're expected to receive a "Which is the best scan app in the windows phone store?" :P

Its a good app! Been on beta since the start bloody good !

Its awesome but no 1080p support ?

1080p is really tricky. It's two feeds for audio and video which is... difficult. Hope to make it work.

That's understandable also noticed when you scroll on subscriptions it goes to the top again rather then stopping doesn't matter much just a little thing least there's a count for the subscriptions now but it doesn't seem to change showing zero after looking at said subscriptions tiny details im noticing also the live tiles not very live ital get sorted im sure

After one more test I've seen some bugs maybe only me have them I don't know!
-Favorites section doesn't load (infinite loading message)
-You should adjust that submenu animation on settings, it feels like it's lagging a bit. (favorites section now work I don't know how but it was from my phone I think)

My pleasure, you are the first dev. that actually cares about users thoughts.
BTW the dark theme is awesome.

This one is really good. Clean, simple and clutter-free. It is like... IKEA of YouTube apps. You know... clean lines, clean colors, simple and functional. (Sorry! :D ) Congratulations from Finland! I bought this one immediately.

Thanks from Sweden! Love the IKEA reference. :-)

In this app u feel something unique...its really make u feel,u r really use YouTube. Love it...the developer make a huge work in this app...

Thanks buddy, glad you like it!

OneTube needs more love! Either way, I was part of the beta, do I have to pay?

Just keep the beta installed, it will continue to be updated

Don't be cheap it is only .99 cents. Purchase the app anyhow. I have the beta too but I made the purchase to support the developing team.

It is one beautifully designed YouTube app. Its replaced Metrotube on my phone as the default YouTube app.

Mr Berg Daniel. I am in awe of this app. I think you did a great job and I hope more features and bug fixes are coming. You really put your app right up there with the likes of MetroTube and MyTube. Since many have been complaining about the name of the app, I would like to suggest one to you. Your app PHONLY is very cool and popular and competes with Nextgen Reader in that space. Why don't you name your youtube app "TUBELY". Although it might sound wierd and even ridiculous, it's still a possibility. Think about it and excellent job. Good Day.

Daniel, im really keen to learn windows phone dev, you have any good references. Would love it if i could simply help you in your endeavours; no pay no credit etc, some sorta apprenticeship..

Hi Aneesh! Awesome, glad you're interested in rockin' some windows phone development. What I can do is to write a blog post (or series) on tips and resources on windows phone development.

Metrotube what metrotube, kidding removed too!

Have to say I love your design, about to purchase it! Good job Daniel :)

Thanks Chris! I'm a big fan of myTube too, fantastic app. :-)

Thanks! Glad to hear it :)

Loved it! When I pin a channel to the start, Live tile looks BEAUTIFUL! good work But I want to request 2 things: 1.- A better logo. That red logo with "toib" text is not beautiful :(
2.- Keep updating the app frequently :)! Don't forget that your App its amazing so keep the support to us :D!

Thanks! In 'settings' you can change the tile theme color if you're rocking the paid version.

First world Windows Phone problems: I have so many great youtube clients, I can't choose what to use as the main one.

I don't like being downloading so many youtube apps, I already have two installed but I'll make an exception since that i could see bergdaniel talking to people here, that demonstrates that he is humble and willing to give a us a good app. I will probably uninstall the others and stick to this app. Posted via the WPC App for Android!

Thanks, hope you'll like it!

Yeah I bought it too for the same reason. Does look like a nice app.

I'll just stick to Bing video search. I don't subscribe to any channels, upload any videos or subscribe to any Google services. Google's attitude and practices have driven me away... forever.

Awesome app! Don't know if it's just me, but it looks a lot like the official YouTube app we once had (before Google intervened, of course). My go-to app from now on, but I'll keep myTube, still. The only thing I miss, though, is the ability to reply to comments. Other than that, kudos!!

Yeah, I've seen some screenshots of it. Unfortunately I never got to use it myself. Hope I did Microsoft proud. :) Yeah, the comments... in YouTube API v3 that's gone. I hope they'll add it soon so I can implement it in the app. Thanks!

I believe they are proud =P
Keep up the great work, buddy. Much appreciated!

Hi Daniel!! Love your apps!! Phonly for me is the best looking WP app out there and that is the app I show to people when I explain why I love WP. Is the kind of app, the kind of beautiful UI, you won't see in another OS.
I will buy toib (why not "T"oib just to keep the pattern?). I like when developers don't use pieces of the name of the official apps. Can I offer my help to translate all of your apps to Brazilian Portuguese? For what I can see in the store comments many users appreciate more an app when he offers support to our native language.
You can contact me here, on Twitter, on FB or my email: guilhermemanso at outlook dot com.

Thanks, appreciate it! Really glad you like my work. When I get to translating the app I'll let you know. Thanks! :-)

Great buddy!! You can always contact me. :) I already helped some devs to translate their apps. Rudy's apps as an example.

That's nice, man. Everytime I see an app with Brazilian PT supported I'll remember you hahaha

Everytime I see an app or a game reviewed, I search for your comment. You are great man.

Edit: Oh, I posted like a reply. :x Meant to make a new comment.

Uninstalled because he has IAPs for too many features that are basic to YouTube.

DON'T BE A RAT AND PAY FOR IT! It's only 0.99$ You looks like an Android user that want ALL free

I already paid for METROTUBE. :p Loved the UI for Toib though.

I can't believe you just used Android user as an insult. Grow up.

I've been using toib since the beta, it's great to see such a high quality piece of work reaching everyone. Hey people, give toib a try, you'll not regret it. :)

Love the app ! Ive bee nawaiting it since seeing your first teasers of it when it was in beta, unfortunately i wasnt accepted to test it. Already paid for it and is my main now! Really reminds me of the fantastic microsoft app but i do have some suggestions: The playback buttons are VERY hard to see, mostly a design issue. The HD button doesnt always toggle, maybe a bug. Option to see own profile is welcome. Videos restart after multitasking/opening notification are backing into vide. Subscriptions are probably the most important aspect of youtube, option to make "all" the main page on the app rather than categories would be nice. Those are probably the most noteable areas of improvement, any other features would be awesome but these issue resolved would make your app the goto youtube app on the average youtube user. Something like being able to watch while browsing youtube within app would be amazing:D Cheers and thanks!

Mytube does let you browse while video is playing back.

I mean in a way similar to how the official app on ios/android allows you to minimize the screen into the corner while searching, etc. Mytube allows the user to do this by playing it through transparent pages.

Yeah, I'll work on a design fix for that. Thanks! :-) The resume issue is also on my to-fix list.

The flow of this app makes a lot of sense--things are easier to find than on metrotube. I'm going to keep the app but continue using metrotube until this app will be able to resume videos from where I left off and hopefully it gets a more metro styled logo!

Daniel, I have a question. When i click subscriptions, there is no indicator of length of the video and views count, whereas in popular section it's there. Is it a bug or is it a trial limitation? Thanks.

It's a limitation in the YouTube api I think, I'll try to sort it out. :-)

Thanks for the answer, hope you will sort it out! That's the only feature i miss from mytube

Very nice app, and just paid for it just to support the developer.

Nice app. What is this connect with buffer about? Can someone please explain what it means.

Buffer is a service for scheduling social activity. You should check it out at bufferapp.com

Was in the beta since WPC put up their article on it. Great job dude, I'm totally digging the app.

Animations kinda suck. I'm sorry. Everything else is beautiful. But seriously man, get someone to work on animations.

Sorry to hear that. The page transitions animations?

I love animations! But when you open a video and press the back button, sometimes it lags

Great app. Is there a way to play only audio in the background, like in myTube? I didn't find a way to do so. If there is, this is definitely my new player.

Not yet, I'll look into it!

Hmm...on my phone (HTC 8XT), the app doesn't seem to work? Just launches and says "an error occurred and we're not sure what" (or something like that) and nothing loads... BTW...like a couple name sugguestions, like Tubular, or 2Tubular, 2Tube...anyway, looks like a good app, so I've already purchased! Keep it up!

Looks like its failing to login to my youtube account.

Still experiencing this issue?

I like it. I may use bing credits to pay for it. It's only $0.99.

Tried it. Sorry, but no captions or annotation. Why can't I find any article or resource about why WP Youtube apps are unable to implement these features?

This app is gorgeous! Would be a standalone app if it had a download function like mytube since I don't always have high speed internet. I wish I could use only this app, until then I have to keep mytube around. Great job toib team.

Thanks, hope to see you back!

It is my goto YouTube app, keeping mytube only for when I need to download something. Like someone else said, it feels the most official, also seems faster lol.

I will stick mytube good effort thoh.

BOUGHT!! - IT'S SEXY - SUPPORT DEVELOPERS

Its nice, but a tad slow and doesn't really offer anything new. Will keep my eye on it though :)

great initiative with application of the genre, in fact the app for a first version this well worked and in fact stands out among the best Windows Phone store, congratulations!

3rd time to buy a youtube app and this doesn't failed me. Nice looking, clean ui :)

+1 mytube is still the best youtube app available on WP

Seeing how active the dev is and responding to the community I decided to buy before even trying. Always happy to support a WP dev.

Wow, thanks for the support!

The app some details missing as see the complete titles of the videos, the date at which climbed and answer comments, everything else is perfect. Very good, resembles the old official YouTube app, only with a very nice touch Metro.

Will look into it, thanks!

The only thing so,far that I dislike about the app, is that the comment section is not linked with the auto correct and typing software. Suggested words do not pop up either.

I Didn't Try It! I Bought it! :D

Yeah not bad. But mytube offers a little bit more in the free version. But both are no doubt are pretty.

I will give it a try but you should think of giving away the app for free for a limited time just saying :)

Maybe in cooperation with dvlup. :-)

YouTube? Hangout? Does not compute.

Didn't have a great first time experience. Video thumbnails take a while to load and I couldn't sign in my youtube account (I press the button and nothing happens, just a white screen). After restarting, even the featured videos won't load, just said something about an unexpected error. Sorry, but I'm sticking to metrotube

@bergdaniel Gr8 job, I just bought the app. How about the name YouRTube :) ?

Thanks! I think I'll stick to my guns now though. :-)

I like to support dev, specially when i like the app.. Wondering which youtube clients deserves it the most.
I purchase good games but not in app purchases.. Don't like that idea.purchases must persist across phones.

Didn't take long to convince me to buy it ;)

Beautiful app, love the UI, smooth and creative. Borrowed a bit from the Microsoft Scroogled YouTube app that was pulled. But he has done it better, still pretty much room for improvements. I don't have subscriptions up to ten channels but I already bought this. Keep refreshing the app with features and performance updates. Nice work guy!

Hey there im using the beta version its really awesome... One suggestion is to put in audio control while playing a video

Thanks, i think its a cool feature and ur app is really good looking

How to set in IE default open YouTube videos in toib?

I'll document it and get back to you. Thanks!

myTube is the one for me. This one looks great, but I don't see it as a no 1. Still miss the Microsoft youtube app.

How about live events videos support? Is this possible? Why there is no youtube app that can play live videos?

I bought this app to support the developer, i also own phonly wich i use daily so i,m sure this app will turn out spotless. :)

Thanks buddy, appreciate the support!

It looks nice but i love mytube.

But can this app play 4k video?

Um, no. I don't think YouTube has 4k videos?

It has, but they are rare

Hey @bergdaniel can you somehow add a proxy option in the app? So that we can use it even where it is blocked (like my school -_-) But anyways it's a beautiful well designed app. Loved it, gonna purchase it soon :)

Thanks for the support! When Windows Phone 8.1 comes out you should have native VPN capability. So just hold on. :-)

Any plans on making a version for windows 8? (meaning tablet, desktop, etc)

Well... maybe, if I can find the time. :-)

deleted my comment. Posted by mistake

Is it possible to add an ability to remeber a position in video? I mean that the app would continue from the place where I paused it, before I opened my notification from email or text. It would be a really awesome feature, because trying to find the exact spot where you was before the notification is annoying.
But otherwise it's a good app :)

Yep, it's on my to-fix list

Nice! Purchased on 3/23/2014.

Tube pro...nothing beats it..

Hey Daniel, thanx for this nice
app that I've purchased yesterday. So, my unique concern is that there is no world wide option for popular videos. And when I choose a country, in the popular videos section I'm still seeing the same videos of yesterday. Will there be an update for this issue ?

Hi! If you want to see 'international' videos then you should select 'United States' as your country. Also, the popular videos are updated by YouTube themselves, so you should see a change once YouTube updates. Thanks for the support!

Up untill now, none of the youtube apps have the ability to play a video in the background while I search for a new video (or open another app). Is this a limitation of WP, or is there another explanation?

If you open another app you "tombstone" the app you were running. This is a limitation of the Windows Phone operating system (and a good one, lest there be anarchy). I, as a developer, can implement so that your video that you are playing will continue to play while you are using the app. It's a bit tricky though, might be implemented in future versions. Thanks!

You can do both with myTube.

Tried it, liked it and bought it!

Awesome, you rock! Thanks for the support!

I was testing the app and it seemed pretty good, thanks Daniel, is much appreciated your effort. I hope that some day you can put feature to download videos, open from the browser or be able to copy the link of the video that is playing. Thanks for the app, simply wonderful.

Sweet!!....Very nicely laid out. :)

Chrome cast support please!? Lovely design!

There are other app that doing this search on the store ;)

I'm In!! Nice App!! keep up the hard work. I do think the comments are fair regarding the name of the app. From a business standpoint I would definitely look to rebrand. I'm new to windows phone and when looking for apps if there is one in the store that makes no sense....I pass. The only reason I found this one was the write up on wpcentral. TubeTube, 1Tube1, miTube, nosTube, toibTube, 7ube, chicTube, winTube, awesomeTube, victoryTube, multiTube, polyTube, kikTube, boxTube, sweeTube.....you get the point. I'm with ya with what ever you decide to do :) keep it comming.

I bought Metrotube before Toib. Tried Toib 1 minute, bought it immediately. Now my main YouTube app.
Just beautiful. Browsing the app is really natural, and comments are visually well organized that the web YouTube itself shoud have them like the Toib's ones. The only one suggestion I could express is about the name.
I think that if you want to mantain "Toib", probably you should have to call it "You Toib". It's easier to be found in the store (thanks to "you"), the name resembles the official one, and the icon could benefit of the red and white color to be recognized visually. Great app!

One question... When there is a link for a video, on a website (like here, often, on WPC), pressing it Windows Phone asks which Video App I want to use from the istalled ones. There are all the YouTube apps I have, but not Toib....is it a bug?...
Windows Central Newsletter
Thank you for signing up to Windows Central. You will receive a verification email shortly.
There was a problem. Please refresh the page and try again.