Top Rated Fast Food Apps for Windows Phone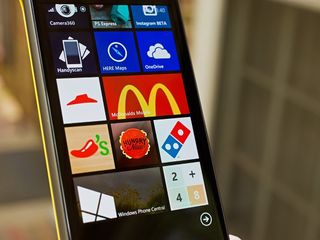 Windows Phone Central App Roundup: Fast Food Apps
Fast food restaurants can be a convenient way to get a quick bite to eat while traveling or for those times you just don't feel like cooking at the house. There are a few Windows Phone apps designed to help you located these establishments and a few that will let you order and have take-away ready for you. Now that Fitness Month has past, these apps may come in handy if you are in the mood to cheat a little and enjoy a Big Mac or large Supreme Pizza every now and then.
We've tapped a small collection of these Windows Phone apps for this week's roundup. Some of which are official apps from the fast food restaurant while others are rather nice unofficial apps. Just keep in mind some of these apps have regional restrictions but the good news is that all the apps are available for 512MB devices.
McDonalds Mobile
When you think of fast food, for many McDonalds will come to mind. McDonalds Mobile is a Windows Phone app that will let you check out the menu, view any promotions, check out any career opportunities and locate the closest McDonalds.
The McDonald's menu will highlight both breakfast and regular items and offers a nutritional listing. You can also customize many of the items to add tomatoes, onions, lettuce, cheese and other extras to see how they impact a menu items nutritional value. Career opportunities are divided between corporate and restaurant positions. You can search for jobs in your area, view the details on the job and jump online to apply for the job.
Location finding is straightforward with filters to narrow your search down to McDonalds with free Wi-Fi, a Play Palace or Drive-Thru services. Restaurant listings includes the address and phone number as well as the ability to generate driving directions to that location, view the location on a map and jump over to the McDonald's website to view the location. From the website you have the ability to view any employment opportunities at that location, generate directions, send comments to the management and more.
In the short time I've had to explore the McDonalds Mobile app, it comes across as a user-friendly way to access the McDonalds Empire. From finding a place to eat to finding a job, the app is a nice blend of online and local features. Big bonus goes to the developer for including a Home Button throughout the app for a direct jump back to the app's main page.
Domino's Pizza
Pizza is one of the more popular fast food menu items and could easily be a food group of its own. One of the more popular fast food pizza chains is Domino's Pizza. While the days of the thirty-minute guarantee are long gone, today we have the Domino's Pizza Windows Phone app to help satisfy our cravings for quick and easy pizza.
The Domino's app will not only let you find a Domino's location and let you order from over 5.000 U.S. locations, but the app will also let you track your order with Domino's Tracker. With the tracker, you can see when the pizza is being constructed, in the oven and ready for delivery or pickup.
Support is in place to let you sign into your Domino's Pizza Profile, access saved addresses, credit cards, and the app will remember you most recent order for convenience. Need to save a few bucks? The app also makes and promotions or coupons available.
I've used the Domino's Pizza app several times and found it to be very user-friendly and a convenient way to order everything from pizza to pasta to Domino's Chocolate Lava Cake. If you're a fan of Domino's, this is a must have app for your Windows Phone.
Chili's
It may be debatable whether Chili's is a fast food restaurant or not. The restaurant does have sit-down dining and meal preparation goes beyond assembly line cooking. However, while Chili's is more of a dine-in restaurant it does have one fast food characteristic - take-away orders.
For those who enjoy Chili's menu, there is the Chili's Windows Phone app. The Windows Phone app is a web wrapper (simply delivers the Chili's website to your Windows Phone in app fashion) but will help you locate the closest Chili's restaurant, browse the full menu, purchase E-Gift Cards and order take-away orders.
Location information includes contact numbers, the ability to generate driving directions, browse the menu and order online. While the Chili's app delivers all the Chilis.com features to your Windows Phone and receives a 4.5 Star Rating, I didn't find the app's performance to be very stellar.
I could have been battling sun flares but I could not pull up a menu view and it took forever to pull up the online ordering menu. Finding a local Chili's also took a few seconds longer than you would expect. Based on the Windows Phone Store reviews, the poor performance was somewhat surprising. To be fair to the Windows Phone app, these performance issues were also present when visiting Chilis.com.
The Chili's Windows Phone app has potential but these performance issues need to be resolved before it can truly shine.
Pizza Hut
There was a day when Pizza Hut only offered dine-in and take-away meals. Today you see pizza delivery from Pizza Hut almost as often as you see the guys from Domino's. As with the Domino's, Pizza Hut also has a Windows Phone app to help you locate and order your pizza, pasta and deserts from The Hut.
The Pizza Hut Windows Phone app is built around Pizza Hut's mobile website and while it's a web wrapper, it does a decent job of things. It is more bare bones than the Domino's app but not terribly lacking.
Locations can be mapped out from the search results but I couldn't find a way to map the location from the order menu. Speaking of which, orders can be placed to pick-up later, delivery or pick-up now. Daily deals are listed on the menu ordering screens to help you save a little and Pizza Hut's national menu is available through the app.
There were some performance issues present with the Pizza Hut app that can be a little frustrating. The most frustrating issue is that you will find yourself constantly entering your address or finding a location to order from. In using the Pizza Hut website, you can save a location to make ordering more convenient. Then you have the issue of ordering carry out and having to enter a delivery address when you are logged into your Pizza Hut account.
Needless to say, Pizza Hut has a lot of work to do on their Windows Phone app. We understand it doesn't have the best ratings in the Windows Phone Store and decided to include it with this roundup for the potential it has. As is though, the Windows Phone Pizza Hut app is best for ordering take-away or delivery orders as a Guest and not expecting much more.
Hungry Now Fast Food
Hungry Now Fast Food is a fast food locator for Windows Phone that is great for when you're around town or out on the road and that fast food urge hits. The interface is super easy and plots out thirty-four fast food establishments in your area.
Fast food options includes McDonalds, KFC, Wendy's, Taco Bell, Jack in the Box and more. The layout calls for you to select four of the thirty-four fast food joints in the settings and as you scroll around the map, those restaurants will pop-up on the map. Hungry Now supports worldwide locations to boot.
Tap on a map pin and information on that location will appear in a pop-up bubble that includes the address, distance from your location and the ability to generate driving and walking directions.
The map is touch scrollable or you can center it on your current location by tapping the center 'Hungry Now' button. My only nit with Hungry Now is that you can only map four fast food choices. However, adding two more choices may clutter the app's appearance too much.
You may not be able to order from Hungry Now or check out the menus but it is a super simple Windows Phone app to point you in the right direction. I found the app coming in handy while traveling in that it can give you an advanced warning as to what fast food options are available as you speed down the motorway.
Best of the bunch?
I like the range the McDonald's Mobile app offers. You can check out the menu, promotions, career opportunities and find the nearest McDonalds. Domino's Pizza has a user-friendly Windows Phone app and the tracking is nifty.
Unfortunately, the Chili's app is plagued by bugs preventing it from being really useful and while the Pizza Hut app has issues, it is somewhat functional. Both would shine nicely, even as web portals, if these issues could be resolved.
While Hungry Now Fast Food doesn't offer menus or online ordering, it's a nice app to have installed on your Windows Phone for those times you stomach is growling and you need to find the closest fast food joint.
Let us know in the comments below if you have a fast food Windows Phone app that you lean on when you need a quick burger and fries or pepperoni pizza. Oh… also speak up if you know of a fast food establishment that could use a Windows Phone app. Personally, I wouldn't mind seeing a Papa John's app land in the store.
Get the Windows Central Newsletter
All the latest news, reviews, and guides for Windows and Xbox diehards.
George is the Reviews Editor at Windows Central, concentrating on Windows 10 PC and Mobile apps. He's been a supporter of the platform since the days of Windows CE and uses his current Windows 10 Mobile phone daily to keep up with life and enjoy a game during down time.
Agreed. I dislike Starbucks

Im not. Cuz Canadians can only download two of them lol

Well Indians can download only one I suppose!!

Wow, the german McDonald's app looks much much better and it's true Modern UI.. They should release the same in the US, too..

Oh awesome. I always wanted to know if mcdonalds was hiring from my phone!

Hah exactly. I fail to see the use of these apps when you can just use here or that hungry now app to find these places. I don't get how everyone needs to have their own useless app these days. I mean I get it, at first it's to tie customers to you with an app, but these days there are so many apps that have no use and some are even so bad they even hurt the brand! It's getting ridiculous now. I mean finding a McDonald's is easy here, even without a phone. Just follow back the line of people looking constipated.

Right? I can drive a mile or less in any direction and see a McDonalds...'Murica!

Good I didn't even know Pizza Hut got an WP "app". I hope they make real apps soon though.

The pizza hut one is a real app. You can order directly from the app it's not a web wrapper.

McDonald's nomnomnom Posted via Windows Phone Central App for Android!

I guess the fitness trip is over then ;)

That was my reaction to this article as well :)

Just eat is definitely the best for me

Limited for US only ... :(

For those of you wondering, pizzahut nor dominos order n take work work on puerto rico, ive testing it just now.

The McDonald's Mobile app is an unofficial (third party) web wrapper.

There's an official one which is not a web wrapper http://www.mcdonalds.co.uk/ukhome/Restaurants/McDonaldsonyourmobile.html

Does they work worldwide?

Steak N Shake has a WP app.

Though I am sure you are just as capable of searching the WP store as I am, I will humor you
http://www.windowsphone.com/s?appid=421d653c-7636-4d95-850a-12d9d30ff6b5

Fancy that, a native app!

George, what does it say about WP Central's pay scales that you like the McD app best because you can check out career oportunities?

Dunkin Donuts app with card support would be great

All fast food apps (all restaurant apps for that matter) should include calorie and nutritional information.

Surely you don't think these are restaurants? Calling McDonalds a restaurant is a disgrace to the word.

I sincerely hope people don't select their OS based on fast food apps available. As much as I advocate for official apps, I wouldn't be opposed to Microsoft banning fast food ones from the store. :)

There is a Jimmy Johns "app" but it's sadly just a web wrapper. I'd love to see a full fledged app for WP though, cause Jimmy Johns is hands down my favorite fast food place.

Isn't the McDonalds app for the UK? Edit:
Nevermind, the official app is, but the featured app isn't official.

Delivery.com. I use their site WAY MORE than I should and was surprised to see that they had a windows phone app. It needs work but usually gets the job done.

Subway app not mentioned? Or is that UK only?

Subway App....Definitely!

That Macdonald's looks l=kinda weird. http://www.windowsphone.com/en-us/store/app/mcdonald/6b151357-1094-4e12-... I'm 1000% sure it's not a web wrapper

You forgot to rate the White Castle app. I had to angrily post to their web master that there is no "Windows Mobile" earlier this year and they fixed the link on their website to the store app. Here is the link.

Honestly, serving horrid junk food like McDonalds, should be prosecuted for an attempted manslaughter. How can anyone eat this dung? I wouldn't give it to a hungry cat as it could die.

Well, here in Chicago...with the Dunkin' Donut app..if the Chicago team wins..you win a free drink.

Fast food Sorry got typo *Fat food

Thanks those who have developed such kind of apps!!