Toshiba TG01 also on the WinMo 6.5 upgrade train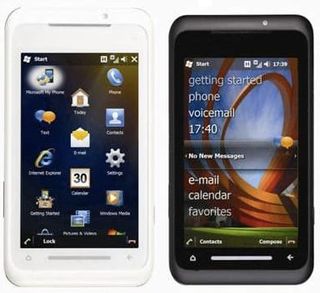 There's been zero doubt that we'd see Windows Mobile 6.5 on the Toshiba TG01 because, well, it was announced pretty much from the launch of the phone, and we've already seen a build running on it -- and running very swiftly on that 1GHz Snapdragon processor. And now Toshiba RSVP'd for the Oct. 6 Super Duper Windows Mobile 6.5 launch day.
That said, the TG01 still isn't available on any any U.S. carrier. (Though we're holding out a little hope.) So, anyway, full presser on the upgrade is after the break.
Via Slashgear
Toshiba Information Systems (UK) Ltd, Mobile Communications Division, today announced the launch of the TG01 Windows® phone, a variant of its groundbreaking TG01 featuring the new Windows Mobile® 6.5 operating system.
The arrival of Windows Mobile® 6.5 and Toshiba's immediate adoption of the platform for the TG01 sees the handset become a fully-certified Windows® phone; the updated TG01 Windows® phone will start to appear in stores across Europe from 6th October 2009. Toshiba customers who have previously purchased the TG01 will also be entitled to an upgrade to the new Windows Mobile® 6.5, free of charge.
The launch of the TG01 Windows® phone means users will be able to enjoy all the benefits of Windows Mobile® 6.5, including a new Home screen and a finger-friendly start menu. Designed to offer fun and interactive navigation between applications, Windows Mobile® 6.5 provides users with faster access to the handset's plethora of features.
Windows Marketplace for Mobile enables users to download and install Windows Mobile® applications, including Games, Social Networking functions and office-tools, meaning each handset can be personalised to suit the tastes and needs of each individual user. Support for the latest version of Internet Explorer® makes it faster and easier to browse the Internet, and the free Microsoft My Phone enables users to protect their phone by backing up data and securely share photos with families and friends across PC, phone and the web-based platforms.
The TG01 Windows® phone also comes with the high-power Snapdragon™ 1GHz processor, as found on the Toshiba TG01, to deliver smooth video playback, super-fast gaming and detail-rich browsing. The same superb, high-resolution 4.1" Wide-VGA (800 x 480) touchscreen is also present, with on-board Coreplayer providing support for a wide variety of video formats.
Despite all this power, the TG01 Windows® phone comes in the same sleek 9.9mm body as the previously-launched Toshiba TG01. It also features the same rich multimedia features, but with the added benefit of the new Windows® phone experience provided by the Windows Mobile® 6.5 operating system.
Expandable SDHC memory up to 32GB provides the facility for users to keep a large multimedia library on the move if required, with an 8GB microSD card bundled as standard, enabling users to store multimedia content and take advantage of the the handset's cinematic mobile performance out of the box. Integrated GPS and A-GPS technology allows the TG01 Windows® phone to double up as a satellite navigation system, providing rich graphics and detail.
"Windows® phones bring together the best of the Web, the PC and the phone so you can connect instantly to the people and information you care about, no matter where you are," said from Stephanie Ferguson, general manager, product management, Microsoft Corp. "The new TG01 Windows® phone provides a great end-to-end experience that spans your entire life, at work and at home."
"Our new TG01 Windows® phone is quite simply the next step in cutting edge mobile technology. We've been thrilled with the market's response to the TG01 handset so far and worked closely with Microsoft to launch one of the first Windows® phones to the market. Toshiba is constantly striving to deliver the very best mobile experience and we are excited what this new Windows® phone update will bring our customers, with an improved user interface and access to a multitude of applications through Windows Marketplace." said Hidehito Koka, Deputy Managing Director, Toshiba Information Systems UK Ltd, Mobile Communications Division
An update to the new Windows Mobile® 6.5 operating system for existing owners of TG01 will be available for download from Toshiba's website: www.toshiba-europe.com/mobile
Phil is the father of two beautiful girls and is the Dad behind Modern Dad. Before that he spent seven years at the helm of Android Central. Before that he spent a decade in a newsroom of a two-time Pulitzer Prize-finalist newspaper. Before that — well, we don't talk much about those days. Subscribe to the Modern Dad newsletter!
Pass4sure is a leading study materials provider for IT Exams, especially designed for IT candidates who want to pass any IT exams offering study materials for many famous IT certifications, like Cisco, Microsoft, IBM, Sun, compTIA, HP, etc. Pass4sure also introduces some promotions, such as its Points for gift and Affiliate Program.
The Most Popular Vendors List :
HP exams | Nortel certifications | IBM exams | Cisco certifications | Oracle certifications | Microsoft exams | CompTIA certifications | Cisco exams | Oracle exams |
The Most Popular Certifications List :
CompTIA Security+ exams | MCSE 2003 Security certifications | SCSA 10 exams | MCDST exams | MCDST exams | MCTS exams | CCNP certifications | CompTIA Security+ exams | CompTIA A+ certifications | MCTS exams | MCSE exams | exams | MCSE certifications | MCSE 2003 Security exams | MCDST exams |
Click P4S to get more information!

I have this weird fantasy, where Sprint realizes there's other high-end WM phones outside of HTC and picks up this device. The Diamond2 would be ok and all (even though a more accurate name would be Diamond1.1) but this or the Omnia II would be light years better IMO.
Windows Central Newsletter
Thank you for signing up to Windows Central. You will receive a verification email shortly.
There was a problem. Please refresh the page and try again.