Track Indian stock market with the Kotak Stock Trader app for Windows Phone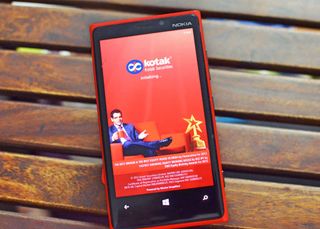 Kotak Securities Limited, a subsidiary of Kotak Mahindra Bank, is the stock broking and distribution arm of the Kotak Mahindra Group. One of the oldest broking houses in India, its operations include stock broking and distribution of various financial products.
The company has introduced a unique stock trading app that lets you trade, view latest quotes, track portfolio and market movements, analyze market trends, and get live research calls. The Kotak Stock Trader app provides you with the right tools to keep up with India's biggest stock exchanges – the Bombay Stock Exchange and the National Stock Exchange.
The app allows you to trade in stocks, derivatives, and currency derivatives. You can place orders, and modify or cancel pending orders as well. You can check available margin in the account and available funds with order status and day's positions. Even if you aren't a Kotak Securities customer, you can still use the app as a guest and track the market.
You can also track live market movements and view the levels of Sensex and Nifty as well as market and indices updates. The app allows you to trade in futures and options and you can track equity and index derivatives. With the app, you can track your portfolio performance and get customizable as well as pre-defined watch lists. You can also get stock tips from market experts.
Download the free Kotak Stock Trader app for Windows Phone 8 devices from Windows Phone Store. The app puts the stock market on your smartphone, and is a great app for investors, stock-brokers, and finance professionals. Give it a whirl, and let us know how you like it.
Good but I don't get how stock market works.

Demand and supply.. What's not to understand?

The power of Cortana
http://en.wikipedia.org/wiki/Stock_market

"One up on Wall Street" by Peter Lynch is by far the best book for beginners looking to invest in stock market. He lets you in on all his trading skills which are just awesome.


I love my country , India :)

I love my country too, Israel :)

haha.. I love both the countries.. :P

One of the most awaited apps, thank you.

India keeps getting lots of good apps. Good for you guys!

Ye vlc player kab ayega.opera mini ka bhi bahut intejar ho raha hai.

Glad to see WP is doing well in the second largest population country on earth.

Watch PI (faith in chaos) - great movie about with references to stocks, maths, religion, obsession! Great music from Aphex Twin, Spacetime Continuum, Autechre too.

Damn I want to buy Indian stock

Come on mobond motherfuckers update your app m indicator.

Hahaha bro India is the worlds biggest IT industry

I use bing finance and it world pretty well
Windows Central Newsletter
Thank you for signing up to Windows Central. You will receive a verification email shortly.
There was a problem. Please refresh the page and try again.