Traffline app for Windows Phone provides real-time traffic information in India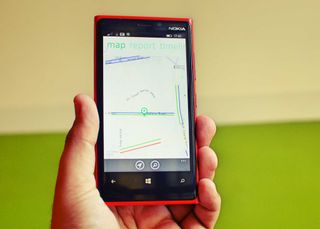 Traffline is an online service that provides real time traffic information in five cities in India – Mumbai, Delhi NCR, Hyderabad, Bangalore, and Pune.
Developed by a Mumbai-based start-up and launched in 2012, Traffline offers traffic updates via mobile apps, SMS, email, social networks, and a call center. The company claims that there have been over 100,000 downloads of the iOS and Android apps, and finally the Windows Phone app has arrived on the Windows Phone Store recently.
By taking the real-time traffic information into account, the app recommends the quickest route from your location to your destination, with maps for navigation. The app offers live traffic conditions on a full feature map with a single tap and push notifications for major traffic-related updates. You can save your favorite locations and routes for easy access, like the office commute you do every day.
You can check out the timeline in the app for general traffic and road-related information from the community of users on the road, and also report incidents such as accidents, vehicle stalls, processions, etc. that cause road congestion and traffic snarls.
The company collects traffic data from moving probes like GPS-fitted taxis and public transport vehicles, and accident and event related information from field personnel as well as crowd-sourced from volunteers on social networks like Twitter. The service is endorsed by the Mumbai Traffic Police, Bangalore Traffic Police, and Thane Traffic Police and integrated into Mumbai Traffic Police's official website.
The useful service crunches real-time traffic information to improve commute experience. Give it a whirl, and let us know how you like it.
More love for India. Great!!!! Keep them coming there we need you guys and girls

The Lumia 920 in red. I loved the design of that phone

loool... More love love love <3 for India =3 Soy de Perú... xD

This is awesome...just what I needed being here in Chicago..lol. Its great to see WP having useful apps all over the world.

Pff. Easy app. Just mark all roads as red (or black) boom. Done! (I'm kidding... But not really)

Hahaha!!! I was thinking the same thing - congested or heavily congested. Haven't been to India yet, whenever I speak to someone who lived there or has been there we end up trying to find out where has crazier traffic, India or Vietnam (been to Vietnam a number of times).

Vietnam has more of two wheelers from what I gather. Here it used to be that. Now every tom dick and harry wants to buy or owns a car. Which is sad.
Source: I'm a brownie :)

NO LOVE FOR USA FUK U MICRUSOFT IM GETTIN AN IPHONE BEG ME TO STAY I DARE U (but not really, glad to hear :D )

How difficult could that app be to run in India. Turn it on and it simply states "chaos" easy peasy :D

Open up your Mind , every metropolitan city do have traffic congestion. & don't be an insular fellow .....

Wow there really are some racist dumb idiots out here
Well I'm a globe trotter I've seen how decongested their country is
Like lack of people literally and even the people there were racist towards us even in the airports

How is it different from Here Maps/Drive, that also provides traffic information.

Exaclty! Good question. I checked all the indian cities mentioned in the article on my Lumia and all had color coded roads showing the traffic. So what does this do better?

Where's Kolkata and Chennai ....how do they missed these...

Nice app interface! Hope they add Delhi and Chennai too! :)

@Abhishek baxi .. How is it different from here maps and here drive ? Does that also give the same info ?

Here services are great in India but some features are more inclined towards USA so sometimes these local start ups are also worth checking out

Been waiting for this one for a while now! Yay!

I hope I'll win one. I never win anything...
Windows Central Newsletter
Thank you for signing up to Windows Central. You will receive a verification email shortly.
There was a problem. Please refresh the page and try again.