Trivia Crack for Windows Phone gains notifications in new update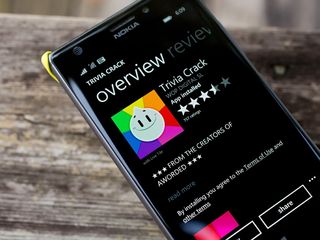 Popular game Trivia Crack has received an update for Windows Phone. Trivia Crack is one of the most loved trivia games around world. Today's update on Windows Phone helps bring it up to par with the Android and iOS versions by introducing notification support.
Here's what is new with version 1.0.0.3 of Trivia Crack for Windows Phone:
New notifications! Get an alert when someones challenges you, when it's your time to play and more.
Bug fixes.
Notifications are a very welcomed addition to Trivia Crack on Windows Phone. No longer will you need to open the game to check for new challenges or turns. Instead, you'll now just get notified.
Anyone still playing Trivia Crack? Let us know what you think of the new notifications.
Thanks for the tip Nicholas L!
This game has blown up with people that I know in the last three days. I downloaded it the day it was released and I had noone to play. This update also makes it so you don't have to select your language on every game. That is almost as big as notifications.

Ok but about a year late...my friends grew bored of it already..

It's a bit uncomfortable how insanely popular this game is at school (where 2 other people own Lumia 521s, and EVERYONE else has iOS or Android. :c)

Really? My buddies on other platforms just got me on this game because they just started playing.

It was very buggy and had lots of graphic glitches in it. I hope they have fixed them. Edit. Just crashes on opening now.

Good update. Notifications work, and haven't had any issues with the app in general use. New game using last selected language is a nice fix as well.

Yeah graphical glitches on the fill bar have been sorted. Still no animated characters like the IOS version though. Poor port.

My trivia notifications worked fine before...

So that's what being thanked for a tip feels like... XwX Great way to finish off an already awesome Friday.

Why? Why? Why? US store says not available.

Weird, I grabbed it yesterday!

Me too. It's definitely in the US.

Whoa! I play a lot of people and notifications came flying in. Turned those off already.

I noticed last night! This is the first time Windows Phone actually got a popular game at the same time as iOS and Android. I love it!

this game is popular in the US only. On south america everyone stopped playing trivia crack.

I wonder why this is not available internationally. I tweeted them already but no response yet. Don't wanna swap store settings everytime I need to download an app

Still no group challenge mode, leveling up and outdated interface. It is fun, but it could be much better. My friends get pissed because when they invite me to group games it cancels because I do not get notification of invite and cannot join. Still way behind ios and android.

Same here. Very frustrating

I'm not a gamer but i down loaded it today .

How can I check my level on windows phone. But if I can't, you should make an update to trivia crack so you can. I know you can do it on android but I don't think you can on windows phone. ​ ​
Windows Central Newsletter
Thank you for signing up to Windows Central. You will receive a verification email shortly.
There was a problem. Please refresh the page and try again.