Truecaller is now available for Windows 10 Mobile with a gorgeous new look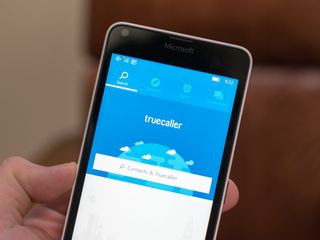 Should you be rocking Windows 10 Mobile, you'll want to check out Truecaller as the popular app has been released with a gorgeous new UI. For those unfamiliar with what Truecaller does, it's an app that helps you see who is calling you, identifying numbers you've not seen before, as well as blocking spam.
The release for Windows 10 Mobile currently sits on version 5.9. Here's a quick run down of the features sported by Truecaller:
Caller ID: Know who's calling you even if you don't have their number in your phonebook
Live Spam Detection: Identify unwanted calls and top spam numbers
Search: Search for any number whether it's local or across the world to see who it belongs to
Request numbers through name search
Yelp! integration for faster business lookup results
For those on Windows Phone 8.1, the app also got updated to version 5.1.4.7, though no changelog is presently available. We'll assume bug fixes and minor improvements.
Download Truecaller for Windows Phone 8.1
Download Truecaller for Windows 10 Mobile (opens in new tab)
Rich Edmonds is Senior Editor of PC hardware at Windows Central, covering everything related to PC components and NAS. He's been involved in technology for more than a decade and knows a thing or two about the magic inside a PC chassis. You can follow him over on Twitter at @RichEdmonds.
Truecaller.. We love you.. Three cheers for u

Lots of respect for them.

Many thanks to the devs. Been sorely missing this

mostly used by stalkers for personal gains.

Not true. I use it to avoid spammers and screen calls more intelligently.

Are you high? It's exactly to avoid those kind of people/companies.

I think you have it all confused. It is mostly used to AVOID stalkers.

Great news as I was missing Truecaller on Windows 10.

Now thats some new for today, was just trying to install other app and it was failing.. Now here comes True caller for Windows 10 Mobile.. yay :)

Is it just me or this app is a total hack for getting phone numbers?

Does it still work if you block your contacts in Privacy?

Na, the NSA already has all the numbers it needs......

I hope every other apps will do the same thing "regular updates" and full support to windows.

This app has always been pissed at me for being on Verizon. Does the Windows 10 version fix this?

I don't think so. Support keeps telling me; at least in the old version that it's something on VZW network that prohibits this and TruCaller won't do anything about it, and they also refuse to put up any disclaimor on the app page that it won't work for VZW customers.

This should fix it, as other have said it works on their VZN Lumia Icon. Before, Live Caller ID was only available for Microsoft Lumia exclusive. But now with the update, Live Caller ID will work on all Windows 10 Mobiles, regardless of brand.

Error : "something happened at our end"

True caller or whoscall better?

am i the only one having 0x80073d01? Can't install it because it says it can't be installed on an SD card. I've set it already to install on the phone but yeah, it keeps giving me that error.

Same story. Guess it's the store bug Update: Go to storage - select store apps to phone and also store downloads to phone. Now try

Here's a workaround the issue. Go to Settings/System/Storage/Store new apps on my. Change it to Phone. When the app is intalled, you can set it back to SD. NOTE: if you have a previous version of the app, you need to uninstall it for it to work. I gook luck!

Sorry Carlos, this isn't a workaround - it is simply how you change the setting. The problem (a known bug) is that EVEN when you have it set to phone the store throws this error. It is incredibly frustrating, but only seems to affect certain apps for me. Fact is, this shouldn't prevent an install - instead, the store should simply prompt you "This app can't be installed to SD card, is it ok to install to your internal memory?"

This happens to me all the time on WP10. Haven't found a fix yet. Apps are set to install on my phone but always install to SD anyway.

Same error... It's so F... Annoying

I've had this problem with the last two builds. Seems like a store bug. Still getting updates for apps I don't have.

Just validated that it works on my VZW 928 with W10 mobile!!!!

So if you go to settings can you turn on Caller Id?

Yes. go to choose apps ans choose trucaller as caller Id

It's a setting in the True app itself. In Windows Phone 8.1 it's greyed out being it's an issue with VZW's network. So I don't how it can work on Windows 10 Mobile if it's network related issue.

Verizon blocks these apps so you will pay for their service.

How does Verizon block this. I assume you have regular caller id when someone calls so this must be MS agreeing to not allow an API in windows to give you the number?

Don't know, I read an article a while ago about it. Can't find it now, so take it with a grain of salt.

How do I enable Caller Id ? It leads me to settings app with no useful option. Okay it lies at the bottom of the page where Default Apps > "Choose apps" lies. Then under "Calling" select True Caller.

Go to the choose an app link on the bottom of the screen

Pls change windows 10 mobile battery wifi and cellular icons so ugly straight since windows 8 make wifi icon straight battery icon to be curved and place it smartly on the right cellular icon like squares or equal bars highlighted and non highlighted equalise the designs so weird wp 10 sorry

So what dont be others father let them say if hes giving suggestions

In Italy we say "the mother of stupid people is always pregnant", but it sounds bad in english so I won't be saying this to you.

I love this app. Sometimes it requires you to go to its setting to allow caller id integration again.

Now we can set it as default from phone itself

Does this fill my contacts list with crap?

They fixed that at the beginning of this year.

Any news on truedialler? These two apps have been why I haven't installed W10M on my Lumia 930. Ever since moving to Canada and getting a Canadadian phone no these apps have become essential!

I got a girl's phone no. Through a common friend ( who asked me not tell her about it) . And I said to her that I got her number through true caller. :P

This is not really possible to get a number from the app without the person knowing about it. The app has privacy settings, and all profiles are set to private (with number available on request from the number owner). So you would have to type in the person's first and last name, select the correct profile (which also means you must know someone in common to find the person by name search), and then send them a contact request, which they need to approve.

Now no one cares about windowsphone 8.1 ..

Does it work for non-Lumia phones yet? I mean the advanced features.

Yes, the Live Caller ID will work for all brands with Windows 10 Mobile.

This completes my app NEEDS. All the others are nice to haves, thank you TC! woohoo!

I respect the TrueCaller Devs so much. They are very passionate about what they are doing. Great job

Can't download it.......... Errors and I am downloading to the PHONE........ no luck so far.

Error: Try the download again......Something happened at our end.

A number just called me now and true caller failed to identify the number, don't know if it's working

Does it work with UK numbers too?

Won't install on my HTC m One 8. With all storage options set to phone it still tells me it can't install on an SD card.

Did you have it installed perviously? I had some apps that at the beginning installed to an SD card. A later update required phone. I had to uninstall and reinstall the app. If you did a direct upgrade to WM10 you might have the old Trucaller on SD card you need to remove. Posted via the Windows Central App for Android

Same exact issue here. And no, the app has not been previously installed. Lumia 640, Storage options set to Phone, app says it can't install to SD card. Anyone else having issues?

I was looking for this app today itself and found that its not available for w10m. Then I opened the windows central and lo it's there! A w10m version! Fantastic!
OT- the windows central app on w10m is extremely slow! Please update it!:)

Hey I've been trying to set this up on my Lumia 635. I need to set this up as my Caller ID app, but can't find the settings. Does anyone have any assistance they can provide me with?

The app sends the name of the caller to your phone using access to internet or search engines. Posted via the Windows Central App for Android

Truecaller not installing on my lumia 1520, pls someone shud tell me how to go by to install this app
Windows Central Newsletter
Thank you for signing up to Windows Central. You will receive a verification email shortly.
There was a problem. Please refresh the page and try again.