Tubecast fixes issues with moved YouTube servers and in-app purchases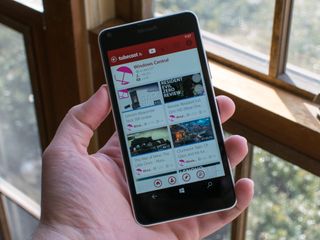 Tubecast, the popular third-party YouTube client for Windows PCs and phones, has been updated with a couple of important fixes. Version 3.3.8.9 corrects an issue with in-app purchases, as well as a problem with casting with moved YouTube servers.
Here's what you'll find in Tubecast's latest update:
Fix for casting with moved YouTube servers (HTTP 302)
After 1.5 years of Microsoft bugs with their incapacity to synchronize purchases correctly at anytime, purchases are now stored on my server
You can find Tubecast 3.3.8.9 on the Windows Store now.
Download Tubecast from the Windows Store (opens in new tab)
Windows Central Newsletter
Get the best of Windows Central in in your inbox, every day!
YouTube is s##t right now. People getting outrageous copyright claims, Fine Bros going full retard, YouTubers not getting paid it's stupid. Microsoft should buy Dailymotion and give it a mayor overhaul. I'm sure they'll be able to compete against YouTube seeing as its s##t right now.

Chances are they'll buyout a smaller hoster & merge it with their msn portal

The developer doesn't sound too happy about Microsofts in app purchases

Lol!!!! Microsof is a pain I the ass for developers hahahaha

Yeah.... Ha ha ..lol.. Good job Tube cast team...:)

That's the real reason of the lacks of apps

They have not been syncing if you deleted the app, or moved to W10. I don't blame the dev, on the plus side I bought twice which I'm sure many people did.

Yes.. Without any doubt... Microsoft is incapable of doing anything right .. Ha ha ..:)

The transition from 8.0.x to 8.1.x was a rocky one even for app purchases just look @ mytube!(though that was because they lost the right to use mytube) even now it has license problems going from 8.1.x to 10.x

Finally... This has been annoying on my 950

Still doesn't work for me...

Still only have a limited 20 casts =/

Re: Ceraf,
What do you mean? Please explain.

He use the free one..so the video casting is limited to only 20 video...

Now for the dev to update the app to allow users to hide the navigation bar. Until then I'm sticking with mytube :p

Using this app for a month and simply excellent. Kudos to developer and team. Really nice client for YouTube. It will be great if possible to make this same app (UI / UX) for other platforms too. Thanks! Regards, Ben
Windows Central Newsletter
Thank you for signing up to Windows Central. You will receive a verification email shortly.
There was a problem. Please refresh the page and try again.