Tubecast for Windows 8.1 lets you do more than just watch Youtube videos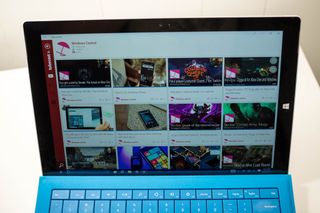 Tubecast is an awesome Youtube application for Windows Phone, and now it's also available for Windows. We've been playing with it for the past few days and it feels a lot like the Windows Phone app. You can use it to watch Youtube videos, download videos to your machine, and cast video to DLNA devices such as a smart TV or the Xbox One. Want to see it in action? Take a look at our hands-on video.
When you log in to your Google account, Tubecast can show your news feed, recommended videos, subscriptions, uploaded videos, viewing history, playlists, favorites, liked videos, and subscribers. Navigate through the menu on the left side. Video thumbnails are shown on the right side and you can scroll down to see all the videos in the list.
When you swipe towards the right, you can see the three other sections of the app: popular videos, browse by categories, and offline videos. It might be confusing to some users because even though you are swiping left and right, the labels for theses sections go up and down.
The video page shows the video on the top left corner. Below the video is the title, description, and other details like the number of views, likes, duration, and the time of upload. To the right of the app are related videos. You can let Tubecast automatically determine the playback quality of the video, but you can also manually change it up to 4k (2160p) if available.
Our two favorite features for Tubecast are the ability to download videos for offline viewing and the ability to cast videos to DLNA devices. Downloading videos isn't very obvious. You'll need to right click anywhere on the app and then click the preload button. It'd be a lot better if there was a more obvious way to show this option.
Casting videos is really easy. For example, both my Surface Pro 3 and Xbox One are connected to the same Wi-Fi network. I just tap the cast button at the top right corner of a video on Tubecast and select my Xbox One on the list. The video then plays on my TV connected to the Xbox.
Tubecast is a free download, but there's a limit of 20 casts. It costs $1.99 to unlock unlimited casts. Do you think you'll be using this app more than going to Youtube with your web browser? Let us know in the comments!
Download Tubecast for Windows 8.1 (opens in new tab) (Free, optional in-app purchase)
Download Tubecast for Windows Phone 8.1 (Free, optional in-app purchase)
Windows Central Newsletter
Get the best of Windows Central in in your inbox, every day!
It's amazing. If you pay at least 2.99, you get both phone and PC apps.

My favorite YouTube app. I love it also on my surface pro 3. Posted via Windows Phone Central App

Its the best Youtube app, but I always find myself using the browser instead of the app, maybe its just me :D

Yeah using YouTube in an app on PC still feels weird. Same for facebook and some others. Maybe because its full screen. It might feel more natural on windows 10.

The best part about using the app is no ads and you can partition it to the side of the screen while working in the desktop on the other 3/4s.

Same way I view it but it appears it still uses flash by default unless you go to YouTube.com/html5. The word apps still feels weird.

I think its just a habbit, I have all my necessary sites open as tab in a browser, opening a separate app for each site seems redundant as a desktop user, maybe on tablet and touch devices feels better.

Best YouTube app, both on Windows phone and Windows PC

It's great, and now I can ditch using the browser on my laptop!

Unfortunately I'm not able to "unlock the app" with this Windows 8 version. And I own the Pro version. When I tap on the button the page doesn't load. I've contacted the developer and he said it's Windows Store problem, which I doubt it, because I'm trying to do this since the launch.

Install it from the green store not the beta store. The beta store doesn't have connection for the subscriptions on windowsphone.

I never used the beta store.

It's not bad, but IMHO Hyper still feels more intuitive and nicer to use.

As a long term Hyper user, I had no problems ditching it for Tubecast. I don't even miss it.

The only things I miss from Hyper are the a ability to type and search videos right away without clicking anywhere, and pausing the video with spacebar (doesn't work for me at all, no matter if I click on the play button first)

app is great but unstable on surface rt gen 1. Video starts casting via dlna to samsung tv then stops 4 secs in and then errors out.

I like mytube better, but still almost all windows YouTube third party apps are better than the official one

Really? It would be nice if I could actually do a comparison. The browser's still not that bad either, I guess.

Agreed. I've been waiting for the PC version of myTube as i can't stand the UI on the browser. It doesn't look like its going to happen though, so this may be my Win 8.1 goto. All the Youtube apps i have for Win 8.1 dont work well. Tubelite and Megatube.

Explorer for Youtube has DLNA for FREE.

Yes. You can choose theme and theme accent color.

What's better about this App than just using mirroring through Windows itself?? Or project my screen in WP.

You forgot to mention that it also casts to Google chromecast. Perfectly if I might add, with volume and play/pause controls as well. Although it needs a bit of work on the performance enhancement aspect, it still is the best YouTube app in WP and W8.1 even though its for free if u have other mobile OSes :/

What's the difference between TubeCast and TubeCast Pro?

The free version gives you 20 casts on the PC version.. The Pro gives you unlimited casts.

Same although it seems to deviate from the official search algorithms

It's much better than official YouTube app of android ! Miss it while I use app in android tablet. But for PC I still like browser ...

It's great, I bought the phone and 8.1 package and don't regret it at all. Also set up the phone browser to do the, play in tubecast option.

You could unlock the Windows 8 app?

I purchased the second option in windows phone app and the windows 8 app was automatically unlocked. As for the play play in Tubecast, go to setup scroll down, and the option ....then instructions are there.

Follow these instructions: http://tubecast.webrox.fr/openintubecast.html

I am wanting one for my RT tablet o allow you to upload.

Where is the option to buy the package deal? I would have thought it would be cross buy but its not.

There's a "unlock the app" button, but didn't load to me.

I like metrotube personally

I like it too but they completely abandoned their PC app. They claim they have to rewrite it and release it later as a universal app but it's been so long I got tired waiting. Uninstalled it from my phone and soon from PC, in favor of Tubecast.

Yeah, I've been using it for years but lately it doesn't work for me. So I switched to this, it has some bugs but I'm hoping it will get worked out soon.

It's a state of the art app and it's only just released.. Can't wait for the updates that will improve its already fine stability, as well as add more great features.

If you download a video, can you move it around to a phone, flash drive... etc like Hyper? Or is it only accessible within the app itself like Metrotube?

Nops. Just the app. Isn't like a "download" feature, it's more like a pre-load feature.

Wish this was integrated inside Windows media center to make it even more seamless watching media over the air, movies and with this YouTube

Try Kodi :) supports DLNA and has a Youtube plugin, really better than Windows MCE

I was all on MyTube till I tried this.. Their app is amazing and the UX of the WP version is 2nd to none, hell of a job with this

I used MetroTube because there wasn't a Windows version. Now there is and it is in Dutch. So I ditched MetroTube.

Is there any basis for hesitating to buy yet another Youtube client? As in will Google break these one day? I mean, $3, impulse buy pricing and all, but I already have a few paid ones. I'd hate to keep sinking money into them only for Google to up and block them on Windows/WP.

I would like to know that as well. I bought Hyper, Tubecast, and myTube. TBH I use the browser more than the apps.

I use mytube daily on my phone.

Me 2. The app I great. Can't wait for to come to Windows ...

10$ are not going to sink your life

Nice but I'll stick with the browser for watching youtube.

Hey guys I'm using it on my L625.it was working fine for me but now when I go to search option it shows me network error. Please help me...

Wish it supported downloading and saving to HDD.


I'm using this app on my Asus TP500 love the app. It's the best. Still using MetroTube on my phone though

The problem that I have with this app is that it doesn't mark watched videos as watched in YouTube web. I'm not sure if it will register your view count or not but having watched video being recommended everytime I'm on YouTube web is bothering me as well. other than that this is a great app, just that my surface doesnt like this kind of app and keep on BSODing if i use it for a very long time.

Can I download a video from this App ?

It's going to be the saddest day of my life when the official YouTube arrives to Windows and all these great third party applications will have to be removed.

If Google release an official app I will still be using tubecast unless google come with a crazy feature. Tubecast is just brilliant.

I like the Chromecast capability, glad somebody mentioned in the comments this feature hasn't been dropped. I won't be purchasing as I just use YouTube in the browser (But do have Hyper which I used on a Surface RT a long time back now) When I want to use the Chromecast for Netflix or something I just use the chrome browser on my Surface Pro 3 or Dell Venue, sometimes easier to grab my wife's iPad, but I don't mind the browser at all, it has all the features.

Guys, I dont have that comment icon. What am I doing wrong? Thanks

Best Youtube app on the market and for all devices. Better than official app

Needs a full featured commenting system to replace the browser for me. At least the last time I checked this was not there yet.

Sounds cool. But I just go straight to YouTube on my XBX1 , using IE.

I didn't think twice about this app until I kept seeing it on WC. Now I have it on all of my devices and I cast to all of my TVs and devices. This is a must have app...loving it!

An app that tells me I won't even be able to ask them any questions or request features without paying first can suck it. I've used it for a while but I don't need casting as I have a Miracast dongle and it is unable to play a continuous playlist of music for example.
That is a major issue.
Windows Central Newsletter
Thank you for signing up to Windows Central. You will receive a verification email shortly.
There was a problem. Please refresh the page and try again.