Turning your Windows Phone into a surveillance camera with Gotya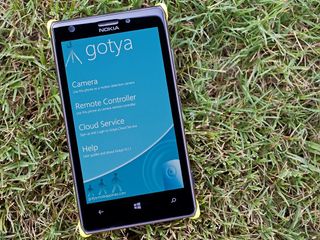 Gotya is an interesting app that hopes to turn your Windows Phone camera into a remote controlled, motion activated surveillance camera. You can set your front or rear camera to take pictures when a motion area is breached. Images can be saved locally or to Gotya's Cloud Service.
There are a few additional bells and whistles with Gotya that add to the app's appeal but the motion detection can be a little on the sensitive side. The app, which is available for 512MB devices, has potential and a little fine-tuning will help Gotya shine a little brighter in the Windows Phone Store.
Membership not required, but it'll help
When you first launch Gotya, you'll be prompted to sign into your Gotya account or create one. Membership isn't required to use Gotya but it will give you access to the full host of features such as saving images to the cloud and using the remote controller.
Membership isn't free but it also won't break the bank either. Your first sixty-days are complimentary and after that, annual membership is running $11.99. If you only think you will need to use Gotya for a shorter period, monthly membership is running $1.99 per month.
The main page of Gotya has options to launch the camera, launch the remote controller, set up you cloud service (sign into your Gotya account) and view the help pages. Gotya's help pages do a decent job of guiding you through app mechanics and what's not covered, you can figure out easily.
Gotya's Camera View and Remote Control
Launching the camera from Gotya's main page will pull up the camera's viewfinder that only supports horizontal orientation. A yellow rectangle spans the viewfinder, which represents the motion detection area.
To the side of the viewfinder you will find four control buttons and a three-dot menu. The control buttons are used to dim (or black out) the viewfinder, toggle between the front or rear cameras, calibrate the motion detection area and begin the recording session. Calibrating your motion detection area is key to having any success with Gotya. If your detection area is too large, you will likely find your Windows Phone full of unnecessary photos. You can also tweak the sensitivity of the detection in the settings.
Speaking of which, up under the three-dot menu you will find the camera settings and an option to return the app to its default setting values. Settings for Gotya's camera include:
Alert On/Off: An audible alert can sound each time something triggers the motion sensor. Turn this feature off for a stealthier surveillance mode.
Screen Saver Blank or Fake Screen: When you hit the dim button to launch the screen saver you can opt for a black screen or fake Windows Phone screen. You can also PIN code protect things from prying eyes.
Scheduler: If you want to launch the image recording at a specific time during the next twenty-four hours.
Save Location: This is where you want to save any images captured by Gotya. You can save them locally to your Windows Phone or to Gotya's cloud. Images saved to the cloud are accessible from Gotya's web portal (more on this in a second).
Alert Email: Enter an email address to receive alerts when a photo is captured.
Advanced settings are available to turn on/off the flash, set the resolution of an image (standard or high) and set the sensitivity and motion detection values.
At the standard resolution, images are captured from my Nokia Lumia 925 are at 640 x 480 pixels and those captured at high resolution are at 3264 x 2448 pixels. While the standard resolution was decent, the high resolution is the way to go for decent surveillance photos.
Once you have your Windows Phone positioned in the right spot (on a tripod, propped in the corner, in a car cradle, etc.) just tap the start button on the camera viewfinder, you will get a five-second countdown and then anything that breaches your motion detection will be photographed.
Remote Control
Gotya's remote control feature is a little deceptive. You do have the ability to control up to four Windows Phone cameras from a Windows Phone or Gotya's web portal. Control in the sense you can adjust the settings and capture a snap shot from those cameras but there is no live view.
It does appear that you will receive alerts from the remote controller when an image is captured and can review those pictures if saved to the cloud. However, the alerts were not very consistent.
To use the remote controller, set up your camera accordingly and then go to either the Gotya web portal or another Windows Phone running Gotya. You will need to enter your username and password a few times and then you can tweak settings or capture a snapshot from the remotely controlled cameras.
Through the remote controller feature, you have access to the full range of settings for the camera. While a Live View feature would do wonders for the remote controller, being able to fine-tune the sensitivity settings remotely is a nifty touch.
I was able to install Gotya on a Nokia Lumia 520 and set the Windows Phone camera near a bird feeder. Gotya captured a wide range of birds partaking in the feeder as well as an annoying squirrel. While image quality won't land any of these images in the most recent edition of the National Birdwatcher's Magazine, they are good enough to give you an idea of what's going on.
Overall Impressions
I liked the concept behind Gotya but there are some shortfalls to the design. You have the obvious issues of leaving your Windows Phone laying around to double as a surveillance camera. I'm fortunate to have a few extra Windows Phones that could be used but how many of you would be able to spare your Windows Phone for a few hours?
Then there is the battery consumption issue. While Gotya wasn't a major power drain, it is going to eat your battery at a faster clip and any lengthy surveillance time will likely require an external power source.
Asides from the power and convenience issues, Gotya does a good job of capturing images. You do have to fine-tune the motion detection area to avoid hundreds of unnecessary images. I would have like to have seen a true remote controller with live view but having the ability to tweak the settings and turn on/off the camera remotely is a plus.
I can see Gotya coming in handy around the house to catch your teenage child coming in after curfew or to catch the person raiding the refrigerator in the middle of the night. I could also see Gotya being used from a car cradle to catch vandals messing with things. Gotya does have room for improvement but as is, it's not too shabby of a surveillance app for Windows Phone.
Gotya is available for low-memory devices.
Gotya - Windows Phone 8 and 7.x devices - Free - Store Link
Windows Central Newsletter
Get the best of Windows Central in your inbox, every day!
George is the Reviews Editor at Windows Central, concentrating on Windows 10 PC and Mobile apps. He's been a supporter of the platform since the days of Windows CE and uses his current Windows 10 Mobile phone daily to keep up with life and enjoy a game during down time.
I'm more interested in using it as a baby monitor. Any tips on that?

You can use this app and monitor your baby.

It takes pictures....... for a baby monitor u need a live feed

I don't get it - you suspect your baby is stealing from you?!

For the next 18 years at least...

Absolutely true. I just finished putting my second through college.

You have no idea how sneaky babies can be...

I am looking for the same thing

Surely you can use it as a baby monitor. However, since it is motion detection and photo surveillance cam, you should not expect to see the video feed. You will get alerts when e.g someone comes near your baby, when you baby turns or moves or get off the bed etc. You can check how your baby sleep or still in bed by taking a snapshot from the controller...

Security toolkit dies exactly the same and many has some more features in it:http://www.windowsphone.com/s?appid=773e113b-47e0-4a34-9824-e94b8f3871d2

The feature list may be a bit bigger, but the app is horribly unstable and hasn't been updated in over two years.

I agree.
Well I haven't used it for a while now, but I'll try to contact the publisher and hope he will do something about that.. At the time (with wp7) that was the latest cry..
I've just tested it- seems to work..

On my old Titan running WP7 it's fine. Not so on WP8.x.

Oh, but I tested it as I was answering your comment with a 1520 running 8.1.. Didn't test everything though.. Just the motion detection alarm.. Over the weekend I'll do some more testing and come back to you.. :)

What are you guys talking about Posted via Windows Phone Central App

When app is running... The screen remains locked or what ???

When the app is running in camera mode, it will keep itself on the foreground until you close the app or return to the main menu.

Pretty nifty but expensive

Are you talkng about Gotya app or the Security Toolkit app? Gotya is free and Gotya cloud service is optional. $11.99 a year is average $1 a month is reasonable price.

Our own version of DropCam, for our old WP phones

Now you're just some birdie that I used to know

Rofl, I was whistling that song cus of the name of the app. And then I saw your comment.

I would guess most of us here have a spare WP7 lying around...

Gotya is supported on 3 platforms. Symbian (touch devices), WP (7.x, 8.x) and Android (> 2.3.3).

Agree! Not only WP phones but also Symbian touch and Android devices.

Surely the elephant in the room here is that, to use this software you have to leave your mobile phone behind, which defeats the point of the phone? You can buy very good and cheap live feed and motion triggered ip cameras these days, so I fail to see the point. Also, what stops someone just nicking the phone itself?

Well, the point is if you have an old unused phone and there will be plenty of them along the way smartphone market grows.

Live feed and motion triggered ip cameras are usually $50 or more (for example http://www.dlink.com/us/en/home-solutions/view/network-cameras/dcs-931l-... is $60). Gotya is designed to extend the useful life of older or unused smartphones as the motion detection camera and monitor/remote control from your current smartphone, saving you $50 or more. (Dropcam is $150-$200). It depends on your use case requirements and budget as to what's right for you.

I have a few extra W8 phones lying around and would love to turn one or more into surveliance cameras... Any apps do this?

What if the person who stole the phone, just put the phone back on factory settings? Or remove the app on the phone?

Still nokia camera the best apps i think

So, if you use it without an account how can you get the images off the phone? Can you upload them to OneDrive? Do they show in the Camera Roll? Are they accessible through USB???

All good questions that were left unanswered. I was wondering the same.

A local account does save the pictures to your Photo library. I would assume they will then back-up to OneDrive automatically if you have that feature available. This would also mean they will be accessible through USB.

Yes, that's right - if you set save location = local it saves to the Saved Pictures Album on your Windows Phone. Then if you have Settings->Backup->photos auto upload on, those pictures will be backed up to your OneDrive account

Always nice to see developers responding to comments!

There was an application on Android named Gotya and it was awesome coz it took photos when you made an incorrect pattern.This is shit one compared to that.

The 2 apps are completely for different purposes. While the Gotya! in Android which you talked about is an anti-theft of your own phone. This Gotya is a motion detection and photo surveillance camera.

There is new free Windws Phone app "Win IP Camera" that turns a Windows Phone into a high-end HD IP Camera instantly. One can use any software (including browsers) supporting IP cameras with it.

the app has been re-named to get'em