TweeCoMinder updated, adds custom tweet mode as it helps you track your tweet count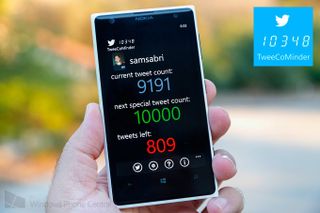 We last looked at TweeCominder earlier this summer. It's an app that Twitter users can easily get behind. No, it's not another Twitter client. Instead, TweeCoMinder helps you keep track of your tweet count. That's its main purpose, but it does have a few other tricks up its sleeves. The latest update improves functionality and adds features. Let's check it out.
Quick reminder of what TweetCoMinder does. It helps you keep track of your Tweet count on Twitter. This is the number of tweets you've sent out. For some, it's a big deal when crossing certain barriers. For example, we might want to do a contest when our @wpcentral account on Twitter sends out its 30,000th tweet. We could use TweeCoMinder to help track this and notify us as we approach it.
TweeCoMinder is now on version 0.9.6.4, with that comes the following:
Custom tweet mode
Saving of own tweet templates
Choose between mentions or hashtags for TweeCoMinder
Live Tile and Toasts are sent out now about every minute, but only if tweet count changes
Added email alert
Updated FAQ
Bug fixes
You can share your current status tweet status with your followers if you want. There are predefined templates within TweeCoMinder, but now you can create a custom tweet. Other changes include improvements to both Live tiles and toast notifications.
The big update to TweeCoMinder will come next. We should be seeing achievements and badges (think Xbox Live achievements and Foursquare badges) for a wide variety of accomplishments and actions on Twitter. In addition, there will be a Windows 8 version of the app with all of the above features.
Interested in trying out TweeCoMinder? The app is available for Windows Phone 8. There's a free five day trial, after that the app will set you back $1.49. That's to help cover the Azure costs for all the server side magic.
Grab TweeCoMinder in the Windows Phone Store. You can also use the QR code below to nab it or swipe to the right in our app.
I'm still not sure what I would use this for, but I don't think is worth paying for it, dunno. Maybe I didn't understand what this is supposed to do that twitter's counter doesn't

It reminds you via Live Tile and Toast notification of the tweets left to a dedicated tweet count. This might not be interesting to all Twitter users, but there are users that care for that and don't want to miss their special counts. There was no app for that, so we created it (because we care of the counts). Setting up this with a background agent based notification system wouldn't make sense as one would probably miss their special tweet counts often. That's why we had to choose the paid app route.

Interesting... I have 45k+ tweets I'd consider myself a "power user", after a certain point tweet counts are mostly irrelevant to connections made.

Well, maybe it will become interesting again for you after our implementation of achievements? ;-)

Sounds rather redundant to the counter built into every twitter profile... >_>

The counter in your Twitter profile does not remind you that you are near your next special count, right? So we wouldn't call it redundant...

Sorry but the developer must've paid wpcentral for a bit of promotion here. This app has got to be the least innovative thing I have seen in my life. And to have the cheek to charge 1.49 for it! Wow!

Except WPCentral doesn't allow people to pay to promote here in the news blogs?

WOW!
such app is definitely a first on Windows Phone OS!

and this just in, (antropology/ philosophy) Twitter users dont know math and are so busy tweeting that they overlook tweet counts. man, this is all time high of App Developements.

App development takes time and money, its not something free. In most cases app development takes days or even months for even the simplest of apps. Plus they have to cover server costs! They have all the right in the world to charge $1,49! Not trying to offend anyone Just my 2¢

I do agree with the time, energy, money maths... But being wpcentral, an article about such app, that too second time around.. What I said was complementing JW7, not another comment. No offence to the developer, they will create much better of this app, I searched dev.twitter.com and read many posts for count API, and damn it is a complex process! This app making it available on WP is very neet!!

If you don't like the app, it won't hurt you to skip the article and move on. No need to spam the comments with your unconstructive opinions.

Well, it isn't spamming. The comments (negative in this case) about the whole app idea are personal user opinions. You have to put down, both the pros and cons of products/apps.
But asking us to skip commenting, you are restraining freedom of speech! No offence whatsoever, just allow all opinions to be put forward.

Sam's tweet count: It's over 9000!!!!!

I have yet to find a twitter app that will show something on a live tile from a timeline (not only DM, mentions & numbers).

The WP or desktop apps I use do not show my Twitter count unless I go to Twitter's web site. I appreciate this app that I can now quickly see what my current numbers are. I'm wondering (and hoping) is there or plans for multiple accounts?

Glad to see you like it. Multi-Account is on our list, after Windows 8 app and badges/achievements (due to the needed structure). :-)

What about twits from a timeline in a live tile. I follow news outlets & would like some breaking headlines to show up on a live tile.

That would be a total new app, but we like the idea :-)

This is more for net celebs but not so much for average twitter users.
Windows Central Newsletter
Get the best of Windows Central in in your inbox, every day!
Thank you for signing up to Windows Central. You will receive a verification email shortly.
There was a problem. Please refresh the page and try again.