Keep track of your Twitter milestones with TweeCoMinder for Windows Phone 8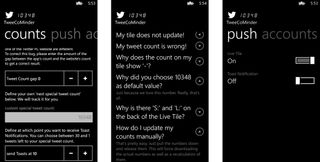 Twitter is one of our favorite social networks. It's a quick and easy way to send our little broadcasts in 140 characters or less to your followers. If you're a hardcore Twitter use you probably already have your favorite Twitter application on Windows Phone. Or you're like us and switch between a handful on a somewhat regular basis. But how do you keep track of your personal Twitter milestones? With TweeCoMinder of course.
TweeCoMinder for Windows Phone allows you to keep track of important milestones for your tweet count. For example if you're tweeted 238 times it will notify you when you're approaching a big milestone like 300 tweets or 2000 tweets. It will show you how many tweets you have until you get to the milestone you set. It's Live Tile is pretty awesome too.
It's relatively simple in concept, but has a few technical tricks that make it fun and unique. After you log in with your Twitter account the app connects to a cloud-powered Windows Azure backend. From there the Live Tile is updated with push from the cloud. So no background agent is running or impacting your device. Here's what you currently get with TweeCoMinder:
Maintain your tweet count
Live Tile and Toast Notifications, updated every 15 minutes
Setting up custom tweet counts
Tweet Count Bug correction mode (website and API counts are different sometimes)
#WinPhan mode for promo tweets
Like I said, its current form is simple and straight to the point. But the team is hard at work on some updates that will make this app twice as fun. Here's what is currently being worked on for a near update:
Unification support
Custom promo Tweet option
Translation in other languages (German and Italian first, others to come)
Themes
Achievements and more
What I'm really stoked about are the achievements coming soon. Just like on Xbox Live or Foursquare you'll get fun badges for completing certain tasks. For example, follow the staff of Windows Phone Central to unlock the hypothetical "I <3 WPC" badge. The devs are open to ideas on future achievements, so be sure to sound off below with certain scenarios and badge names. Another example would be to send a tweet at 3 A.M. in your local time to unlock the "Night Owl" badge on TweeCoMinder.
The devs are very open to suggestions. So sound off below what other features you'd want to see an app like this.
Since this app is partly powered by Azure you'll need to part way with some cash to help support the service. Right now the app has a promo price of $0.99 before it jumps to $1.49 later this week. But you try out the five day free trial to see if you like the app. I like it and so might you.
Grab it in the Store for Windows Phone 8, use the QR code below, or swipe to the right in our app.
Get the Windows Central Newsletter
All the latest news, reviews, and guides for Windows and Xbox diehards.
If only it was actual Xbox achievements for gamerscore!

That would be awesome. But give some suggestions for "Twitter achievements"

Has the WPCentral app gone berserk? 20 notifications for only this news.

Same issue here.. I updated the app today morning.

atlest it increases the count on WP store be happy its good for the OS

Idk about the app, but always quality > quantity. At least for app stores :P

did you test the app? What makes you so unhappy with it?

metioning more than 50 persons (e.g @samsabri) and achieving super social bagde :)

Uber-Interesting Badge: Get ten million followers.

Hand-Solo.. No re-tweets by other users and your best friend is a Wookie ;)

Retweeted x times (total) gets you y badge/points,
Favorited a times (total) gets you b badge/points,
One tweet retweeted so many times gets you a badge / so many points,
One tweet favorited so many times gets you a badge / so many points,
Retweeted certain number of times in a day/week/month => a badge or points,
Favorited certain number of times in a day/week/month => a badge or points.

Thanks for all the suggestions so far, we will review them all. Of course we will announce a full list of badges once they are all implemented :)