Tweetro+ now available for Windows 8 RT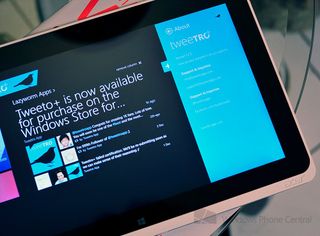 We recently mentioned Tweetro, the new Windows 8 Twitter app for two reasons -- (1) we had a video tour at BUILD and (2) the app had to be pulled due to it being too popular. That latter part has to do with Twitter's new API changes and limits on how many people can use a third-party Twitter app. Needless to say, it's putting the crunch on Twitter devs. And it means they'll likely have to charge a pretty penny for their wares. Yes, Tweetro is back. But it'll cost you.
The developers behind Tweetro aka LazyWorm Apps (who also make MetroTube for your Windows Phone and yes, that's coming to Windows 8 too), have now released Tweetro+ with an introductory price of $9.99. It will jump to $12.99 in two-weeks, so you may want to get it now...
The question is, why pay for a Twitter app? Well, to be honest it is becoming necessary. Devs need to eat and Twitter is basically forcing their hand on this issue. If it makes you feel better, the most poplar Twitter app on OSX (Tweetbot) fetches for $20, so $9.99 is competitively price--relatively speaking. Of course even the popular MetroTwit has a Plus version that goes for $15.60 though there are cheaper alternatives out there, like Liquid Daffodil's Cowlick and glƏƏk! for Windows 8 which are both under $5 (and highly rated).
Personally, we like quite a few out there but we will say that Tweetro functions well and is quite stable on our Windows 8 tablet. If you like the company and their client, you'll have to decide if it's worth it. We're okay with it and as you can tell, we bought the app.
You can pick up Tweetro+ here (opens in new tab) in the Windows 8 Store.
Speaking of tablets, we'll have something on that Acer Iconia W510 and how it compares to the Surface RT later this week. The answer may surprise you.
Source: Tweetro
Windows Central Newsletter
Get the best of Windows Central in your inbox, every day!
Daniel Rubino is the Editor-in-chief of Windows Central, head reviewer, podcast co-host, and analyst. He has been covering Microsoft since 2007 when this site was called WMExperts (and later Windows Phone Central). His interests include Windows, laptops, next-gen computing, and for some reason, watches. Before all this tech stuff, he worked on a Ph.D. in linguistics, watched people sleep (for medical purposes!), and ran the projectors at movie theaters because it was fun.
Aren't a lot of the latest reviews claiming it crashes a lot after the last update?

Yeah just reinstall and rowi is fine.

Been using Rowi for Windows 8, but now after some update it crashes at launch. :/

Uninstall and reinstall fixes the crash at startup.

But what's the difference with the plus version? The article doesn't say. I guess its guaranteed to work no matter how many users?

Yeah, basically there is no difference outside of future updates and the devs will work hard on it. If you have Tweetro (free) and it still works, then keep it for now. New users to Win 8 have no choice as Tweetro free cannot be downloaded.

Tweetro free can be downloaden if you have it in your purchased app list, however connecting it to your Twitter account is nog longer possible....

They are limited to about 50,000 tokens. After that they won't take anymore users and those that paid can look forward to updates and future versions.

Retarded question but I cannot find tweetro at all in the store, I was assuming when they said now in stores you could buy it, is there something Im missing?

Added link to the main post.

Mine got deleted automatically I never touched but no longer on my surface

My Tweetro (non plus version) is still there for me on my Windows 8 machine, but it's not working. All I get are the spinning loading circles. I understand that the developer needed to make a new version, but did they really have to disable the old one? Or worse for you, uninstall it? That right there does not make me want to tell friends about it... and to go with Rowi or MetroTwit instead. I installed Rowi and that works just fine.

Once again, it's Twitter at fault here, not the devs. The devs are only allowed 100,000 tokens max. In order to even have tokens available for Tweetro+, they had to pull their old ones. Blame Twitter and their greediness...

I see it for the windows store online here on my laptop but I meant for the windows store on my windows phone, I have the Nokia Lumia 920.

It's a Windows 8 app...not for Windows Phone.

I assumed "windows 8 devices" meant anything running windows 8.

It does. Windows Phone 8 is not a Windows 8 device.

Our phones does not run Windows 8, but Windows Phone 8.

Are they nuts? They go from free to $10-$12 dollars? Seriously? I would've paid $2.99 to $4.99 but forget it at that price...

They have to price it like that to deliberately keep too many people from buying it, since they can only give out a limited number of tokens ever. There is no way for them to get more should they run out. Their only option is to price it prohibitively high and serve a niche audience. Eventually the other free apps are going to start disappearing as they run out of tokens too. Blame twitter for this mess, not the devs.

Tweetro is now worth 120 MXN.... that is a loot of money for a tweeter app here in México >_>

Even more when you consider that the minimum salary is usally 62MXN a day (around 5 dolars @_@).

So let me see if I have this straight. $9.99 for the app x a limit of 100,000 downloads. That's $999,000. Can buy a few good meals with that. Or does Twitter get a cut. Don't think Twitter is that important to me that I would pay $10 for the privilege of viewing tweets on my Surface. Unless I can be guaranteed at least 5 years of stable, uninterrupted service. Don't like the way apps come and go from the Store without explanation. Hey, I was running Quicken 2000 on my new Win8 i7 desktop last week and it worked fine. Think I got my money's worth.

You're looking at it wrong. It's priced so that they will never, ever hit 100,000 as if they do the app is dead. If they charged $2 or $3 for the app and it hit the limit, what would they do? Support an app for the rest of their lives that can't gain any new users? If developers were able to buy more tokens from twitter, they wouldn't need to so this. I just hope twitter come to their senses and change their current system.

We WISH! Read this article for further info on the 'economics' http://thenextweb.com/insider/2012/12/04/tweetro-talks-twitter-app-econo...

Rowi works after reinstall.

Beautiful but too expensive for twitter client

Way too expensive.
The app is nice but not 10$ nice.

Like it or not, most Twitter apps will have to go down this path. $10 might seem expensive right now, but in time it will be the norm. Not really the fault of the devs.

Rowi is a pain. Really missed Tweetro.
I am in for the purchase as email and twitter are my mainly used apps for info.

Apps for tablets are generally more expensive so those of us with Surfaces kind of know that. $10 isn't alot of money but for someone like me who basically bought every twitter app on windowsphone I will probably skip this. Point your rage at twitter.

Just my opinion, although probably nobody really cares:

RE: TweeTRO+ and pricing: The free Twitter apps in the Windows 8 Store are worth their price, and the paid Twitter apps are worth theirs. Pricing is always subjective and developers just "guess" at a reasonable cost, based on what they know. TweeTRO+, although not my personal choice, is WAY better than any of the free apps, and most folks will never miss the few extra dollars to support good developers, and the folks at Lazy Worm do great work.
By supporting good developers (meaning paying a few extra dollars, working with support instead of just leaving crappy reviews, etc.) ultimately will greatly benefit the USERS. The idea situation is to have a Store with far fewer apps, but of good to great quality. This can't happen unless users stop thinking a Red Bull is worth the money, but not a decent app.
RE: Twitter: Twitter really is the problem. This sounds over-simplified, but it's the truth. Twitter has "used" developers for years to increase the popularity of their product, and is now alienating them for various reasons. Twitter no longer sees developers as "partners". Since Twitter is a business, they're allowed to do this, but ultimately this is "bad business", and without developer support, no software product, operating system, or technology initiative can succeed.
Summary: If you can afford it, by TweeTRO+. If you need to have "5 years" of service for $10, you need to re-evaluate your system of values. If there are other apps you like, buy them. If you want to see improvements, email the developers and work with them. Good ones will give you what they want. Bad ones will go away. Everyone will win.
I'm bored of listening to me now. :)




Thank you sir, GREAT comment.

and there's the problem. You dont see many Apple users complain about pricing and that's probably why they are leading the pack of quality apps.

Go in the Windows 8 store. Some games are 9.99 and now this app as well. iOS apps are great. Awesome games for the iPad at awesome retina display... And their like 6.99 apps. Just saying. Not trolling. I'm windows all the way. Bit they have to lower their prices if they want people to switch over.

All the apps you are referring to are not limited to a maximum of 50,000 sales... Tweetro+ is an 'exclusive' app due to Twitter's restrictions and is priced accordingly so that we can afford to continue supporting it.
If we were not restricted, we'd still be giving the app away for free.

so, quick question ... as with the original installation of tweetro, the freebie ... it reached it's 50k or 100k limit ... it got pulled from the store, and for someone who has a "stamp" on their account, who downloaded it while it was still under the limit and free, it's either uninstalled or no longer functional, and thus can't be installed again on a NEW device, logging in with the same credentials ... finally to my question (sorry) ... if a user were to buy the PLUS version and say 2 years down the road, after tweetro HAS reached that 50k or 100k limit, would that user who bought it day one be able to download and install on a NEW device in the future?

No problem, very common question :)
All the answers can be found here: http://tweetroapp.com/tweetroplus.html

thanks for the quick response ... i read the FAQs ... and although both of my questions were answered, what about both of them together :)

you say if you reach the token limit you will no longer be able to distribute it, however existing costumers will be able to continue to use it. if you can no longer distribute, will it be available for download at a later date if a current token holder needs to install it again on a rebuilt computer or new tablet, etc?



Lets face it, twitter is something that most of us use everyday, and we pay way more for things that we use a lot less and nobody is complaining about that.
I think a good developer can price its apps as high as he wants, it is his job. Im sure no one wants to sell their work for a cheap price... am i wrong???
And this is about quality apps, support and the best of a plataform, you get updates after pay for it, so no problem for me here.

.. And just today my previously installed Twittero app has stopped working. Why? The dev wants to force the free users into buying the new expensive app ...

Allowing the previous app to run alongside the new one uses up limited amount of tokens which they could not afford to happen. Due to Twitter limitations on tokens allowed to 3rd party apps it would have meant the devs could not have afforded to support & develop the app. Check the Internet for a more detailed explanation. I for one am happy to support the devs as they are very talented & will make Tweetro a top notch product. Check out MetroTube on Windowsphone if you have not already. This is the kind of talent Windowsphone & Windows need to attract, so dig deep & keep them motivated.

Ok LazywormApps, can we have that podcast app now? :)

I've read about what Twitter did, and my experience with MetroTube says to me that LazyWorm Apps could charge £5'000 for it and it would be worth it. No, I'm serious. I prefer to use the web client on my desktop but the problem is what will Microsoft do since Windows Phone is picking up? They're gonna run out of tokens too!

$10, ouch, is it that good?

Personally, I think it's time everyone leave Twitter. They deserve to crash and burn. If only that could happen without hurting the devs who contributed to their success.