Twitter is adding new anti-harassment tools to make it easier to report abuse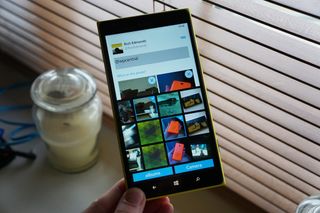 Twitter will soon be offering offering all users of its social network some new features and tools that will enable them to report abusive activity faster, along with a new page that shows which Twitter accounts a user has blocked.
Twitter stated:
A new page on the Twitter.com settings menu will show which account a user has blocked, and those accounts won't be able to access the user's profile. All of these updates are currently available to a small section of Twitter users but will be rolled out to the rest of its base in the coming weeks. Twitter added, "In the coming months, you can expect to see additional user controls, further improvements to reporting and new enforcement procedures for abusive accounts."
Source: Twitter
Windows Central Newsletter
Get the best of Windows Central in your inbox, every day!
Along with an update to the WP app?

thats what I'm confused about

Uuhhhh. iOS and Android only. They forgot if they have an app for Windows

But it must update the app for windows phone.The official twitter app sucks now it looks a year old app.So update it.

It works fine for me dude. But yes, an update to play gifs would be good.

Yep it also works for me but it lacks many features compared to other OS.

There is a new upcoming app for Twitter called Aeries for Twitter. I am beta testing it at the moment for the developer. The app so far is fluid, superfast, light, 3 themes to choose (white, dark gray and black). This is a good info from Twitter, in perfect time for the developer of Aeries for Twitter to implement it in his app. :) However, even tho the native (offical) Twitter app for me is working good and fast too, it does need some extra features. The design itself is fine with me, doesn't bother me, it's simple, viewable and fast, but sure it lacks some features other (Android and iOS) versions have. :)

Yo man, official twitter isn't bad. I can even say that it's good.

Article doesn't mention app and update for it or anything. So this article isn't necessary for it to be here.

Disappointed with Twitter for its thought police censorship. I really have always liked Twitter but I really hope this doesn't go any farther.

Wouldn't need to be if there weren't so many crazy people on Twitter. They fuck it up for everyone.

I agree this is just going to create further chilling effects. Anybody with an opinion contrary to the brain-dead masses prepare to have your account flagged and suspeneded.

Screw twitter with a broomstick! Lol they are making me not like them anymore. Not updating their stupid app!

That be nice if they updated the app so we could use them

Unfortunately, the easier that Twitter makes it for legitimate victims of this kind of harassment to use this system, the easier they make it to abuse the system. Unrelated thought: I've always thought it was weird that some people who get into hot topics that they know will attract unwanted attention brag about how many people they block. "My block button is on fire today" usually means "look at how I've blocked out those who disagree with me. My confirmation bias will never be challenged!".

Lol, feel good to let it out?

Were you under the impression that was a rant? Lol I think you're reading far too much into it. It's an observation that I notice many have adopted.

I wish I could upvote this.

@Jas Welcome to the internet, where people no one in real life would listen to can make fools of themselves and attract like-minded people. An attention whore doesn't care if he/she is getting negative or positive attention so long as all eyes are on them.

I'm glad I don't do twitter. Seems like another headache inducing system.

Off topic but I am having trouble installing the Facebook app in my Lumia520 running cyan in India. Tried to reinstall but in vain showing 80073cf9 error!!

It's been 8 months since a beta app leaked on the store. A working beta if I remember correctly. But it seems they ceased it's development.

I suspect this feature has been implemented to thwart inquires from Windows Phone users who are awaiting a LONG overdue update to the WP Twitter app.

Is the notification issue fixed ??

Paul Thurrott's list must be huge.

I'm just glad the Windows Phone OS prevents apps (*cough* Twitter, if they could *cough*) from scanning your phone for what apps you have running/installed, as can happen on other platforms, iDroid for example.

That's cool. Maybe we can have features most have enjoyed for several months, like muting? :D

I think blocking is applied way too liberally. If you're feeling uncomfortable on Twitter because of someone's tweets, reach out to the person in question first before blocking them. We aren't mind readers and most of us are reasonable people that will understand when they've crossed your personal line. This is particularly important if you've tweeted that you don't want to be asked about certain things because most people's Twitter timelines move so fast and are so populated that it's easy to miss a specific tweet among everything else that comes through. Of course, if a user is an obvious spambot (particularly if they tweet suspect links at you) or if they're being outright abusive (harrassment, death/rape threats, doxxing, etc) then go ahead and block them. Posted via the Windows Phone Central App for Android