Twitter adds tabs feature and much more to its Windows 10 app (Updated)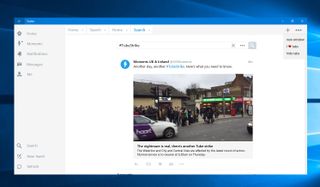 It looks like Twitter is in the process of rolling out or testing a handy new tabs feature to its Windows 10 app. Spotted by MSPowerUser, the feature doesn't look to be live for a large swath of people just yet, but it has started popping up for some.
The tabs appear operate much as you'd expect, offering a quick way to open up and swap between things like your timeline, specific profiles, lists and more. Each tab can be closed individually, or you can choose to quickly hide them all from an ellipses menu off to the side of the app.
As some might notice, this offers something similar to the columns feature that was present in the now-defunct TweetDeck app for Windows. It's not exactly the same, but it's close enough that it should give anyone missing TweetDeck a boost. That said, this looks like it may just be a limited test right now, and it's unclear when tabs might start rolling out to everyone on Windows 10.
What's new in Twitter for Windows 10 PC and Mobile
Update: The new updated Twitter app is rolling out to more users now - but not everyone yet. Besides the tabs feature here are the other new features found in Twitter for Windows 10 on PC and Mobile!
Copy and paste images directly from the clipboard (PC): You can now paste an image directly to the tweet composition box without uploading
Insert emojis using new picker (PC): PC users had to rely on the software keyboard - if available - for emojis. Now, they can do it directly even on PCs with no touch display
Pin to your profile: You can now pin a tweet to your profile
Direct Message a tweet: At the bottom of each tweet now is a DM icon letting you directly share that tweet with someone through DM
Not everyone is getting the update yet and it is not dependent on your Insider status. Instead, it seems to be a slow roll out so sit tight, you'll get eventually.
Download Twitter from the Windows Store (opens in new tab)
Dan Thorp-Lancaster is the former Editor-in-Chief of Windows Central. He began working with Windows Central, Android Central, and iMore as a news writer in 2014 and is obsessed with tech of all sorts. You can follow Dan on Twitter @DthorpL and Instagram @heyitsdtl.
This is a pretty cool idea, nice!

The facebook desktop app has this too! And it's definitely better than the mobile app.

this is for desktop and mobile bro..

If the could update the app so you don't start at the top of your feed all the time, I would use their app all the time. (maybe I'm missing something but if I close the app phone and pc when I re open it I am back on the latest tweet)

I never close the apps so don't have that issue. There's no point to really since the OS is managing everything.

This is my big gripe too. I want to open the app and have it remember where I last was in my timeline. Though it would mean they'd need to change how a thread loads too, which I'd also like. Otherwise it's a major improvement on what they offered up before.

I don't think any version of Twitter does that. Even on Mac when first opened it resets, I believe.

Yes they do. Almost every third party right app does that.

Yep got it hours ago . Nice to see Twitter continue supporting their app . I don't use the web version anymore .

It's better to have live tweets than top tweets when you do a hashtag research.
It should have a tab for trending tweets and pure live tweets like on Android or iOS.

I actually want Windows Central to have tabs as well. UWP apps should actually have tabs, when it makes sense

Twitter stopped working yesterday. Tried several times to uninstall. It finally cleared, for a successful reinstall. But no sign of the new feature, just yet.

Pin tweets..Emoji button...Share tweet via dm icon..and much more..available for pc and mobile since it's uwp

Moments still isn't working

Moments don't even show up on my Android backup phone since last week. Wonder what's happening on their end.

Yes! This was the primary missing feature for me. Having different columns/tabs for different search feeds is critical functionality.

Now you can paste images from clipboard and select emojis directly from the new tweet tab. Still no way to tag photos with accounts!

I don't use the Twitter app as much as I just load it on a browser, but does the app now feature some sort of a badge/notification telling me how many new tweets I've received (such as on Facebook in a browser)? If not, I might give them a feature request on the feedback.

Less go! Been asking for the copy and paste for a while now. Worked on browsers.

Not sure if I rec'd this on my HP Elite x3 yet .... but definately got it on my Win 10 pc. ​The giveaway was the "Home" tab. I initially kept clicking on the "x" to make it close but Twitter just kept reloading. No biggie. Realized I must have a new version of the app and discovered the other following benefits: ​1. Scrolling up / down appears to be more seamless / faster. 2. No longer see the "tap to load more" button. 3. Probably the most important thing I've noticed so far: No string repeats of previous tweets.

Another item: number of replies to a tweet. If i recall correctly, just showed the icon but not the count of replies unlike retweets.

Did they fix the issue with the "moments" area?

Moments are broken even on my android...but try changing your region until your moment icon changes to a flame-like icon and you will see moments

Tabs are nice, albeit kinda useless since they don't save between sessions. You can get a nice organised bunch of tabs together only to have to reopen them all next time you start the app.

Moments still broken for me ☹

still can't Subscribe to tweet notifications of specific followers.

I just got this update and I am ecstatic, I can't wait to use a buffed Twitter on my PC. I'd prefer not using the web version or Android Twitter App while at home.

The only thing that is missing on the twitter app for Windows 10 mobile is the ability to swipe between home, messages etc.
Windows Central Newsletter
Thank you for signing up to Windows Central. You will receive a verification email shortly.
There was a problem. Please refresh the page and try again.