Get updated on who's friend and foe on Twitter with UnfollowSpy for Windows Phone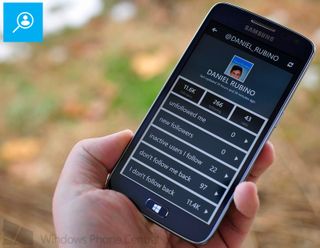 Twitter is an interesting social network. Since it began almost a decade ago, millions of tweets have been fired into cyberspace and many of us have carefully managed who we follow to prevent clutter on the timeline, which is inevitable as one becomes more popular and interacts with other Twitter profiles.
There's a free, easy solution to the above problem, in the name of a sweet little Windows Phone app called UnfollowSpy, enabling you to keep up-to-date with new followers, those who have unfollowed you, as well as inactive profiles you follow and those who don't return the favour.
Ever had a quick browse through your lists and thought, "Why am I following them?" With UnfollowSpy, you'll now be able to easily manage exactly who you're interacting with.
You may (or may not) be aware of previous apps, already available on the store that share similar functionality. The highlight feature in UnfollowSpy which sets it apart from other apps on the store is just how simple and easy it is to use, not to mention the multiple account support and simply gorgeous UI.
When firing up the app, you're greeted by the accounts page, showing which Twitter profiles are connected and when they were last updated. Easy stuff. You can easily add more accounts by connecting them through Twitter and you're good to go.
This screen also gives you quick glance figures for how many profiles have unfollowed connected accounts, as well as how many new followers have been detected. We'll quickly touch on the settings pane since there's not an awful lot present. You're able to configure refreshing accounts on launch, automatically clearing new followers and unfollowers on refresh, accompanied by the option to purchase the full version and remove connected accounts.
Analysing your following
Selecting a Twitter account from this overview screen will take you into the detailed analysis area, as shown below. This is where the real magic occurs.
​The inactive users you follow are calculated by searching for those who haven't tweeted in the last week. This helps you clear out profiles who simply don't contribute an awful lot of useful and relevant content that you'd like to read. There's also a super handy followers-to-following ratio counter. Fear not if you don't feel like going through long lists and selecting them individually as UnfollowSpy supports multi-selection of profiles for bulk management.
Version 1.2.2.0 of UnfollowSpy has been pushed to the store, brining more bug fixes and improvements. It's now possible to pin each account to your Start screen, just in case you wish to keep on top of multiple accounts with glance information. The developer teases more is on the way, so remain tuned for future releases with more feature and functionality destined for Windows Phone.
You can download UnfollowSpy from the Windows Phone Store for free (ad-supported) - we strongly recommend the download. The app itself is free to use, but to unfollow folk from within the app, you'll need to fork out for the optional in-app purchasable upgrade, which sets you back $0.99.
Windows Central Newsletter
Get the best of Windows Central in in your inbox, every day!
Rich Edmonds was formerly a Senior Editor of PC hardware at Windows Central, covering everything related to PC components and NAS. He's been involved in technology for more than a decade and knows a thing or two about the magic inside a PC chassis. You can follow him on Twitter at @RichEdmonds.
It's a really well done app. Very useful for "purging" your Twitter stream. I recommend it.

Totally agree Daniel... Well done app!
But I would like to monitor Twitter, Facebook and LinkedIn at same solution. Still waiting... :(

I need a spy app for my instagram account. Unfollowgram on web browser takes a lot of time to check.

Check out my app IG Stats: http://bit.ly/1bQQWp1

http://www.wpcentral.com/see-whos-interested-your-instagram-photography-... You are awesome :D

Woah they wrote an article on my app! :D thanks for letting me know :)

I love your app, but its rather confusing with all the shortened words...and for some reason on 'who don't follow back' it comes up with a lot of people who do follow me. It's a great ui, but just confusing for stupid people like me! Lovely UI though! Its still better than instafollow :wink: :smile:

Tweet It! also includes this functionality, fyi.

Why does it need permission to post tweets? Why would it need to post tweets on my behalf?

"I just found out who unfollowed me using UnfollowSpy and you can too! Download the app here ..."

OMG! So it promotes itself on my account? Not cool.

It didn't post that for me. I think he was joking.

Oh. But the question remains- why does the app want to post tweets for me?

Maybe it will have a post feature in the future? I don't worry about it... I can delete a tweet just as fast as it can post one.

It doesn't actually tweet for you. That's just one of the things it says the app is allowed to do, as it's either all permission or none, not a certain few

I still don't understand what twitter is.

You post stuff you do during the day, I keep my followers updated everytime I take a dump, its awesome keeps me socially active.

You don't want to leave your following "hanging" now, would you? I'll show myself out...

11k followers and only following 266. That's one of the reasons why I unfollow people. Cus they get so many people to follow them and they don't follow anyone back and never reply to comments or anything.

I reply to almost every question in asked on Twitter. I use Twitter as a tool for my job and rarely follow people not connected in the industry. I don't have time to scroll through and see what strangers are doing in their lives, sorry.

Actually, I unfollowed you Daniel, because you didn't reply to about a dozen of my WP related questions. Its quite ok, you are a busy man, and you and the wpc team do a great job with the website.

Well I don't use Twatter and I wasn't talking about you specifically. I meant people in general. "Internet popular people" who just hoard followers and never actually talk to anyone. Mainly IG. lol @ that last sentence tho

Well you did mention his stats so he assumed you were talking about him

There's a thing called lists which lets you filter people so…

As for me, I only follow those who I deemed as interesting to be my source of quick news and don't really need to be followed since I rarely update or retweet anything. That's how I use twitter.

Especially when the accounts say always follow back ;)

I think no one unfollows me on Twitter. ;)
www.twitter.com/Nawzil8

Every single one of my followers unfollowed me a few minutes after this article was posted! It really works!

Almost a decade ago???? o_0

Yeah, using apps is cool when you have ios or indroid device, and i personnaly dont have any. so what about people like me? :)) I use http://www.zebraboss.com/, i mean i used it once and now i receive the reports who followed/unfollowed on my email everyday. Idk i find it more useful.
Windows Central Newsletter
Thank you for signing up to Windows Central. You will receive a verification email shortly.
There was a problem. Please refresh the page and try again.