Twitter for Windows 10 PCs and tablets gets its own dark theme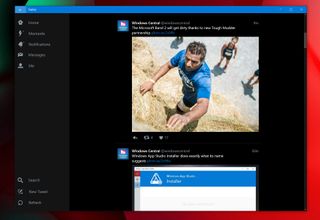 To go along with its mobile interface revamp, Twitter has updated its universal Windows 10 app with a new personalization option for desktops and tablets. Like its mobile counterpart, the desktop version of Twitter now has its own dark theme.
To switch to the new dark theme, open Twitter, go to Settings and select Personalization, then pick "Dark" under the Theme options. You'll need to restart the app for the theme to change.
You can grab the updated version of Twitter for Windows 10 from the Windows Store now.
Download Twitter from the Windows Store (opens in new tab)
Windows Central Newsletter
Get the best of Windows Central in in your inbox, every day!
Hope they add swipe left/right for changing menu, independent light/dark theme and animations for mob app.. Plus the app takes time to load news on 2g network(wasnt the same in previous app) Anyways the app is very good

That was the thing I thought about first. Just like with the new Deezer and Instagram UWAs. All of them are good, but i miss the swipe functionality so much! :D Posted from Windows Central for Windows 10, on HP 250 G1 notebook

Does the mobile have a light theme? BioResearch & Games.

Yes, but a bug means you have to set the whole phone to light theme to activate it.

OOh that sucks. Hope it gets fixed soon, thanks bro. BioResearch & Games.

its not a bug, the mobile app doesn't have options to change it

Cuz I searched and didn't find the option; that made me ask the question.

Yes. Should have stated having that a feature that is not accessible via a setting is, in my opinion as a dev, a bug. That IMO was missing and rather glaring.

Yes. Also there must be an option in the mobile app to disable the use of accent colour in the app and use twitter's blue colour instead. Since my phone's accent colour is indigo, the app looks blinding as dark doesn't contrast with dark.

I love the dark theme and used it fir ages but now gone light theme.......just for a change......because I can #Choices

Notifications not working now after this update!

Just got one both on desktop and mobile for an answer to my tweet. Maybe try to reinstall it?

Hope they will add that option for mobile as well. I like my phone in dark mode, but would like the app in light theme...
Other than that it's quite good already :)

When are they going to make this a true UNIVERSAL app and bring it to f***ing w10 mobile??? The mobile only app is an outdated, bug-ridden piece of s**t! >:(

Control your hormones man..

dont talk s**t,because twitter for mobile got update today,so app is universal now!

Well, excuuuuuuuuussse ME! I've been otherwise happily using Win 10 on my phone for months and was stuck with using the old 3.x version of the Twitter app which hadn't been updated one iota for OVER A YEAR... AND there was absolutely ZERO word from anyone, anywhere, as to whether anything new or sufficiently updated would EVER come out on the mobile side of things. The ONLY developments we were seeing was on the PC/Tablet front where a mobile type app wasn't going to be very useful at all. I was getting sick to the back teeth of having my mobile experince diminished by an increasingly lousy, outdated app without hearing even a rumour of anything possibly coming down the pike. YES, it's nice that a new mobile Twitter app is FINALLY out and isn't wreaking havoc on an otherwise good OS. P.S. I've recetly tried the third party clients out of frustration with the official app and found they were utter dogs**t too.

Is this a legit Twitter made by Twitter?

Dark is the future of WP.....

LOL :P but still a ray of hope.

See? Want to brag about something that a Windows app has that the Android one does NOT? Dark Theme. I'm actually now using the Windows app on the PC instead of the browser because of it. It's the only Windows app I actually use apart form the Xbox one and the calculator.

But seems like Android N is changing that around... :-/

They shoulda called it Android W(indows) lol =p

Too soon to tell. Android Marshmallow had a Dark Theme in it and it was removed before the public release. At this point, nothing guarantees that Android Nutella will have it either. Also, Google's understanding of "Dark Theme" is very literal. Whey they say "Dark" they don't mean black. They mean God knows what the hell is that colour of the notification tray. Well, on AMOLED screens that dark something is as usefull as the other pallete. And let's face it, Twitter has had a Dark Theme on WP for a long time, independent of the OS. On Android, where the OS can have Theme Engines, Twitter could simply use the same theme colour as the settings background. Or even simpler, have a "Light" and "Dark" option, just like the W10 app has. They do no such thing. Because the developers of the Twitter app for Windows are clearly much better than the ones developing the Android version.

If it's a Windows 10 universal app, why didn't it show 'Built for Windows 10' in the store?! :| Posted via the Windows Central App for Windows 10 Mobile

Welp, that magic "Built for Windows 10" tag finally DID appear in the Windows Store, today, on the Twitter app.... finally...

Oh yes! That! :D Posted via the Windows Central App for Windows 10 Mobile

I looks REALLY nice on the desktop app!! From the Windows 10 app.

yea what an accomplishment, now if it could hold its position after closing instead of starting at the top, that'd be great

And make logical and non-frustrating use of the back button. No need to cycle through every screen I've seen in reverse order, thanks. Close from main is fine.

Maybe my DPI settings need to be changed but it appears that there isn't a Hamburger Menu to be able to expand the left column and see what the icons mean and I also cannot find a settings menu on Windows 10 Mobile. Any help would be appreciated as I may have simply overlooked the obvious.

Was wondering the same.. No work around so far...

the person icon is where the settings are located

Those appear to be account settings and not app settings from what I see.

Can anyone view who liked or retweeted you? Can't seem to do it with the new update (talking about mobile)

Almost every single comment here has negative upvotes. How strange. I'll check this update out when I get home but I hardly use Twitter. The Windows Central Universal Application for Windows 10 Mobile on a Nokia Lumia 830

Can it get a theme where it doesn't skip every tweet for large swaths of time? Seriously my timeline as I scroll down will skip from tweets from an hour ago to tweets from 13 hours ago for no flipping reason. Buying Tweetium was money well spent.

I love the changes on the Mobile version, but can we please get the live tile to be transparent? if not by default at least give us the option to se it in setting.

Does Twitter's Windows team have a "contact us" support center where we can submit feedback (e.g. support for People hub integration, actionable notifications, video playback within timeline, GIF support when posting, etc.)?

Another one to add: Transparent live tile

And one more: ability to choose Twitter as a "quick status" app for your lock screen in Settings.

Well hidden "Settings" button.... Posted from Windows Central for Windows 10
Windows Central Newsletter
Thank you for signing up to Windows Central. You will receive a verification email shortly.
There was a problem. Please refresh the page and try again.