Twitter for Windows 10 will now let you natively add GIFs to your tweets and more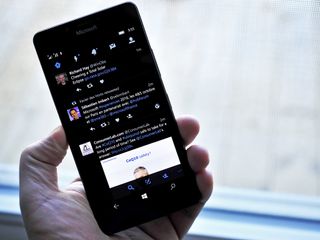 If you're a fan of sharing GIFs, the latest update to the official Twitter app for Windows 10 to version 5.4.0 should pique your interest.
Here are the changes we have noticed so far:
Add GIF to Tweet
Attached images or GIFs for Tweets do not count against 140 character limit
New Notification option for things "happening in the world".
Tweet (send) button moved to upper right corner (instead of lower right) to make room for GIF
Ability to directly copy/paste images into Tweets
Users can now add GIFs to tweets right from the composition pane, making it easy to find and add a bit of extra flair to your missives without too much work.
Adding a GIF to your tweet is as easy as tapping the dedicated button, which will then let you search for the perfect GIF or browse by category. There are also a couple of other, more minor tweaks in this update, including a shifted tweet button and a link to leave feedback.
Finally, there is also a new option under Notifications (found under Settings) that lets Twitter "send you notifications about what's happening in the world". By default, this is enabled with the update to turn it off if you do not want breaking news or event alerts.
Unfortunately, there is no sign of the new personal Twitter Moments feature that lets users create their own 'Moments' based on specific topics and tweets. There is also the still missing new mute options based on keywords.
Download Twitter from the Windows Store (opens in new tab)
Windows Central Newsletter
Get the best of Windows Central in in your inbox, every day!
Dan Thorp-Lancaster is the former Editor-in-Chief of Windows Central. He began working with Windows Central, Android Central, and iMore as a news writer in 2014 and is obsessed with tech of all sorts. You can follow Dan on Twitter @DthorpL and Instagram @heyitsdtl.
I checked for updates in my phone and it's not there. Also, which version number is it?

The moved tweet button is so annoying because they moved it to the wrong place (up at the top where it's harder to reach)

I actually like that. Likely prevents accidental tweets. Pragmatically, it's because they added GIF to the bottom for 5 slots. Had they kept Tweet, you couldn't jam @, #, GIF, camera, and Polls into the bottom as well. Basically, it was to make room.

They could have easily jammed it in, there's more than enough space. While if does prevent accidental tweets, it harms the usability. Idk if it's worth.

I'd gladly give up on the @ and # buttons - they're on the keyboard for a reason, and they're not even present in the Android app. That said the official app is finally getting there. Hope they keep supporting it.

...said the U.S. President elect :)

Is there an option to share gifs on Whatsapp, or is it only on the beta? On iOS it's available, but on w10 I can only see the option to convert videos to gifs.

How can I search for gifs, like the option on fb messenger?

What is the point of gifs?

If only twitter had a transparent tile...

I am there with you on that one.

See-through tiles in store.

Yeah I know there are apps that can mitigate the problem, but it's still not the solution. I don't want more apps on my phone. Same goes for Messenger, and Skype (though they've said it's comming.... soon). If only we could pin shortcuts on the startscreen like we can in Win10, I'd be able to pin twitter:// and that would be transparent (I've done it on my PC).

Well, this is one app for all your tiles. This has all the office tiles too including onenote. All the popular chat clients even line messenger. I love it. My entire start is transparent and looks gorgeous. I know I would prefer the apps to do it natively but in the meantime we wait. I think it will become more popular if MS adds transparent tiles to the Desktop. That would be hot. Setting blurred background for the start would be pretty cool too.

Oh wow! Thanks for this! I tend to not like any third party app that creates transparency for my existing apps on my phone, but this one is great! Thanks for the tip.

Yeah, a lot of apps have their protocol.
fb-messenger://
fb://
shazam://
the list goes on...

Need more... On a side note, how hard is it to implement transparency for apps? I ask because I'm not a dev and I wonder if it's actually a harder task to do, hence apps like Twitter and Skype don't do it. Skype of all apps should have a transparent app if you ask me. It's MS's own app.

From what I know it's incredibly easy if you have a simple tile, and still easy if your tile actually flips and shows stuff. After all it's probably the easiest thing in the whole process of app development.

It's not hard, but (a) it's not a priority for many companies (b) some want their app to stand out, it's part of their branding to be a certain color e.g. Blue tor Twitter.

In the case of office apps it kinda makes sense to stay coloured anyway so it isn't confusing trying to tell each tile apart. They're very similar otherwise.

Let the user decide whether a transparent tile is confusing or not on the start screen.

Good call. This works way better than the WP8 workaround apps that would increase the loading time very noticeably.

I agree with this statement.

If only they included a white themed version without having to change the whole OS theme -.-

Yes. Cool. But yet, no transparent tile, and no notifications friends...

No actionable notifications you mean? Because in that respect it's sorely lacking, compared to Tweetium and a couple other third parties.

If bodypierced means what I think he does, then it means no individual notifications of tweets from people you follow...which used to be there before Win10 universal version of app

That was the whole reason I signed up to twitter and then promptly uninstalled it. I wanted tube updates from TFL in my notification centre.

Use #TwitterForWindows to give feedback

Use #TwitterForWindows to give feedback

Still can't integrate with People App, "What is New" Section.

Still starts on the top of the timeline and not where I left. Still a deal breaker.

I already submit my feedback for Twitter via Feedback Hub. Please, vote it:
http://aka.ms/Euegut Thanks

I there a way I can receive notifications from the twitter windows 10 mobile app, when a twitter account I follow tweet something? More or less what we were able to do on the Windows Phone 8.1 version.

Updated on my phone but nothing, update-wise, is showing up on my PC. -_-

What I still don't get is how on earth it seems to be SO DIFFICULT for the developers to add something as simple as opening full size avatars and showing birthdays on profiles. I've been asking for that since I can remember.

Got the new UI and settings on mobile but no dedicated button?

Images not counting towards the character limit is the big one here for me. What do you mean by no dedicated button btw?

Button is at the bottom of the compose new tweet screen :)

I meant the dedicated button for gifs. Is it a PC thing only cause none of my phones have it? besides the new settings, top tweet button and 140 characters thing.

Same here, no dedicated gif button.

Anyone else have two white dots above the time (while in the Twitter app) after this update?

Does photo app Support gif?

Liking the changes. Changing the subject a bit I wish Twitter settings would have the ability to allow you to block others from putting you on lists. A simple toggle for this would be very welcoming.

Two little dots on the time after opening the app :p

Twitter is trying so hard to survive. Unlike Nadella

keep getting crashes every time I @ someone or look at pictures. It freezes often and then crash.

I just wish twitter would let us see the trends we want to see, like for my country only not for the rest of the world. Tired of seeing languages i don't even understand

Also still no People app integration right?

Finally. Long time without updates.

Tap for audio is now gone 😭😭 now i need to open the video 😭😭 no more watching videos with audio on my timelines

Please add transperant tile!!!

I want notification settings. Come on!

This is one of the best apps in windows store.
any info about live tweets ?

You can also swipe left or right to get to different tabs in what's happening section.

Do you guys have those two dead pixels on top of the clock?

I have update 5.4.0.0 but the app wont even open for me. Is anyone else having this problem? Also Whatsapp has just updated and now refuses to open as well. :/ Running W10Mobile on a Lumia 950. Any advice would be great.

Try a soft reset..if it doesn't work,uninstall them and install again

I have uninstalled and reinstalled. And also done a complete wipe and recovery with the recovery tool(for other reasons, but still done). I have the GIF button, but I cannot actually use it. every time it just pulls up the feedback crash error. also, it still times out when I try to post a tweet until I hit the back button and it crashes. I'm running WM10 on a 950.

Hopefully they add in the translator feature that Android/iOS and the web have (unless I missed it and they added that in already)

Still no notification option for a specific tweeter e.g. a company.
Windows Central Newsletter
Thank you for signing up to Windows Central. You will receive a verification email shortly.
There was a problem. Please refresh the page and try again.