Innovative Uber integration coming to running app Track Runner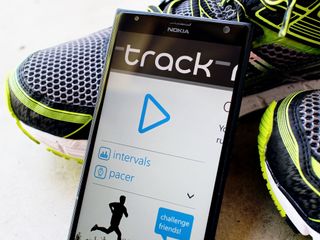 The next update to Windows Phone exclusive Track Runner is going to include some Uber integration. Track Runner is one of our favorite running apps on Windows Phone, and its next update is about to make it even better.
The next update to Track Runner should be out in a few days. This update will introduce the ability to add custom distances to the pacer and improved Facebook sharing. Support for additional heart rate sensors has been added as well.
This update will also include an experimental feature – Uber integration. The Track Runner team looked at their data and noticed runs were ending further away from their starting location. With this new experimental feature, you can just run as far as you'd like (and in any direction) and have an Uber ready to pick you up and take you home.
Update: To clarify, the update due out in a few days will include the custom distances for the pacer and improved Facebook sharing. The experimental Uber features will be in the available sometime in the next few weeks.
Here are some of the experimental Uber features you can look forward to testing out:
"Uber @ finish line": Thanks to our track recognition and the pacer, an Uber car is dispatched automatically to your projected finishing location, waiting to take you home after your run.
"Surrender to Uber": If your pacer training is not going as expected, soften the blow with a royal trip home.
Uber me home: Just run and order an Uber with one tap whenever you're ready.
And just like that Track Runner made another case to be the best running app on Windows Phone. We could see the Uber integration coming in handy if you're visiting another city and go for a nice long run. It would be pretty liberating just to run without worrying about turning around at some halfway point just to end up where you started.
Anyone interesting in trying out the Uber integration in the next Track Runner update?
Source: Track Runner
Windows Central Newsletter
Get the best of Windows Central in in your inbox, every day!
Really neat feature. Can't think of any running apps on any mobile platform that does something like this. Falling behind in your run? Maybe it's time to call it quits and head home.

I don't think that's the idea. I think the idea is to just get outside and run anywhere! Run in any direction for as long as you want without worrying or thinking about how you're going to get back to your starting point. That's because an Uber driver will be ready to pick you up and help you get back. It sounds like a really good idea if you ask me. The point I'm trying to make is that I think this feature it to encourage more running, not calling it quits early. Lol.

Super idea. Would really like to see this with a bike rack option. I've cycled 10miles from home before and regretted going so far.

5 mile ride with kids to gym, came out few hours later to two flat tires. Walked a mile to bike shop, fixed the tubes to get two more flats (different tires) on return trip and have to walk home. Uber bike would have been nice.

Poor Uber drivers having to pick up sweaty runners. ;)

Poor next Uber customer sitting in sweaty seat with nice clothes on after Uber runners ride

Poor uber customers sharing taxi with other sweaty runners

Yeah, first thing I thought... When you run, make sure your destination is close to your home so you can just walk there, don't take a taxi. It will cost more to the taxi driver to have to clean his car than the money he'll be making with you.

This! Note to self: Bring a garbage bag to sit on/in lol. I wouldn't even want to get an Uber ride for this very reason. That's just rude.

I don't know why they force us to install that shit on our Phone Storage!!!

It runs in the background, that's why. Same with GPS Nav apps. For reliability purposes, internal memory is better for apps that run in the background.

Thanks for letting us know that info dude
I appreciate your work bro
Keep on going :D

This would be good as smartwatch is coming soon

Do they support the scenario of uber picking me up after the start of the run and taking me to the finish line while still show I ran the course?

http://www.newyorker.com/magazine/2012/08/06/marathon-man - long but a great read! ;) What we have in mind is rather someone running his or her race - maybe guided by our amazing Pacer (http://www.newyorker.com/magazine/2012/08/06/marathon-man)? - and the Uber car is already waiting at the finish line, automatically ordered by the app based on your predicted finishing time. That's cool, cheating isn't.

This is a great feature with mutual financial benefit for both companies.

That's right. We're about to become uber-rich.

The Uber integration is a great idea. Oh and change "cause" to "case".

Me: "I ran five miles today, but had to call Uber to take me back home." Friend: "Why didn't you run 2.5 miles and then run 2.5 miles back home." Me: "????"

I think this is a stupid idea for mindless people

What should be done is an integration between uber and Cortana.. (I don't use Uber but thought that would be good :D)
Windows Central Newsletter
Thank you for signing up to Windows Central. You will receive a verification email shortly.
There was a problem. Please refresh the page and try again.