UC Browser for Windows Phone updated with new features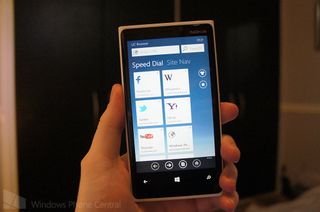 UC Browser, an alternative web browser for Windows Phone, has been available on the platform for some time now. Since then the app has been updated a number of times and has now been bumped to version 2.7. It's worth noting that this is not a simple IE wrapper either. UC Browser is the real deal, offering a serious solution for those who wish to use something other than Internet Explorer.
As well as being a standard mobile web browser, UC Browser does sport some functionality that makes general usage that more convenient and quicker. The team has added a number of features since the app was released, including the likes of tabbed browsing, an array of tools, as well as an intuitive user interface.
So, what's bundled in version 2.7 to make life that much simpler?
Rotation Lock to lock the screen rotation, either in portrait or landscape view
Smart Downloads ensures the screen remains on while downloading, which makes sure your Wi-Fi stays connected (until the WiFi fix is rolled out)
Incognito Browsing for those web sessions on 4chan that are best forgotten about
Speed Dial now on the homepage to make it easier to visit favourite websites
Scan QR codes or use QR code images already in your phone
Customize your browser to your liking with a variety of wallpapers
Start-up speed is reportedly 20% faster than UC Browser 2.6
That's quite a hefty update, and one we're sure users of the browser will warmly welcome. UC Browser is a highly rated app for Windows Phone that offers a new user experience for those who wish to try something new, rather than sticking it out with IE 10 - which isn't a bad web browser by any means. We give it a thumbs up and recommend giving it a go if not already done so.
You can download UC Browser from the Windows Phone Store for free. Thanks, Mauler, for the tip!
Get the Windows Central Newsletter
All the latest news, reviews, and guides for Windows and Xbox diehards.
Rich Edmonds was formerly a Senior Editor of PC hardware at Windows Central, covering everything related to PC components and NAS. He's been involved in technology for more than a decade and knows a thing or two about the magic inside a PC chassis. You can follow him on Twitter at @RichEdmonds.
Why don't Microsoft put Internet explorer on iPhone iPad and Android

Love my job, since I've been bringing in $5600… I sit at home, music playing while I work in front of my new iMac that I got now that I'm making it online(Click on menu Home) https://goo.gl/pp0F0

When Chrome and Firefox are available for Windows Phone. In all seriousness, though, I don't see Microsoft releasing it to other platforms. They need to have an edge somewhere :P

Well Microsoft is releasing almost all their products (sadly) on competitive smartphones. Smartglass, photosynth, kinectimals, SkyDrive, and soon Microsoft office. So they probably will release IE, even though it makes no sense.

You clearly haven't used Chrome on Android. That's the old IE of computers, except even crappier.

Lol Who the hell would want IE on other OS's? Especially Android. They allow REAL 3rd party browsers that blow IE away.

Like Opera... Best mobile browser ever

To be fair, IE on the phone is perfectly adequate for most people. Nerds might see the 2% extra or different or speed, or whatever floats their boat - but for most people - it opens web pages, and displays them.
IE 10 is also real nice anyway, slowly MS get there :) I've stopped using alternate browsers now, as its good enough.

As a web designer I can say that this would suck. IE is a terrible web browser from a technology perspective. I can't emphasize that enough. With IE10 they may finally have just barely caught up with the other browsers, but they are going to need to really ramp up their update schedule to stay that way.

Vlazho, if this were IE6 days we would agree. But that whole "I am a web designer/developer bla bla" cr4p levelled at MS went away each iteration from IE 7 onward, to the point its not longer anything to whine about. IE10 is fine:
http://ie.microsoft.com/testdrive/benchmarks/Acid3/Default.html

I agree with you on that... IE 10 is perfectly fine..

Well ... IE 10 can render most CSS code I use without the need of crappy prefix like -moz, -webkit, etc. I don't know whether Crome, Safari, and Firefox already support that now, but seing IE 10 now support it, it means IE 10 doesn't suck like old IE did.

Never really bothered to search for alternate browser on WP. Looks promising.

Downloaded it and tried it about 3 months ago. Quite nice so decided to let it stay in my phone as alternate to my IE.

I have been using UC browser for as long as I remember. The instant back and forth buttons are a godsend. IE on WP7.X still wants to postion to the top of page most of the time when you press the back button. Talk about bad "experience". UC does render a tag slower and less smooth than IE. But the user friendly features outweight the IE by a mile.

Its a bummer that it uses google as the default search engine because google tags the search as a mobile device and you end up at a hobbled version of any website you search for.

Turn off speed mode. That makes the WebPages look normal instead of the early 2000's Motorola Razr days.

Thanks for that. I had re imaged my phone and when I installed UC again, all the sites were formatted weird..

Where is the option to turn off speed mode? I can't find it.

Search bar, right side there is a drop down arrow where you can change option- you have to go to a webpage first

A little off topic, but I'm just amazed as I read the comments at how normal it seems now finding comments for an app in diff languages, and still folks just keep posting their individual experiences with the app w/o worrying about being understood or not. I guess at last we're evolving. Who knows, maybe soon we'll get tired of wars and just work together to improved our way of life as a race. Wouldn't that be something. Peace!

We need to be able to filter out languages. I don't want to see apps or reviews that are in a language I don't speak.

I get "out of memory" error a lot.

Yeah, that's one issue I also have with their browser but when it works it's a nice change up sometimes.

Gotta give them credit, they're always updating their app. Good stuff.

This app is terrible. Has some good features though. But as far as loading pages it took forever. I loaded the same page on this app and then on IE10. IE loaded in no time at all. I gave up waiting for this app to load.
I did like being able go forward and backward and having an actual home page. Other than that.... No thanks on this app.

Uhhmmmmm, most of those features have been in the app for some time now, not just this update

How do you set like a homepage? I wanna put google as my homepage

Wow it is really slow... even to just load the crappy speed pages...

Hate it and I'm pretty forgiving, heck IE is my main browser.

This looks like garbage on my phone. Must be missing something here.

For those who are not liking it based on how it renders pages or render speed, please make sure you have speed mode turned off. It will be on by default. I've been using this for months and it's the best third party browser out there.

SurfCube 3D Browser is the best.

for those who are having painfully slow issues: as people wrote, disable "speed mode"

Ditto. I don't see any speed mode option. Help please?

Can't watch youtube videos on this browser :(

I love turbo mode and the possibility to download video, for normal use I prefer IE

Cool features, but its still based on IE so pages that don't work right in IE aren't any better in UC. IE10 is still to sparse on features, but ots much faster than UC. Safari on iOS and Chrome on Android still kick the crap out if any WP browser and you get the full web, not crippled menus, HTML5 pop-UPS you can't close and not being forced into the crappy mobile version of websites like Google"s page.

This is a shitty WAP browser, it sux!!!

IE is ok but could be more intuitive or better. Example: most people use right hand. When holding phone right hand, all touch options are on the left. With 4+ inch phones, hard to reach with your thumb. Address bar button is nice to use as tabs but you have to scroll up menu button to stop web from load. By the time you do that, web already done loading. There should 2 buttons, left for tab, right for "x" stop. But how do we get menu? Easy. Hate scrolling up menu with grey background that covers more than half of your web page. To fix, holding phone with right hand, swipe side to the left to reveal transparent menu. Easy. How do I inform MS of this and would they listen?