UK bank NatWest just launched all-new Windows 10 Mobile apps with Continuum support
The UK's higher than average Windows 10 Mobile market share has convinced at least one British bank to support the platform fully.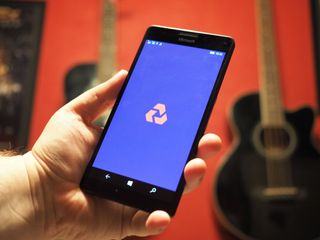 NatWest's all-new Windows 10 Mobile app supports all of the major features from its iOS and Android counterparts, including cardless cash machine access, money transfers, pay as you go mobile top ups and more. Additionally, this update brings Continuum support for compatible Windows 10 Mobile devices.
Check out the refreshed look and feel of our brand new Windows 10 app! In addition to the brand new Windows 10 app, we have introduced the following:
Easily send your account number and sort code so people can pay directly into your account
Get a reminder of your customer number in the menu
Continuum so that you can connect a monitor, keyboard and mouse to your Windows 10 Phone for a PC-like experience!
With the NatWest Mobile Banking app managing your money on the move is easy, fast and secure.
FEATURES
Get Cash from your account without using your debit card
Pay a person or bill
Pay your contacts using their mobile number
Transfer money between your NatWest accounts
Check your balance and transactions
View and cancel your direct debits and standing orders
Create standing orders to existing payees
Find your nearest cash machine or branch
Top up your UK Pay As You Go mobile phones (available for major UK mobile networks only)
NatWest has an extensive history of supporting Windows on phones, and this latest update shows they're still committed to the platform. Sadly there are no PC versions as of yet, but considering the apps support larger aspect ratios via Continuum, I wouldn't be surprised if they hit the Windows 10 Store for PCs very soon.
You can pick up the apps using the links below, whether you're mainland UK or banking from offshore.
Jez Corden is the Managing Editor for Windows Central, focusing primarily on all things Xbox and gaming. Jez is known for breaking exclusive news and analysis as relates to the Microsoft ecosystem while being powered by caffeine. Follow on Twitter @JezCorden and listen to his Xbox Two podcast, all about, you guessed it, Xbox!
Good for them ' now when will Amex do the same here with tap to pay !?

Hey there, first the AMEX app needs to open. It won't open for me.

For starters Yes they need to fix that and then give me tap to pay.

Give me tap to pay, I can use the mobile site.

Forget AMEX let's do VISA, Mastercard, and Maestro.

Always good to see more apps, even if in a different country.

Barclays bank (UK) have an awesome Windows mobile app as well.
Actually most (if mot all) major UK banks do have native Windows apps.

Not all... Nationwide resolutely refuse to provide a windows app, but they may be the only exception

Cooperative bank I think too.

Nothing from Santander either. I refused to use any other bank simply because of their 3% interest on savings was better than anything else out there. Now they are dropping that next month I will certainly consider moving to a bank that supports MS

Come to Metro Bank. The app is great, and about to get better ;)

It's metro bank the blue and red one which is open later than most other Banks? See a lot of then in London, but not elsewhere

Santander have an excellent mobile website though. You don't really need an app. Nationwide on the other hand, are ignoring there own users continual votes for an app, and don't even have a mobile website. It's the most requested thing they've ever had in they customer feedback system and they don't care. Shame as they're a good provider otherwise.

I may change to Barclays, especially if tap to pay comes to UK

My beloved Co-op bank isn't a W10 fan sadly

Yeah but they got rid of the Barclays Rewards app which they used to have, it was so recent that they got rid of it that the manager dealing with me still thought the app was live for Windows Phone, until I searched for it and could not find it, I assume they Got rid of it, but still they have the Barclays Banking app and a Ping It app to send money to others, better than nothing I guess, but don't promote something to make your rewards system easier only for it not to exist!!!

Shame I'm With Santander, for my main banking :( but live in hope that they jump on board:)

Yeah, coming and going...hangs in the balance.

Makes perfect sense since parent bank RBS already has a Windows mobile app.

NatWest have had a great Windows phone app since 8.1. Love this bank because they've been great at supporting windows for years. New features sometimes arrived a month or two later than iOS but we've had all the main features like "Get Cash" which has helped me out a few times before

Meanwhile, ING Direct will can their Windows Phone app this week here in Australia.

ING Direct Canada has been rebranded as Tangerine and they have an awesome Windows app! :)

UK bank Natwest just gaged free speech. https://www.rt.com/viral/363088-rt-natwest-bank-reaction/

Odd... Although it'd be nice if the link offered any context or details and wasn't from an involved party. Posted via the Windows Central App for Android

http://www.bbc.com/news/world-europe-37677020

Hmm, still difficult to know exactly what is going on. But... I'm not too sure I'd want my business associates with them either. Their cries of propaganda mongering are quite hypocritical... Freedom of speech isn't freedom from consequence. Posted via the Windows Central App for Android

Probably linked to the fact it's a political news source and RBS/Natwest's risk appatite for these organisations is fairly low. It probably costs them a lot of money to make sure the organisation isn't funding dodgy outfits and so on. I think the site flatters itself that the British Government is involved though - just because they are major shareholders of RBS / Natwest.

Awesome! Keep them UWAs coming.

Well that is one less thing to worry about, RBS customers based in England will soon have to become Nat West customers, I have the option (Currently based in England but also have a link to Scotland so can choose) and the mobile RBS app (Which is good) was one issue for me. Not a problem now.

Halifax and Lloyds I look on to u. Do same pls

The Halifax iOS app is rubbish tbh (Imo) I think the 8.1 version of the NatWest app was better than it. The new W10M app is great, even if they called it a Windows phone 10 app

Well they aren't exactly wrong in calling it a Windows phone 10 app :P.

:)) these guys are wasting their time building this app

Suresure... Go troll somewhere else...

They've supported Windows phone for years with new features. They obviously have their reasons. Wouldn't be surprised to see them as the first UK Banks to support MS Wallet tap to pay in the UK sometime within the next 12 months

The first UK bank to do tap to pay and have a win10 uwp app will gain me as a customer, nationwide seem disinterested in windows

Excellent to see this. HSBC is a notable omission. Let's see. Posted via the Windows Central App for Android

They told me they definitely won't be doing one.

The last I heard HSBC were working on an app. Seems strange that they don't have one considering their subsidiary, First Direct, have one on Windows.

Aye - HSBC would be amazing, would free me up soo much.

It rained an app! Now for First Direct get yourself sorted out and do one too L950 & Huawei p9

Only reason I'll stay with Natwest, their app Suppt.

NatWest have supported Windows phone for years. Really fantastic to see this app go UWP, just gives me another reason to stay with them

Just updated. Very smooth. NatWest are great. Glad I moved to them.

Speaking of UK finance, does anyone know when the wallet update might be pushed to UK users allowing for tap-to-pay? Really looking forward to that.

Hope RBS do a new one. There current one is good. Just needs a few things.

Good news for the folks that use that Bank. The Bank I'm with here in Australia has apps on iOS and android, but I can never see them making one for Windows.

Its a very good W10 app. NatWest leading the way it seems!

Thank goodness for NatWest. I was more than happy with the current native app so this refresh is a nice surprise. Shows the other UK banks how to support their customers.

Hope that the Royal Bank of Scotland updates it's one as well, I assume they're largely the same.

Yay!
We need more banking apps to support continuum. The only thing missing now is tap to pay support...

May I ask, what makes a good banking app? What does it do that makes it so wanted? The reason I ask is that I've never had one, nor saw any purpose for it. Now my bank (credit union in USA) has made a universal app and I installed it. All it does is:
- list account transactions,
- list account balances,
- dial the service phone number,
- show current interest rates,
- photograph checks to deposit them.
.
I've had the app a few months and only opened it twice out of curiosity.
.
I wouldn't be surprised if the app is abandoned due to a lack of use.
.
Tell me, what is the necessary feature of banking apps that is so urgent that it needs to be a phone app? Right now, I honestly just don't see it.
.
Best Wishes

Barclays banking app does pretty much what you can do over the internet execept pay new payers. You can use it to log on to you account via you computer using the Pin Sentry reader from you phone, normally you would need a machine like a little calculator where you would put your card and pin in. I can pay all my bills with the app, transfer between accounts manage my statements use the Cloud It where all my important documents can be kept....i am just loving it... The balance is up to the the minute too, it also lets you know when you have not enough funds to cover a bill...Well done Barclays.

That's very basic if you can't even make payments. As for other reasons to use a banking app: faster login, push notifications for low balance warnings and for new electronic invoices, paying paper invoices quickly with a QR/barcode (for prefilling most of the payment details), etc.

I should have added:
I would think most modern banking has web access to manage accounts, auto pay for routine bills, and direct deposit for income just as my bank does, so no app is needed for that.
I can transfer money between accounts using the app, so that is useful. Rarely used but definitely useful.
I can download my financial data by exporting from the web site into Microsoft Money or QuickBooks for analysis each month to merge my data from various financial institutions, so no app is needed for that.
.
Paying at a store by using "wallet" does seem interesting and I would like to try it, but it isn't offered by my bank.

See a few comments on here about HSBC of which I use, would love to see one. Does anyone know if there is one in the pipe line.

HSBC told me and others there are no plans for a Windows app of any sort.

Ulster also recently revamped their Windows phone app to make it windows 10 mobile compatible. They are also member of The Royal Bank of Scotland Group.
Lachhaft nur das man höchstens 500€ pro Tag am Automat aufheben kann.

Where I live my banking apps are actually more feature rich and good than their android and iOS counterparts. Thanks to banks not updating their softwares often otherwise we would be speaking a different thing here.

Well done Natwest! If other UK banks would follow suit it would be awesome. Getting fed up logging into Lloyds only to be told about the android app.

Well done NatWest. I wish Santander would do the same.

In fact I'll download it just to show support, even though I don't bank with them :D

Citi is worst in this category

This is good news and hopefully a reflection of the traction windows phone gained in the uk, which at one point was around 10% market share. My only concern is with the MS retrenchment on W10M how long before we start to see that market share start to fall away, and with it support for these vital banking apps.

some good news for windows. Now we need paypal back.

Just got this email from Barclays. Thank you for your email dated 4/11/2016. The Barclays Mobile App will no longer be supported on Windows Phones/devices for new registrations/ re-registrations. I apologize for the inconvenience.
Windows Central Newsletter
Thank you for signing up to Windows Central. You will receive a verification email shortly.
There was a problem. Please refresh the page and try again.