UK-based Metro Bank makes its Windows Phone app debut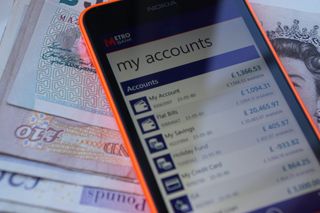 Another UK-based bank, Metro Bank, has joined the Windows Phone ecosystem with a new app that will allow its customers online access to their accounts and more.
The app, which was actually released a few days ago, has the following features:
View your account balances and transactions on all your accounts
Move money between your Metro Bank accounts
Make payments to existing payees
View transactions being processed
Pay bills
Manage your cards – temporary block, unblock and cancel your cards
View direct debits and standing orders
Find your nearest Metro Bank Store
Call the Metro Bank Local UK Call Centre
Assuming you have an account with this bank, you can download the free Metro Bank app right now in the Windows Phone Store. What do you think about this financial institution joining the Windows Phone family? Thanks to afgzee for the tip!
Windows Central Newsletter
Get the best of Windows Central in your inbox, every day!
Needs the U.S. version of Metro Bank.

Need Scotia, TD, BMO, CIBC in Canada

Finally an official app that's not from India

Come on Nationwide, seriously considering changing my bank

Lets add Santander to that.

I've just tweeted @asknationwide this story in my weekly bid to encourage them to develop for WP. Keep doing it and I won't seem like a mad man!

They give a generic we're still looking into it message. Their nationwide website that asks for feedback has over 16,000 requests for it and its the most requested feature yet they Still aren't interested. Posted via Windows Phone Central App

There is a new FirstDirect app part of the HSBC group for WP. It is geting naff reviews as they have just ripped their iPhone interface, but I suspect it is a testing app before they create a HSBC version. So I don't think it will be far away now.

There are already 2 hsbc apps out, one for Australia & Brazil. Hsbc obviously doesn't communicate within

Spoke to someone in customer service and he said that he also uses a WP and they are currently testing an all bells and whistles app for the OS and it is coming soon.

YES HELLO WHERE IS CITIBANK... IT'S A WORLDWIDE BACK.... come on guys

Yet td bank still lacks a WP app. I switched to bank of America for this very reason and was sure to let td bank know my whole reason for leaving was lack of a WP app.

+620 that's the way to deal with it... Hope other users do this too!

There was a thread recently that confirmed TD was working on a WP app... but no timeframe yet. Even so, TD charges ridiculous rates not sure if BoA is any better, but good move anyway.

I don't understand banking apps.... Why not just use their mobile site?

I can't vouce for other banks, but the Capital One mobile site is hard to use as the scrolling doesn't work properly on IE.

The thing with most Apps is, that its easier for them to create an app than to leave the homepage to do the work. thats why years and years in computing we moved everything into the web to move everything onto the smartphone again

For one thing, you can deposit a check by taking a pic of it with your phone and never visiting the bank.

These guys didn't get sued for their use of "Metro"? ;)

Metro was the code name, and Microsoft doesn't use the term Metro for their interface, so why would the bank get sued?

Because it's not Microsoft that has the Metro trademark, it was someone else - hence Microsoft dropped using Metro.

Just for info, It Is supermarket chain in Germany name Metro which cause MS to drop Metro moniker.

I have chase and their WP app is more useful than I thought previously. Plus they actually support it with updates. Also, what phone is that in the image? Digging the orange color.

Biggest joke Metro bank has an app before HSBC I think I'm gonna move to Barclays

It's things like this that I welcome the possibility of allowing android apps on WP. Still waiting for Capital One and American Express apps.

I created an app for my credit cards using app studio. Links to the mobile versions of the website. Got Amex that way. Not perfect but better than manually inputting every single time. Agree we need official apps tho.

I did the same thing. I also tried publishing them so others could use them but MS took them down.

Can anyone tell me where come to India Lumia cyan plz reply me

What has that got to so with this story. Stop spamming and trolling. There is an article that links to the forum page where updates are being listed. Go spam there.

Nice to see some more love for windows phond

Still frustrated at the lack of a WP app from Nationwide, they're really dragging their feet despite the huge number of votes on the "Your Voice" page (+16,387 as I type this). "Your voice... talking to our hand."

Never heard of Metro Bank in the UK til I read this. Also wanting a NationWide app :( I'd offer to make it too.