UK network EE doubled its expected 4G customer base in 2013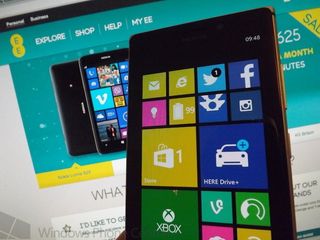 It would appear that the UK mobile consumer is loving 4G, according to the latest statement from EE (opens in new tab). The network, who was first to introduce LTE to the UK, had a target of signing up one million subscribers in 2013 and it only took ten months to get to that goal. During the following four months a further one million folk joined EE which goes to prove two things.
Firstly, faster data speeds are quite clearly very much sought after. And secondly – that consumers are willing to pay a little more for that privilege. With a selection of Windows Phones being 4G enabled it's likely that a reasonable percentage of the two million are rocking a Windows Phone – probably a Nokia Lumia.
With Vodafone and O2 now offering LTE, although in very limited locations in comparison to EE – and with Three planning a roll out shortly, I can't wait for 4G to be the norm. Did you get a Windows Phone from EE and was it a decision based on data speeds? Sound off in the comments.
Press Release
7th January 2014 – EE, the UK's most advanced digital communications company, today announced that two million customers have now signed up to 4G services from EE, doubling the company target of one million customers by the end of 2013. The phenomenal 4G sign-up rate is the fastest in the world outside of South Korea*.
Since the launch of 4G from EE in October 2012, rapid adoption has been driven by the widespread availability of the service, which now reaches 160 towns and cities, as well as the introduction of more affordable pricing and innovative plans, such as Shared and pay as you go. 4G coverage will exceed 70% of the UK population in January.
The 4G network is one of the fastest in the world, with double speed 4G (with average speeds of 24-30Mbps) now available in 20 cities across the UK. Independent recognition continues to be received both regionally and nationally, including being ranked the UK's best overall network by RootMetrics®.
Olaf Swantee, CEO, EE, says: "Our 4G launch in October 2012 marked a new era for mobile users, allowing consumers and businesses to do much more on the move.
"We're incredibly proud of being the first UK operator to bring 4G to the UK and, in just over a year, exceeding our target by reaching two million 4G customers across the country. We continue to have particular success converting our existing base to 4G, with approximately two out of three new 4G customers moving over from Orange and T-Mobile plans.
"This year, our network priority is to deliver the benefits of superfast mobile internet to more of the UK and invent even more innovative ways for our customers to make the most of their 4G experience."
Business and 4G
Adoption in business continues to grow significantly, with over 4000 corporates and three quarters of all new and upgrading SMEs now choosing 4G. A wide range of organisations including Berkshire Healthcare NHS Foundation Trust, Canon, Expedia, Foxtons, IKEA, Jewson, Kimberly-Clark, London Air Ambulance, Microsoft, PA News, The Royal Borough of Windsor & Maidenhead, RAC, Renault, Tate & Lyle and United Utilities switched over to superfast speeds in 2013.
Data continues to grow, voice remains key
Average data use across the EE network grew by 70% over the course of 2013, with social media and video driving the biggest increases.
Looking specifically at the 4G network, posting pictures and messages to Facebook was the most popular way to bring in the New Year, followed by Skype, Instagram, and Twitter. Facebook data traffic doubled at midnight on the 31st December and messaging service WhatsApp saw a seven fold increase as people sent group messages and shared images to bring in the New Year.
Voice usage also continues to grow, with a 25% increase in voice calls over the EE network in 2013. EE is investing £275 million in its voice network this year, and pledges to set a new benchmark for voice quality and reliability.
Windows Central Newsletter
Get the best of Windows Central in your inbox, every day!
Stupid people in this country love getting ripped off, and then paying the privilege for a crap service level. EE have been plagued on both the 4G and 3G customer bases since day one, with a myriad of dropped calls. The data limits are pathetic. The problem is, EE has become somewhat trendy because consumers don't understand (ignorance) the benefits of 4G etc, and as such don't understand that most of them wont use the benefits, and certainly not on a network that limits users to 20GB data usage a month! Three is consistently cheaper than EE, has a much faster network (nationwide 3G network mainly H+DC, not a fragmented network like EE who still have 2G area's and don't have H+DC), and provides unlimited data, that is truly unlimited(1000GB a month to define business usage). Oh and being the smallest of the networks, Three also has considerably less network congestion, my H+DC regularly outruns my friends 4G connection on EE in local cities such as Liverpool, Chester and Manchester! Not to mention when he ends up on GPRS in a lot of less populated areas whilst I'm still usually on H or H+.

dont forget that the EE stores are just a point of sale and any problem or help you need they refer to "Call 150 - I cant do that here" sorry - that does not comply with customer service.

The old Orange stores were so useless, Vodafone and O2 at least offer customer service in store.
Had a great win last week in my local Vodafone store. My 925 was overheating, had it 3 months - they replaced it off the shelf, not sent away for repair!

Agreed. I bought my Lumia 920 from EE (old Orange store) on pay as you go, when I opened it, it had a huge mark on the side, I took it back within a couple of hours and after some serious reluctancy from a so called manager, they finally saw sense. Unfortunately, the replacement I got turned out being worse. Within hours of using it, it crashed, froze and wouldn't boot up at times, the phone had nothing on it, no apps, no music, photos etc. I reset it and it was still the same so I took it back to the store I got it from a couple of days later. The manager in her wisdom point blank refused to exchange it, her comments were along the line of 'we've already exchanged it once, we're not a charity' - now I look back at it, that line is comedy gold. Anyway, I rang around a few other stores and as I worked in Sheffield at the time, I rang another former Orange store. The manager there was really helpful on the phone, I explained the issues and said I'd recorded it crashing and playing up to which he replied bringing it in and we'll look at replacing it. I go in store, all positive expecting common sense to prevail. I get there within minutes and ask for the manager, he initially refuses to come out, I explain the situation and tell the worker he told me to come in, she goes to the back with my phone, she comes back and her response is, theres nothing wrong with it. I say, take the phone for a day and you'll see for yourself, I show her the videos and she takes it back in and this time he shows up with one hell of a cracking line, it beats the Nottingham managers line by far "all smartphones crash mate, I have an iphone and that crashes too - deal with it!" I flip out a bit, go on about consumer rights and all of that without really knowing what I'm talking about, he doesn't have any of it. This is all within my so called "14 day cool off period". Anyway, Annoyed and a little apprehensive, I go to the meadowhall store after work which happened to be an old T-Mobile store - I explain the situation, and they swap it no questions asked...insanity.

Very true! Plus the fact that three customers are getting 4g at no cost when its available! Not in any rush thought, I done a few speed tests on my phone and I was always getting over 8mbps and at times I was getting 15mpbs. I don't think there are many consumers who need more than that.

Its already available from three for some people, they are just doing the sensible thing of rolling out a few people at a time in each area.

I was with EE from its inception, but just left, as they can't provide a simple signal in my new place in central London. Vodafone 4G is much much better... 4G all round plus min 6GB of data (well unlimited for the first 3 months) is perfect!

I will be joining u too. I only joined them to get my red 920 but as soon as my contract is up, im gone. They provide a truly terrible service and their signal is worse than Three when they launched and that was terrible. Going sim on three who offer unlimited 4g

There was no point for me to join the 4G brigade when I got my contract with Orange/EE as it wasn't available in my city.

We will try our best to keep people away from EE. It is crap network and is getting worse day be day. I gave to send text message multiple times to make sure its been sent. They don't give itemised billing even online unless we spend more than our allowance. I suggest everybody to tweet with hashtag #NoToEE

If you keep getting dropped calls and loss of connection while talking to someone.. Call up and complain... I got 4 months consecutive line rental last year due to this.. Now its all sorted in my area.. I don't have no problems on EE.

Am I the only one complaining about Twitter's notification icon? Facebook's and 6tag's plain white text looks better imo.

4g Is definetly overpriced. I live in central london and can barely get 3g at my home address. 4g drops back to 3g on my friends phones at my house too. Plus the absurd packages they offer are poor value. Minimum allowance should be at least 3gb standard.

They've just completely gone money mad... My data run out 9 days before it renew... So if you buy an add on , the have a 24hr 100mb for £2/ or a 7day 1gb for £6.. However even if I've only used half the data, it gets wiped ,id still need to cough up another two days worth of data when the 7days runs out... Goddam piss take

Will stick with 3, all you can eat data and no extra charges for 4g (when it gets to my area) £15 pay monthly.

I can't fault EE's 4G coverage. What I can fault is their complete lack of customer service. I will be leaving as soon as my contract is up and returning to O2 where I have always had fantastic customer service.

EE by far have the best network coverage in the county and their non-4g prices are the best around but the problem with them is their customer service. When I got my L920 I needed to change from a SIM to Micro-SIM so I went to pick up a free Micro-SIM from their website. I phoned them up on 450 and was told that my number would be transfered over within 24 hours. To cut a long story short I ended up calling them 28 times being charged 50p per call and waiting 1 1/2 months before I decided to leave them and move to o2.

By far the best network coverage? Says who? Id rather slit my wrists than sit on 2G!! Widespread, perhaps they once did, but now they're turning off all the Orange masts, then nope. They're shoddy shoddy shoddy, you try getting even basic 3G coverage in some parts of Merseyside!! Three's network leaves them for dead in every respect expect where EE have 4G, and even then EE is so congested, Three still usually outpaces them for speed. Id also rather have a decent level of service rather than dropped calls galore. As for non-4G pricing, where on earth did you get that idea from???????

I think I know why, and I was also aware at the time it happened to me. In the house painting, and getting everywhere, except the walls, when the phone rings. It was Orange, And the advised that they wanted to " help me out because I was such a loyal customer". The said they would give me 4g, and wanted to do it for free. I had mentioned at the time that if they were trying to flog me something, they could jog on. To no avail, they just went straight in to the script. I declined their offer, they then went in to full objection handling mode. I said no thanks again and advised I was really busy. She ignored me and said "but it is ten times better", that is when I lost my cool, caused in no small part by the paint dripping off my roller and on to the carpet. She actually suffered, and I would love to apologise. My tirade was excessive. But, my point is that they will have spammed everyone with the same free "upgrade"

Am I the only one that thinks they are worth their money? I very rarely get signal below 3g and i mean rare! I never had a dropped call yet and I have spent 110 hours on the phone in 10 months so its not like I dont call at all. When I do speed checks I rarely get below 10 mbps which is fine for me (and this is on 3g/H) and about 15-20 mbps on 4g so no matter what i can watch netflix which out any buffering in HD. On another note I dont live in London but I live in Kent and signal is fine all around there and also I go to uni in Portsmouth which is fine as well and never have any issue in signal. Furthermore another thing i cant fault is their customer service! everytime i have called up they solve my issues or questions really quickly and efficently. The thing i have liked the most from them is that I that their new pay monthly plans have more data, so when i queried it, they upgrade me to the new data plan without any hassle. So that means i have gone from 500mb to 1.5gb. Then the next month i saw that their new plans, for an extra £2 a month, new customers could get 20gb, so i called up and they upgraded me for the extra £2 a month so I could get 20gb plus also allowing me to call and text when abroad for free in 20 countries. So I cant really understand why everyone hates them as I used Vodafone last year and compared to I feel like I am getting my moneys worth in every aspect from signal to customer service and I cannot find a fault so far and its been nearly a year!

How much does 230GB of data cost on EE? That's how much I've used in the past 30 days on Three according to data sense. Never had speeds lower than ~10Mbps, regularly above 20Mbps, only pay £21 a month, which included a free Lumia 620 back in March when they were new, sold that since as I bought a 920 from Tesco for £200 lol, broadband was slower (4-5Mbps) and the router died, ISP failed to replaced for 5 weeks, started tethering all the time and ditched the broadband in June. Three is all I need, landline and ADSL was costing me £20 a month or thereabouts, now I'm £240 a year better off and enjoying much better speeds with Three. Works okay as I don't have a family who use the WiFi, just myself and tbs missus who is also on the three one plan so has tethering, wouldn't suit a family, but EE give you fast 4G, charge a premium for it over everyone else, and then limit you to stupidly low amounts of data. It's like having a Ferrari with a 3 litre fuel tank, fantastic!!

Damn, which plan are you on?

Well I was on £36 a month with 500 mb as that was the only plan i could get the lumia 920 for free and a wireless charger but now i am on the 4gee extra plan with 20gb of data for £38 a month and i also got deezer and free roaming in 20 countries added as well :) Although you have to remember that £36 a month for the lumia 920 was the cheapest on any network back, including 3, so thats the reason for a high tariff.

Tbh MOST people do not need 230gb of data unless you use it to tether to your laptop everyday... Where as 20gb is more than enough for me and i use it all the time as i dont have wifi as i am at uni. the most i have ever used is 9gb and that invovled watching alot of breaking bad and always browsing and streaming music. tbh i find it funny how everyone says i get this speed but if you can just get voer 10 mbps and stream movies in HD than i see no point in faster speed so i am happy with my 15mbps average on 3g and 4g... but i am not just on EE for data and 4g but also because they offer a much better service than anyone else i have experienced. The only time i have heard 3 were good is on here, as all my friends and family told me to avoid them due to there cust. service being crap and that their signal keeps cutting out. Also when i got my plan i only could get the nokia lumia 920 on EE so another reason why i went with them and i get enough data for what i need plus i would rather have all the other premiums they offer that 3 dont than data. E.g. 241 cinema tickets, deezer, unlimited roaming calls and texts in 20 other countries and i dont know if 3 offer it but i get texts when i miss a call if my phone is off

Well im with o2 4g now, having got amazing service on my 3g plan i decided to go for 4g when it got announced. Its gone to the other end of the spectrum... Dropped calls, inaudible calls, intermittent 4g, crappy reception all around even on g, edge, h+. Battery drain significantly higher if i set 3g as highest speed. I will probably jump ship to Three, since the only other thing that kept me tied to o2 was that i got a sweet deal for landline and home broadband. But that has been swallowed up by Sky which are atrociously poor (story for another day).