Listen to hundreds of UK radio stations with Radioplayer for Windows Phone 8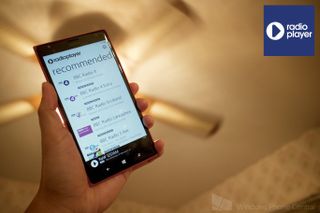 Radioplayer is an online audio player which gives you access to live, on demand and podcast radio from hundreds of stations in the UK. They have an app for iOS, Android, and now Windows Phone 8.
Radioplayer has everything from news and sport - to pop, rock, indie, dance, jazz, soul, and classical music. There's something for everyone. You can find stations like BBC Radio 1, Ministry of Sound, Absolute Real Radio, and more.
Radioplayer is a non-profit company founded by the BBC, Global Radio, Guardian Media Group, Absolute Radio and RadioCentre. They aim to serve radio and its audiences by making listening easy.
When you first open the application, a list of stations is presented. If you're overwhelmed by the long list, swipe over to the recommended section. Tap a station to start listening. The play/pause button appears at the bottom.
You can browse more content from the current station by tapping the three dots on the lower right corner. A list of recorded shows appears from the bottom. Want to share what you're listening to? Click the share button to Tweet or share on Facebook. Here's an example:
The Windows Phone app has just been released, so there's no mention of it yet in the apps list where that link points to.
You can save your favorite stations by clicking the heart button. The station appears in the 'my stations list' along with your history.
The official UK Radioplayer is available at the Windows Phone Store for free. It seems that devices from some regions are not able to download the app. If you're eager to try it out, you can change your country or region to the UK in the language+region settings. Give it a go and let us know what you think.
Windows Central Newsletter
Get the best of Windows Central in in your inbox, every day!
Cant connect. (maybe WPC broke it?) No landscape, cant find a way to search show content. Tapping the show plays it without first giving more info on the show. Seems ok if you just want to listen, but i want to replay a show with a particular person being interviewed . . . i can't find a way to search for that.

My 822 can't download it. Is it available to everyone or just Europe?

Change your phones region to UK to download it. Works fine

Works nice, but can't decide which one is better TuneIn or Radioplayer. I like more TuneIn interface and they got something similar to Nokia Mix Radio. Will play around with both for some time - it's good to have some backup.

For non-UK users, you can try Radios British. Has the main BBC stations, talksport and some other popular UK stations. May not be as much as this app has though. Great app nevertheless

Or just change the phones region and download it. Worked for me

will it work with updates or would you have to change regions around - which is a pain

Why is this not available outside the UK? Odd, most of these sorts of apps now are

BBC is funded by a licence in the UK, so legally they cannot offer their services outside of the UK without charging for it somehow (normally advertising). If you listen to any of the BBC stations, you'll never hear an advert. That's why it's UK only.

Can't donwload it. Not available in my country.

That's because the BBC is funded by TV Licence payers so they can't offer their services outside the UK.

Battery was ok for few days, but already 3 times after charge battery overnight went from 100% to 64% (in about 6 hours) in stand by mode.(even though charging cable was connected on the phone to the power socket) Obviously thats not right so I did a restart and battery back up to 100%. And it stays 100% for a long time. Seriously wtf is that? I have to to a restart every time to get battery procentage back. Will update 8.1 will fix it? or is it a hardware problem ? lumia 920

Not interested in a radio app until they can stream real am radio

Can't find it in the store,is it available only in the UK?
Windows Central Newsletter
Thank you for signing up to Windows Central. You will receive a verification email shortly.
There was a problem. Please refresh the page and try again.