Unboxing and hands on with the CUBE WP10 Windows 10 Mobile tablet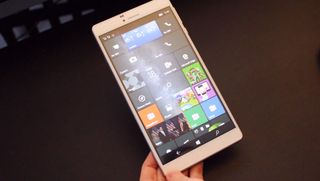 Windows 10 Mobile isn't just for phones, although that's what many of us think. It can in theory run on tablets of up to 9 inches, and doesn't even require a cellular connection to be sold. Not many OEMs are interested in building Windows 10 Mobile tablet however, even though a few OEMs have announced 8" devices in the past, but are yet to put them on sale.
That's where the CUBE WP10 comes in, one of the first Windows 10 Mobile tablets available for sale. It's rocking a 6.98" 1280x720 IPS display, with a Snapdragon 220 and 2GB of RAM along with 16GB of internal storage expandable with MicroSD. So. not exactly a high-end tablet, but still an interesting first attempt at Windows 10 Mobile running on tablet-territory.
In fact, this tablet can technically be used as a phone, as it has both GSM and CDMA bands and 4G/LTE connectivity. I won't be using it as a phone however, with my review focusing entirely on it from a tablet perspective rather than a phone. Regardless, we've already unboxed it and given it a good old hands-on for those interested.
Device specifications:
Display - 6.98-inch IPS screen with 1280x720 resolution
Processor - Qualcomm Snapdragon 220 running at 1.3GHz
RAM - 2GB
Onboard storage - 16GB with microSD slot for up to 128GB of additional storage
Rear camera - 5MP
Front camera - 5MP
Battery - 2850 mAh battery
Price ranges from $120-150 depending on the retailer.
Windows Central Newsletter
Get the best of Windows Central in your inbox, every day!
Zac Bowden is a Senior Editor at Windows Central. Bringing you exclusive coverage into the world of Windows on PCs, tablets, phones, and more. Also an avid collector of rare Microsoft prototype devices! Keep in touch on Twitter: @zacbowden.
This is an interesting device. That's pretty cool that it can be used as a phone too. That makes me wonder about the Pixi by Alcatel. I wonder whatever happened to that.

First to market gets my money. The cube is out of stock right now. I live in team viewer, outlook, and advanced wireless forms so the big screen would help.

I would happily purchase a 7" or 8" Surface device running W10M. Such a device would satisfy the bulk of my daily web consumption.

I just ordered the Cube WP10 from Gearbest. They have it at 124.99 right now.

I just ordered the Cube WP10 from Gearbest. They have it at 124.99 right now.

A dual sim tablet that supports CDMA bands aswell... yup a pretty interesting device indeed. Edit: I don't see any CDMA bands referenced in the spec list on the OEM website... hmm... www.cube-tablet.com/cube-wp10.html

And this device suport otg. How is possible that the lumia phones dosnt support otg?

They do, the 950 series for sure and I believe the 550/650 have it. Only recent models have had it, older models haven't been able to due to hardware restrictions.

Until Microsoft can encourage people to supply quality Apps and plenty of them, it doesn't matter what they push onto the market, as its App Store is terrible compared to what you will find on Google's App Store. It's a real shame as the devices are of amazing quality, but Microsoft have done nothing to improve the availability of Apps for them. What was the point in Microsoft changing their OS to be App based when their App Store has next to nothing to offer? I moved back to a Windows phone after I had to return my Note 7 with the hope it would be a better experience, but I was very quickly saddened to find its as bad as it was 5 years ago when I had my last phone. I currently have the HP Elite X3, which is a fantastic device, but it's functionality is held back by the above. So I will move back to Samsung when the release the S8 next March. Tablets, Phablets, Phones, they are useless if not backed up with a rich variety of Apps. Sort it out Microsoft

@Carl Chard-Marple; Microsoft has done more than anyone I have ever seen in supporting developers. How about those bridges that you are dismissing for IOS, Android and several others I cannot think of at the moment. I have been reading about Apps/games from the other platforms hitting the store from this very site. What we need is devices from the OEMs. I myself right now can justify using a tablet rather than booting up my desktop or laptop for a single lookup or purchase where phone is a little small but still handy a larger screen would be much better under these terms.

Curious how well tablets that run Continuum would fare out

Given with low specs there (Snapdragon 220), Continuum isn't supported.

Of course not. I meant how practical a Windows Mobile tablet with Continuum would be

Come on then, where are the spec doom mongers? Bound to be some one slating it. I have the feeling W10M will work, and possibly transfer rather well to a larger screen. A larger screen will make excel etc easier to use. Large screen doesn't mean continuum is needed. Waiting for the review.... :D

You say doom mongers because you doubt that 720p display. You'd be right...
For whatever it can do well, if the screen is not up to scratch it's a disaster.

Right, so if it isn't full HD, you aren't interested? The world doesn't revolve around what you want. This is obviously a budget device, and as such you won't get your full HD or 4k. Then again, your battery won't get eaten alive either! Mega res screens are fine for devices of 7" and over. My 950xl has a great screen, but it doesn't bother me in the slightest if I use my 640xl. The battery life is much better. The screen may not be as bright or show clarity, but it is fine. You can't have your cake and eat it! I also fail to see why, in your words, 720 would be a disaster? I wish that was all that I had to worry about being a disaster.

The world doesn't revolve around what I want?
You were begging for my comment when you asked "where are the spec doom..."
So my comment at least revolved in your world.

Their website still classifies this as a phablet, not a tablet. It's still more phone than tablet.

Do you have the website link?

http://www.cube-tablet.com/cube-wp10.html

Well its kinda a tablet, though this should be under a category of small tablets with cellular capabilities just like other tablets that have SIM capabilities. Though with current W10M state, this is more like an oversized phablet than a small tablet. W10M seriously needs to catch up with multitasking capabilities such as Windows Snap/Split Multitask (also should work with portrait), and Floating Mini-Window (think about poping-out video from Opera or Skype on Android).
Other improvements such as Start screen grouping (so does Win10 PC needs Live Tile Folders), Split-Keyboard, and Windows Ink support (we need a pen-enabled small W10M tablets).

This is the kind of thing where I feel the lack of apps, pen support and split screen ability is a problem. Apps: Adobe Illustrator/Draw, Photoshop Mix, Capture - may be a couple of more creative apps. And OS pen support would enhance the said apps and utility of the bigger than phone display. Of course my choice of apps is not what everyone will want, what I'm trying to imply is that a better experience making the most of a bigger device with phone software. Come on Microsoft give us the updates!

Nice one! Wonder how its priced?

for this price it looks very nice

Agreed! I want one, but I'm worried about performance

looked good with core apps even with multi tasking in video. Gmaing maybe a problem.... Good luck if you are gerring one

With these specs it should cope well since W10M is resource friendly. A 640 with 1GB ram copes admirably

I have to say though, the 640 has a SD4xx while this device has a SD2xx. More RAM doesn't really do much to change performance after a certain point, the processor however always improves the performance. But I agree 1GB RAM is enough for now for Win10m and the 640 does work great with it).
So the slower SnapDragon in this device can cause people to be dubious. (to clarify, I'm not slating this device at all. For the money, its worth it and its an interesting device. But I'm not sure it would be as powerful as a 640 (which has 1020p screen and SD4xx :p). Its a good budget tablet though.

see $129usd prices like this on search http://www.cube-tablet.com/cube-wp10.html

It ships from China apparently, so customers may have to pay import duties, depending on their location/applicable laws etc

SD 210 or SD 220? 2nd para says sd210 and device specs says sd220.

There's no SD 220. The most recent 200 series is the 212

If that cube-tablet retail site is correct, it looks like it has an MSM8909, which is a 210.

It's a 212, which is just a 210 running at 1.3ghz instead of 1.1ghz. It's the same processor that's used in the Lumia 650.

can this make phone call ?

"Phone call" ? what's that?

That'd be a 'big' phone call.

Why? You wouldn't use an iPad Mini to make a phone call would you?

Zac - Did you ever state a price?

I'm excited to read a review of this device! I have been tempted to buy it but I am worried that it will not perform well.

This is needed for awesome battery life I hope! No sim in my 930 is awesome on battery! :D I would like a 8-9in windows mobile tablet

Agreed if your not bothered about the sim honestly take a look at the Linx tablets

The Linx Tablets are running the full Win10, not Mobile. There are people who would actually prefer to run the Mobile OS as it's a perfect OS for a smaller tablet and doesn't get bogged down with all the "desktop" junk.

A phone big enough to access websites to get around the app gap might be great.

That's a good point. I hadn't thought of that.

This would be great for pixel art on the go!

It looks good tbh I do like these smaller tablets my linx 10 is nice and running windows 10 anniversary, definitely worth looking at as a replacement for my phone.

Have you gotten it to consistently make calls and stay on a network here in the US? I got mine and inserted my sim (AT&T) and it only gets a signal when I'm home. I work in downtown Chicago and it loses networks as soon as I enter a building. The phablet itself is fine, but without the cellular connectivity (i think because of the bands it uses) it's unreliable to me here. I hade to swich back to my Lumia 640 XL to get phone calls. Anyone know how to definitely make this work consistently here in the US?

How you suppose to put this in your pocket?

It's simple. You don't :P

Yeah messenger bag necessary!

The same way you put an iPad Mini in your pocket ;-)

They could have a very serious market increase if they would allow 10 mobile to load on arm devices like my vivotab and surface rt devices.

The form factor is nice but it's underpowered, though as a cheap tablet it makes a lot of sense. Also the fact that it's not full windows 10 is a plus in my book. not everyone will need full windows 10.

The specs may be a bit "iffy", but for $120~$140, not bad at all. I guess the ram helps the processor, and 10M is good with resource management. Agreed, a cheap tablet on mobile OS is a big plus. I wouldn't have to squint to play with word, Excel etc... The addition of Cell capabilities is probably a "gimmick" that would require a firmware update to set up properly. Most of these phablet devices seem to be hard of hearing when it comes to reception.

This is true but it's probably fine with a decent headset...hopefully not more than the price of this mobile tablet itself.

To me the performance appears really nippy for a SD 220 device. Definitely holding apps better in memory and faster than my 640XL. Must be coz of the 2 GB RAM.

phablet? can it do phone call?

So this could be used on Verizon as a phone?

CDMA, so in theory, Verizon capable.

Sorry guys but this tablet will fail. This is an underpowered device with slow cpu and only 2gb of ram. There is no and will never get continuum support. For now there is no anniversary update neither insider program. Continuum is really the point, this is where Microsoft will put the focus on for future updates. So i'm not bashing i have my lumia 640 xl and pretty happy with it but give me just one good reason to buy this device even if it's only 130$? I search but don't find

Just one reason? How about a 7" screen?

OK i said one reason... but it is not enough for me to buy this device. This is just a W10m phone with a bigger size. It's too big for my pocket and i'm not sure it's comfortable to type on this device. But ok for media consomption and playing games. It would be hard to use as my main mobile device. Really i'm not convinced and when i had a Lumia 1520 in my hands, i really thought that 6" is the limit for a daily driver mobile device. And for a secondary device, it would be too close from my 640 XL. Really i don't get the finality of this device...

Agreed, if you want a pocket able device, 640xl is better. If you want more screen, 7" doesn't make a difference to 5.7", you should go for 8" at least

"This is just a W10m phone with a bigger size." Bahahaha... an iPad Mini is just a iPhone with a bigger screen and yet people understand why it exists versus an iPhone. You know what's funny though... an iPad Mini is the #1 preferred device for General Aviation pilots to run ForeFlight or any other high-end flying app. The thing is, a "Surface Mini" running Win10 Mobile with Continuum would DESTROY an iPad Mini as the #1 hardware for flying if the app developers would embrace what could be done with Continuum. I would much rather flight plan on a Surface Mini at my desk using Continuum with a full size keyboard/mouse/monitor than having to tap around on the small iPad screen or use the stupid web version of ForeFlight, Garmin, Fltpln or FlyQ, which are usually slow and buggy and still has to be downloaded to the iPad. I could EASILY see the salesmen in my company desiring a 7"-9" Win10 Mobile tablet to replace their iPad Mini and Laptop. They keep the laptop so they can have a "sit down" experience when needed, but they prefer to travel with the size/weight of the iPad Mini. A 7"-9" Win10 Mobile with Continuum (and obviously the apps programmed to utilize it) would pretty well solve the issue for us of salesmen carrying around 2 devices. The 2-n-1's that exist today are in the 10"+ size and they are just too big and heavy to be considered a replacement. Point being... there is a market for these size devices but people don't see the use case model yet. If MS would release a full featured Surface Mini (running Win10 Mobile,) I think people would be able to see how a device like this could fit as a nice solution.

Well, Microsoft isn't allowing actual high end Windows 10 Mobile tablets, right? They did limit the screen resolution for higher sizes (to below 1080p)?

Try again, they limited it to qHD (2560x1440). Source: https://msdn.microsoft.com/en-us/library/windows/hardware/dn915086(v=vs.85).aspx

Just a landscape startscreen and this would be perfect.

Finally, about time they made a Windows 10 Mobile Tablet!

Come on, man, show us what it looks like when making a call! Remember "Side Talkin'?"

I rememebr side talkin on my N-Gage!!

Sorry but I just bought a 8" inches tablet with 2gb of ram, 32 of rom and full windows 10 +Android dual boot for 75€ with a full HD screen and an Intel Atom Z8300 ...this is not even a competition

It would be a hit at that price if it had Continuum support

This would be a good tablet for me for when laying on the couch or bed and using it to check sports scores, reading and things like that.

I think recommending a full Windows tablet would always be better than this mobile 1

Other than the Cellular connectivity, why would someone buy this over the low price, small full Windows tablets (like the NuVision 8" tablet at the MS Store, the Dell Venue stuff, and those cheaper full Win 10 tablets at Walmart, Target, Amazon, etc)? I'm not asking that dismissively, I'm generally curious. Maybe the review will make that point. My guess would be battery life and some touch in full Win10 is still rough but the rest of this device /OS combo seem like a compromise to me.

Screen size. What most techies and fans forget is that most consumers want mobile for media consumption and telephony. Stuff like Continuum, full Windows, fast processors are lost on these consumers. As long as Angry Birds, Netflix, web browser, texting, and phone are working, they are satisfied...especially if the price is right. Basically, an iPad mini with telephony and live tiles.

Because the Win10 Desktop is not ideal on such a small tablet. No matter how "touch" enabled they make the OS, it is nowhere near as optimized for touch as Win10 Mobile OS. The Mobile OS is beautiful, is fluid and fast and supports apps the way you think a mobile device should. Lastly... NOBODY who owns an iPad Mini would replace it with a Win10 Desktop "mini" as it's just too complex compared to iOS. The problem is, iOS is too simple with not enough functionality, Win10 Desktop is too much. Win10 Mobile, especially if it had hardware to handle Continuum, is "just right."

I could see a few more tabs running Win10 Mob appearing if Microsoft added full landscape support for the OS. Why no update support though? I thought with WM drivers and firmware's came from the manufacture and had to be carrier tested but all core Windows OS updates where pushed out buy Microsoft.

Glad to see a windows tablet with a GPS. Still to small. We need Ipad size tablet with cellular data and a GPS.

Seeing at the specs I'm pretty sure the company would be trolling Microsoft's W10M or would want to bring it down OR Microsoft is as usual dumb enough to limit its specs. A 720p display on 7"display much wow.I feel sorry for anyone who gets it as a present. Even 2012 Nexus7 had better battery capacity than it.

Dirt cheap tablets for Indian masses.

The price is actually very good for one with 4G/LTE radio. Hope it does well and they make a 9 inch one too for those of us who just need a simple tablet for media consumption with long battery life.

Interestingly, there is also the Wise Pad W7 7 inch Windows 10 Mobile tablet that I chance upon on youtube after watching the unboxing video. Check it out. This device seems to be available for a few months in Asia.

And this phone have support for usb otg. Why the lumia phones dosnt have otg?

My 950 does have USB OTG.

What's with the attitude towards China?

You just made the list!!!!
#DrinkItInMan

What's your problem with Trump supporters ?

How could you vote for the next incarnate of Hitler? He is an asshat.....His retoric of "make america great" reverberated with the lowest common denominator in the states. He thinks Global warming is a "thing" made up by china to shift work to there, and thats why Americans lost their jobs. Sorry, Untrue. Automation and more streamlined production caused the downfall of american workers....NOTHING to do with china. And lets not even start on his views on women, minorities etc. He is probably going to set the entire world back 50 years in the 1.5 - 2 years he will be in office.

So you think Trump supporters are the lowest common denominator huh? Real working men and woman who built this country. JAN.20 and the divider in chief will be GONE!

Oh look, it didn't take long to spot the liberal. Go away Steve Adams, we voted our man in because we got tired of your whiney lecturing.

Good luck. I am not liberal conservative or anything. I vote for person…not party…the correct way to vote…and that my friends is why I would never vote for a whiny spoiled little child like Trump. What will be great is when the dollar tanks again like it did when the numbskull Bush was POTUS I will enjoy my vacations for much less money. Hilary was not much better but she was better than that fuckwad. And if you…..the "working" man of the United States think the donald will magically bring back all your jobs etc…..you really ARE the lowest common denominator. Donald played into the white supremacist population, and the population that wants to make america WHITE again….not Great. seems to be a lot of them out there. Too bad too. I am happy that I don't live in the states!

Everything you are saying has been spoon feed to you by the liberal mainstream media and 99% of it is simply not true. Keep drinking in the koolaid, gruber. People like you who have been brainwashed since they were a child are exactly who liberals want voting for them. You don't have a thought in your head that hasn't been planted there. Wake up, gruber. Liberalism is dead. I can't wait in 1-2 years when the US gdp is 5-6%, not like Obama who never got it over 3%, and taxes are lower, and businesses start bringing the trillions of dollars in off shore accounts back to the US, and the jobs start flowing, then We The People will say I told you so. Of course at that time the liberal media will tell you exactly what to say.... I supported Trump all along. Get a clue gruber. Think for yourself. Do some real research and stop listing to CNN and MSNBC.

Must say that snapdragon 220 is really good, tablet seems faster

Thanks for the review, Zac ! :)

ADHD running rampant on that review.

Why is this unable to get updates even on insider I thought that skipped passed manufactures?

The Mi Pad Windows version would be very interesting. Otherwise, my favourite has been Lenovo Miix 3 8 !

Lol... Battery on this tab is smaller than that of my L640xl

I see no reason why Microsoft can't enable the display on tablets to look like continuum (better taskbar). That would be much nicer.

An ultra portable device like this would be very useful with a precise touch screen and pen for handwriting notes or sketch especially after Windows10 ink additions

If the screen size was one inch lower I would have bought it

One inch smaller will make it almost the same screen size as the 640XL or the Elite x3 though. Actually I would like it to be one inch bigger.

Man, a year ago or a bit more this phone wouldbhave cost 400€

1280x720 resolution ... this is where it ends for me. The Lumia 950 probably will see another pricedrop during the X-MAS shopping period. Would not give this strange critter a second thought. .

All of this nice phones coming out but with a big app gap......

I don't understand why all these phones doesn't come with vibrant keys ? notification bar does looks ugly if it is not transparent in windows 10. 60-70% apps in windows store are not UWP and we r facing scaling issues in every app. M$ not ready to answer this question and typical fanboy answer is its app issue not with Windows. Half of the regular apps use to crash, even Outlook, Contacts app use to crash if I open it for 10 mins+ - Using Lumia 730 since 2 yrs+

The threat of no OS updates is certainly disturbing.
I was going to purchase this phab from Gearbest initially.
Sadly I will pass even though the cost is at a minimum.

Would've been better if it were a Windows 10 tablet with an atom processor and no sim instead of W10m with SD220 and 4G

AN 8 INCH ATOM CPU TABLET CAN BE MADE THAT RUNS BOTH FULL DESKTOP WINDOWS 10 AND WINDOWS 10 MOBILE OPERATING SYSTEM BUT NO ONE HAS GIVEN IT A TRY except maybe Dell's test model. I think Microsoft and it's OEM partners think they would not sell well in the market place. I totally THINK THEY ARE WRONG! Sure not as many People would buy them because of their size BUT ENOUGH People on a world wide basis would buy them for Microsoft or it's OEM partners to make and sell them. a lot of Senior Citizens and Business people and others would like to work with screen that is bigger than most smart phone screens. The 8 inch tablet size is a great mobile device for media consumption surfing the web, reading E-books. watching video TV shows and Movies, playing games and editing documents in 'Continuum mode". A person would use a blue tooth headset to send and recieve phones calls with an 8 inch Tablet.

I agree, I think that Windows 10 Mobile is a better OS for tablets sub 10 inches than the full blown awkward Windows 10 tablet mode.

Actually an 8 inch combination like that is very interesting who need/want a phone and a tablet as well. I hope they don't think on those terms without giving a try. I myself rather have an earpiece than putting the phone up to my ear and this sounds perfect for me all it need's is a good camera.


off topic MS has ran out of features on redstone 2 I haven,t seen an update on fastring in about 2 weeks and I haven,t seen any new features in the new RS2....

Skype sync between phone and PC seems to be quite good now.

Huge low performance cellphone. Close to 640xl or 1320. Good as internet device. I doubt productivity like Office, typing. Battery isnt impressive


"we have, pretty much, not much." - Z Bowden LOL

I got my cube today. Zero expectations. Working with it most of the afternoon. Most definitely not great. But it is not bad. If price is a factor, this could be for you.
It's never gonna be high end anything..... But for the price and lower expectations.... Why not.

I got an injoo windows 8 tablet with SIM card and WiFi, no calling capability as expected of a full windows tab. It had full windows 8 and I was hoping to get it upgraded to windows 10. It failed after 6 months of use. One bright morning, I couldn't get it to switch on again. Cheap Chinese product. I guess I ended up getting the value for my money. Painful though. As for the cube, it works pretty fluid and smooth with apps, can't say how much that will change with continued use and app installation. I also wanna assume that update will be easy once you get your "upgrade advisor" app installed.