Windows 10 Gems: Univision Deportes offers all your sports en Español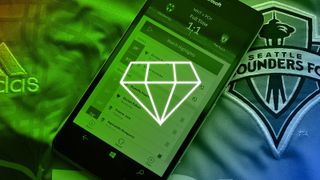 #DoMoreEveryDay
With Windows 10 Gems!
With support from Microsoft (opens in new tab)
Watch the big game anytime, anywhere — keep up on the news, follow live matches, or even stream Live TV!
Univision Desportes
Download (opens in new tab)
When it comes to sports, there is nothing bigger in the world than soccer, ahem, football. While the US continues down its own path, the international game of football is greater than ever. That is why the arrival of Univision Deportes on Windows and Windows 10 Mobile is such a big deal especially for US-based, but Spanish language speaking, fans.
Univision Deportes is here, folks and you get Live TV, upcoming game calendar, live coverage, and all the latest news for football, NFL, NBA, Formula 1, MLB, boxing, and my favorite UFC (mixed martial arts).
One app to rule them all
Univision Deportes is a rather modest app at only 10MB, ensuring those with even little internal memory on mobile devices can take advantage of their live coverage of the latest in the wide world of sports.
The main feature of the app and the selling point here is live streaming of games including Liga MX, MLS, US and Mexican Men's National Teams, Copa América Centenario. There are two ways of using Univision Deportes for live streaming. One way is just to launch the app and see the play by play action, live score updating, and video clips, or, if you have a cable TV subscription you can log in with your subscriber info to connect and validate the app. Once you complete the verification, you can then tune-into a live video stream of the Univision Deportes Network just like watching cable TV on your phone or PC.
Like most video streaming apps on Windows 10 theses days, Univision Deportes looks fantastic if on a stable, but modest, internet connection.
Additional content includes coverage of NFL, NBA and MLS due to exclusive partnerships and even Twitter feeds of your favorite teams.
The app for Windows 10 looks quite large on PC — if we had to guess, the developers design for mobile first and then scaled it up to PC-sized. It is not a big deal, and articles and text look fantastic, but maybe Univision Deportes can improve the scaling with a future update.
Univision Deportes does not have any particularly unique features for Windows 10 or Windows 10 Mobile either, but it is that simplicity of use that makes it appealing. However, it would be great to see reminders added for upcoming games so that the app will send you an alert when a match is about to start. Likewise, the ability to share news articles would be welcomed.
GOAALL!!!
Overall, Univision Deportes has done a fantastic job. Much like the recently released Fox Sports Go app, the availability of Univision Deportes lets you watch the big game anytime, anywhere on your Windows 10 or Windows 10 Mobile device. You can keep up on the news, enjoy the well-done HD photos of the latest events, follow live matches (even if not logged in) or stream Live TV, which is great when you are still at work and can't jump on the couch (but don't tell anyone I said that).
For fans of Liga MX, MLS, US and Mexican Men's National Teams, Copa América Centenario, this app is a must-have download today. Currently, Univision Deportes maintains a high 4.9 (out of 5) store ranking making this app's availability a huge success. See what those users love and give Univision Deportes a spin today and learn why Windows 10 and soccer go hand in hand.
Day 6 Sweepstakes:Win an Xbox One FIFA 16 Bundle !
How to Enter: Log into Windows Central and leave a comment on this post telling us what your favorite sport to play is, either on the Xbox or in real life. At the end of your comment you must also indicate you are posting as an entry into the sweepstakes, or use #sweepstakes.
Full rules and regulations can be found here, but please note that due to sponsor restrictions, the sweepstakes is only open to Windows Central readers in the US and Canada.
The sweepstakes is open until July 15th, and winners will be announced on the blog shortly after the close date.
The Prize: One super lucky Windows Central reader will take home a new Xbox One 1TB EA Sports FIFA 16 Bundle!
Follow Daniel for even more #DoMoreEveryDay
Twitter: @Daniel_Rubino
Instagram: daniel_rubino
Windows Central Newsletter
Get the best of Windows Central in your inbox, every day!
Daniel Rubino is the Editor-in-chief of Windows Central, head reviewer, podcast co-host, and analyst. He has been covering Microsoft since 2007 when this site was called WMExperts (and later Windows Phone Central). His interests include Windows, laptops, next-gen computing, and for some reason, watches. Before all this tech stuff, he worked on a Ph.D. in linguistics, watched people sleep (for medical purposes!), and ran the projectors at movie theaters because it was fun.
#sweepstakes - Canada, regina I would like to play fifa 16 - my fav, and spain my fav. team In real life - I love to play cricket

I like football, my favourite team is brazil even though I live trinidad.
I also like to play fifa 15 on ma brothers xbox one.
#sweepstakes

I like to play basketball but those days are gone, for video games football is fun to play on consoles. #sweepstakes

#Sweepstakes (One and only - NBA LIVE 16), I play lawn tennis a lot usually on weekdays

#sweepstakes
Parkour / Free Run all the way. But i'd like to play Football on console. But im in Turkey :C

favorite sport: spectator #sweepstakes

My favorite sport to play on the XBox USED to be college football, but sadly that's dead now. #sweepstakes

#sweepstakes Why not GTA?

I play Ultimate Frisbee. Stinks there isn't a video game made for that sport. That would be so much fun! In regards to the app, why can't all apps just include multiple language packs instead of having similar apps in different languages? #sweepstakes

My favorite sport to play is baseball. #sweepstakes

My favorite real life sport is soccer/footbal. #sweepstakes

Hi my favorite sport on Xbox is FIFA football. Love football, yes the real football, I play, have season tickets to the Montreal Impact (even went to Mexico for a 3 days trip to see them last year at Azteca). Just about to leave workto watch my team France play the first game of the Euro ! #sweepstakes

Madden and watchin the NYJets #sweepstakes ​

#sweepstakes The last video game sports game that I played was tennis on Wii Sports...

Love football, grew up with Fifa and don't have it anywhere right now. I'm down for this #sweepstakes

Love to play basketball in real life. Got a nasty 3 point shot,. On Xbox one I play Rocket League AKA soccer with jet cars #sweepstakes

Never really played much sports on Xbox. I am so bad at them that it is hard to justify the time when I love RPGs and such so much. As for real sports, loved me some quality football, but now I'm old with bad knees. Shame really. haha. #sweepstakes

I play basketball on real life #sweepstakes

#sweepstakes I love playing Basketball, but due to injury and lack of time, I cannot. So I play FIFA and NBA online. Now I can add Rocket League to the list.

I Play FIFA 16 in Xbox 360 #sweepstakes

Can't beat Badminton in real life, but soccer games in XBOX would be awesome to play with friends. Unfortunately, not much calories are being burned. #sweepstakes

I love sports and my favorite is Football the real football. Not the N. American kind. Anyways all sports are fun to watch and this app is a great addition to windows 10 and all the fans that love sports. #sweepstakes

I love to play table tennis and soccer But on an Xbox one FIFA16 rules #sweepstakes

My favorite sport to play in real life is Baseball. Digitally it's FIFA or Hockey. #sweepstakes

I still play baseball as an old geezer probably should just play on a Xbox 1 #sweepstakes.

My favorite sport to play is water polo (but I like the Halo Master Chief Collection). #sweepstakes

My favorite is to watch soccer and have tried it once on Xbox. #sweepstakes

My favorite sport to play is American Football. To play on the Xbox hockey (I can't skate) #sweepstakes

I use the app and totaly love it!! #sweepstakes

I play soccer a little in real life. Used to play daily, but too old now.
#sweepstakes

My favourite sport is to go out riding the forests of the UK on my Mountain Bike, and tracking the whole thing on my Microsoft Band 2 :) Hoping the Microsoft Health app will be available on the XBO soon! #sweepstakes

Edgar Adame- El Paso, Texas This app is wonderful for soccer fans especially with this year having Copa America Centenario. But for me I've been playing soccer my entire life, coming from a Mexican family who loves the sport they made me appreciate the sport more. Soccer is in my blood and I enjoy watching it and playing it. Soccer for me is the best place in the world.

Edgar Adame- El Paso, Texas This app is wonderful for soccer fans especially with this year having Copa America Centenario. But for me I've been playing soccer my entire life, coming from a Mexican family who loves the sport they made me appreciate the sport more. Soccer is in my blood and I enjoy watching it and playing it. Soccer for me is the best place in the world. #Sweepstakes

favorite sports to play and watch is hockey, with soccer a close second

Ha, my favorite sport to play is couch surfing. #Sweepstakes

Favorite sport is good ole football americana, both in the gaming world and in real life. #sweepstakes

Favourite sport ... hockey of course. #sweepstakes

I like to do strength training in real life. I like to play golf and hockey video games #sweepstakes

Basketball, whether videogame or real life. Soccer/football's good too, though. #sweepstakes

We are a volleyball family. My daughters played for school and club. I'm not as good as them, but I can hold my own. #Sweepstakes

Favorite sport to play is softball. Because my whole family can play no matter what age or gender !! #sweepstakes

Believe it or not I was on a Soccer Team in Grade School... As a stand in. Till I asked them to put me in and they never took out after that. I was also on a Baseball Team in High School. #sweepstakes P.s. Thanks for offering all the sweet prizes and even more so for the Consoles.

I love to play ultimate Frisbee, it's so much fun. On XBox, I enjoy minecraft a ton. #sweepstakes

I like to play NHL 16 on Xbox and in real life I'm not much of an athlete. lol #sweepstakes

I like to play guitar hero #sweepstakes

Brunswick Pro Bowling on Xbox and in real life #sweepstakes

Love to play soccer, in Team life and on XBox. #sweepstakes

I like to play Disc Golf in real life. Rocket League on Xbox. and #sweepstakes

I like a good basketball game IRL #sweepstakes

Never experienced a game on XBox. Hope I win this one

I think it's great that some companies are giving some love to Windows 10. The more the merrier!. I love watching American Baseball, In real life I like a little Tennis now and again. I used to be big on Football on the PC but that was years ago. #sweepstakes

My favorite sport is football. Love to play with my grandkids. #sweepstakes

My favorite sport is baseball #sweepstakes

Can't play anymore, so FIFA on XB1 is the only way for me now. #sweepstakes

Fifa Xbox be cool #sweepstakes

I love playing FIFA on xbox! Thanks for the chance. I posted this comment as a #Sweepstakes entry.

My favorite sport is tennis...in real life. #sweepstakes.

i love to play basket ball #sweepstakes

Definitely Basketball #sweepstakes

I love to golf #sweepstakes

Great app. Love having access to football (err Soccer). #sweepstakes

I enjoy playing NBA 2K16 Michal Jordan Special Edition with my granddaughter. #Sweepstakes

Favorite sport to play in real life is rugby #sweepstakes

Favorite sport is hockey #sweepstakes

Love playing soccer in real life and on a console! #sweepstakes

Rugby union is my game of choice #sweepstakes

Been playing soccer for over 30 years, still my favorite sport to play. #sweepstakes

My favorite spot is American football.#sweepstakes

#sweepstakes Love playing soccer with my kids

loving basketball at the moment #sweepstakes

My favorite sport to play is FISHING!! I just love it!

I love football. I play it and love to play it on X box 1 . #sweepstakes

I play cricket and table tennis
But I play fifa on PC,,,definitely would like to win xbox

Baseball has always been my favorite sport to play/watch. #sweepstakes

Football for me, American or world, real or Xbox. :) #sweepstakes

My favorite sport to play is sand volleyball #sweepstakes

I play cricket and tt and play fifa on pc ,,,definitely would like to win xbox #sweepstakes

Favorite sport to actually play is soccer, but to watch is Formula 1 (and play on a gaming system). #sweepstakes

My favorite sport to play is basketball. #sweepstakes

My favorite sport to play in real life is soccer, I have always been a fan of the world's game ever since I scored the winning goal when I was 8 years old and have played socially to this day! "I posted this comment as a Sweepstakes entry".

I would love to win this for my kids #sweepstakes

I like to play baseball, both real and video style! #Sweepstakes

Pool, in real life but it helps to playonline too. #sweepstakes

Tennis is my favorite sport! #sweepstakes

I always have and will love to play baseball. #Sweepstakes

Football is my favorite sport to watch and play #Sweepstakes

Not a big sports fan but love to watch certain teams...

My favorite sport to play is computer programming :D.
I also enjoy watching the Arizona Cardinals every year.
#sweepstakes.

My favorite sport to play is softball. I ain't so good at it, though: I once got 26 foul tips during a single at-bat. Finally got a solid hit, right to the first baseman. Alas. (I posted this comment as a Sweepstakes entry)

like to watch all sports and play hockey, soccer, basketball, cricket. on xbox love the nhl series #sweepstakes

Love football! Enjoy having a good time with my friends playing soccer, it is a very healthy sport! #sweepstakes

Big paintball/speedball fan, wish they made good video games of it #sweepstakes

Real Life: Ice Hockey Games: Ice Hockey or Soccer/Football This is an entry in the sweepstakes #sweepstakes

My favorite sport is Cricket. GO West Indies. Then Futbol. #sweepstakes

My favorite sport to play is tennis. Great exercise and fun! #sweepstakes

#sweepstakes I recently played disc golf and loved it.

I like football, my favourite team is Manchester United.
I also like to play fifa 16 on my PS4.
Also my dads birthday is coming very soon, If I win this, I would love to give to him as a birthday and fathers day present.
#sweepstakes

My favorite sport to play is golf (on xbox and in real life) #sweepstakes.

My favorite is soccer #sweepstakes

My favorite sport is basketball! #sweepstakes

I like futbo matchesl and football and baseball. I am a big fan and used to play baseball. #sweepstakes

American Football Baby!
#sweepstakes

Sports were never a big deal in my life but before disability brought my mobility to a near stop, I did enjoy volleyball and tennis from time to time and was very active in both casual biking and the occasional rollerblading session. I have not owned a game console since buying a (very) used Sega Genesis at a yard sale in 1995 so that I could play a Garfield game only available on Genesis at the time, it would be great fun to have one now that I spend most of my days in front of either my computer or TV. Thank you for this opportunity to win. :-) #sweepstakes

How about DOA Extreme Beach Volleyball from about 12 years ago? #sweepstakes

My fave sport is auto racing, specifically Formula 1 and playing F1 2015 on my Xbox One... #sweepstakes

#sweepstakes Tennis is my sport of choice!

Baseball, baseball, baseball! Go Rockies! #sweepstakes

Favorite sport to play is volleyball #sweepstakes

I like to play soccer with my son. He is starting to get good, and wants to be a professional player when he grows up. It is a lot of fun. I posted this comment as a Sweepstakes entry

Favorite to do in real life is swimming. #sweepstakes

As a good Latina, love soccer #Sweepstakes

I loved playing basketball & tennis when I was younger! #sweepstakes

Favorite sport? It used to be long-distance running. I still love basketball, fencing (foil), and horseback riding, pretty much in that order. #sweepstakes.

Badminton in real life, does Forza on the Xbox count as a sport? :) #sweepstakes

My favorite sport is playing contests to win free stuff! But, no, really, Madden & NBA Live franchises... #sweepstakes

I love Windows 10 and XBOX ONE powered by Windows 10 OS FIFA 16 and soon FIFA 17 are the best Sport Game i ever played... #sweepstakes

I love Badminton and Volleyball #sweepstakes #TeamLumia 950 XL

watch hockey, playe hockey, but game Forza #sweepstakes

Golf, because i'm as good as i'll ever be on the XBox than in real life #sweepstakes

My favorite sports game is FIFA 16. I play it all the time. I also play futbol on a regular basis! #sweepstakes

Hello. My favorite sport to play is basketball. #sweepstakes

To play in real life is baseball. On consoles it's football! #sweepstakes

Can't get enough racing on my Xbox #sweepstakes

My favorite sport is cycling. #sweepstakes​

My favorite sport to play in real life is fencing! #sweepstakes

In both contexts, Motorsport Road Racing, wether it be Forza 6 and the like, or at my local Castrol Raceway track on the weekends! #sweepstakes

My favorite sport to play in real life is baseball #sweepstakes

I love minature gof and volleyball, but I love to watch others play basketball!

I love minature golf and volleyball, but I love to watch others play basketball! #sweepstakes

Soccer, have playoffs coming up this weekend! #sweepstakes

My favorite sport to play is ice hockey, actually grew up playing it. #Sweepstakes

I love playing tennis. This is a #sweepstakes entry.

My favortie sport to play is soccer, used to play since my early childhood. #sweepstakes

My favorite sport is ultimate frisbee. The American version of soccer. I'm posting to enter the sweepstakes. I do love soccer however.

Favorite sport is Golf #sweepstakes

My favorite sport to play on the XBOX One? American Football. #sweepstakes

When I do play on the Xbox, my favorite is Madden NFL 16. #sweepstakes

I like most racing type games. #sweepstakes

With ny nephew, we like playing soccer and bowling. With my better half, football. I posted this comment as a #sweepstakes entry

Soccer. But not on the Xbox. I hate sports games. #sweepstakes

i love racing simulators lice gran turismo

In real life my favourite soprts are soccer (with the kids) or Starcraft 2 on the TV when there is a big tournament on! #sweepstakes

i like racing games like gran turismo #sweepstakes

Madden on Xbox & NFL in real life! #sweepstakes

Favorite sport to play is volleyball #sweepstakes. posting as an entry into the #sweepstakes.

I like Basketball and Football :) #sweepstakes

Favorite sports are hiking and cycling. Sadly neither of those translate well to video games. #sweepstakes

I know some people who would love this. Please enter me in the #sweepstakes.

Favorite sport to play IRL is basketball. Favorite sport to play video games of is American Football. At least for real world sports in video games go, lol. #sweepstakes

Forza is the bomb! But then again so is Madden! Then again FIFA! Then again NBA Live! #sweepstakes

I love playing basketball #sweepstakes

I like to play Fifa 2016 #sweepstakes

I play Fifa 16 on Xbox One. Fan of football, watching now the Copa America, Euro 2016 and spanish speaker, definately downloading this app #sweepstakes.

My favorite sport to play for real is volleyball. My favorite sport for the Xbox is football!

I would say that my favourite support to play would be hockey, being Canadian and all. #sweepstakes

I like the FIFA and NBA 2K series on XBOX. In real life, I'm a big fan of soccer and badminton! Hope this XBOX can land into my new home~#sweepstakes

My favorite sport is quidditch. #sweepstakes

#sweepstakes My favorite sport is playing fighting games.

#sweepstakes I like to watch soccer, and play soccer games too.

#sweepstakes My favorite sport is football, but I watch it, I don't do it.

Hmm .. On sports I definately love College football, Soccer, and much more. My son who is autistic loves playing sport games too.

#sweepstakes I like to wrestle! I wrestled in high school but I don't do it much anymore.

I like to play FIFA..if I win. If not though Nhl is my favorite to play on the Xbox and baseball in real life #sweepstakes

<p>love to play and watch soccer.&nbsp; it is so fun and for me to watch all my grandkids play it&#39;s one of the few sports i actually understand.</p>

I love playing Baseball as a catcher. #sweepstakes

Absolutely love football and basketball in video game world, kickball (yeah, getting old) in the real world lol. #sweepstakes

My favorite sport to play and watch is hockey. Golf is a close second. I have not used the Xbox 360 in past two years, but when I did, EA Hockey and MLB were my favorites. If we are talking Surface Pro, my favorite game is Adrenaline 8 - zoom, zoom! #sweepstakes

My favorite sport to play in real life and on Xbox is Basketball! #sweepstakes

I love playing Wrestling video games. Anything WWE I love. #sweepstakes

My favorite sport to play is Vollyball. I love spending the day on the beach in the sand while playing. #sweepstakes

My favorite sport to paly is Volleyball!! Fun for everyone! #sweepstakes

Univision Desportes​, should actually read "Univision Deportes"

I would love to win this Xbox One Bundle because I love American Football and basketball! I played it all the time with friends when I was younger... Football even in rain and snow! I only the opportunity to play soccer once, but remember how much fun it was. I love playing sports games on my XBox and Windows Phone, soccer being one. I have a couple football games and basketball games for my 360. I need an XBox one because I only have the 4GB version of the 360 which doesn't leave alot of room for storage of game content or more than a few games at all. Also, I've never won anything before. *sniff* *sniff* Crying face #sweepstakes #WinPhan #helpawinlesssweepstakesguyout #sportsvideogamesplayer

My favorite sport to play is softball, I Love it! :) #sweepstakes

Definitely the NBA 2K series. #sweepstakes

Football is my favorite in real life and on games! #sweepstakes

I'm learning to play golf and I love it! #sweepstakes

my favorite sport is football #sweepstakes

We love playing corn hole at our family gatherings. I don't know if this is considered a sport but it sure gets competitive! #sweepstakes

I like to golf! #sweepstakes

No fan of soccer at all. Love football. Love to watch it. Love to play it. If I had an XBox, I could pick up Madden and play that. #sweepstakes

I love playing soccer. #sweepstakes

Sport to play IRL: deep sea fishing. #Sweepstakes

Volleyball in real life. #sweepstakes

I have back problems, so physically playing games can be excrutiating. I love playing NHL, NFL and Soccer on XBOX #SWEEPSTAKES

My favorite sport to play is tennis in real life. I don't have an Xbox One but I would love to win one. Thanks for the chance! #sweepstakes

i love soccer #sweepstakes

LOVE FOOTBALL....WATCHING AND PLAYING IT. I posted this comment as a Sweepstakes entry. #sweepstakes

Baseball or softball. I posted this comment as a Sweepstakes entry

I love soccer #sweepstakes

I love to play football with my son on our XBox! #sweepstakes

Posting as an entry into the sweepstakes #sweepstakes I played softball, but like soccer for the action!!!

I used to love playing softball and volleyball in school. Now, I love watching the NFL. #sweepstakes

I like playing basketball. #DoMoreEveryDay #sweepstakes

I love to play soccer in real life and basketball on Xbox. #sweepstakes

I enjoy a good game of basketball every now and then #sweepstakes

I love playing pool :) #sweepstakes

#sweepstakes Canadian eh! Hockey all the way.

Our Family likes to play football on and off the Playstation console. #sweepstakes

The sport I like to play bowling #Sweepstakes

My favorite sport to play is tag football

I used to be a big baseball fan (LA Angels and San Diego Padres) but in the last four or five years my interest in baseball has slowly been evaporating for soccer. Love my Real Salt Lake. I race cyclo cross and love mountain biking. #sweepstakes

Baseball. I love baseball. #sweepstakes

nice app, introduce more games #sweepstakes

My favorite sport is soccer, I played on an adult league for a few year #sweepstakes

Baseball and soccer are the best sports to play in real life and on an Xbox. #sweepstakes

My favourite sport is football ofc <3 #sweepstakes

In the real world, I rather enjoy playing volleyball. #sweepstakes

Football :: Football :: Football :: I LOVE me some Football!!

Football :: Football :: Football :: I LOVE me some Football!! #sweepstakes

Volleyball is my fave sport! #Sweepstakes

Football :: Football :: Football :: I LOVE me some Football!! #sweepstakes

My favorite sport to play would be soccer. #sweepstakes

I like table tennis but don't have much time to play nowadays. #sweepstakes

I love playing baseball. On the Xbox and in real life. #Sweepstakes Posted via the Windows Central App for Android

I was a runner. Did some basketball as well. Need to run again! #sweepstakes

I love Windows 10. I posted this comment as a Sweepstakes entry

My favorite sport to play in real life and on the Xbox One is Basketball. Go Warriors! #sweepstakes

Favorite sport to play is Basketball! #sweepstakes

As an Australian I get teased a lot for it but the best sport for me has to be soccer (football to the civilised world). Best fun ever! #sweepstakes

I enjoy disc golf when I find time. #sweepstakes

Ill say badminton (real life, not sure I've ever seen it in video game form). #Sweepstakes

I personaly love to play soccer and volleyball =) #sweepstakes

#sweepstakes - Las Vegas, Nevada Let me win!

I love to play disc golf. It's relaxing. It's outdoors. It's relatively inexpensive to get started.
#sweepstakes

I enjoy basketball! #sweepstakes

i would love a xbox bundle with fifa 16 i have never played the new fifa i use to play football alot my fravoite team is wba having this bundle would let me play online with my friends i am from the uk #sweepstakes

My favorite sport to play is basketball. #sweepstakes

Baseball is my favorite sport to watch,play in real life and play on the XBox! #sweepstakes

My favorite sport to play on the XBox is Madden Football. I had to have my grandson teach me how to play but, once I learned, I was hooked!! Thanks so much for the awesome giveaway! #sweepstakes

Football is my fav #sweepstakes

Martial Arts is life. Mizu No Kokoro Ryu. #sweepstakes

Favorite sport to watch? F1! Favorite sport to play, especially here in Costa Rica? Futbol!!! #sweepstakes

Favorite sport to play? Soccer! #sweepstakes

I Would like to play FOOT BALL my favorate game in Xbox #sweepstakes

I love to play "FIFA 16" on my XBox and also play soccer in a team. #Sweepstakes

Basketball, IRL, hockey, on game consoles. #Sweepstakes

I heart FIFA! #Sweepstakes

MY FAVORITE SPORT TO PLAY IN REAL LIFE IS BOWLING! #sweepstakes

Basketball FTW!! #sweepstakes

Football is hockey without the ice ... and less fisticuffs ... and probably more sportsmanship. Never see bench clearing fights during a match, well on the field at least. #sweepstakes

#sweepstakes i love to Play Tennis on Xbox One and in Real im not so sporty , than i love more dancing. #sweepstakes

I love swimming! #sweepstakes

I have a thing for International Football (soccer) along with the hockey (NHL). With the end of the NHL season looming and the beginning of the Euro 2016 I'll have my fix. =) #sweepstakes

Basketball, both in real life and in video games! (Or if Rocket League counts, another favorite sport of mine is racecar soccer) #sweepstakes

My favorite football/soccer team is real madrid and irl my favorite sport is tennis. #sweepstakes

I love to play wrestling #sweepstakes

My favorite sport to play is tennis #sweepastakes

GOOOOOOOOOOOOOOOOOOOOOOOOOOOOOOOOOOOOL!!!!!!!!!!!!!!!!!!!!!!! #sweepstakes

Baseball is my favorite sport to play in real life and in video games! I wish Xbox One had a great baseball game coming... #sweepstakes

I love to play basketball and softball in real life, football on the xbox 360 #sweepstakes

I used to love playing soccer when i was a pup! #sweepstakes

My favorite sports to play is car soccer, ala Rocket League :) #sweepstakes

Offline my favorite sport is cricket, while on my Xbox 360 I play FIFA. #sweepstakes #clearanceb4XB1slim

I like to play tennis #sweepstakes

#Sweepstakes I luv to play baseball! THANKS!

Baseball. What can I say?... It's our American pastime. Posted via the Windows Central App for Android

I like playing indoor 5-aside Football #sweepstakes

I like me some football. 'Murica style. Scooooooooooooore! #sweepstakes

real life sports such as volleyball! #sweepstakes

Football.... #sweepstakes

EAs nhl series. #sweepstakes
Out of curiosity is this the GS/EB edition?

I don't have an XBOX so don't have a favorite XBOX game, but my favorite sport is running or swimming. "I posted this comment as a Sweepstakes entry".

Really cool! Awesome giveaway! #sweepstakes

Swimming! Greatest sport there is. I love the flip turns. #Sweepstakes ​

Soccer... Goal.. Goal.. Goal... Goal... copa america, fifa, epl, worldcup, bundesliga, facup, uefa, messi, christiano, bale, neymar, neuer, reus, hazzard, aguero, robben, toure, inieta, suarez, pogba, sanchez, aguero, goal, goal goal goal.....#sweepstakes

I enjoy playing football. #sweepstakes

Football (not the American one) both on Xbox and in real life. #sweepstakes

I love playing softball #sweepstakes

I kinda like Volleyball. #sweepstakes

We call it FOOTBALL, because we use our feet.. I would like to play fifa 16. #sweepstakes

#sweepstakes Holy batman, my fave sport in real life is basketball. FREE , cheap , good exercise & can play in any court. Pick me. Starving artist needs X-box to have fun & feel alive & inspired again. . A life changing exp. Thanks for the contest, generosity & awesomeness.

Favorite sport to play in video games is Baseball #Sweepstakes

Im the Villain In Every Sport! #sweepstakes

My favorite sport is basketball. Both in real life and on the XBOX ONE. #sweepstakes

#sweepstakes
I love fifa 16 on Xbox one
In real life I love tennis

my favorite sport is walking..is that a sport? well it should be. it's a super low impact one. #sweepstakes

I don't play sports in life, but I love NHL video games! NHL 16 ;) #sweepstakes

like playing football(soccer0

#sweepstakes Daily, almost everyday, Im involved with Soccer. I play for the soccer team in my high school, I watch international soccer, Club soccer and its a sport that has become part of life. Its so funny because after school, I go for soccer practice and the next thing I do after soccer practice is go back to dorm and do some homework :(. To relax, I play fifa on the XBOX on dorm and this happens about 3-4 times a week. On Saturdays, I watch The premier league, supporting my club Arsenal FC and the best player Ozil!!!. I love playing soccer, out on the field and in the game, watching it. Its not more a hobby its now a part of my life and a sport I follow. I want to win the FIFA game. I dont have an XBOX and im leaving dorm this year cause im Graduating!!!! Sorry if the post is long. #sweepstakes

#sweepstakes SA
I like to play fifa 2015 and racing games and I like to play racing games like need for Speed and more. But mostly I like cricket outdoors with my friends. Posted via the Windows Central App for Android

My favorite sport is Soccer!! #sweepstakes

#sweepstakes would love to win for my son who loves to play some game that involves Batman but I'm not sure of the name except he seems to be really good at it when I have watched him play Thanks for the opportunity to enter the contest what a great deal these Gem contests are and this one is particularly great!

I love basketball. I like to play on real life and on video games. #Sweepstakes

Football on or off the pitch is my favourite game to play. #UnDecima #sweepstakes

I like soccer. #sweepstakes

real life, the favorite sport I like to play is soccer. #sweepstakes

wow, what about a xBox S :) #sweepstakes

Ice hockey is the best game :) #sweepstakes

love to play all sports game on console : ufc, basketball, soccer, hockey ... #sweepstakes

In real life I like to play floorball, but on xbox I enjoy basketball #sweepstakes

Calvin-ball is my favourite sport. ;] #sweepstakes

as a kid i loved indoor soccer and indoor hockey #sweepstakes

Love me some Tennis! #sweepstakes

I love mountain biking...in real life! THanks for the chance! #sweepstakes

I love playing basketball (in real life) :) #sweepstakes

I love the fact that soccer is an international sport and also the fact that anyone, including me, can have fun playing it in real life and on an Xbox One! #sweepstakes

Golf is my favorite to play #sweepstakes

For me it's soccer football, I've been playing FIFA since the early versions #sweepstakes

I rarely play sports on a console or watch them on tv... But when I do it is football, basketball and soccer. I would much rather play sports, but football is out of question these days... so It is basketball. I love and miss playing football, but it is just too risky... I dont live at home with mom and I have a job, lol. #sweepstakes

Basketball... both IRL & on PC & Xbox One #sweepstakes

My favorite sports to play are IRL Ice Hockey on Xbox One my favorite sport is Griffball. #sweepstakes

Basketball in real life. Not much of a video game sports player. #sweepstakes

Football wether US or European is my jam!
#sweepstakes

Not really into soccer except for checking on how USA does in the World Cups #sweepstakes

football..(hand egg) #sweepstakes

I like Basketball. #sweepstakes

Love to play sports racing games like Mario Cart. #sweepstakes

Ultimate Frisbee #sweepstakes

Definitely soccer on the Xbox One. #sweepstakes

My favorite sport to play is Baseball. #sweepstakes

by far soccer is top of that list. every year, my friends and family (people i grew up with and now my kids) play a soccer game in my friends backs yard. its something we look forward to.#sweepstakes.

I played a lot of baseball and then softball over the years. #sweepstakes

My favorite sport to play is speed skating. #sweepstakes

Real life and on the XBox soccer is king. My kids play and I run to keep up. Still a few years left to reign supreme. My son has me beat on the XBox version... sigh... #sweepstakes

Favorite sport to play in real life is basketball and soccer. On PC and Xbox it is Rocket League and FIFA. I posted this comment as a Sweepstakes entry, #sweepstakes

Favorite sport is running, but to play would be golf. #sweepstakes

Get my gaming on! GOAL!!! #sweepstakes

Oh, I love playing bocce and tennis in real life, lol. I get a bit competitive, actually :P #sweepstakes


Hubby would really like this app #sweepstakes

Football is my favorite sport to play #sweepstakes

I will be playing Need For Speed and Watch Dogs2. #sweepstakes

I love soccer in Fifa... #sweepstakes

I'm actually a big fan of the PGA Tour series for the XBox. I'm pretty casual. ;) #sweepstakes

Does video gaming count as a sport? :) #sweepstakes

Favorite sport on xbox is basketball and favorite in real life is tennis. #sweepstakes

My favorite sport to play in real life is American football. Though, if I could play it, hockey would knock football from the top! #sweepstakes

When I was younger I loved to play basketball. I still like to play basketball; but I think I am starting to like playing golf, it's relaxing and frustrating (but fun) at the same time. #sweepstakes

I love playing Tennis #sweepstakes

My favorite sport to play is basketball. But also officiate basketball, football (American kind), and softball, so I like those as well. My son loves to play FIFA on PS4, so the Xbox bundle would be good for him too :) #sweepstakes

my whole family loves Hockey. our 9 year old daughter plays ice hockey and has been for 6 years and our 3 year old son is about to start playing soon. Soccer the sons second favorite sport. please enter us for the #sweepstakes

Tennis is my favourite sport #sweepstakes

Rock climbing, yeeeeeeeeeeeeeeeeeay :D #sweepstakes

Love UFC and Wrestling games #sweepstakes

My favorite sport to play is tennis! #sweepstakes

I like playing a game called "pawky", which is a game from The Bahamas. It involves throwing up a tennis ball with a crowd, and whoever catches the ball has to "pawk"(hit) someone with it. Once the ball is caught everyone runs, and tries not to get pawked. Once you get pawked you are out or you can choose to stay in and risk getting pawked again. #SWEEPSTAKES

I play racquetball at least three times a week!! Best sport ever! #sweepstakes

Real life I enjoy participating in Triathlons, I also enjoy golf, and racquetball. #sweepstakes

I don't play in real life, but I love playing Soccer/Football games #sweepstakes

My favorite sport to play (on XBox), and watch is Football (NFL). Of course watching Hockey and Nascar are good to. #Sweepstakes

My favorite sport to participate in is Horseback Riding -- in particular Dressage! #sweepstakes

Does it cover hockey? #sweepstakes

My favorite is NHL Hockey on the Xbox. #sweepstakes

I'm a basketball fan and I love to play NBA Live 2016 #sweepstakes

Football Americano is my fave. #sweepstakes

Favorite games to play is FIFA! NBA 2k16! #sweepstakes

INR: golf, on Xbox One: racing games like Forza, and american football (Madden) #sweepstakes

I like to play golf, and tennis. Me and my boys like to play football and hockey on their gaming systems #sweepstakes

Favourite sport for games is definitely racing #sweepstakes

i like playing madden with my frineds. #sweepstakes

I like to play madden #sweepstakes

NHL games are my faves. #sweepstakes

My favorite sport is golf #sweepstakes

My favorite game is the FIFA 15 and i love play futbol in my console #sweepstakes USA

Love to play Fifa, Madden, NBA2K, and MLB video games. My favorite is the MLB Home Run Derby because I am the reigning Champ at home. In real life, playing flag football is loads of fun. :) #sweepstakes

Slow Pitch Softball. #sweepstakes

Favorite Sports to play is Volleyball #sweepstakes

I love playing soccer and basketball, for real. ;D #sweepstakes

Me gusta juegue Futbol! #sweepstakes

My favorite sport to play in a video game is soccer. #sweepstakes

Favorite traditional sport to play is hockey and favorite eSport is Project M. No chance of it ever coming to Xbox, but maybe its spirtual successor from Wavedash Games will if it has a successful PC launch. Fingers crossed #sweepstakes

My favourite sport to play is on the XBox is EA Sprots NHL 12. #sweepstakes

Hello, I never had a xbox it would be nice to have one and see how it works. Thanks

Soccer, via Rocket League #sweepstakes

NBA 2K16 is awesome!!! #sweepstakes

Sports are not a huge part of my life I admit. I enjoy playing things like this on video games though and get my exercise in other ways, especially going for hikes as a family. I like playing sports like tennis or baseball on gaming systems.

My favorite sport to play is tennis in real life. However, I would love to win FIFA 2016, everytime I visit my friends house they are playing it. I would love the chance to practice :D .#sweepstakes

to play in real life.. kickball. To play on XBone... fifa! #sweepstakes

On the Xbox, I would say NFL Football is my favorite to play #sweepstakes

i love to play basketball #sweepstakes

Real football -> soccer #sweepstakes

This proze would bring together our family's love of soccer and game consoles. #sweepstakes

Footbal, why is there another sport?? !!! #sweepstakes

my favorite sport is soccer #sweepstakes

I love running and watching soccer. I posted this comment as a Sweepstakes entry #sweepstakes

Swimming! I love the water. I also love jam walking. I made this up. Jam walking isn't a real sport but when I jam walk to my favorite beats around town, through the park, or wherever. This is kind of off topic but it would be cool if the MS Band and Xbox could talk to one another. Maybe with the anniversary update + MS Health app. Even cooler if someone made a game that uses Band data. Say I get back from a soccer game, boot up FIFA, and the Band data is imported and somehow used in the game. Fun! #sweepstakes

Soccer is my favorite sport. #sweepstakes

My favorite sport to play on Xbox has to be football (bring back NCAA!!), but in real life it's definitely soccer. That said, I love me some Fifa! #sweepstakes

paddleboarding (IRL) #sweepstakes

Let's be honest, this comment is for the #sweepstakes

My favorite sport is horseback riding! #sweepstakes

Love to play the game of basketball. Gotta get back in shape so I can play again! #sweepstakes

I don't really have a favorite sport to play but I love watching NBA. NBA 2K16 for Xbox One comes to mind. #sweepstakes

goooooooooooooooal #sweepstakes

American football for life. I posted this comment as a Sweepstakes entry​. #sweepstakes

I like many sports from hockey to basketball. #sweepstakes

I love playing football games on the Xbox #sweepstakes

My favorite sport to play is basketball. #sweepstakes

Ultimate frisbee. Great team sport where anyone of any athletic ability can play. There are roles for people who aren't very fast, or big, or whatever! You don't have to be strong, you just need to move your arm. #sweepstakes

I play hockey on video games only lol #sweepstakes

My favorite sport to play is tennis. #sweepstakes

#sweepstakes Love playing Soccer with my kids for fun, and xbox platform we love it all!

My favorite sport is baseball! #sweepstakes

I like to play soccer. #sweepstakes

I like tennis #sweepstakes

I love to play table tennis #sweepstakes

The sport I'm the biggest fan of is baseball, though it's hard to beat playing football with other people. #sweepstakes

even though fifa 17 is about to come out, i would still love to get my hands on a season filled with legendary EPL results #sweepstakes

I don't have an Xbox One but the sport I love to play in real life is Basketball. I hate watching sports but playing is so much fun. I was on the basketball team in high school so it will always be my favorite. I love to skateboard too. Riding my bike is also fun. Football for sure (soccer, not American), always love playing that! #SWEEPSTAKES

I love playing (American) football with the boys. Great times! #sweepstakes

I love to play volleyball #sweepstakes

Would love one of these! #sweepstakes

I love to play tennis and soccer in real life. Favorite on Xbox is racing. #sweepstakes

This would be a great party game! #sweepstakes

My younger son loves FIFA both as a video game and follows Euro 2016 every day! #sweepstakes

That would be Baseball. #sweepstakes

Gooooooooooooooaaaaaaaaaaaalllllllllllll! #sweepstakes

Soccer... (Futbol) #Sweepstakes.

My favorite sport would be car racing. #sweepstakes

I like playing golf, can't wait for the VR Xbox golf game (I hope they are working on one). #sweepstakes

Rally racing. Hey, motorsports are still sports right? Obligatory #sweepstakes comment for #sweepstakes.

My favorite sport, both on Xbox and in real life, is hockey #sweepstakes

Favorite sport to play in real life and on the Xbox is basketball. #sweepstakes

I love the Forza games!! #sweepstakes

Auto racing. #sweepstakes

I love playing badminton (in real life)! #sweepstakes

My favorite sport to play on Xbox is Rally racing. #sweepstakes

Would love an XBOX ONE! such a great prize :) #sweepstakes.

Always loved hockey games. #sweepstakes

Real life is better. It makes your day much more pleasant. i know this is a contest for xbox but i won't lie. #sweepstakes.

My favorite sport in real life is swimming. #sweepstakes

I like to play soccer in real life #sweepstakes

I like to play volleyball #sweepstakes

soccer in real life and fifa games #sweepstakes

fifa 16 is my go to game #sweepstakes

love playing basketball in reallife and fifa online #sweepstakes

My favorite sport to play in real life is basketball. Thanks for the fantastic opportunity to win! #sweepstakes

I love golfing #sweepstakes

my favorite sport to play is tennis, it's a great fitness activity and works on your stamina. #sweepstakes

The most played sport that I played in real life was Baseball, but I think my favourite sport may be Volleyball. :) ​ ​#sweepstakes

I like a good basketball game IRL #sweepstakes

favorite sport: swimming. Favourite spectator sport: soccer #sweepstakes

This will be my first Xbox experience I would have, and with my interest in Soccer in general. This will be awesome to experience this console and it's graphics. #sweepstakes

On xbox I love to play tennis! #sweepstakes

My favorite sport is soccer because its really fun i used to play it when i was little and i still play it now #sweepstakes