Unlocked Lumia 535 now available from the U.S. Microsoft Store for $149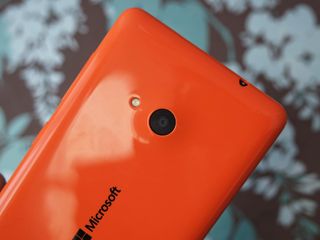 Just a day after the Lumia 535 popped up on the Canadian Microsoft Store, it looks like those of us here in the U.S. can get our hands on the device as well. The device is now available on the U.S. Microsoft Store for just $149. The Lumia 535 so far isn't available from any carriers in the U.S., and the only other option until now was to purchase it through Expansys USA. As a reminder, here's what the Lumia 535 is packing:
5-inch 960 x 540 display
1.2 GHz Qualcomm Snapdragon 200 processor
1GB of RAM
8GB of expandable storage
1905mAh battery
5MP rear camera
5MP front-facing shooter
If you live in the U.S. and the 535 piques your interest, you can snag it unlocked for $149 from the Microsoft Store at the link below.
Thanks to Alexander for the tip!
Buy the Lumia 535 from the Microsoft Store ($149) (opens in new tab)
Dan Thorp-Lancaster is the Editor in Chief for Windows Central. He began working with Windows Central as a news writer in 2014 and is obsessed with tech of all sorts. You can follow Dan on Twitter @DthorpL and Instagram @heyitsdtl. Got a hot tip? Send it to daniel.thorp-lancaster@futurenet.com.
OMG I didn't think that I would see the day!! Whoa, this can be a possible game changer.

It's a cheap phone that has a 'selfie' camera and considering that it is unlocked too, it blows the 530 out of the water. Edit: $149 for an unlocked phone is cheap to me.

Don't be deceived, it has touch issues that Microsoft can't seem to fix til now.

They will unlock any phone on purchase for free, just ask. Done it myself.

Well, having option to buy unlocked phones in U.S on its own is great. Many people like myself don't want to be chained to the carriers. I had to order 930 from germany because I didn't want to sign contract with Verizon. More options for consumer the better.

Why Microsoft didn't launch Lumia 540 also?

Yeah.. What about the 540❓

well, here in Poland we have 640 and 640XL for 170 $ 270 $ for the xl version.

This link works. http://www.microsoftstore.com/store/msusa/en_US/pdp/Microsoft-Lumia-535---Unlocked/productID.318277600

T Mobile 530 is 20 at bestbuy

Only with purchase of service :/

best buy is back to their practice of forcing new service purchase to get the sale price ... very un-t-mobile like

They fix the damn screen responsiveness issues yet?

Yeah. I think it might just still be a problem on the first few that were released before the updates.

Will this work on T-Mobile bands?

the microsoft website doesn't list the bands it works on ... be wary

It will but don't expect LTE

What? Only now they have it. For me 535 is very much obsolete already...

That's what I'm trying to figure out as well. I don't kow if I'm missing it, but I don't see anything anywhere on the page that it is or isn't..

Too pricey, sell it for $99.00+tax I'll buy it

This is an awful price for this phone. It needs to be under $75.

I imagine they're trying not to piss off carriers.

I don't think so, hspa+ only.

Still, it is very good that it is available. I am very glad that we are getting the trend of unlocked phones available rather than being at the mercy of carriers.

I hope they do the same with all new Lumias. Lumia 640, 640XL, 540, and future 940 and 940XL.

So it has worse internals than the 640, it's the same size, but it costs more. Am I missing something?

Yes, the price of the 640 on the same website.

The price for an unlocked 640 hasn't come out yet, and also this phone actually came out before the 640 did, so of course the 640 would have better specs. It;s not an equal comparison to match the price of a locked phone to a carrier to an unlocked phone.

So what? They'll be on sale together and people comparison shop.

You have a good point, but someone like myself who has T-mobile is not going to switch to a new carrier just for a phone, if I like what I currently have. I'm sure that some people have switched to Cricket for it, but I like what I have with T-mo, so buying an unlocked phone just makes more sense for me.


£75 unlocked 535, Argos, UK

That's because its been out in the UK for months. It's always expensive when it first arrives somewhere new.

I might buy it JUST for the sake of showing interest and hoping they offer more unlocked options, and release them earlier, in the future.

At one time i wanted this phone but now im waiting for the damn 640 if it takes years and years. Im determined. I'll use my 635 untill it rots out of my hand but the 640 or XL shall be my next phone!!

Same. I just want the 640 unlocked or on AT&T. Why is it so hard to get?

I'm hoping it was delayed becauae of rhat voice over lte update. Maybe now at&t will SOON release it with the update preinstalled.

Wasn't this the price an unlocked 640 was supposed to be? Would love an ATT branded 640 for the extra LTE bands in case my 830 breaks.

150 USD? Available at 12000 NPR here! Roughly equal to 110 USD

That resolution is a deal breaker!

540 is out now; why would anyone buy a 535 with its touchscreen sensitivity issue?

This price is ridiculous, just got the 640 at cricket for 129.

Was anyone actually waiting for this? Seriously? It's like waiting for gruel at banquet.... Why?

I bought one of these from Newegg for $149.00 two months ago. The early 535s were the models with problems. The 535 may be ok now, for me it was a disappointment. Wish I could get mine repaired to alleviate the multitouch problems. Microsoft customer support has been less than helpful in my situation. First time I've been left by the side of the road with WP/Microsoft Mobile :/

I would rather add $50-60 more & get something like zenfone 2

Not too bad of a device for the price. :)

That thing is going nowhere at $150

Now still an unlocked 640 at that price...

what's the difference between this and the 640?? I'm so confused with all this low-end shit....its like there's only slight differences, that don't really matter. I'm sticking with my 810.....damn it all to hell.

640 has an 8mp back camera and a .9-1 mp front camera with the Snapdragon quadcore 400 at 1.2 535 has 5mp cameras front and back running on the Snapdragon quadcore 200 at 1.2 Both phones have an led flash and are 5 inch screens. Both include 1GB of ram. Both accept SD cards. The 640 is available for GSM LTE. The 535 is 3G only.

Glad to see this, options are good and as is the tradition with Microsoft store it'll be cheaper elsewhere soon
Windows Central Newsletter
Get the best of Windows Central in in your inbox, every day!
Thank you for signing up to Windows Central. You will receive a verification email shortly.
There was a problem. Please refresh the page and try again.