Unlocked Lumia 950 XL in US confirmed to be dual-SIM phone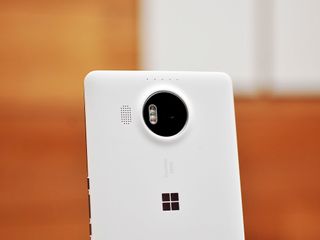 The first shipments of the Lumia 950 XL smartphone are now being delivered to some pre-order customers in the US today, and some Microsoft Store locations are selling them as well. Now those buyers are confirming, via posts on Windows Central's forums, that this version of Microsoft's 5.7-inch Windows 10 Mobile phone is the dual SIM model.
This is excellent news for dual SIM phone fans, who might have thought that the unlocked Lumia 950 XL might be of the single SIM version in the US. This development means that the Lumia 950 XL could be popular among business users and heavy travellers, who might want to have separate SIMs on the same phone, one for business and one for personal use.
Check out our Lumia 950 XL forums
Windows Central Newsletter
Get the best of Windows Central in your inbox, every day!
Didn't expect this. But I guess it's good to have dual sim.

now I will only have one phone on me

Thats another poor thing from MS sales...they cant even provide correct info about the product they are selling on their online store!!

There are ex-congresspeople on the MS board. So you have to buy it to find out what's inside it.

@ssapre Actually MS provided the info in the spec sheet on the Microsoft Store website; under connectivity it says dual nano sim. ​However in the title of the product Microsoft just says Microsoft Lumia 950 XL- Unlocked, they do not include the dual sim part. Which I guees could be considered false advertising, but they stated it under product info (specs) so such a charge would not hold up in a court of law.

It was said in the technical details posted on Microsofts store website, confused about the confusion...

Nice. Now tell me the 950 in Canada is.

Can't say about 950 but I can sure tell you about 950XL in another 4 hours from now. EDIT:
Yayy, it is. Canadian version is dual SIM

Please do! I've been waiting to hear about this and I've gotten different answers from people even within Microsoft. Dual SIM will be huge for me personally.

the 950 unlocked in US is also dual sim so I dont see why it wouldnt be the same for Canada

Given that Microsoft chat support didn't know, the Toronto Microsoft store said no, and the Calgary Microsoft Store said yes, I want to see this confirmed before I spend $900 on this. ;)

Yeah, the messaging over the Dual Sim variant has been soooooo confusing. MS Store chat told me last night that Dual Sim wasn't available yet in Canada but would not be coming to US. He didn't know what to say when I told him numerous people on twitter were saying they had a dual sim version from the US. How hard is it to get this information to the sales staff really?
I'm currently holding off on buying a 950 from the Canadian store until I can confirm it is dual sim. There are no MS stores in Quebec or I would go there.

I asked MS if dual sim version would be available in Canada and they told me they had no info, but someone around here told me that the sample on display in the store was dual. I hope it is true so I don't have to settle for single.

Yes, the sample at the Yorkdale store in Toronto was indeed dual SIM. I saw it was my own dual eyes.
Incidentally, when I chatted online with MS cs, the agent didn't know and had to consult with the "superiors" who decided the answer was "no dual SIM"in Canada.
Glad they're wrong. Enjoy your new devices.

The 950XL in Canada is indeed dual sim as well. I was actually surprized when I opened the box and saw this.

cant wait. called my local store and they said its in stock tomorrow.

which store? I dropped by the Eaton Center location and was told the 950 and 950 XL were delayed until mid-December edit:: just called and was told it would be available tomorrow.

My 950xl arrived couple of hours ago ... cofiguring it right now:D pre-ordered from microsoft canada online. ps. it's an amazing phone...

Awesome! Enjoy! Is it dual SIM?

I can also confirm that the unlocked 950 XL (at least) is Dual Sim in Canada, I've got mine in my hands now. A couple weeks ago a Microsoft Store employee told me they were all going to be Dual Sim, but then a couple days ago an online rep at the Microsoft Store website told me they weren't. Way to confuse the message, Microsoft.

This was a question? It was in the specs and the in-store demos had them. Too bad 950 at AT&T doesn't have it.

you can't expect a carrier branded phone to be dual sim, oh come on, that's not business

Ifyour statement is true, then why not buy from MSFT and get all them trimmings as we say in Texas

There is no carrier mentioned in the text, just the Microsoft store. I was also wondering why this was a question...

Why not? It would be perfect to have a business and personal line--both on ATT. So stupid.

That is how I used one on T-mobile. Two lines on one phone both from same carrier. Perfect for my NV and Utah business numbers.

Actually, the specs didn't mention dual sim until long after the first batch of preorders had sold out.

Yea, wasn't expecting that when I opened my 950 XL...which by the way, is what I'm typing this on :)

Cmon, spill all the beans. This is one of those time where I want opinion from real user, windows phone fan and not a professional reviewer / critic. I want user / fan share what joy they have seen, experienced and what tick them off about the device. Yes, the back is plastic, did it bother you or it makes no difference to you, did you say Whao.. to what and what features, no comparing to android, iphone, just you and this phone...

Hopefully he hasn't responded because the experience is so amazing! The option is that it broke already. :)

Lol, read my response...it isn't the latter :)

Sorry, I was still setting up accounts, apps, etc. I'll be more than happy to share my first impression with the device: First thing's first...the phone ran extremely hot for the 1st hour. It's finally starting to cool down now, but it was uncomfortable to hold during that time. Yes, the back is plastic, and no, it doesn't bother me...I personally kind of like the matte feel to it, but the edges where the plastic meets the screen is, for lack of a better term, sharp. If you've owned a Lumia 1520, then you'll be very accustomed to that feeling when holding it one-handed. The screen looks incredible, compared to staring at a Lumia 830 for the passed year, lol. The speaker is LOUD...nevertheless, it's still a phone speaker, so nothing to write home about. I, soo far, only have one complaint about the phone...but it's more on the OS side, rather than hardware side: I do not like the new multi-task view, and that's because when only one or two apps are running, they are at the top of the screen in a "tile-type" view, and it requires a long swipe to remove them. I know I can always just press the 'X'...but I am pretty much accustomed to swiping, as opposed to clicking the 'X'. Other than that...I have zero complaints about the phone...it runs smooth and fast (for now), and everything about it just looks and works amazing! Since this is my first phone with an analog navigation bar, I will have to get used to that as well since it's a slightly different experience from having the capacitive hardware buttons. On a side/geek note, it was a pleasure removing this phone from the amazing Microsoft packaging, and not that ugly AT&T packaging, and I know some people will shun this, because they don't care about the box...but I am the kind of person that feels if I paid that much for something, it doesn't hurt to have a box that matches the persona of said product. I won't compare this to an Android or iPhone...but as an avid Windows Phone user, I can say even with Windows 10 Mobile being a bit beta...it's refreshing to see Windows finally making kick-ass hardware, and this phone flexes it's muscles in every aspect. I am pleased with my purchase, and anyone (that isn't on Verizon or Sprint) that's considering this beast....I say GO FOR IT! You won't be disappointed :)

Did yours connect to ATT LTE right away? Mine is stuck on 4g...

Yes, mine is connected to LTE...maybe try and do a soft reset to your 950 XL

LTE on my unlocked XL. ATT

did you get LTE right away on ATT? Mine keeps flipping between 4g and E.

After finding a good discussion about SIM workarounds on Windows Central, I tried chatting with AT&T support, and when I got the "4G is LTE" line, I knew I wouldn't get much further troubleshooting with her :) So, I rolled a small piece of tape and stuck the nano SIM to it in my Lumia 1020 SIM tray. I then had the her assign it to the IMEI of my 1020 to get LTE working with it. I had to try mounting the SIM in different spots in the tray until I found one that made the phone shut down (in the middle and all the way to the left). I powered it back up, and I verified that it came up with LTE. Then I put the nano SIM back in my 950 XL, and it came up with LTE, too.

@GudsFortapelse, you know there is a dedicated thread for first impressions in the 950 XL subsection in the forums.

Yes, but a fellow site peer asked, so I answered...

Thanks for sharing your inl impressions. I'm with you--I don't lthe long swipe in multi-task. I've left this feedback in the Insider program. Other than that, I'm excite to receive mine!

Great review, thank you for the insider info!!

I wonder if the unlocked 950 is also dual sim

The one I just picked up in the US is.

Dual Nano SIM is listed in the tech specs of the 950 on the MIcrosoft Store website.

Are the online stores and brick&mortar stores offering free dock?

The free display dock is not tied to a seller (e.g. Microsoft Store, AT&T, Amazon, etc.), you buy the phone from wherever you choose and then you use the Lumia Offers app to claim your free dock. This also means that you're not handed/delivered the dock when you purchase the phone; it's sent to you separately (if I remember correctly, the Lumia Offers app generates a code that you use on the https://www.windowscentral.com/e?link=https2F%2Fclick.linksynergy.co... site to get it delivered to you for free).

Might sound like a silly question, but where the heck do you find the Lumia Offers app? I'm looking for it on my 635 with newest Win10 build and it is no where to be found.

It is probably only available to 950XL devices. (As there is no offer available for any other device.)

Thanks, that's what I figured.

it's only available on the 950 XL as far as I know...I have it on there, checked it out...but still see no offer for the free Display Dock. I'm hoping it's just something Microsoft is waiting to flip a switch for...

My Lumia 950 has the offers app, but I can't use it because I don't have a SIM. (Mine is a Micro and I need a Nano.)

Oh ok, I didn't know the 950 had it as well...either way, the display dock is only for the 950 XL

Can you double confirm? The US T&C for this offer states "Available in Microsoft online store in the United States only". I wonder if I will be qualified for the offer if I buy one from a B&M store.

When I picked up my 950XL from a B&M store they told me to make sure to use the Lumia Offers app to get my free dock. But I haven't gotten that phone setup yet to see if it does work.

Oh, good to know. Please update when you can. Thanks.

Is this set to be a US unlocked only feature, or might it be possible for UK unlocked also??

Would love to know this too, would also like confirmation on whether the Amazon XL is dual sim, will try to ask them

Great! Now the 0.7% of people that actually need/use two sims can be happy! Combined this with the 2% of people that have Windows Phone, and the 10% of Windows phone users that have the 950XL (or will, being generous here), and wow. This news story impacts like 0.014% of the smartphone consumers!

Glad to know that in the world today, you're watching out for us around the relevancy of WindowsCentral articles. I feel safe now.

Me too, I was afraid he might miss counting me in. Not sure if he did, but I think he did.

You forgot another figure: 100% of the world wishes your father would have worn a condom.

Naw, I thought it was funny, so only 99%.

More like 80%. Yes, I'm implying about 5 people only read this site lol Posted via the Windows Central App for Android

Your name fits your toxically atrocious "humor".

How exactly does that work? Could I have 2 different numbers and 2 different carriers?

Can someone who has recieved a 950xl tell me if you have to activate the phone on a network to get the free display dock offer, or can you just power it on and connect to wifi?
I was planning on saving mine till x-mas but if I have to have it active on the network to get the dock then I might have to activate it early.

If I recall what I read correctly, you have to activate the phone to get the code for the free offer.

Darn, maybe I can activate it, get the offer in, and swap back to using my 920 for a few weeks. Guess I'll just have to see when it arrives, thanks for the reply though.

In terms of having to wait until Christmas, here's wording on that from the Microsoft Store:

"Valid with purchase and offer registration between 11/25/15 and 1/31/16 while supplies last. Redeem promotional code online through Microsoft Store by 2/29/16. Valid credit or debit card required at time of redemption."

Thanks, I think I must have misread that as 12/31/15 at somepoint which is why I was concerned. Hopefully they'll still have supply for the free docks for the whole period!

I have the 950 XL, and going in to the Lumia Offers app, the list is blank where the Display Dock offer should be. So right now, i'm confused as to how to obtain the offer.

Did you activate the phone on a carrier yet or just power it on? Maybe, like others have mentioned, you have to connect it to the carrier before it will show the offer. If you have activated it then it's hopefully just a bug Microsoft will have fixed soon.

Unfortunately, I already popped my AT&T sim in before I claimed my display dock

Anyway to find out if this will be the same in the UK?

Same here, really need to know, will buy 2 for the business if they are!!!

If that is the same for the UK when they turn up, that would actually be something to make me consider changing in my 1520 earlier than planned.

Are they carrying any holsters or Mozo cases in store? I'm probably going to swing by one or two local stores to see if I can pry one from them.

I am a fan of phone holsters also. I purchase one from turtlebackcase.com. They make good solid cases with swivel belt clip. I picked the holster for the galaxy note 4, extra large case for my Lumia 640xl. It fits with a rubber case. Make sure you pay attention to the size fitments. Price is very reasonable

My store in Utah has said they are giving the dock out with PreOrders. I believe others have to use the Lumia App as mentioned on the Microsoft site to get the offer.

Someone needs to try a Verizon sim in it in the hope that it will work despite our worst fears.

Doesn't work at all. Can't get Verizon SIM to do anything.

The unlocked one, right? That's a shame. I guess the Icon will continue to be my phone.

Great hope that ones in Canada will also be dual sim as i frequently travel and I have sims from all over the place and can now stop carrying two phones

I don't need it but it's better: to have it and don't need it rather than need it and don't have it. Thanks MS

Yep, I'm setting up my 950XL right now and it's a dual sim. The white back looks pretty nice

I'd be pretty dam annoyed if I was expecting to receive a single sim version but got the dual sim delivered. I'd rather the faster cat6 lte over a second sim slot I'd rarely used. Why don't they just sell both so people can get what they actually want. Damn it Microsoft!

Where is it set that dual SIM does not support Cat6 LTE speeds? I'm not being a jerk I don't see anything that suggests what you're saying is true.

Check out the specifications listed on the Microsoft website for both the single SIM and dual SIM versions. Under connectivity you will see they both support the same cellular bands but when you look at the download and upload speeds the single SIM is listed at Cat6 while the dual SIM is only listed at Cat4. So unless Microsoft have stuffed up the official listings I wouldn't want a dual SIM version myself.

I take it back, I am a jerk lol. The one place I should've looked, I didn't think to look. I will look into that, it's a good heads up.

So does that mean I'll have to see sim 1 and sim 2 all over the phone?

You can combine the two phone apps and two messaging apps. You use cellular data through only one at a time so it not that bad. In fact, the implementation is very neat.

Yes, but you can remove the "Phone 2" tile if you are not using it.

This will be my first dual SIM high end. Mind you, dual SIMs are popular here in Nigeria.

Dual sims are popular just about everywhere except the US.

This phone is for professionals...

What about the 950 dual SIM fans?!

The unlocked 950 is dual SIM as well.

I am returning my ATT L950 in store. Frustrated with frequent dropping off wifi signal and also very poor upload speed compared side by side with my 2 year old L1520. I am buying L950XL tomorrow in store. They called and confirmed they will hold it for me.

I have a prepaid SIM and a Plan, so dual SIM for me.

Prepaid for the gf, plan for the wife, right? ;)

got it now .... dual sim , nice!

I just picked up an unlocked 950 from the Microsoft store in San Francisco and it is also dual SIM.

I can confirm that the unlocked 950 I just picked up is a dual SIM one.

No EARPHONES. Daaaamn! I expected that to be the cheapest accessory i would get!

I'm kinda curious about this as well.. Would be nice if both SIMS were LTE, because every other duel SIM I've heard of is one 4g port, one 3g(or even 2g on port 2)

Can it download using both SIMS concurrently?

I didn't see the "dual sim" until after i bought it ..Bonus! I also was able to use $271 in Earn Rewards points. After 10 min of use I can say that the pictures coming from the camera aren't just good they are actually pretty creepy. When comparing pictures taken in awful lighting conditions against the Lumia 1020 the 950xl was much better, even shaming the 1020. I'm very happy with my purchase now just waiting for that brown back cover from Mozo to come in stock.

Looks like the online store has 950 xl available again!

So has anyone tried a Verizon SIM yet?

Officially makes sense why at&t didn't offer it and wont unless there is a single SIM variant.

Unlocked lumia 950 is also a Dual-sim Variant!

I don't mind dual SIM, but I previously bought a blu win hd and the WinPhone 8.1 os handles it terribly!!! Even when i only had 1 SIM installed, it would prompt me for sim 1 or sim 2. It was annoying because I only have 1 SIM. If I only install 1 SIM, it should behave like a single SIM phone and skip the unnecessary prompt. WinPhone has always been all about speed through efficient/context sensitive dialogs. This is not consistent with that and is annoying.

It says it right on the box in big letters, Dual SIM. Not sure what needed to be confirmed beyond that.

Well obviously nobody had seen a box before today and many of us still haven't.

But WC made it sound like you had to pull the phone apart to uncover the big mystery.

Does 950xl support Tmobile band 12 and wifi calling?

WiFi calling is probably not going to work at this point, T-Mobile could probably enable it in the future if they wanted to. (Windows 10 Mobile has built-in WiFi calling support.)

Just picked up my 950 Unlocked from Microsoft store. It is also dual SIM. According to the sales rep, all unlocked phone are dual sim.

I hope its single sim in India. I hope there's a choice atleast

Can we get a confirmation from MS regarding whether all unlocked 950 &950XL's sold by MS themselves will be dual sim or not please?

Important to know and check when your purchase !!!! only single SIM devices offer at least initially MVV feature (Visual Voicemail). A little annoying at simple access 4G SIM devices will be Category 6 (maximum throughput of 300Mbps theoretical descendant / s) while the dual SIM terminals will only category 4 (maximum theoretical throughput down 150Mbits / s ). Differences not very important in everyday life but differences still deserve to be taken into account when choosing its Lumia 950.

Can anyone advise please ... On dual sim phones can one sim be used for calls (business Vodafone sim uk in this case), and one for data (personal EE UK 4g data only plan in this case)?? Thanks

Yes. Only one SIM will be used for data. Either can be used for calls.

Thank you, gknow, as not had a dual SIM before. REALLY hoping they are dual for the UK so could have EE sim in phone and not have to carry around a dongle for SP3 to piggyback from :)

But you can configure which sim can be used for data without physically swapping them. At least that's how it worked in WP 8.1 on my BLU Win HD.

Thank you for that, really looking forward to one now - IF i can find dual SIM in UK :(

Hopefully they'll be selling Dual SIM versions in the Sydney Microsoft Store, too!

Just a heads up if you have the Nokia DT-910 charging stand. The only way it will charge your phone is if you lay it on the side. It is too big for it to charge the way it was intended.

950 xl dual sim for Greece. I have it for a week. I love it.