Unlocked Nokia Lumia 1020 now available from the Microsoft Store, supports LTE on T-Mobile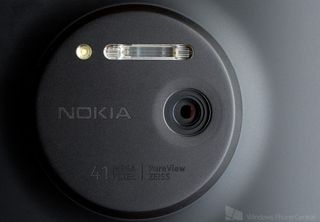 That was fast. Earlier today we shared that an unlocked Nokia Lumia 1020 would be available at some point in the future through the Microsoft Store. Turns out it's available right now and will work with both AT&T and T-Mobile.
Head to the Microsoft Store website and you'll find an unlocked Nokia Lumia 1020 available for purchase. It will set you back $549, but it is SIM-unlocked. It's also has the bands to work properly with not just AT&T, but T-Mobile.
Specs are the same as, but here you'll get support for the bands that will net you LTE on T-Mobile here in the United States.
Anyone thinking of picking up the unlocked Nokia Lumia 1020? Sound off below.
Source: Microsoft Store (opens in new tab)
Thanks for the tip Powerman777!
Get the Windows Central Newsletter
All the latest news, reviews, and guides for Windows and Xbox diehards.
That's enticing right there! That phone has a beast of a camera! Brought to you by the Nexus M8

Selling my yellow 1020 cheap!!

Can you do post in India...?? I can buy this for ₹12,000 ~200$

Saw them on eBay today for $350.

Looks to be the same as the Rogers version, except for being unlocked of course.

The Rogers version isn't fully compatible with T-mobile's bands though. Or at least there is a change in the firmware so the particular missing band is useable.

The Rogers version supports the PCS and AWS bands over both HSPA and LTE. What band is it missing that T-Mobile uses? None at all, as far as I can tell.

I'm using a Rogers 1020 on T-mobile and it picks up all their signals, I wouldn't have paid $650 ~2 years ago to import one if it had missing bands.

Interestingly enough, I just took a look at Rogers website and I see 1700 and 1900 but not 2100 in regards to LTE and T-Mobile requires both for the uplink and downlink. Whereas the Rogers 920 includes all necessary bands for LTE. I have a Rogers branded 920 and have used it with T-Mobile's service and LTE worked excellently. I'm using it here in Tel Aviv but only using HSPA+. I'd need a European 930 once LTE launches. Also interesting is that we have quite a few high tech companies which develop LTE chipsets here in Israel; one would think that we would have an LTE network up and running by now.
Anyhow, I was under the impression that the firmware locked up particular bands on the 1020, but if you have it working that's great! My mistake.
I hope that newer chipsets will truly allow for world phones that support all regions. LTE is a hot mess in the United States when looking at the bands.

Rogers was just using short-form which confuses the issue. Though in my experience they shorten it to "2100", rather than "1700", which is actually more confusing as 2100 is separately used under a different band plan in Europe and elsewhere. Rogers is referring to AWS whenever they say 1700 or 2100. All major Canadian carriers are active on all major frequencies in use in North America. For example, Rogers uses 700MHz, 850, 1900, 1700/2100, and 2600. And has coast-to-coast licences for all of the above, to boot. That'd be a dream scenario for any U.S. carrier.

Doesn't the Rogers 1020 have all the same bands as the Rogers 920? I have the Rogers 920 and it's fully compatible with T-Mobile, even gets great LTE speeds.

A coworker just gave me one after he got an M8. The camera is awesome. The FF cam also looks clearer than my 920. That guy is awesome. He gets a new phone about every 6 months and usually passed them to coworkers. As the biggest WP guy in our group I guess it only made sense. :D

This is great! Let's hope we see more unlocked WP phones in the MS Store. MS Canada store link: http://www.microsoftstore.com/store/msca/en_CA/pdp/No-Contract-Nokia-Lum...

The main feature of this mobile phone is its almost perfect camera that can be the main and only reason for buying this product.Take a look at this comparison at http://www.squidoo.com/nokia-lumia-1020-review and You will see comparison to HTC One and iPhone 5.

Get em while they're hot!

Wish plan prices would be lower since the phone is being purchased outright, but no such luck with AT&T. I might as well wait and get the 1020 successor for cheaper since I need the AT&T service, and plan prices would be the same anyway. For me at least that seems to be a better option at the moment.

plan IS cheaper on ATT if you purchase the phone outright...15~25 dollar/month depending on your plan.

You should consider an att mvno like aio/cricket.

Hmmm... Almost want to get this since I'm on T-Mobile and still LOVE the 1020 even though it's showing its age. It still takes amazing pictures. Plus, this would be a great device for travel - works almost practically everywhere except Mars.

You can always do as I did: buy it to use exclusively as a camera ;)

Yeah I've got a new wp on the way and keeping my 1020 to use as a camera also. Amazing pics!

You can buy a better camera though for $550 bucks. If only its specs were better I'd probably buy it. Posted via Windows Phone Central App

Not as portable, slim and with the convenience of wi-fi connection and uploading to the cloud in it though ;)

Agreed. Although for $350 for my NEX-F3 with an Eye-Fi card that does upload to the cloud is worth the extra bulk.

but can you check your email or browse the web or edit the photos you take on your NEX-F3? if you think about it, it's almost like having a mini-tablet with an outstanding camera..

Perfect retaliation for the inevitable recommending of chunky dslr devices

I'm waiting for the 1030. The lag from the camera due to the olderchip gets annoying when you're used to 'instant' stuff (yeah, it got better with updates. But once you've used the 1520, you realize just how much lag it has with it's camera).

You can also connect it to the internet of your shuttle and make Skype calls from mars

We got ATT 1020s unlocked and they work great on tmo. No aws, but the LTE and hspa are fine. Might be worth checking on eBay to save some jack

Basically, you either get 2g Edge, or jump to LTE (im some areas where the bands overlap with at&t). No 3g.

AWS is an extra band tmo uses for 3G/HSPA. Att doesn't use it. But tmo has been refarming so you will get lte and 3g with ATT phones on tmo.

Have you tried it on Mars, Sam?

Still my favorite Windows phone.

Woof!
I was looking at the 635. Not now if I can score one of these unlocked as long as the wife doesn't notice the missing money...

Haha grab this one as soon as possible;)

I have no idea, why you can get a wife. Lol WP lovers are always single :(

My black 920 can always be a conversation starter.

Yes Sir, I understand. I've heard that it's better to ask for forgiveness than permission. Good luck

I'm so gonna use this sentence next time I find myself in trouble. Thank you, my wise man!

False, if you want to stay married.

Hahaha I am thinking about to just that. Awful!

That's my plan concerning the 930! Lol

Just buy her some new shoes and you'll be fine

Is it really profitable to buy it outright? You save a whopping $10/month with Rogers in Canada (Bringing it to what $80/month?) I know this deal is for the U.S so I hope for the best.

This offer is also available in the MS Canada online store.

For some people on other networks like Bell its the only way to get a decent phone. (My plan is awesome and Bell gets better reception around my house so I can't switch)


As an European, and therefore someone who ALWAYS buys the phones outright, I say yes. The fact that you can buy the phone without any ties to it gives you the freedom to switch carriers as you please. It also allows you to resell it way easier than a phone tied to a carrier, if you wish to do so.

There is a big issue though: The device is unlocked not unbranded therefore you would still depends on AT&T for updates.
I only buy the latter exactly for this reason... and I have Data Sense etc. etc.

Really? maybe Sam can get this clarified.

I don't think Microsoft would sell branded devices on their stores. These devices they're selling most likely come from Europe. Otherwise you'd also get the AT&T logos on it and I'm sure these won't have them.

Yeap. They are unbrandred. CV Variant and 000-XX Mobile operator.

This is interesting... Hopefully MS will have Unbranded McLaren as well...

Microsoft sells branded devices too but this isn't it.

I've had one in my hands. They are unbranded. They come in Nokia boxes, not AT&T boxes...

Almost end of life what's the big deal of buying this phone

Besides taking the best pictures of any smartphone on the planet?

I would rather waiting for the successor with a"new life" as well as good camera.

+1020 the successor will be what? $100-$150 more than this, off contract, not worth it

Any "successor" will cost you around $750 off-contract. So...$200.

All this bs over EOL. Doesn't mean its anywhere near outdated, just isn't being manufactured anymore. Still a better phone than most of the phones out there.

Actually, EOL may increase demand for the camera. If no other OEM makes a camera like that one , or better, that phone could end up being worth a lot of money because it can multitask.

EOL won't make this phone any less awesome than it is now. Just like it didn't the 808 which is as good (when not better) than the 1020. EOL just means production will stop. It doesn't mean neither that the phone isn't as good anymore nor that the successor is right around the corner.

The Truth has been spoken! My 1020 and 808 PureView agree.

Exactly, you're buying outdated junk at a premium price, a little too late, this device and all other Nokia devices should have never been carrier exclusive, I now see Microsoft is finally bringing the similarity outdated Nokia tablet to T-mobile, when you are at the bottom of the barrel and playing Apple game, you are bound to lose.

Yes, but you'll need the cover (sold separately).

That's a yes, with a cover.. No would mean it doesn't support it at all technically..

I almost bought this phone today tapped Nokia camera and was greeted with loading screens galore. Put it back down and walked out the store.

Welcome to windows phone. All of them...

My 925 is fantastic at pics and camera apps. No issues with mine. EVER!!

Any OS can have issues with some devices, it is not exclusive to WP.

Well that was silly. It's called a first time tutorial. You can turn that off.

Yeah, the first time Nokia Camera is launched it starts a tutorial... so? You put it down and walked away from the best camera available to date on a phone.

When it says it supports LTE 700, is that the A-block that T-Mobile purchased from Verizon earlier in the year?

I would like to know that as well.

Great question. I would go with yes. But is that 700 spectrum located where you are? Because what's more important is 1900/1700/2100.

wish it was the 64GB version. I'm running low on mine :(

@Jack Neil ... 920 & 925 user and far from the truth.

I have a 920 too. It takes 3+ seconds to launch a camera app, the WP camera app is the fastest but its not instant..

Nearly instant and the shutter button allows me nearly faster times than my friends s4, and then it provides better pics. 925, MS spokesman already gave me the silent nod to wait for the 1020 successor.

Does it come with a protection plan that covers everything? Yeah, thought so. Oh well, back to the online vendors that offer protection plans.

In store Microsoft definitely has that. They always try to offer it to me. I can't find it online though...

Microsoft offers a protection plan on anything they sell and they have even honored standard warranties on things I've purchased from them with no hassle at all

Methinks you (morete908) have purchased nothing at a Microsoft store.

$99 gets you a two year protection plan, although accidental damage replacements have a $50 deductible.

Which isn't bad when tmo's plans run 175$ for accidental damage

Well I guess people in Manila are still lucky :(

+1520, I noticed the price and thought the same thing

The fact that this isn't tied to a carrier means that it should be getting every update that Microsoft pushes out. The AT&T 1020 probably won't since AT&T is too lazy to approve updates for EOL'ed phones, but unbranded phones like these will automatically be approved. I don't forsee Microsoft intentionally discontinuing updates for this just for the heck of it.

Selling unlocked phones that work on at&t and t-mobile now that carriers are getting away from subsidies is awesome. I hope they do this with more phones as soon as they come out instead of when they are nearing eol. Heck they could start financing them like the carriers do but you could use it on any carrier you want when ever you want.

You can get a used 1020 on eBay around $300 and a new one just above $400. Why buy from Microsoft?

You want to use it on T-Mobile and get LTE in a non-refarmed spectrum area??

Actually AT&T phones are fully compatible with T-Mobile LTE since they just use band 4 LTE which all AT&T phones support. But A lot of T-Mobile's 3G network runs on band 4 3G which AT&T disables since they don't use band 4 for 3G. Their phones support it, they are just being anti-competitive.

Don't have that money in my wallet

This is great! Better late than never. I hope that Microsoft will continue selling unlocked flagships upon release. This is our only hope for windows phone in Canada.

Nope I want the NL1520 for the same price they got it for in the Philippines I believe it was... Smh! I refuse to pay that price for that phone, especially since they should have had that same deal everywhere else.

running a lumia 1020 64gb.. amazing

like i said in my previous post for the Lumia1020 EOL article i'll say again here if Microsoft now selling unlocked versions of the 1020 , will it include 64gb model, i don't know why only O2 and certain latin markets are getting carrier versions of 64gb model, many would have liked to get hands on the 64gb model ( I for one would) , i wonder what pricing is like cause it's selling pretty cheap online, you can grab a nokia lumia 1020 32 unlocked version HERE for $399, if you purchase yellow version you get free camera grip included

That version doesn't list the extra bands that T-Mobile uses. This version is extra special for those on T-Mobile and the Canadian carrier Wind

I own a 1020. If you like a really good camera with you always, and being able to take photos that other people go WOW over, this is a great device. the size is nice. The apps all work great. Its a great price. Try it and see.:)

How does the camera on this compare to the 1520? Is it significantly better?

No smartphone camera can be compared to the 1020s 41MP

My Nokia 808 PureView exceeds my 1020s photo quality in several situations and takes pictures with less noise. The colors or not as saturated and the xenon flash is more powerful on the 808 as well. The 1020 takes photos that are more pleasing to the eye with better focusing and manual controls. The 808 camera hardware is beastly, larger sensor, dedicated imaging chip, more powerful xenon flash for more consistent white balance and faster shot to shot times. Right now I am using a 1520 + 808 combo after using my 1020 as my main phone since July 30, 2013. The 1020 camera is trying to live up to the legacy of the Nokia 808 PureView. Oh how I wish the 808 had OIS...

Of course an att phone supports T-Mobile's 1700 MHz LTE. But does it also support t-mo's 1700 MHz HSPA?

It says right on the Microsoft Store page linked here: HSDPA 1700

It lists the specs for 3 different model numbers. Which one is this?

They should have rolled this out to months ago to other carriers including T mobile and cdma carriers, would have really helped with the sales..

That much for year old hardware that's two months from EOL? #Pass

So true, I really don't get why they're doing this... Maybe to get rid of the ones in storage?

I FINALLY got AT&T to fix my account and give me the unlock code for my 1020 today, It's been a pain to say the least. Anyway, it's interesting that they'll start selling the unloked phone in store now with the news of it going end of life soon. Maybe ths is the start of the inventory clearing process.

Wait what. Didn't they say they were stopping support this fall or did I misread something?

Stopping manufacture. So I suppose AT&T exclusivity is up, take out all the stops? Great news for T-Mobile users

For Canadians, it is here: https://www.windowscentral.com/e?link=https2F%2Fclick.linksynergy.co...

Wow, that's expensive. You can buy them now in Australia for 459, brand new and unlocked. Can even get it bundled with the grip for less than 500.

I'll pass. Too little too late. With newer hardware coming out I'd rather wait a few more months. Unless the price goes down enough to entice me.

For me I always buy the International version of my phones so I don't have to have the ugly carrier logo on the phone

This would have been great 5 - 8 mths ago. Now I'll just wait for whatever new device is due in November. I was so ready for this when it was first released. Oh well.

Overpriced by about $300!!!

This may be a stupid question but do updates still have to go through the carrier first?

Unless another Lumia has a superior camera, I'm going to save money to buy this!

Nope, not worth the price of a surface pro 2.

If this phone has been available for This price back when I got my 928 (for $560) I would have bought this instead. But not today. Like it or not its old now

Looks to only be available in black? Posted via Windows Phone Central App

The reasons to not buy it:
- it is near end of life
- weak specs
- no wireless charging built-in
- price still too high given the above 3 reasons (an awesome camera isn't quite enough to buy, what with new amazing devices coming this fall.

The Gazelle eBay Store has the 1020 beginning at $211. http://stores.ebay.com/Gazelle-Store/AT-T-/_i.html?_nkw=nokia+lumia+1020...

Just got one from amazon $400 new on att

no its says not for CDMA carries such as Sprint & Verizon

only if the 1525 is a myth

I need one but don't have money!!!

That is odd... I thought Microsoft is going to declare Lumia 1020 reaching end-of-life in September 2014. Why would I pay so much money for a product that will not be manufactured, nor supported soon?

For best camera available on smartphone

OK. Lets say I buy this pone today, and in november the camera gets broken (auto-focus stops functioning). What then? Will I get a replacement? If Microsoft stops manufacturing Lumia 1020 does this mean they will stop manufacturing spare parts for Lumia 1020 also?

I expect by October the new kid of the town on sale

Unlocked 1520s on eBAY listing for $479. The 1020 is a beautiful phone, but no wireless charging without a case, small battery, limited memory. It could use the boost of the better processor of the 1520 as well. However, since I waited for the release of the 1020 to get a better deal on the 920, it is fair to say that in a couple months, even with EOL, the 1020 will be a steal. Worth the effort.

Instead of Microsoft store you can grab one at http://www.1shopmobile.com/Mobile-Phones/Nokia/Nokia-Lumia-1020.html for an unlocked one for 400,bought mine there and it works great

Wish they had a yellow one

Grab it at http://www.1shopmobile.com/Mobile-Phones/Nokia/Nokia-Lumia-1020.html instead of Microsoft store ,can choose from all colors,if purchase hello version you get free camera grip with purchase

Do you Americans get unlimited data? I am on 3 in the UK and for £15 a month I get 2000 minutes, 5000 on-net minutes, 5000 texts and completely unlimited data that is 4g where available and can be tethered unlimited as well. My husband has a Note 2 on same plan for £36 a month. He has 4g at work and can tether it. So we have great value.

Went through 3 1020s that I unlocked myself, all 3 of them were unreliable and I experienced black screen freezing. Wanted to love that phone but I got sick of being late to work because of it freezing in the middle of the night. Really love my 1520 now

I really hope that this phone will still get windows phone 9...if not "officialy", at least with Developer Preview.

They should have done this in the first place when this phone came out. I wanted this phone so bad but it was only on ATT and they were not providing unlock codes. I'm on TMos excellent LTE network so I purchased a very good 925...I really wanted the 1020 though as that was my 1st choice...

Same, I currently am considering having a family member bring over a L930 to me in Tel Aviv, but I'm not sure because I may move back to NY and the frequencies are different than Europe/ME. Then again, I replace my device every 6-10 months!

I want this phone badly when it first launched for AT&T. I have T-Mobile so I waited but ended up settling for the Nokia Lumia 810. Now I want microSD and that sensor on the Nokia Lumia 625 that is used as a Pedometer. I believe my dream phone is about to come out. I'm crossing my finger. My phone's microUSB is failing since those are made to break (planned obsolescence) vs miniUSB's (which lasts a lot longer). I just purchased a Qi charger back cover to prolonged my phone's life. Now I want that feature now too. LOL. Please Microsoft make this happen like Now...

Maybe end of life would not of happened if it didn't start carrier exclusive. This is being upsetting to me. I recently left windows phone because I couldn't get a proper high end phone on T-Mobile and was still using my 810. The carrier exclusive phones are killing windows. Posted via Windows Phone Central App

Really not worth it at this point, despite the awesome camera.

Guys..... 1520 International version is the best WP out there. Its got Qi, a great 20 mp camera that shoots in RAW, runs on ATT network, and its specs are leaps better than an old 1020. This is the best value for your dollar.

Not everyone wants a phablet-sized phone...

Not such a good deal. I have had my 1020 for almost a year and bought it unlocked from the MS store for around $350 as I remember. It is nice to know it is worth more.

The issue was changing the way they advertised the device like the 920 and then changing going to the 1020. They confused everyone. Even third party retailers.

Got one today for $252 here in the Philippines.

I love this just for the fact that it's now an option. Definitely going to wait for the next version though. Fingers crossed for a chipset that can handle that mammoth sensor properly and the return of a ND filter!