Upcoming Evernote app for Windows 10 PC won't be universal; Evernote Touch leaving store Aug. 2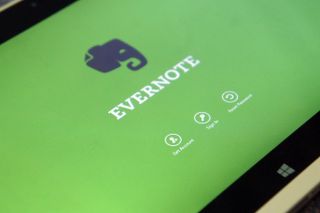 In an official support page, Evernote has announced that its upcoming app for Windows 10 PCs will be launched August 2 in the Windows Store, taking the place of the current Evernote Touch. Unfortunately, the new app won't be made with the Universal Windows Platform (UWP).
The support page (opens in new tab) reveals that the Evernote app coming to Windows 10 will be the same desktop Windows app that the company has made available for some time, only it will be offered via the Windows Store. This likely means that the app was converted via the "Project Centennial" bridge tools. So what about Evernote Touch? The company stated:
When the Windows 10 Anniversary Update is released on August 2, users who have Evernote Touch already installed will be automatically updated to the Evernote desktop app in the Windows Store. If you use Evernote Touch on an OS other than the Windows 10 Anniversary Update, you will still be able to use it:
At the moment, it looks like the Windows Phone version of Evernote will still be sticking around.
Thanks to Lloyd for the tip!
This is why I use OneNote. You suck Evernote....

Amen. Posted via the Windows Central App for Android

Exactly. Evernote won't be around much longer with recent price hike for features. Not a sustainable business IMO

Interestingly, OneNote even works better than Evernote on Android too.

This is the same for me ;)

Every week, Evernote seems to be strengthening the case for me to migrate to OneNote once and for all.

What is keeping you from NOT switching to OneNote right now?

Actually, that's a very good question. While I know there's now an Evernote-to-OneNote migration tool, I have a bunch of notes with encrypted content in them. I'm in the process of moving that info over to EnPass, which I'll then use alongside OneNote. I just have a LOT of notes, so it's not a trivial undertaking.

I wasn't aware encrypted notes were a thing. Does OneNote ofer that functionality? I have also read other users just saying the sheer amount of notes they have in evernote would be a deterrent to switch and use OneNote, which I understand.

It's not so much encrypted notes as encrypting parts of your notes... I don't know if OneNote has an equivalent function, but now that EnPass has Windows Hello support, I would actually prefer that over having to constantly type a password to unlock encrypted pieces of my notes.

For anyone with lots of notes to migrate, here's a link to the migration tool people keep mentioning: https://www.onenote.com/import-evernote-to-onenote

Awesome,thanks! I really need to migrate too... Just a lot of inertia which I assume is pretty common

The only thing I'd miss is the email to create note address.

I am in the process of migrating from Evernote to OneNote. I recently used the migration tool and found it very simple and effective. I am now running both apps side by side, while I make sure nothing has been missed etc. but adding new content to OneNote only. My main driver for this is the recent device limits that Evernote has announced for free accounts.

I have three sections in my OneNote which are encrypted, right next to some unencrypted sections. Works like a charm.

Sections in OneNote are not encrypted but only password protected, in Evernote, individual notes can be encrypted and more, Saferoom addin allow to encrypt entire notebooks.

"OneNote uses encryption to secure password-protected sections. If you forget your password, no one will be able to unlock your notes for you (not even Microsoft Technical Support)." (From https://support.office.com/en-us/article/Password-protect-notes-41165821...)

Awesome, thank you. So basically the same mechanism as in Evernote, then. I'll give the import tool a try and see if it pulls in the encrypted sections

I used the tool to migrate and haven't looked back.

Using One note more and more since a few months. Posted via the Windows Central App for Android

Makes sense. An app like this is useless on an Xbox and Windows phone's userbase is vanishingly small so really the only platform they need to target is PC.

Useless only to those who refuse to think of the possiblities of using it on other platforms. But we know how stuck in a rut you are, refusing to think outside the box, and to even consider that people may want to do things in ways that you don't.

I switched back and forth between Evernote and OneNote, back when there was no easy way to get your notes out of Evernote in a usable fashion. Evernote jumped the shark for me when they started selling socks.

Just use One Note and you are good to go.

My question is will it still have touch support? It would be mindlessly foolish to not support touch

Every Windows app supports touch. Now whether the items will be too small to touch, I don't know, but you can download even now that and see for free if you are interested to know.

No UWP - no thanks. OneNote is much better anyway.

Onenote still needs basic sorting functions. So far the answer has been to install onetastic and any one of the hundreds of macros. The only downside is it will only work with x86 onenote, but the changes will still be reflected in uwp onenote.

No, 2 versions of OneStatic, x86 and x64 : https://getonetastic.com/download

Yes, but for the point of my argument they are the same. You must have some classic desktop version of onenote in order to use onetastic.

works great on my iphone.

Evernote Touch is a mess anyway, one of the worst UI's out there. The desktop version is great though, makes sense they'll continue supporting that one.

Why do people bother with Evernote?!

I like Evernote mainly for clipping web pages. The formatting looks great. When I've used OneNote, it inserted a bunch of HTML code that didn't look good. Posted via my Moto X Pure Edition using the Windows Central App for Android

I tend to prefer the desktop versions (like Excel, Word and OneNote) over the UWA on my SP4, this decision is almost certain to be based on what subscribers are using.

You people are never happy.

... And thus Evernote got extinct - posted from future


I have no interest in using programs that aren't UWP and available on all devices. There is no excuse for it now. It's actually dumb on the debs part to not make it UWP.

Agree, there is no excuse for Evernote, when OneNote provide almost same if even better functionality and you are not restricted to any kind of platform. OneNote is even integrated into windows what is great. But most disturbing thing for me is new free user restriction have evernote only on 2 devices at time.

evernote will be gone 2 summers from now.
Windows Central Newsletter
Get the best of Windows Central in in your inbox, every day!
Thank you for signing up to Windows Central. You will receive a verification email shortly.
There was a problem. Please refresh the page and try again.