Upcoming Windows 10-based portable game console seeks funds on Kickstarter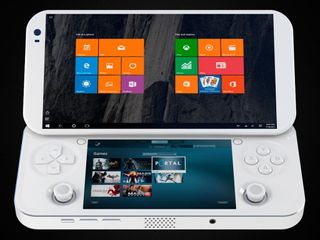 A company called Portable Solutions is working on a small game console that uses Windows 10 to run standard PC games. The console is now live as a Kickstarter project, with plans to start shipping the PGS console in March 2017.
The company is actually offering two version of their PGS console (via MSPU), both of which feature a design not unlike a Nintendo DS, with a dual screen, two analog sticks, D-pad buttons on the left and standard console buttons on the right, with trigger buttons on top. Both versions also have an Intel Atom "Cherry Trail" x7-Z8750 processor running at 2.56GHz. In addition to Windows 10, the console can also dual boot to Android 6.0 Marshmallow.
The PGS Lite version of the console has a 5.5-inch main screen with a 1280x720 resolution, 4GB of RAM and 64GB of storage. The PGS Hardcore version has a larger 5.7-inch display with 2560x1440 resolution, 8GB of RAM and 128GB of storage. It also has cellular wireless hardware so it can be used as a phone with the Android OS.
Portable Solutions claims that its console will be able to play the majority of PC games at minimal graphics levels at HD resolutions, with between 25 to 30FPS. Obviously, there's no way to confirm this until the actual console is released. The Kickstarter campaign has already exceeded its fundraising goal of $100,000 with 27 days before it is completed. The campaign is asking people to pledge $230 or more for the LGS Lite version via Early Bird pricing, or $280 or more for the PSG Hardcore version. The consoles are supposed to start shipping in March 2017.
That's actually where it got interesting

Really? You think playing ****** android games, like clash Royale, or similar on a handheld console is better, than playing need for speed, fallout, burnout paradise, and all the not most recent PC games, with steam, origin, GOG, Uplay, and the ever growing Windows Store? You're just a troll, or not a gamer at all :D

You really think you'll play those games well on an Atom processor?

Fallout 3, New Vegas, NFS Hot Pursuit 2010 and older ones? Yes. Of course, this is not for the most recent, most graphic demanding games, as I already said it.

I highly doubt Fallout 3 would run well on this, I can't even play it on a Surface Pro 3. This'll be for basic windows games or REALLY old PC games

Fallout 3 runs pretty well on my old crappy laptop, with 2GB DDR3 RAM, a dual core Celeron 1000M 1,8 Ghz processor, and integrated Intel HD graphics. And if a game runs well on this config, it can run on almost anything :D

Sorry, dude. I recently tried gaming on such processor. It is total ****. Half-Life 2 runs crappy as hell even on low-end graphics. So forget about Fallout 3. This game is difficult even for AMD A8 desktop CPU with very decent integrated graphics. So I think this device is just for Android-games or some really old Windows-titles, that could be even incompatible with Windows 10.

Random DS, on an atom? Possibly but everything set to extremely low and jumpy frame rates when you take into account the screen size, res and pixel density. Also you will need a low res texture pack to boost performance not that you will be able to get one as everyone prefers high res texture packs :). Fallout 3 and Fallout New Vegas as so poorly optimised it's mental. You need mod kits to fix all the bugs and glitches in the game. I have both, played both on PC and console - both are buggy to no end.


That's where I'm confused... GPU intensive Uplay, origin, steam games running on a handheld device whose graphics capacity is kept unknown.
Maybe the universal app concept might work but these games...duh..

Most likely will run Windows 10 Mobile. Windows 10 (PC version) is only allowed on devices with screen size 8+ inch

If it sees the light of day, Microsoft could allow it. I know it's older hardware, but I'm running Windows 10 Pro on an OQO Model 2+ (preproduction) with no issues whatsoever.

Do you really want to play those games on a 5.5 inch screen though? I don't. Posted via the Windows Central App for Android

Yeah, I want to. You can play your sh*tty droid games all day, while I play all those games everywhere :D With the controller buttons, those games are good :D The handheld is in your hand, so you're not watching that 5.5 inch screen from a kilometer :D So yours is the stupidest argument ever :D

Ah, I didn't realise I was talking to a child. Never mind. I could play those games on my phone now by streaming them from my PC, i don't because the experience would be terrible. Posted via the Windows Central App for Android

If performance is horrible when you stream to your android phone, then it is because android sucks completely.

Performance and experience. Two words you should look up, then maybe come back. Of course, if you're just a fanboy that probably won't help lol. Posted via the Windows Central App for Android

There are some fantastic games on Android, just like Windows, There are some terrible games on Android, just like Windows.

What fantastic games? I can only name one, that wasn't available on Windows, just droid, and is good, and that's fallout shelter, that's coming to Windows now :D So name some :D

I have Half-Life 2, Portal, and other PC games on my Shield Android tablet and console. You're running your mouth without knowing a damn thing of what you're talking about.

You realize you can actually do both. The choice is yours whether you want it to boot into windows or Android. So your point is not a valid one.

But people are arguing here, if this hw needs droid or not :D So my point is valid. And if I ever buy one of these, I will instantly remove android from it, because it's so useless :D

Options are better. I like that it has a mobile OS in addition to Windows. So I think it should have android on it already.

Sorry but calm down. If they use android, they use android. Not everything is a competition. (personally use and prefer win10m myself but there's no reason to then argue with all android users)

Android games would probably be better suited to a 5.7 inch screen. But some new UWP games would be great too. Personally I'd also load up a gameboy app and play some of those too, probably.

Well, actually I like how you presume to know what I meant and then proceed to completely miss it. If you had actually read the article with your nine year old brain you would know the android is only for the telephone part of the phone. Btw, real gamers don't play on a 5" screen with an atom processor. But don't let that get in the way of your senseless ramblings.

It might be the part where you can get cellular connectivity when you boot up Android. This would mean that you "technically" have an x86/intel smartphone.

Haha! You took the words right out of my mouth! :)

Yeah, less functionality is always better than more... Posted via the Windows Central App for Android

There's already a couple people asking to dual boot with W10M in the comments so hopefully they will add that option

You would think that would be the sensible option. How cool would it be to boot into full Windows 10 for a PC gaming experience and then boot into W10M to use it like a phone, all with Windows? I'd only get it if they did that.

I want the hardcore one And why the hell W10 doesn't make a phone calls if it's hardware enabled?

How often do people make phone calls with their desktops/laptops?
I'm pretty sure that's why the function isn't part of other than mobile. I wouldn't mind if they added it though

If they reach 500k they'd add that functionality to Windows.

@Kirsutin, hardly any laptop ships with a sim slot unless you choose it under custom options on a OEM site or get a specific model and paying premium in the process.


I feel like your making my point for me =)

That's where this company is showing its bias because if it can make call on the android side, as you stated, it should also be able to do it on W10 as well.

Windows 10 is not one OS. Mobile that does not support x86 makes calls. Non mobile does not make calls. One Windows..

Windows 10 doesn't have that functionality.

Apparently there is a fair bit of interest for this project, cause they are already 69.000 over their goal.

I'm never using Kickstarter again after the Agent watch and Stonetether, but good luck to those who do.

Same here, I feel your pain. Agent smart watch and Sound Band killed it for me. I have only kickstarted one thing since those debacles and it was basically a sure bet from a company I already had experience with. Otherwise I avoid Kickstarted like the plague.

A Core I can't play the "majority" of PC games at low graphics settings let alone an Atom X7. Even with the stated RAM the GPU is just too weak. Either they don't know this which means they don't know what they are doing or they do know and are trying to scam people. Thanks but no thanks.

Same thought here. Anyone to explain?

Yes this is useless. Top mobile games are not available for Windows and for Android, which has the top games, going with obsolete Atom handheld makes no sense.

They used a surface 3 for their game tests. It seemed to run dark souls pretty well. And the device will be close to a surface 3 in terms of specs

Close to another Atom based device and sold as gaming console?

Note they put the batman games on their "concept art". It won't run batman, period, with specs like this. There are companies that are brave enough and tried pc gaming tablets before (such as razer). Those cost thousands and struggle with overheating. I see a scam in the making.

This is actually pretty smart. There is a ton of fun games on the Windows store that would be better with a controller. On top of that it looks like you could run low end computer games like I've of my favorites Stardew Valley. I'll buy one once they launch for retail

A gaming console that can run games at minimal settings... The statement is contradicting itself!

A handheld console. Have you ever tried a 3DS, a PSVita, or a PSP? They're good, but not because fancy graphics. :D

They are running games at decent frame rates though, 25-30 isn't decent. This thing is going to play basic games and really old PC games, it is going to tank as fast as the Xperia Play.

We'll see when it launches. :D
But am I the only one who's okay with 30 fps? :D

Nope, 25-30 is perfectly adequate for this kind of device

But at least the games are optimized for those consoles... I strongly doubt that it will offer such an enjoyable experience...

Seems like a scam. There's no way something with that processor will play PC games, even at the lowest settings. I also doubt Microsoft or Google will certify a dual boot device, given how many of those have been announced and never released.

There are many dualboot tablets bro... But if I'll buy one of these handhelds, I'd delete android instantly from it :D

And make some extra space available.

Teljesen igazad van, én is ezt tenném :D

Anyone else using VBA10? That's what this gets me really excited for, you could literally turn this into a game boy. When I heard you can connect a Xbox remote to a phone, I immediately thought of this. But PGS is like 4x better because it was designed to play games.

I would have kept my Vita if I could have easily put emulators on it. That would be my first thing to try with this too. I haven't purchased a comsole since the Vita, primarily because Steam has almost everything, so I am curious how well my favorite games play on this. If just cause 2 worked, that'd be enough for me. Haha.

Ever looked at the Pandora? Pretty cool device for emulating old, classic games.

I doubt this could be any good. I'd eat my hat and buy one if I'm wrong, though.

I would really love it if someone did actually eat their hat, i mean I'd probably pay money... =P

i call bullshit on this one

Oh my god, their Kickstarter video is really, really bad. It makes me think it is bullshit. Oh man it's bad.

I wasn't interested until I remembered that you can stream from an Xbox.... Honestly, that would be better for it to be marketed as.

Wait, why can't it be used as a phone with Windows 10 and the radio?

The PC version of Windows doesn't have that capability.

The hardware limitations are real for this device... yes sure the Atom is zippy enough for basic tasks and some CPU intense programs like Photoshop but for games? Games beyond DirectX10 are more GPU oriented, in which the Atom doesn't perform that well. While I'm not expecting 60 FPS anything below 30 FPS can be problematic for some people. I might get bashed for this but maybe they could have waited a few months down the line for AMD to release their Polaris APUs (assuming the power consumption reports are accurate) and use that instead of this Intel Processor that can't even maintain 30 FPS correctly.

Yea, I think more OEMs like this should give AMD a chance in the gaming department Posted via the Windows Central App for Android

Yea, I think more OEMs like this should give AMD a chance in the gaming department. Posted via the Windows Central App for Android

That would probably be a better choice but even that will struggle to play any high end PC games at anything above medium settings, especially at the 1440p resolution they are shipping this with. The resolution is a mistake, the rest of it just doesn't seem feasible with the hardware they have chosen and the size of the device.

So here's what I'm thinking, swap the CPU for an AMD Polaris APU. Reduce resolution to 1080p if most modern games cannot run smoothly with 1080p then drop it to 720p It won't run 60FPS on med or high but at least it'll always be above 30FPS.

That's if it has swappable CPU. Considering the small device, it could be likely they integrated it. (I could be wrong though)

Thats crazy. A game console based on Atom? Dont know a better way to shoot yourself in the foot.

Name should be change to Xbox portable

Is this a joke? Not only is the video terrible(out of sync audio and angelic Edward Cullen look), but the integrated graphics processor isn't going to be able to play anything. I think at this price you'd be better off buying a 2DS or 3DS and get some amazing games to go with it. And even if you wanted it as an emulator for older games then there are still cheaper options... The concept is cool, but the specs aren't up to snuff.

the company uses a different language, hence the lip syncing problem, they got someone to voice over. Also the specs are fine, as i have a bunch of devices that are low spec, ive managed to play essentially most games fine. its all about the right settings, which you wil be able to alter as its windows 10 programs. For example i can play fallout 4 on my surface pro 3 (25-30 fps, 720p), and this has MUCH better specs than that.

No thanks. I have my phone in my pocket

I've never participated in these Kickstarters, but this one is one of the most overzealous ones I've seen for sure.

It all can be done , if my old Nokia N-gage with 104mhz cpu and if I remember just 4 mb of ram could run graphic like Sony playstation one did I really don't see why Windows Phones couldn't be actually good gaming platform with 1gig or more ram and 2+ cores cpus

It seemed fake when I realized the volume controls are the EXACT same as the iPhone 5 c

Well if it can't run PC games pretty well at least I can remote play on my Xbox One

All I wanna say is that Windows 10 is taking a big momentum!! :D

Now everything's Windows...

Getting 25-30 fps at minimal graphical settings is what scares me. They would be better off making it a 1080p screen instead of the 1440. That would help with game performance a bit. Maybe jack the thing up to 6 inches and add whatever the next level GPU is they can cram in there. 1080p and slightly better graphics should be able to get you to 30fps on medium settings. That makes it a little more viable. If they can't get to atleast that level of performance than this thing is not a worthwhile gaming option. It's simply a glorified gaming phone.

Hey, I'm not gonna buy this thing, because its got terrible processing power, but I will be interested in future models that (hopefully) will have dedicated graphics!

I would rather use the marshmellow on that thing. The specs on the hardcore is even better than my laptop (not sure about gpu tho). I am most worried about the thermal throttling on that thing.

I would rather use the marshmellow on that thing. The specs on the hardcore is even better than my laptop (not sure about gpu tho). I am most worried about the thermal throttling on that thing.

Best case scenario it comes out only 1 year behind schedule and has 25% of the original promised features.

Android? Runing at minimum? Nah. Would fail.

The trolling and ignorance in these responses is monumental. Sure this thing is marketed at mobile gaming for windows an its AAA titles. And yes the video was poorly dubbed and spliced together, the super focus on the "japanese" hipster as a selling point is going too far. There are doubts about PGS securing the requires SOC's from Intel as it is a discontinued line, there's recent news that INTEL themselves have reached out to PGSLABS with offers of partnership. In the end if you hate it, love it, or think it's a scam, the concept looks great. I think its a small step in the right direction, its practically an Intel Stick PC with a screen attached. It replicates the Surface 3 in everyway, if your wondering what performance for PC games will be, just YouTube gaming reviews on this tablet. I'm interested in this device not soley for gaming, but because of its versatility. I dont expect it to play great AAA titles, but it would be cool to have a full blown Win10 pc in your pocket, one you can hook up to a monitor at work and use a wireless keyboard and mouse, putting a 256gb MicroSDHC card in, toting HD movies around. Playing practically all the indie titles on steam, as per mentioned previously StarDew Valley. And to be honest, it probably will be the most powerful mobile console in the world if it gets released. Better than waiting 5 years for new iterations of Sony and underspecced/behind the times Nintendo. Just my 2 cents.