Update 3 and Lumia Black now available for the Lumia 620 on Telus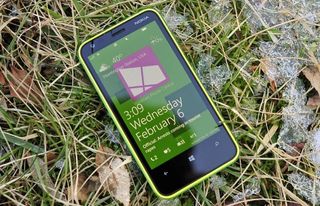 We're less than a week away from seeing Windows Phone 8.1 publically unveiled. All Windows Phone 8 handsets are able to upgrade to the latest and greatest version of Windows Phone when it becomes available. However, there are customers out there still waiting to get Update 3 and Lumia Black. Our friends using the Nokia Lumia 620 on Telus can now check that off their list. The update is rolling out for them.
Our friends north of the border using the Lumia 620 should be getting Update 3 and the Lumia Black firmware update right now. The over-the-air update appears to be rolling out.
Head to Nokia's support site and it'll still be listed as 'waiting for approval', however we're getting reports that users are seeing the update. You can check yourself by going into settings, clicking phone update and then tapping check for updates. Your Lumia 620 will check with the network to see if the update is available. Be patient if you don't see it right away, the update is still rolling out.
Windows Phone 8 Update 3 and Lumia Black bring a few new features to the mix for users. Look forward to better Bluetooth, custom ringtones, improved app switcher and more.
Thanks for the tip Braumin
How many more phones still need it? o.o

Tell me about it! It has been dragging on long lol

Thank goodness for the developer preview.

My Lumia 520 hasn't been updated to Lumia Black yet.

That's y i believe using country variant sim card

And I check it everyday for updates. I even tried to use the Recovery Tool from Nokia without any results.

You could try to change the ROM? There's info on it in the forums.

The Lumia 810 comes to mind.

Sadly I was expecting that phone. :/ My brother and sister both have it, at least the Extra+Info add the new Glance features if you have the preview, but that's about it. :/

Lumia 620 on Aio Wireless here in the U.S. of A.

Yup. No love for the 620 on aio. I had to load the Denmark or Swedish version version.

How do you load a software from a different carrier? Sorry, I am new to Windows Mobile.

Yep, still waiting on that one myself. I think AIO signed some contract that they're guaranteed to be the last carrier to publish an update. Not sure how that helps them, but that's what the empirical evidence suggests.

My Lumia 520 doesn't have the update yet. Apparently they are still testing it

Both my aunt and cousin have AIO 820s that need updating. It's pathetic how long the delay has been for them.
I factory reset one and now it does Not even say it's Amber anymore! The other phone does say Amber. I've checked and they both have the exact same os numbers. Attempting to update says they're both current. Weird and sad.
Edit: Remember people AIO is AT&T and AT&T doesn't care about what their customers want or how they feel. I'm sorry but they don't give one shit. They'll continue to strong arm as many people as they can.

Sam... What app is that on your lock screen that is showing the detailed status o_O

Yes... I noticed that rather disturbing story headline

Is the update 3 called also "Lumia black"??

Update 3 is the Microsoft part and black is the Nokia part.

It was also released on Orange Dominicana about 2 weeks ago.

Nokia availability page says that Black is avaiable since a month ago in MEXICO, but NOBODY can download the update!! WTF!!! http://www.nokia.com/global/support/software-update/wp8-software-update/availability-in-latin-america/

Not even with nokia recovery tool. Iusacell 920

Still not available for my Lumia 620 Jamaica on carrier digicel and not available for my Lumia 920 that's a puerto rico country variant :(

I'm on the exact same boat. My wife has the 620 (Digicel) which aparently comes from Jamaica, and I bought the 920 (Multimax) which aparently is from Puerto Rico. I'm in Panama by the way.

Half of the Brazilian WP didn't receive this update yet!! I hate Nokia Brasil!

Yesterday i recived Lumia Black on my 520.

If these guys just receive the black and update 3, then how long they gonna wait for 8.1? Cause thats depends on the carriers right?

it's not consistent in terms of timing, I'm on rogers and we were one of the first in the world to get NL920 and then get GDR1, took us forever to get GDR3 though

When it comes to bell, i got my gdr3 just days after they release if im not mistaken.

8.1 is a Microsoft update, which we can get as soon as it's released via the Preview for Developers. Black is a Nokia firmware which has to be approved by the carriers. So, we will be able to get 8.1, but at this phase, Blue will be a long, long wait.

Yeah but not all people are aware on prev for dev. Well if they are not aware on prev for dev, then they dont care for update.

And suddenly T-Mobile (US) ain't that bad...

Yes, yes they are. <-- (Bitter 810 owner)

I am very happy that the Windows Phone 8 update process is much better than the Windows Phone 7 update process.

http://www.nokia.com/global/support/software-update/wp8-software-update/... look at europe! nearly every country has the Update on ALL providers, why is it so difficult for others? And why are thre no US Country variants, free phones without limitaion were to sell !?


I can confirm that this is correct! Downloading on Telus as week speak!!! Finally!

Got the update yesterday on our unlocked 620 from Expansys-USA.

I thought we were done with GDR3 & Nokia "Black". By this rate, people will start getting 8.1 & Nokia "Blue" by the time Microsoft releases GDR4 (or does 8.1 count as a GDR update?)

What is this Telus you speak of?

Telus is a Canadian cellular service provider.

Got this on my telus Lumia 1020 awhile back.

My daughter will be pleased!

I'm ABSOLUTELY LOVING Lumia Black!!!!

Congratulations! I really wish everyone was treated equally, but sadly that day will never come.

got the update from PH last week.

Lumia 620-brazil. Just got amber few weeks ago. No sign of black yet. Expecting it for end of 2014 if lucky

FWIW, successful update here with an unlocked Telus 620. Took about 25 min to complete. Though it looked like it stalled after the download was complete, and again when it was "preparing the install," I gave it time to churn and crunch through the process, and resisted the temptation to intervene with force quitting the phone. Just for belt and suspenders caution, I disabled the phone's password, SIM password, and plugged in the charger; then, rebooted the phone; and then initiated the Black/GDR3 update. Wishing everyone a smooth and 'unevenful' upgrade :) Sending our fellow AIO, Brazilian, and Jamacan L620 compariots my sympathies. It really stinks y'all have to wait even longer. It ain't fair :(

T-mobile user here, Windowsphone 8x , still awaiting gdr3........ I feel like the last kid on the block, still using dialup !

Now lying on teh bed feels more better.. :)
Windows Central Newsletter
Get the best of Windows Central in in your inbox, every day!
Thank you for signing up to Windows Central. You will receive a verification email shortly.
There was a problem. Please refresh the page and try again.