Update released for official Twitter app, likely contains minor improvements and fixes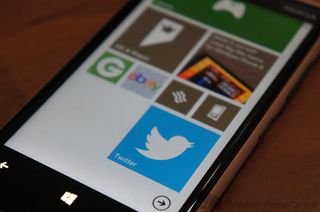 The official Twitter app has been bumped to version 3.0.0.20499, which (as one can tell) isn't a massive jump on the previous release. We can only assume that this build includes some minor fixes and improvements to address any issues that have been reported since the major upgrade was pushed out late last month.
It's good to see the app become frequently updated, which is a refreshing change to what experienced Windows Phone owners have endured since the app was made available. Notice anything new in the latest update of Twitter? Be sure to shout out in the comments. Should you not have the official app in your arsenal, you can download Twitter from the Windows Phone Store.
Thanks, Zeni, for the tip!
Rich Edmonds is Senior Editor of PC hardware at Windows Central, covering everything related to PC components and NAS. He's been involved in technology for more than a decade and knows a thing or two about the magic inside a PC chassis. You can follow him over on Twitter at @RichEdmonds.
Damn it still no Dark Theme :( but glad to see Twitter are finally supporting their app properly

I agree. Black background would look a lot better on a clear black display.

The Lumia900 (my phone!) does have clear black display to what I know.
I love my phone; I just wish I could afford the 920

Yeah it will be sorely missed. I don't like my retinas burned every time I want to tweet. :)

+1,000,000! Loved the optional dark background. Why would they get rid of such a cool (although minor) feature?

When you rate the app, let them know. Stress it out on the importance of having a black background.

Can we post a picture yet?

I love the "pull to refresh" feature. I don't know if it was there earlier, but I just noticed it and it's lovely. It feels so natural. Microsoft should grab and patent it.

It's been there before :)

Yes, I love this also. Most include it, but think it should be in all social apps.

Grab it and patent it? Isn't it a really prominent iPhone feature?

It now shows a message in the push setting when you can't receive notifications because you reached your app limit.

No more splash screen. I wish they would remove the functional-less Twitter icon at the top. Put the bird in the bird house or something.

Wouldn't it be nice if the bird could at least flap its wings or something? Instead of just sitting there looking like it was......well....stuffed?

The bird is where the "real name" of the account in use is shown if you have more than one account added.

This new design seems to waste way too many pixels on the top. Who needs all that space for a bird, and lots of empty?

I got 3.0.0.31940? How is this an update?!?

Hope it fixes the issue when loading more tweets took you away from the correct position in your timeline.

And yeh what's with that Twiter icon?

And I got 3.0.0.37713 ?? And can't update

No dark theme
No double wide
Wtf

I have double wide on mine.

I have the double wide tile as well but does it have any useful functions other than taking up space?

It doesn't seem to update or anything. And when I tried to resize it back to a small tile it went blank. The Twitter logo was missing. I had to unpin/repin it to get it back.

Maybe they'll take advantage of the space in a future update. That would just about make it complete.

My wpcentral app just went blank...

It says updaterel on the left side

Tipped them about this couple of days ago. Well hopefully twitter updates this app more often than before.

I wish they made the gigantic bar at the top not as thick.

Maybe I'm mistaken but we can't save any picture right?

I haven't found a way to save it directly, but you can always take a screenshot and crop the bottom.

Wish I could take screen shots, I have 7.8 is :/ crying now...

I'm sorry I wasn't aware that 7.8 didn't have screen shot ability. :-(

Some links you can follow and copy from page

L A N D S C A P E ! ! ! =P

Has anybody else noticed that tweets saved as drafts do not get removed from drafts after the tweets have been sent?

Still awaiting the return of the dark theme. Removing it was just stupid.

Thanks for the reply also!

I assume different versions for different regions/phones?

I am SO happy to see Twitter releasing regular updates for this app! After over 1.5 years of no support, this is a VERY welcome change!

Thank you Twitter for the updates! Once upon a time I used RSS... these days Twitter works as a succint news feed.

I really want vine. Its pretty cool

Whey there is no updates like this for Facebook ??????????????????????????

Rumour : Windows phone is going to get a new updated Facebook app in a few months

And you heard this from who?

im still having problem with the push notification counter being stuck at 1 on the lock screen and on the live tile

Ha, I can't even get push notifications. None.

Our discover feeds isn't as great as on the android and iOS apps. We need more info not just the trending list.

Anyway to delete direct messages yet?

Every account I follow from the app automatically gets signed up for mobile notification (text messages me every time they tweet). Me no likey.

It said that i have too many notification running. What? I only have mehdoh, and whatsap notifying me about things.
Only 2 background app as well, HTC Hub and wpcentral. Weird.

I have 3.0.0.31940, but the update version in the store shows 2.0.0.3, yet it still shows up in the store as an update.

After update, now the version is 3.0.0.20499, looks like a downgrade to me.

Mine shows ver. 3.0.0.29754 after the recent update (Lumia 800 wp7.8)

Wow!- after this minor update, Twiiter app now launches amazingly fast with no need for the twiiter lauch screen!

what is that icon of vibration in picture?!!, im looking for that tils! thanks

It's Baconit, a Reddit app.

The push notification doesn't work for me. The setting also has this notice that I have too many apps that use push notification. Woot? There's a limit for push notifications??

How many apps are allowed to run push motif at the same time? I only listed 4 apps on the backgroud task. Is it include email and Me Hub? Thnx

Try uninstalling app, then re-installing. Worked for me.

It Works! Thank you BCH! But now Rowi stoped pushing my mention and messages. I'm quite happy with the Official Twitter tho :)

A few more updates for this app and it will make all 3rd party Twitter apps useless

Mine shows ver. 3.0.0.29754 after the recent update (Lumia 800 wp7.8)

After the update before this one I lost the image on the tile, and this one didn't fix it does anyone else have this problem?

I still have issues with the touch box on each post being offset by one or two posts.

My three main gripes were 1) no live tile, 2) too much space between tweets and 3) too much space taken up by the header and that pointless bird icon. So, nothing to see here. On the plus side, it is quick and simple, which means that it's a good option to have installed.

I love the new Twitter in general very solid Windows App!
Windows Central Newsletter
Get the best of Windows Central in in your inbox, every day!
Thank you for signing up to Windows Central. You will receive a verification email shortly.
There was a problem. Please refresh the page and try again.