Updated version of NuAns NEO Windows 10 Mobile phone in the works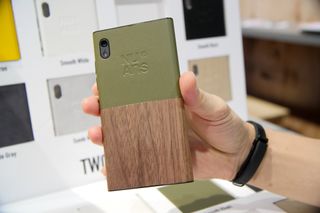 Japan-based NuAns has confirmed it is working on an updated version of its NEO smartphone with Windows 10 Mobile. However, the specifics on what will be changed have not yet been revealed.
The NuAns NEO launched in Japan earlier in 2016, but the company failed in its efforts to crowdfund a worldwide launch for its phone via Kickstarter later in the year. In a recent comment post on its Kickstarter page, NuAns stated its plans for the future.
The first version of the NuAns NEO had a 5-inch 1280x720 display, a Qualcomm Snapdragon 617 processor, 2GB of RAM, 16GB of expandable storage, and a USB Type-C port along with support for Continuum. Its most unique feature allows owners to switch out both its top and bottom cover for the back of the phone, with 64 possible combinations.
Again, the company has not offered any details on what improvements it will add to the NuAns Neo, but it did say that it will provide that info via its monthly email newsletter.
Thanks to Sudip Patil for the tip!
Windows Central Newsletter
Get the best of Windows Central in in your inbox, every day!
They need to understand windows phone users are cheap and want a 4k 5inch display with a sd 830, 4gb ram, 128gb on board storage, micro SD up to 2tb , 4000mAh removable battery and a 20mp 1.8f camera... For $150 unlocked.

This is sad but true. Although it tends to be the case with a lot of people these days. Somebody was complaining that Enpass was too expensive and should be free the other day.....People want things for nothing and don't really care about the people trying to make a living from it.

Reminds of the person who was trying to tell me that I should not be paid to program because it does not produce a physical good. People be crazy

Lol that's cray cray Summer Moon. Yet theyre probably the same people to buy games and programs digitally..

Lol, they are also probably the ones that thought it was crazy to have to take a programming class for a non-computer degree and had the professor do the work for them (yes, I really do know of a "programming class" where the professor will do the work for you because of this attitude).

You mean you don't just devote all your time and effort out of the goodness of your heart? Shame on you. You should be living on the streets and borrowing a computer to program. I've had to explain that to people many times even going back to my company wanting to buy one copy of a software and install it on nearly 100 systems. They kept just saying that they already paid for it. When I said yes you paid for one copy they just looked at me bewildered. I kept explaining you weren't paying for the disk, you are paying for the work. Still didn't get anywhere and just had a bunch of pissed people because I insisted they buy enough copies.

Yep, this exactly. Nobody understands what all goes into making software (and even half the people working on software really don't know how to do it and rely on someone else to do the work for them). The other excuse I was told is that open source software is usually free so all software should be and most of those programmers don't get paid so why should others. Ironically when the Windows Insider program started, a lot of people were shocked at how bad the software is when it is being developed. It is by no means easy work. Although it is interesting how it is moving away from paying for a copy of the software to a subscription model. Guess subscription is easier to understand/grasp?

I partially blame apple for that. They set the precedent of the free/99cent app so that's what everyone expects...i work at a software and design firm, and people are shocked when they find out how much time and money apps require to develop. So app development is a **** show. Everyone wants an app with all the bells and whistles, but don't want to pay for it.

I paid for many apps and most (90%) of them is not yet updated or available in w10m. And now due some issue I end up error while trying to pay for new apps. But in wp8.1 it was okay. I'm sad !!

Look at Mr. Rich Guy - $150, surely, you jess. We want to be paid to use it.

We want to be paid to use it.

I'd have to be paid to use something as ugly as the one pictured in the article.

This guys knows what World want.
Keep cheering his wisdom

@ttsoldier
And it should also be able to project a fully functional holographic image of Seven of Nine when the mood hits them.

This is how the customers respond when you keep teasing them with "Surface Phone" but it does not show up since years. ;)

At what point did Microsoft ever officially tease the surface phone?

Hope the newer one is cheaper with better specs

That's not how it works... The higher specs causes higher development costs, meaning higher retail costs

This version was priced much higher. Just compare it with Xiaomi Redmi note 3.

Although I do agree that it was priced quite high, you shouldn't compare any phone's pricing with Xiaomi phones. They have the thinnest margins and they make up for it by selling in huge numbers in China and India. Nuans can't do that especially with a Windows 10 Mobile phone.

Even the processor was much lower than mi note 3

If MS is willing to license its Nokia camera tech to all the WP OEMs, we could do without Lumia. It will be good for the consumer sector which MS is abandoning. If the new NEO is eauipped with MS L950 camera tech, it could be a hot seller. If the HP X3 has the MS camera tech, it would be the best W10M phone for now.

With no consumer presence, this is exactly what I think MS should do. The Elite X3 with the 950's camera would've been perfect. They've nothing to lose and just sitting on the tech/engineering will see it slowly overtaken until its of little value.

It wouldn't hurt to make it pretty as well ;)

New one is running Android.

it will be even worse if ruuning android.

Re: vhyr,
Source? Or troll?

Well they said it would be upgraded and improved edition.

yawn sure the last andoid superphone had an exploding release and I'm sure all the android fans had a blast in thier pants i.e... A mature OEM releasing such a dangerous device!!!.. I was thinking of switching over to Android but It plainly looks BAD and then the blastgate happened.. lol

Hes our resident troll, we love him even though he has many faults :P

With that kind of hardware it needs a 1080p display to really look its best. Hoping they change that, the dual back plates are a really cool concept

Agreed. The hardware wasn't terrible...

I think they belive in the platform that`s why they are doing another run at it. Who knows there may be some help given by Microsoft. I wish they would have the device thinner, screen at high resolution and more bright than the previous. Fastest processor possible plus large storage. 64GB should be the default. 4GB RAM and microSD support. Keep the replaceable cover/backs.

Lol you're describing a flagship device....one I doubt you'll see from a Kickstarter campaign..

What actually they are updating. Design (ugh) or Specs.

If nokia return to launch new MS Phone i will bought ..

Good to hear an OEM working on devices for WM. I guess they must really believe in the WM10 platform to even consider a revision despite the not so stellar performance of the previous one. As for me I'll keep buying WM phones if anyone keeps making them!

Give them a break. I liked it but I want the premium design and craftsmanship

Here's hoping the next one is much much thinner, then they'll have a winner. :-D

It seems to me that the replaceable backs should be compared to a phone with a cover. So how thick are these compared to 950 with a Mozo wood cover?

Keep the same design and size, but update it with flagship specs instead of mid-tier and it'll be awesome

Its nice to see ur own name in a Windows Central article... ☺

Well, personally, I would be looking for a mid range phone like this one. The SD650 is awesome so hopefully NuAns have a crack at it.
Not a fan of those campaigns though. Just take the order and ship to me.

I think this one had perfect specs for a mid range budget device(almost same to Moto G4) with some of negatives... it was bad in design(thick), overpriced(should be under $230) & available only in Japan

Consider a BLU life 1x and many other chinese phone offer FHD/3gb/big battery for $150-$200US, I am happy to pay $250-$270US for FHD/3gb/big battery/16gb/sd​/decent camera/contiuum(w/ dock) IF it has a camera button.

They BETTER make the improved version have a 2K 6.3" screen, 4000mAH removable battery, Snapdragon 821, 20MP camera, 4K recording and microSD card support.

If they do that, will you sponsor them through a campaign? Or you just want good specs on cheap? Be realistic folk. NuAns has never been about flagship.

I'm still incredibly sad this did not make it out of Japan and my pledge went uncollected. Exactly the class of device I'm looking for and I, for one, dig the styling. I've been keeping my eye on this. We do have a forum for this device: http://forums.windowscentral.com/nuans-neo/
Windows Central Newsletter
Thank you for signing up to Windows Central. You will receive a verification email shortly.
There was a problem. Please refresh the page and try again.