Updates coming to Fresh Paint on Windows Phone and Windows next week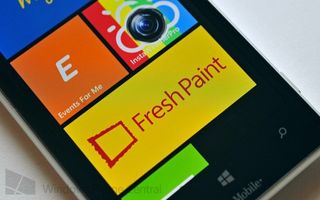 Earlier this summer, Microsoft released a preview for the next version of their popular art app Fresh Paint. The beta was aimed at users on Windows 8.1 and was notable for bringing SkyDrive integration into the app. That syncing abilty later came to the Windows Phone version of the app. Now both apps are ready for a big update next week that will coincide with the launch of Windows 8.1 to the general public. Let's check out some of the new features you'll be using next week.
October 18th we'll be getting a new version of Fresh Paint for Windows 8.1, while October 14th will see the new Windows Phone version hit the Store. In the new version of Fresh Paint you'll be getting watercolors, a new graphite pencil set, and a clean, modern user interface. There's also going to be the option to print your artwork through a third-party canvas maker. There's also improved stylus pressure support and increased realism for rendering watercolors. Awesome stuff right?
One of the coolest new features is the partnership between Fresh Paint and CanvasPop. What's CanvasPop? They're a company that has been printing high quality photos on canvas since 2009. They have a new API that Fresh Paint is the first to tap into. This will allow users to take their artwork from Windows 8 and onto their living room wall. Check out www.canvaspop.com/freshpaint during the week of October 18th to take advantage of some deals between Fresh Paint and CanvasPop.
There are some other new features unique to the Windows version of Fresh Paint, like the new Inspire Me section. Here you'll get images through Bing that you can import to get the creative juices flowing. It's tuned to be family friendly, so you won't be painting an impressionist piece of Jenna Jameson through this feature anytime soon.
On Windows 8.1, you're also getting some really good improvements with the filters. For example, the Oil Daub has been improved to really highlight unique oil textures. Stylus support has been improved dramatically, you'll notice this using something like the Surface Pen to erase.
What's coming to the Windows Phone version? You're picking up a new option to draw with pencil. This will produce some pretty killer sketches while you're on the go. The Windows Phone version of Fresh Paint is also grabbing some new filters alongside an updated user interface.
We'll of course let you folks know when these apps go live in their respective Stores next week.
Source: Windows Blog
Get the Windows Central Newsletter
All the latest news, reviews, and guides for Windows and Xbox diehards.