Updates coming to Fresh Paint on Windows Phone and Windows next week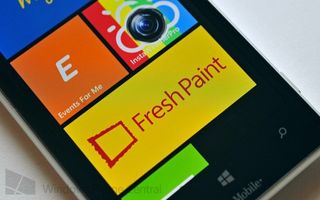 Earlier this summer, Microsoft released a preview for the next version of their popular art app Fresh Paint. The beta was aimed at users on Windows 8.1 and was notable for bringing SkyDrive integration into the app. That syncing abilty later came to the Windows Phone version of the app. Now both apps are ready for a big update next week that will coincide with the launch of Windows 8.1 to the general public. Let's check out some of the new features you'll be using next week.
October 18th we'll be getting a new version of Fresh Paint for Windows 8.1, while October 14th will see the new Windows Phone version hit the Store. In the new version of Fresh Paint you'll be getting watercolors, a new graphite pencil set, and a clean, modern user interface. There's also going to be the option to print your artwork through a third-party canvas maker. There's also improved stylus pressure support and increased realism for rendering watercolors. Awesome stuff right?
One of the coolest new features is the partnership between Fresh Paint and CanvasPop. What's CanvasPop? They're a company that has been printing high quality photos on canvas since 2009. They have a new API that Fresh Paint is the first to tap into. This will allow users to take their artwork from Windows 8 and onto their living room wall. Check out www.canvaspop.com/freshpaint (opens in new tab) during the week of October 18th to take advantage of some deals between Fresh Paint and CanvasPop.
There are some other new features unique to the Windows version of Fresh Paint, like the new Inspire Me section. Here you'll get images through Bing that you can import to get the creative juices flowing. It's tuned to be family friendly, so you won't be painting an impressionist piece of Jenna Jameson through this feature anytime soon.
On Windows 8.1, you're also getting some really good improvements with the filters. For example, the Oil Daub has been improved to really highlight unique oil textures. Stylus support has been improved dramatically, you'll notice this using something like the Surface Pen to erase.
What's coming to the Windows Phone version? You're picking up a new option to draw with pencil. This will produce some pretty killer sketches while you're on the go. The Windows Phone version of Fresh Paint is also grabbing some new filters alongside an updated user interface.
We'll of course let you folks know when these apps go live in their respective Stores next week.
Source: Windows Blog
Looks like a fine app to launch alongside the Lumia 1520.

I'm not a frequent user of Fresh Paint but when I do use it, I enjoy it a lot! Great to sketch out whatever I'm thinking at the time and to get some emotions outward. These updates may well entice me to use the app even more. Looking forward to it.

This sounded like you're trolling using meme language

I think the username gives it away :)

Haha I was actually being genuine Robert, no trolls were used in the making of that comment ;)

Lmao I know, I thought exactly the same. I figured someone would point it out, and you did! So, congratulations. ;)

Sounds like a good deal to me.

Nice looking upgrade, but canvasspop don't ship to Australia. Disappointing.

Hopefully, they add layer support. Seems necessary for that "Inspire Me" feature.....

Hurray! Windows Phone has no good art apps besides this one. The only reason I carry my iPhone still is for Sketchbook mobile
This update will address all my needs besides layers and symmetry. Can't wait.

You carry a second phone... just to use sketchbook on a tiny screen?
Wow.

Yes. And I would rather not, but when I gave an itch to draw...

Have you seen my Chalkboard app? I think its cool, go check it out:) http://www.windowsphone.com/s?appid=56c51106-721c-4ad3-b6fd-17fb9a11edfd

My wife has this app and loves it.

I've been screaming in the forums about their not being a good drawing app. Wow! Yours looks nice. Downloading now. Thanks!

That app looks fantastic! I'm downloading it now.

Im glad you guys like it!

I want GDR2! Come on AT&T, hurry up! Just kidding, just it happened on every article you guys posted. We are happy now. Now we just hope att releases gdr3.

Really not funny anymore. I'm not trying to be ignorant or anything just not funny. Wait till gdr3 then the jokes can start up again. I come in peace.

Don't even bother reading comments until mid 2014 then. ;)

I wonder if a stylus (or the surface pen) would work with Fresh Paint on my 1020 or my 920.

No. I have two different wacom stylus pens and none of them work on any of my lumias.

The soft touch stylus' work.

Yes it works just like keys would work, but not as precise as on surface

Wacom digitizers are a totally different from touch technology, therefore it wont work

Awesome, the only problem I had with FP was the interface(and the occasional crash), hopefully they make some nice adjustments

920 india update available..says attention rqd charge phone but my batteryvis at 100% still wont let me update

This is great news. i love Fresh Paint. i already have made some printings out from my paintings and they look awesome. my surface rt is ready.

I just wished they would let us use our own jpegs to paint... my kids would love this...

Windows Central Newsletter
Thank you for signing up to Windows Central. You will receive a verification email shortly.
There was a problem. Please refresh the page and try again.